Abstract
To achieve biodiversity gains, landowner engagement in coordinated invasive species control programs across private lands is needed. Understanding landowners' perspectives toward such coordinated control efforts is crucial to facilitating engagement. We conducted in person and mail surveys of 68 landowners in and adjacent to the area of a proposed invasive predator control program in New Zealand. We find that, similar to previous studies, landowners consider the potential socioeconomic and ecological benefits of invasive species control and express a strong desire to enhance native biodiversity. However, we also find that landowners take into account the complexity of the local social and ecological context in which a program will unfold in three ways: they consider (1) the level of contribution by other landowners and urban residents who are benefiting from collective control efforts; (2) the potential for the program to upset the local "ecological balance", leading to increases in other pests; and (3) the probability that the program will be successful given the likelihood of others participating and control tactics being effective. We suggest that managers of coordinated invasive species control efforts may benefit from devoting time and resources toward addressing beliefs about social and ecological context, rather than solely providing financial subsidies and information about control tactics or the impacts of invasive species.
Access options
Buy single article
Instant access to the full article PDF.
US$ 39.95
Tax calculation will be finalised during checkout.
Subscribe to journal
Immediate online access to all issues from 2019. Subscription will auto renew annually.
US$ 79
Tax calculation will be finalised during checkout.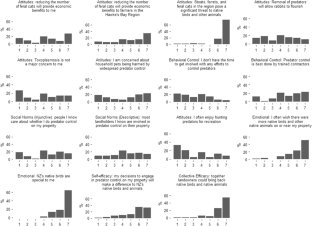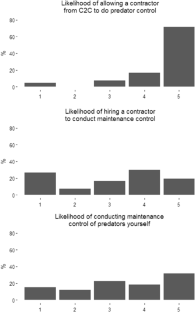 References
Ajzan I, Fishbein M (1980) Understanding attitudes and predicting social behavior. Prentice-Hall, Englewood Cliffs, NJ, p 296

Aslan CE, Hufford MB, Epanchin-Niell RS, Port JD, Sexton JP, Waring TM (2009) Practical challenges in private stewardship of rangeland ecosystems: yellow starthistle control in Sierra Nevadan foothills. Rangeland Ecol Manag 62(January):28–37

Bandura A (1998) Personal and collective efficacy in human adaptation and change. Adv Psychol Sci 1:51–71

Bandura A, Schunk DH (1981) Cultivating competence, self-efficacy, and intrinsic interest through proximal self-motivation. J Pers Soc Psychol 41(3):586

Barker K (2010) Biosecure citizenship: politicising symbiotic associations and the construction of biological threat. T I Brit Geogr 35(3):350–363. doi:10.1111/j.1475-5661.2010.00386.x

Barr S, Gilg A, Shaw G (2011) "Helping people make better choices": exploring the behaviour change agenda for environmental sustainability. Appl Geogr 31:712e720

Bremner A, Park K (2007) Public attitudes to the management of invasive non-native species in Scotland. Biol Cons 139(3–4):306–314. doi:10.1016/j.biocon.2007.07.005

Chen MF (2015) Self-efficacy or collective efficacy within the cognitive theory of stress model: which more effectively explains people's self-reported proenvironmental behavior? J Environ Psychol 42:66–75. doi:10.1016/j.jenvp.2015.02.002

Corbett JB (2002) Motivations to participate in riparian improvement programs. Sci Commun 23(3):243–263

Cowan PE (2005) Brushtail possum. In: King CM (ed) The handbook of New Zealand mammals, 2nd edn. Oxford University Press, Melbourne, pp 56–80

Dillman DA (2007) Mail and internet surveys: the tailored design method, 2nd edn. Wiley, Hoboken, NJ, p 544

Drescher M (2014) What is it like to take care of the land? Toward an understanding of private land conservation. Rural Soc 23(2):117–132

Epanchin-Niell RS, Hufford MB, Aslan CE, Sexton JP, Port JD, Waring TM (2010) Controlling invasive species in complex social landscapes. Front Ecol Environ 8(4):210–216. doi:10.1890/090029

Estevez RA, Anderson CB, Pizarro JC, Burgman MA. (2014). Clarifying values, risk perceptions, and attitudes to resolve or avoid social conflicts in invasive species management. Conservation Biology 29(1):19–30. doi:10.1111/cobi.12359

Fiege M (2005) The weedy west: mobile nature, boundaries, and common space in the Montana landscape. West Hist Q 36(1): 22–47

Fisher NI, Lee aJ, JHJ Cribb, Haynes GD (2011) Public perceptions of foxes and fox eradication in Tasmania. Aust Zoo 35(3):576–589. doi:10.7882/AZ.2011.010

Fischer A, van der Wal R (2007) Invasive plant suppresses charismatic seabird—the construction of attitudes towards biodiversity management options. Biol Cons 135(2):256–267. doi:10.1016/j.biocon.2006.10.026

Ginn F (2016) Extension, subversion, containment: eco-nationalism and (post) colonial nature in Aotearoa New Zealand. T I Brit Geogr 33(3):335–353

Glen AS, Latham MC, Anderson D, Leckie C, Niemiec R, Pech RP, Byrom AE (2016) Landholder participation in regional-scale control of invasive predators: a spatial model for an agro-ecosystem. Biol Invasions, 1–10

Graham S (2013) Three cooperative pathways to solving a collective weed management problem. Autsralas J Env Man 20(2):116–129. doi:10.1080/14486563.2013.774681

Green SB (1991) How many subjects does it take to do a regression analysis? Multivar Behav Res 26:499–510

Greer G (2006) The economic benefits of the Possum Control Area program. AERU, Lincoln University, Lincoln, Unpublished Report for Hawke's Bay Regional Council

Gruber JS (2010) Key principles of community-based natural resource management: a synthesis and interpretation of identified effective approaches for managing the commons. Environ Manage 45:52–66

Hershdorfer ME, Fernandez-gimenez ME, Howery LD (2007) Key attributes influence the performance weed management programs in the Southwest United States. Rangeland Ecol Manag 60(3):225–234. doi:10.2111/1551-5028

Howell aP, Shaw BR, Alvarez G (2014) Bait shop owners as opinion leaders: a test of the theory of planned behavior to predict pro-environmental outreach behaviors and intentions. Environ Behav 47(10):1107–1126. doi:10.1177/0013916514539684

Hu R, Gill N (2015) Garden-related environmental behavior and weed management: an Australian case study. Soc Nat Resour 29(2):148–165. doi:10.1080/08941920.2015.1045646

Jackson JM, Harkins SG (1985) Equity in effort: an explanation of the social loafing effect. J Pers Soc Psychol 49(5):1199–1206. doi:10.1037/0022-3514.49.5.1199

Janssen MA (2013) The role of information in governing the commons: experimental results. Ecol Soc 18(4):4

Kerr NL (1983) Motivation losses in small groups: a social dilemma analysis. J Pers Soc Psychol 45(4):819–828

Klepeis P, Gill N, Chisholm L (2009) Emerging amenity landscapes: invasive weeds and land subdivision in rural Australia. Land Use Policy 26(2):380–392. doi:10.1016/j.landusepol.2008.04.006

Komorita SS, Parks CD (1994). Social dilemmas. Brown & Benchmark, Dubuque, IA

Larson BMH (2007) An alien approach to invasive species: objectivity and society in invasion biology. Biol Invasions 9(8):947–956. doi:10.1007/s10530-007-9095-z

Locke EA, Latham GP (2002) Building a practically useful theory of goal setting and task motivation. Am Psychol 57:705–717

Lofland J, Lofland LH (1995) Analyzing social settings: a guide to qualitative observation and analysis, 3rd edn. Wadsworth, Belmont, CA

McLeod LJ, Hine DW, Please PM, Driver AB (2015) Applying behavioral theories to invasive animal management: towards an integrated framework. J Environ Manage 161:63–71. doi:10.1016/j.jenvman.2015.06.048

Niemiec RM, Ardoin N, Wharton C, Asner GP (2016). Motivating resident engagement in invasive species control across private lands: social norms and community reciprocity. Ecol Soc 21(2):30

Norbury G, Jones C (2015) Pests controlling pests: does predator control lead to greater European rabbit abundance in Australasia? Mammal Rev 45(2):79–87. doi:10.1111/mam.12034

Ostrom E (2000) Collective action and the evolution of social norms. J Econ Perspect 14:137–158

Pech R, Maitland M (2016) Conservation of native fauna in highly invaded systems: managing mammalian predators in New Zealand. Restoration Ecol 24(6):816-820

Pescosolido AT (2001) Informal leaders and the development of group efficacy. Small Gr Res 32(1):74–93. doi:10.1177/104649640103200104

Potts A (2009) Kiwis against possums: a critical analysis of anti-possum rhetoric in Aotearoa New Zealand. Soc Anim 17(1):1–20. doi:10.1163/156853009X393738

Prinbeck G, Lach D, Chan S (2011) Exploring stakeholders' attitudes and beliefs regarding behaviors that prevent the spread of invasive species. Environ Educ Res 17(3):341–352. doi:10.1080/13504622.2010.542451

Rapoport A, Eshed-Levy D (1989) Provision of step-level public goods: effects of greed and fear of being gypped. Organ Behav Hum Dec 44(3):325–344. doi:10.1016/0749-5978(89)90012-5

Robbins TL, Journal S, Mar N (1995) Social loafing on cognitive tasks: an examination of the "sucker effect". J Bus Pyschol 9(3):337–342

Russell JC (2014) A comparison of attitudes towards introduced wildlife in New Zealand in 1994 and 2012. J R Soc NZ 44:136–151

Russell JC, Innes JG, Brown PH, Byrom AE (2015) Predator-free New Zealand: conservation country. BioScience 65(5):520–525. doi:10.1093/biosci/biv012

Seabrook-Davison MNH, Brunton DH (2014) Public attitudes towards conservation in New Zealand and awareness of threatened species. Pac Conserv Biol 20:286–295

Selge S, Fischer A, van der Wal R (2011) Public and professional views on invasive non-native species—a qualitative social scientific investigation. Biol Cons 144(12):3089–3097. doi:10.1016/j.biocon.2011.09.014

Simpson B, Willer R (2014) Beyond altruism: sociological foundations of cooperation and prosocial behavior. Annu Rev Sociol 41(1):150504162558008. doi:10.1146/annurev-soc-073014-112242

Sharp RL, Larson LR, Green GT (2011) Factors influencing public preferences for invasive alien species management. Biol Cons 144(8):2097–2104. doi:10.1016/j.biocon.2011.04.032

Stokes KE, O'Neill KP, Montgomery WI, Dick JTa, Maggs Ca, McDonald Ra (2006) The importance of stakeholder engagement in invasive species management: a cross-jurisdictional perspective in Ireland. Biodivers Conserv 15(8):2829–2852. doi:10.1007/s10531-005-3137-6

Veitch CR, Clout MN (2001) Human dimensions in the management of invasive species in New Zealand. In: McNeely, JA (ed) The great reshuffling: human dimensions of invasive alien species. IUCN, Gland, Switzerland, pp 63–71 

Yung L, Chandler J, Haverhals M (2015) Effective weed management, collective action, and landownership change in Western Montana. Invasive Plant Sci Manag 8(2):193–202. doi:10.1614/IPSM-D-14-00059.1
Acknowledgements
We thank the Hawke's Bay Regional Council, particularly Dean Roughton and Campbell Leckie, for their invaluable guidance and support for this work. We also would like to thank Alison Greenaway, Pike Brown, and Nicole Ardoin for their assistance in the design of the survey. This work was funded by a National Science Foundation Graduate Research Fellowship (DGE-114747) to the first author and core funding to Crown Research Institutes from the Ministry for Business, Innovation & Employment.
Ethics declarations
Conflict of Interest
The authors declare that they have no conflict of interest.
About this article
Cite this article
Niemiec, R., Pech, R., Norbury, G. et al. Landowners' Perspectives on Coordinated, Landscape-Level Invasive Species Control: The Role of Social and Ecological Context. Environmental Management 59, 477–489 (2017). https://doi.org/10.1007/s00267-016-0807-y
Received:

Accepted:

Published:

Issue Date:
Keywords
Invasive species

Collective action

New Zealand

Private lands conservation