Abstract
Adaptive management is an approach to environmental management based on learning-by-doing, where complexity, uncertainty, and incomplete knowledge are acknowledged and management actions are treated as experiments. However, while adaptive management has received significant uptake in theory, it remains elusively difficult to enact in practice. Proponents have blamed social barriers and have called for social science contributions. We address this gap by adopting a qualitative approach to explore the development of an ecological monitoring program within an adaptive management framework in a public land management organization in Australia. We ask what practices are used to enact the monitoring program and how do they shape learning? We elicit a rich narrative through extensive interviews with a key individual, and analyze the narrative using thematic analysis. We discuss our results in relation to the concept of 'knowledge work' and Westley's (2002) framework for interpreting the strategies of adaptive managers—'managing through, in, out and up.' We find that enacting the program is conditioned by distinct and sometimes competing logics—scientific logics prioritizing experimentation and learning, public logics emphasizing accountability and legitimacy, and corporate logics demanding efficiency and effectiveness. In this context, implementing adaptive management entails practices of translation to negotiate tensions between objective and situated knowledge, external experts and organizational staff, and collegiate and hierarchical norms. Our contribution embraces the 'doing' of learning-by-doing and marks a shift from conceptualizing the social as an external barrier to adaptive management to be removed to an approach that situates adaptive management as social knowledge practice.
This is a preview of subscription content, log in to check access.
Access options
Buy single article
Instant access to the full article PDF.
US$ 39.95
Price includes VAT for USA
Subscribe to journal
Immediate online access to all issues from 2019. Subscription will auto renew annually.
US$ 99
This is the net price. Taxes to be calculated in checkout.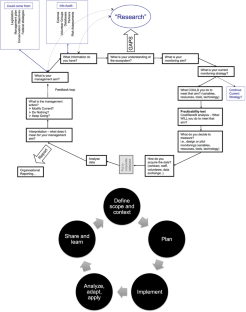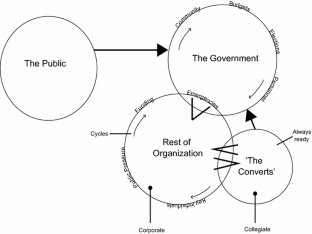 Notes
1.

All personal and organizational names and locations have been changed to protect confidentiality.
References
Allan C, Curtis A (2005) Nipped in the bud: why regional scale adaptive management is not blooming. Environ Manag 36(3):414–425

Allen CR, Gunderson LH (2011) Pathology and failure in the design and implementation of adaptive management. J Environ Manag 92:1379–1384

Beilin R, West S (2016) Performing natures: adaptive management in the 'eternally unfolding present.' In: Head L, Saltzman S, Stenseke M (eds) Nature, temporality and environmental management: Scandinavian and Australian perspectives on landscapes and peoples. Oxford, Routledge, pp 186–203

Blackler F (1995) Knowledge, knowledge work and organizations: an overview and interpretation. Organ Stud 16:1021–1046

Braun V, Clarke V (2006) Using thematic analysis in psychology. Qual Res Psychol 3(2):77–101

Cairns R, Stirling A (2014) 'Maintaining planetary systems' or 'concentrating global power?' high stakes in contending framings of climate geoengineering. Glob Environ Change 28:25–38

Charmaz K (2006) Constructing grounded theory. Sage, Thousand Oaks

du Toit JT, Rogers KH, Biggs HC (2003) The Kruger Experience: Ecology and Management of Savanna Heterogeneity. Island Press, Washington, DC

Eden S (2008) Being fieldworthy: environmental knowledge practices and the space of the field in forest certification. Environ Plan D 26:1018–1035

Fabricius C, Cundill G (2014) Learning in adaptive management: insights from published practice. Ecol Soc 19(1):29

Feldman MS, Orlikowski WJ (2011) Theorizing practice and practicing theory. Organ Sci 22(5):1240–1253

Folke C, Hahn T, Olsson P, Norberg J (2005) Adaptive governance of social-ecological systems. Annu Rev Environ Resour 30:441–473

Gad C, Jensen CB (2014) The promises of practice. Sociol Rev 62:698–718

Gunderson LH, Holling CS, Light SS (1995) Barriers and bridges to the renewal of ecosystems and institutions. Columbia University Press, New York

Holling CS (1978) Adaptive environmental assessment and management. John Wiley, London

Johnson BL (1999) Introduction to the special feature: adaptive management—scientifically sound, socially challenged? Conserv Ecol 3(1):10

Johnson FA, Williams BK, Nichols JD (2013) Resilience thinking and a decision-analytic approach to conservation: strange bedfellows or essential partners? Ecol Soc 18(2):27

Kleinman DL, Vallas SP (2001) Science, capitalism, and the rise of the "knowledge worker": the changing structure of knowledge production in the United States. Theory Soc 30(4):451–492

Kvale S (1996) Interviews: an introduction to qualitative research interviewing. Sage, Thousand Oaks

Latour B (1999) Circulating reference: sampling the soil in the amazon forest. Latour, B Pandora's hope: essays on the reality of science studies. Harvard University Press, Harvard, pp 24–79

Lee K (1993) Compass and gyroscope: integrating science and politics for the environment. Island Press, Washington

McLaughlin C, Krantzberg G (2012) An appraisal of management pathologies in the Great Lakes. Sci Total Environ 416:40–47

Olsson P, Folke C, Hahn T (2004a) Social-ecological transformation for ecosystem management: the development of adaptive co-management of a wetland landscape in southern Sweden. Ecol Soc 9(4):2

Olsson P, Folke C, Berkes F (2004b) Adaptive comanagement for building resilience in social-ecological systems. Environ Manag 34(1):75–90

Pickering A (1992) From science as knowledge to science as practice. In: Pickering A (ed) Science as practice and culture. University of Chicago Press, Chicago, pp 1–26

Polkinghorne DE (2007) Validity issues in narrative research. Qual Inq 13(4):471–486

Pyöriä P (2005) The concept of knowledge work revisited. J Knowl Manag 9(3):116–127

Rist L, Campbell BM, Frost P (2012) Adaptive management: where are we now? Environ Conserv 40(1):5–18

Sandberg J, Tsoukas H (2011) Grasping the logic of practice: theorizing through practical rationality. Acad Manag Rev 36(2):338–360

Schultz L, Fazey I (2009) Effective leadership for adaptive management. In: Allan C, Stankey GH (eds) Adaptive environmental management: a practitioner's guide. Springer, Dordrecht, pp 295–303

Schultze U (2000) A confessional account of an ethnography about knowledge work. MIS Quartely 24(1):3–41

Seidman IE (1991) Interviewing as qualitative research. Teachers College Press, New York

Stathis P, Jacobson C (2009) Institutionalizing adaptive management: creating a culture of learning in new south wales parks and wildlife service. In: Allan C, Stankey GH (eds) Adaptive environmental management: a practitioner's guide. Springer, Dordrecht, pp 305–321

Wagenaar H (2004) "Knowing" the rules: administrative work as practice. Public Adm Rev 64(6):643–655

Wagenaar H (2011) Meaning in Action: Interpretation and Dialogue in Policy Analysis. M.E. Sharpe, London

Wagenaar H, Wilkinson C (2015) Enacting resilience: a performative account of governing for urban resilience. Urban Stud 52(7):1265–1284

Walters C (1986) Adaptive management of renewable resources. Macmillan, New York

Walters CJ, Holling CS (1990) Large-scale management experiments and learning by doing. Ecology 71(6):2060–2068

Weick KE (2007) The generative properties of richness. Acad Manag J 50:14–19

Westley F (2002) The devil in the dynamics: adaptive management on the front lines. In: Gunderson LH, Holling CS (eds) Panarchy: understanding transformations in human and natural systems. Island Press, Washington, pp 333–360

Westley FR, Tjornbo O, Schultz L, Olsson P, Folke C, Crona B, Bodin Ö (2013) A theory of transformative agency in linked social-ecological systems. Ecol Soc 18(3):27

Williams BK (2011) Passive and active adaptive management: approaches and an example. J Environ Manag 92:1371–1378

Yanow D (2007) Interpretation in Policy Analysis: on Methods and Practice. Crit Policy Stud 1(1):110–122
Acknowledgments
Many thanks to 'June' for sharing her story—this article is really hers. Thanks also to Ruth Beilin, Wiebren Boonstra, Emily Boyd, and Stephan Barthel for improving the paper greatly with comments, suggestions, and discussions. The research time of Simon West and Lisen Schultz was funded by Vetenskapsrådet (VR), the Swedish Foundation for Strategic Environmental Research (Mistra), and Ebba och Sven Schwartz Stiftelse.
About this article
Cite this article
West, S., Schultz, L. & Bekessy, S. Rethinking Social Barriers to Effective Adaptive Management. Environmental Management 58, 399–416 (2016). https://doi.org/10.1007/s00267-016-0721-3
Received:

Accepted:

Published:

Issue Date:
Keywords
Adaptive management

Narrative

Qualitative

Practice

Knowledge work

Learning