Abstract
In the Los Angeles metropolitan region, nearly 100 public and private entities are formally involved in the management and distribution of potable water—a legacy rooted in fragmented urban growth in the area and late 19th century convictions about local control of services. Yet, while policy debates focus on new forms of infrastructure, restructured pricing mechanisms, and other technical fixes, the complex institutional architecture of the present system has received little attention. In this paper, we trace the development of this system, describe its interconnections and disjunctures, and demonstrate the invisibility of water infrastructure in LA in multiple ways—through mapping, statistical analysis, and historical texts. Perverse blessings of past water abundance led to a complex, but less than resilient, system with users accustomed to cheap, easily accessible water. We describe the lack of transparency and accountability in the current system, as well as its shortcomings in building needed new infrastructure and instituting new water rate structures. Adapting to increasing water scarcity and likely droughts must include addressing the architecture of water management.
This is a preview of subscription content,
to check access.
Access this article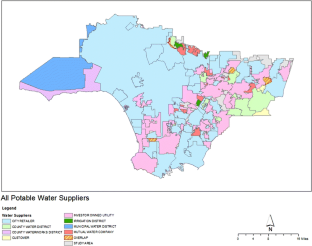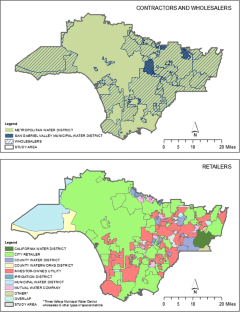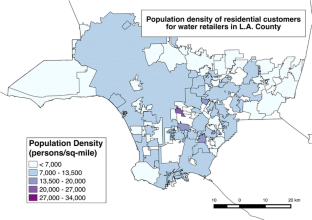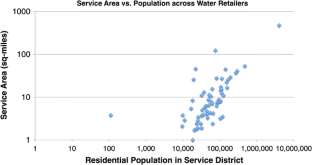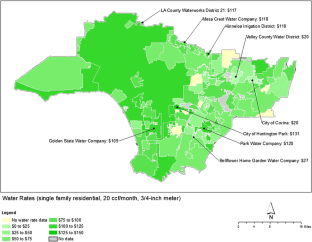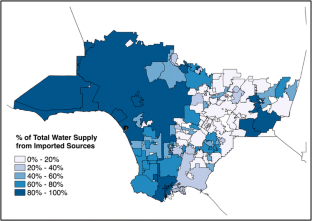 Similar content being viewed by others
References
Barnett TP, Adam JC, Lettenmaier DP (2005) Potential impacts of a warming climate on water availability in snow-dominated regions. Nature 438:303–309. doi:10.1038/nature04141

Besley T, Coate S (2003) Centralized versus decentralized provision of local public goods: a political economy approach. J Public Econ 87:2611–2637. doi:10.1016/S0047-2727(02)00141-X

Blomquist WA (1992) Dividing the waters: governing groundwater in Southern California. ICS Press, San Francisco

Bollens JC (1957) Special District Governments in the United States. University of California Press, Berkeley

Capistrano Taxpayers Association, Inc., Plaintiff and Respondent, v. City of San Juan Capistrano, Defendant and Appellant (2015). Court of Appeal, Fourth District, Division 3, California, G048969

DeShazo JR, McCann H (2015) Los Angeles County Community Water Systems: Atlas and Policy Guide, vol I. In: Supply Vulnerabilities, At-Risk Populations, Opportunities for Conservation. Luskin Center for Innovation, UCLA, Los Angeles

Dudek (2006) Municipal service review. Water Service-Los Angeles Region, Encinitas

Erie SP (2006) Beyond Chinatown: the metropolitan water district, growth, and the environment in Southern California. Stanford University Press, Stanford

Felock R, Clingermayer JC, Stream C, et al (2001) Political conflict, fiscal stress, and administrative turnover in American cities. State Local Gov Rev, pp 101–108

Foster SSD, Morris BL, Lawrence A (1997) Groundwater impacts and issues in development cities- An introductory review. In: Chilton PJ (ed) Groundwater in the Urban Environment, vol 1. Problems, processes and management: proceedings of the XXVII IAH Conference, Nottingham, 21–27 September 1997, pp 85–90

Garfin G, Jardine A, Merideth R, Black M, Overpeck J (eds) (2013) Assessment of climate change in the Southwest United States: a technical report prepared for the U.S. National Climate Assessment. A report by the Southwest Climate Alliance 2013. Island Press, Washington, DC

Graham S, Marvin S (2001) Splintering urbanism: networked infrastructures, technological mobilities and the urban condition. Routledge, London

Green D (2007) Managing water: avoiding crisis in California. University of California Press, Berkeley

Hamlet AF, Mote PW, Clark MP, Lettenmaier DP (2005) Effects of temperature and precipitation variability on Snowpack Trends in the Western United States*. J Clim 18:4545–4561. doi:10.1175/JCLI3538.1

Hanak E, Lund JR (2011) Adapting California's water management to climate change. Clim Change 111:17–44. doi:10.1007/s10584-011-0241-3

Hanak E, Gray B, Lund J et al (2014) Paying for Water in California. Public Policy Institute of California, San Francisco

Harnish CP (1976) Southern California Water Company History: 1928 to 1974. Southern California Water Company, Los Angeles

Hundley N (1992) The great thirst: Californians and water: a history. University of California Press, Berkeley

Los Angeles County Department of Public Works (LACDPW) (2008–2009) Los Angeles county water purveyor service areas. Los Angeles County Department of Public Works Hydrologic report, Water Resources Division

Los Angeles County Department of Public Works (LACDPW) (2011–2012) Los Angeles County groundwater basin shape files. Los Angeles County Department of Public Works Hydrologic report, Water Resources Division

Little Hoover Commission (2000) Special districts: relics of the past or resources for the future

Lubell M (2015) Collaborative partnerships in complex institutional systems. Curr Opin Environ Sustain 12:41–47. doi:10.1016/j.cosust.2014.08.011

Lubell M, Lippert L (2011) Integrated regional water management: a study of collaboration or water politics-as-usual in California, USA. Int Rev Adm Sci 77:76–100. doi:10.1177/0020852310388367

Marks G, Hooghe L (2003) National identity and support for European integration, Working Paper, Wissenschaftszentrum Berlin für Sozialforschung, Berlin

Medellín-Azuara J, Harou JJ, Olivares MA et al (2008) Adaptability and adaptations of California's water supply system to dry climate warming. Clim Change 87:75–90. doi:10.1007/s10584-007-9355-z

Mote PW (2006) Climate-driven variability and trends in Mountain Snowpack in Western North America*. J Clim 19:6209–6220. doi:10.1175/JCLI3971.1

Mote PW, Hamlet AF, Clark MP, Lettenmaier DP (2005) Declining Mountain Snowpack in Western North America. Bull Am Meteorol Soc 86:39–49. doi:10.1175/BAMS-86-1-39

Mullin M (2008) The conditional effect of specialized governance on public policy: conditional effect of specialized governance. Am J Polit Sci 52:125–141. doi:10.1111/j.1540-5907.2007.00303.x

Mullin M (2009) Governing the tap: special district governance and the new local politics of water. MIT Press, Cambridge

MWD (2013) Annual report, 2012–2013. Metropolitan water district of Southern California, Los Angeles

Ostrom E (1965) Public Entrepreneurship: A Case Study in Ground Water Basin Management. Ph.D. Dissertation, University of California, Los Angeles

Palmer MA, Lettenmaier DP, Poff NL et al (2009) Climate change and river ecosystems: protection and adaptation options. Environ Manage 44:1053–1068. doi:10.1007/s00267-009-9329-1

Perrenod VM (1984) Special districts, special purposes: Fringe governments and urban problems in the Houston area. Texas A&M University Press, College Station

Pincetl S (1999) Transforming California, a political history of land use in the state. Johns Hopkins University Press, Baltimore

Pisani DJ (1992) To reclaim a divided west. University of New Mexico Press, Albuquerque

Porse E, Glickfeld M, Mertan K, Pincetl S (2015) Pumping for the masses: evolution of groundwater management in metropolitan Los Angeles. GeoJournal. doi:10.1007/s10708-015-9664-0

QGIS Development Team (2014) QGIS geographic information system. Open source geospatial foundation project

Senate Local Government Committee (2010) What's so special about special districts? A citizen's guide to special districts in California. Senate Local Government Committee, Sacramento

SGVMWD (2013) 2012 annual report. San Gabriel Valley Municipal Water District, Azusa

Stewart IT, Cayan DR, Dettinger MD (2005) Changes toward earlier Streamflow Timing across Western North America. J Clim 18:1136–1155. doi:10.1175/JCLI3321.1

Wlezien C (2004) Patterns of representation: dynamics of public preferences and policy. J Polit 66:1–24. doi:10.1046/j.1468-2508.2004.00139.x
Funding
This research was possible due to NSF WSC 1204235.
About this article
Cite this article
Pincetl, S., Porse, E. & Cheng, D. Fragmented Flows: Water Supply in Los Angeles County. Environmental Management 58, 208–222 (2016). https://doi.org/10.1007/s00267-016-0707-1
Received:

Accepted:

Published:

Issue Date:

DOI: https://doi.org/10.1007/s00267-016-0707-1
Keywords