Abstract
In the last two decades, coral reefs have become popular among recreational divers, especially inside marine protected areas. However, the impact caused by divers on benthic organisms may be contributing to the degradation of coral reefs. We analyzed the behavior of 142 scuba divers in the Abrolhos National Marine Park, Brazil. We tested the effect of diver profile, reef type, use of additional equipment, timing, and group size on diver behavior and their contacts with benthic organisms. Eighty-eight percent of divers contacted benthic organism at least once, with an average of eight touches and one damage per dive. No significant differences in contacts were verified among gender, group size, or experience level. Artificial reef received a higher rate of contact than pinnacle and fringe reefs. Specialist photographers and sidemount users had the highest rates, while non-users of additional equipment and mini camera users had the lowest contact rates. The majority of contacts were incidental and the highest rates occurred in the beginning of a dive. Our findings highlight the need of management actions, such as the provision of pre-dive briefing including ecological aspects of corals and beginning dives over sand bottoms or places with low coral abundance. Gathering data on diver behavior provides managers with information that can be used for tourism management.
Access options
Buy single article
Instant access to the full article PDF.
USD 39.95
Price excludes VAT (USA)
Tax calculation will be finalised during checkout.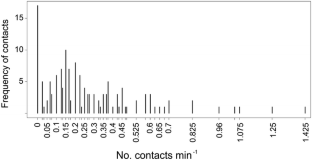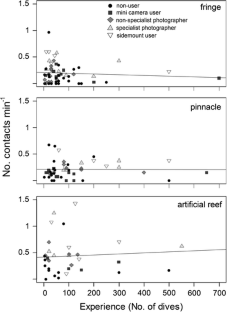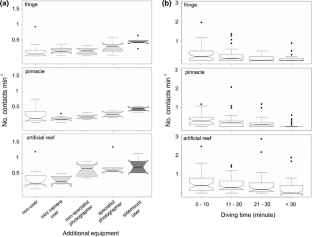 References
Alvarenga F, Fleck L (2011) Estudo de Viabilidade Econômico-Financeira do Contrato de Concessão de Passeios no Parque Nacional Marinho de Abrolhos – BA. Instituto Chico Mendes para a Conservação da Biodiversidade

Anderson AB, Bonaldo RM, Barneche DR, Hackradt CW, Félix-Hacradt Gárcia-Charton JA, Floeter SR (2014) Recovery of grouper assemblages indicates effectiveness of a marine protected area in Southern Brazil. Mar Ecol-Prog Ser 514:207–215

Barker NHL, Roberts CM (2004) Scuba diver behavior and the management of diving impacts on coral reefs. Biol Conserv 120:481–489

Bellwood DR, Hughes TP, Folke C, Nyström M (2004) Confronting the coral reef crisis. Nature 429:827–833

Burt J, Bartholomew A, Bauman A, Saif A, Sale PF (2009) Coral recruitment and early benthic community development on several materials used in the construction of artificial reefs and breakwaters. J Exp Mar Biol Ecol 373:72–78

Camp E, Fraser D (2012) Influence of conservation education dive briefings as a management tool on the timing and nature of recreational SCUBA diving impacts on coral reefs. Ocean Coast Manage 61:31–37

Chung SS, Au A, Qiu JW (2013) Understanding the underwater behaviour of Scuba divers in Hong Kong. Environ Manag. doi:10.1007/s00267-013-0023-y

Davis D, Tisdell C (1995) Recreational scuba-diving and carrying capacity in marine protected areas. Ocean Coast Manag 26:19–100

Dearden P, Bennett M, Rollins R (2007) Perceptions of diving impacts and implications for reef conservation. Coast Manag 35:305–317

Development Core Team R (2012) R: a language and environment for statistical computing. R Foundation for Statistical Computing, Vienna

Di Franco A, Milazzo M, Baiata P, Tomasello A, Chemello R (2009) Scuba diver behavior and its effects of a Mediterranean marine protected area. Environ Conserv 36:32–40

Edgar GJ, Stuart-Smith RD, Willis TJ, Kininmonth S, Baker SC, Banks S, Barrett NS et al (2014) Global conservation outcomes depend on marine protected areas with five key features. Nature 506:216–220

Francini-Filho RB, Coni EOC, Meirelles PM, Amado-Filho GM, Thompson FL, Pereira-Filho GH, Bastos AC, Abrantes DP, Ferreira CM, Gibran FZ, Guth AZ, Sumida PYG, Oliveira NL, Kaufman L, Minte-Vera CV, Moura RL (2013) Dynamics of coral reef benthic assemblages of the Abrolhos Bank, Eastern Brazil: inferences on natural and anthropogenic drivers. PLoS ONE 8(1):e54260

Giglio VJ, Luiz OJ, Schiavetti A (2015) Marine life preferences and perceptions among recreational divers in Brazilian coral reefs. Tour Manag 51:49–57

Green E, Donnelly R (2003) Recreational SCUBA diving in Caribbean marine protected areas: do the users pay? Ambio 32(2):65–69

Guzner B, Novplansky A, Shalit O, Chadwick NE (2010) Indirect impacts of recreational scuba diving; patterns of growth and predation in branching stony corals. Bull Mar Sci 86(3):727–742

Hall VR (2001) The response of Acropora hyacinthus and Montipora tuberculosa to three different types of colony damage: scraping injury, tissue mortality and breakage. J Exp Mar Biol Ecol 264: 209–223

Harriot VJ, Davis D, Banks SA (1997) Recreational diving and its impact in marine protected areas in Eastern Australia. Ambio 26:173–179

Hasler H, Ott JA (2008) Diving down the reefs? Intensive diving tourism threatens the reefs of the northern Red Sea. Mar Pollut Bull 56:1788–1794

Hawkins JP, Roberts CM (1992) Effects of recreational SCUBA diving on fore-reef slope communities of coral reefs. Biol Conserv 62:171–178

Hawkins JP, Roberts CM (1997) Estimating the carrying capacity of coral reefs for SCUBA diving. In: Proceedings of 8th international coral reef symposium, vol. 2, pp 1923–1926

Hawkins J, Roberts CM, Van't Hof T, de Meyer K, Tratalos J, Aldam C (1999) Effects of recreational scuba diving on Caribbean coral and fish communities. Conserv Biol 13:888–897

Hughes TJ, Connell JH (1999) Multiple stressors in coral reefs: a long-term perspective. Limnol Oceanogr 44:932–947

Hughes T, Baird A, Bellwood D, Card M, Connolly S, Folke C, Grosberg R et al (2003) Climate change, human impacts and the resilience of coral reefs. Science 301:929–933

Jewell B (2004) The effectiveness of interpretation on diver attitudes and awareness of underwater shipwreck values—SS Yongala, a case study. AIMA Bull 28:43–62

Jones PJS (2001) Marine protected area strategies: issues, divergences and the search for middle ground. Rev Fish Biol Fisher 11(3):197–216

Krieger RK, Chadwick NE (2012) Recreational diving impacts and the use of pre-dive briefings as a management strategy on Florida coral reefs. J Coas Conserv. doi:10.1007/s11852-012-0229-9

Leão ZMAN, Ginsburg RN (1997) Living Reefs surrounded by siliclastics sediments: the Abrolhos coastal reefs, Bahia, Brazil. Proc 8th Int Coral Reef Symp. 2:1767–1772

Leão ZMAN, Kikuchi RKP (2001) The Abrolhos Reefs of Brazil. In: Seeliger U, Kjerfve B (eds) Coastal marine ecosystems of Latin America. Springer, Berlin, pp 83–96

Leão ZMAN, Kikuchi RKP (2005) A relic coral fauna threatened by global changes and human activities, Eastern Brazil. Mar Pollut Bull 51:599–611

Leão ZMAN, Kikuchi RKP, Testa V (2003) Corals and coral reefs of Brazil. In: Cortes J (ed) Latin America coral reefs. Elsevier, Oxford, pp 9–52

Leeworthy VR, Maher T, Stone EA (2006) Can artificial reefs alter user pressure on adjacent natural reefs? Bull Mar Sci 78:29–37

Lucrezi S, Saayman M, Merwe PDV (2013) Perceived diving impacts and management implications at a popular South African reef. Coast Manag 41:381–400

Luna B, Pérez CV, Sánchez-Lizaso L (2009) Benthic impacts of recreational divers in a Mediterranean Marine Protected Area. ICES J Mar Sci 66:517–523

McKinnon JF (2015) Memorialization, graffiti and artifact movement: a case study of cultural impacts on WWII underwater cultural heritage in the commonwealth of the Northern Mariana Islands. J Mar Arch. doi:10.1007/s11457-015-9133-4

Medio D, Ormond RFG, Pearson M (1997) Effect of briefings on rates of damage to corals by scuba divers. Biol Conserv 79:91–95

Moberg F, Folk C (1999) Ecological goods and services of coral reef ecosystems. Ecol Econ 29:215–233

Ong TF, Musa G (2012) Examining the influences of experience, personality and attitude on SCUBA divers' underwater behaviour: a structural equation model. Tour Manag 33:1531–1534

Pendleton LH (2005) Understanding the potential economic impacts of sinking ships for SCUBA recreation. Mar Technol Soc J 39:47–52

Perkol-Finkel S, Shashar N, Benayahu Y (2006) Can artificial reefs mimic natural reef communities? The roles of structural features and age. Mar Environ Res 61:121–135

Plathong S, Inglis GJ, Huber ME (2000) Effects of self-guided snorkeling trails in a tropical marine park. Conserv Biol 14:1821–1830

Polak O, Shashar N (2012) Can a small artificial reef reduce diving pressure from a natural coral reef? Lessons learned from Eilat, Red Sea. Ocean Coast Manag 55:94–100

Poonian C, Davis PZR, Kearns C, McNaughton CK (2010) Impacts of recreational divers on palauan coral reefs and options for management. Pac Sci 64:557–565

Riegl B, Riegl A (1996) Studies on coral community structure and damage as a basis for zoning marine reserves. Biol Conserv 77:269–277

Ríos-Jara E, Galván-Villa CM, Rodríguez-Zaragoza FA, López-Uriarte E, Muños-Fernández (2013) The tourism carrying capacity of underwater trails in Isabel Island National Park. Environ Manage, Mexico. doi:10.1007/s00267-013-0047-3

Roberts L, Harriott VJ (1994) Recreational scuba diving and its potential for environmental impact in a marine reserve. In: Bellwood O, Choat H, Saxena N (eds) Recent advances in marine science and technology'94. Townsville, pp 695–704

Rouphael T, Inglis GJ (1995) The effects of qualified recreational SCUBA divers on coral reefs. Technical report 4. CRC Reef Research Centre, Townsville, Australia

Rouphael AB, Inglis GJ (1997) Impacts of recreational scuba diving at sites with different reef topographies. Biol Conserv 82:329–336

Rouphael AT, Inglis GJ (2001) "Take only photographs and leave only footprints"an experimental study of the impacts of underwater photographers on coral reef dive sites. Biol Conserv 100:281–287

Schleyer MH, Tomalin BJ (2000) Damage on South African coral reefs and an assessment of their sustainable diving capacity using a fisheries approach. Bull Mar Sci 67(3):1025–1042

Selig ER, Bruno JF (2010) A global analysis of the effectiveness of marine protected areas in preventing coral loss. PLoS ONE 5(2):e9278

Smith K, Scarr M, Scarpaci C (2010) Grey nurse shark (Carcharias taurus) diving tourism: tourist compliance and shark behaviour at Fish Rock, Australia. Environ Manag 46:699–710

Tapsuwan S, Asafu-Adjaye J (2008) Estimating the economic benefit of SCUBA diving in the Similan Islands, Thailand. Coast Manag 36(5):431–442

Uyarra MC, Côté IM (2007) The quest for cryptic creatures: impacts of species-focused recreational diving on corals. Biol Conserv 136:77–84

Van Treeck P, Schuhmacher H (1998) Mass diving tourism—a new dimension calls for new management approaches. Mar Pollut Bull 37:499–504

Walters RMD, Samways MJ (2001) Sustainable dive ecotourism on a South African coral reef. Biodivers Conserv 10:2167–2179

Worachananant S, Carter RW, Hockings M, Reopanichkul P (2008) Managing the impacts of SCUBA divers on Thailand's coral reefs. J Sustain Tour 16(6):645–663

Work TM, Aeby GS, Maragos JE (2008) Phase shift from a coral to a corallimorph-dominated reef associated with a shipwreck on Palmyra atoll. PLoS ONE 3(8):e2989

Zakai D, Chadwick-Furman NE (2002) Impacts of intensive recreational diving on reef corals at Eilat, northern Red Sea. Biol Conserv 105:179–187

Zuur AF, Ieno EN, Smith GM (2007) Analysing ecological data. Springer, New York
Acknowledgments
We thank dive shops Horizonte Aberto, Apecatu Expedições, and Parú Divers for the support; dive guides V. Albanez, M. Lana, J. Andrade, M. Affonso, T. Ramon, T. Bonelli, R. Santoro, D. Cajueiro, M. Kipgem, and E. Said. J. Adelir-Alves for support in data collection; Abrolhos National Marine Park (through R. Jerozolimski) for research permission and support; and C. Sampaio, C. Cassano, and W. Goodell for suggestions on manuscript. The first author was supported by the Brazilian Ministry of Education (CAPES) and AS was supported by Ministry of Science and Technology (CNPq).
About this article
Cite this article
Giglio, V.J., Luiz, O.J. & Schiavetti, A. Recreational Diver Behavior and Contacts with Benthic Organisms in the Abrolhos National Marine Park, Brazil. Environmental Management 57, 637–648 (2016). https://doi.org/10.1007/s00267-015-0628-4
Received:

Accepted:

Published:

Issue Date:

DOI: https://doi.org/10.1007/s00267-015-0628-4
Keywords
Dive tourism

Marine protected area

Management

Scuba divers

South Atlantic

Tourism management