Abstract
We evaluated local opinion about reducing livestock losses to puma (Puma concolor) and the potential for conflict among livestock breeders inside a protected area in the highlands of a southeastern Brazilian Atlantic forest. We also quantified the number and type of livestock losses, and determined if predation by puma was correlated with property profile and landscape characteristics. We conducted semistructured interviews with 42 livestock breeders sampled in 36 rural properties. When asked how to reduce predation, 33 % of livestock breeders refused to answer, 26 % suggested improving livestock husbandry practices, 19 % stated that there was no appropriate action, 17 % favored removing the "problem" individual, and 5 % suggested killing the puma. Opinion on how to solve predation was independent of herd size and history of losses, and was correlated with respondent age class. Older respondents tended to suggest removing or killing pumas. Attitudes toward predation represented high potential for conflict among livestock breeders who demonstrated high discordance among responses. Horses were the most common prey (51 %), followed by cattle (28 %), sheep (17 %), and goats (4 %); totaling 47 animals attacked between 2004 and 2007. Annual predation was approximately 12 ± 5 animals, equivalent to 0.4 % of the total livestock. Property elevation and distance from the urban center were the main predictors of predation probability. This survey used a novel approach that has not been addressed directly in other studies on livestock predation and demonstrated that the high potential for conflict among livestock breeders should be considered before implementing management actions.
Access options
Buy single article
Instant access to the full article PDF.
US$ 39.95
Tax calculation will be finalised during checkout.
Subscribe to journal
Immediate online access to all issues from 2019. Subscription will auto renew annually.
US$ 79
Tax calculation will be finalised during checkout.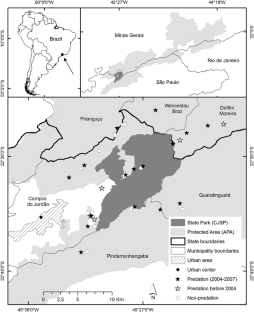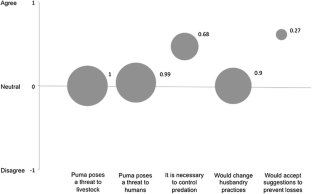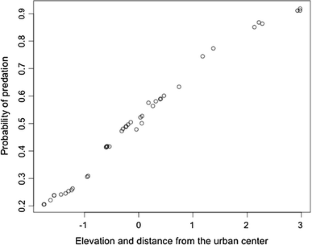 References
Azevedo FCC (2008) Food habits and livestock depredation of sympatric jaguars and pumas in the Iguaçú National Park area, south Brazil. Biotropica 40:494–500

Azevedo FCC, Concone HVB, Pires-da-Silva A, Verdade LM (2010) Puma (Puma concolor) predation on a water buffalo (Bubalus bubalis). Mammalia 74:431–432

Bolker BM (2008) Ecological models and data in R. Princeton University Press, New Jersey

Bulte EH, Rondeau D (2005) Why compensating wildlife damages may be bad for conservation. J Wildl Manag 69:14–19

Burnham KP, Anderson DR (2002) Model selection and multi-model inference: a practical information-theoretic approach, 2nd edn. Springer, New York

Castilho CS, Marins-Sá LG, Benedet RC, Freitas TO (2011) Landscape genetics of mountain lions (Puma concolor) in southern Brazil. Mamm Biol 76:476–483

Castilho CS, Marins-Sá LG, Benedet RC, Freitas TR (2012) Genetic structure and conservation of Mountain Lions in the south-Brazilian Atlantic rain forest. Genet Mol Biol 35:65–73

Clauset R, Soares D (1999) Paisagem paulista: áreas protegidas. Empresa das Artes, São Paulo

Conforti VL, Azevedo FCC (2003) Local perceptions of jaguars (Panthera onca) and pumas (Puma concolor) in the Iguaçú National Park area, south Brazil. Biol Conserv 111:215–221

De Angelo C, Paviolo A, Di Bitetti M (2011) Differential impact of landscape transformation on pumas (Puma concolor) and jaguars (Panthera onca) in the Upper Paraná Atlantic forest. Divers Distrib 17:422–436

Dickman AJ, Macdonald EA, Macdonald DW (2011) A review of financial instruments to pay for predator conservation and encourage human–carnivore coexistence. PNAS 108:13937–13944

Environmental Systems Research Institute (ESRI) (2008) ArcGis Desktop: Release 9.3.1. Environmental Systems Research Institute, Redlands

Graham K, Beckerman AP, Thirgood S (2005) Human–predator–prey conflicts: ecological correlates, prey losses and patterns of management. Biol Conserv 122:159–171

Graipel ME, Ghizoni IV Jr, Mazzolli M (2004) Selvageria ou carência nutricional? Cienc Hoje 35:62–65

Gray M, Spencer J Jr, Thain D (2008) Live trapping and monitoring mountain lion movements with in a feral horse population in storey county, Nevada, 2005–2007. In: Timm RM, Madon MB (eds) Proceedings of the 23rd Vertebrate Pestide Conference, University of California, Davis, pp 140–144

Guix JC (1997) Cat communities in six areas of the state of São Paulo, southeastern Brazil, with observations on their feeding habitats. Grupo Estud Ecol Ser Doc 5:16–38

Hemson G, Maclennan S, Mills G, Johnson P, Macdonald D (2009) Community, lions, livestock and money: a spatial and social analysis of attitudes to wildlife and the conservation value of tourism in a human–carnivore conflict in Botswana. Biol Conserv 142:2718–2725

Holmern T, Nyahongo J, Røskaft E (2007) Livestock loss caused by predators outside the Serengeti National Park, Tanzania. Biol Conserv 135:534–542

Hoogesteijn R (2005) Manual on the problem of depredation caused by jaguars and pumas on cattle ranches. Wildlife Conservation Society, New York, p 35

Inskip C, Zimmermann A (2009) Human–felid conflict: a review of patterns and priorities worldwide. Oryx 43:18–34

Jackson P, Nowell K (1996) Problems and possible solutions in management of felid predators. J Wildl Res 1:304–314

Jorge MLS, Galetti M, Ribeiro MC, Ferraz KMPMB (2013) Mammal defaunation as surrogate of trophic cascades in a biodiversity hotspot. Biol Conserv 163:49–57

Kissling DW, Fernández N, Paruelo JM (2009) Spatial risk assessment of livestock exposure to pumas in Patagonia, Argentina. Ecography 32:807–817

Kolowski JM, Holekamp KE (2006) Spatial, temporal, and physical characteristics of livestock depredations by large carnivores along a Kenyan border. Biol Conserv 128:529–541

Li X, Buzzard P, Chen Y, Jiang X (2013) Patterns of livestock predation by carnivores: human–wildlife conflict in Northwest Yunnan, China. Environ Manag 52:1334–1340

Linnell JDC, Aanes R, Swenson JE, Odden J, Smith ME (1997) Translocation of carnivores as a method for managing problem animals: a review. Biodivers Conserv 6:1245–1257

Linnell JDC, Odden J, Smith ME, Aanes R, Swenson JE (1999) Large carnivores that kill livestock: do "problem individuals" really exists? Wildl Soc Bull 27:698–705

Maclennan SD, Groom RJ, Macdonald DW, Frank LG (2009) Evaluation of a compensation scheme to bring about pastoralist tolerance of lions. Biol Conserv 142:2419–2427

Magioli M, Moreira MZ, Ferraz KMPMB, Miotto RA, Camargo PB, Rodrigues MG, Canhoto MCS, Setz EF (2014) Stable isotope evidence of Puma concolor (Felidae) feeding patterns in agricultural landscapes in southeastern Brazil. Biotropica 0:1–10

Manfredo MJ, Vaske JJ, Teel TL (2003) The potential for conflict index: a graphic approach to practical significance of human dimensions research. Human Dimens Wildl 8:219–228

Marchini S, Macdonald DW (2012) Predicting ranchers' intention to kill jaguars: case studies in Amazonia and Pantanal. Biol Conserv 147:213–221

Mazerolle MJ (2013) AICcmodavg: model selection and multimodel inference based on (Q)AIC(c). R package version 1.33. http://CRAN.R-project.org/package=AICcmodavg

Mazzolli M (1993) Ocorrência de Puma concolor (Linnaeus) (Felidae, Carnivora) em áreas de vegetação remanescente de Santa Catarina, Brasil. Revta bras Zool 10:581–587

Mazzolli M (2010) Mosaics of exotic forest plantations and native forests as habitat of pumas. Environ Manag 46:237–253

Mazzolli M, Graipel ME, Dunstone N (2002) Mountain lion depredation in southern Brazil. Biol Conserv 105:43–51

Miotto RA, Cervini M, Figueiredo MG, Begotti RA, Galetti PM Jr (2011) Genetic diversity and population structure of pumas (Puma concolor) in southeastern Brazil: implications for conservation in a human-dominated landscape. Conserv Genet 12:1447–1455

Mittermeier RA, Myers N, Gil PR, Mittermeier CG (1999) Hotspots: earth's biologically richest and most endangered terrestrial ecoregions. CEMAX and Conservation International (CI), Mexico City

Namgail T, Fox JL, Bhatngar YV (2007) Carnivore-caused livestock mortality in Trans-Himalaya. Environ Manag 39:490–496

Ogada MO, Woodroffe R, Oguge NO, Frank LG (2003) Limiting depredation by African carnivores: the role of livestock husbandry. Conserv Biol 17:1521–1530

Oli MK, Taylor IR, Rodgers ME (1994) Snow leopard Panthera uncia predation of livestock: an assessment of local perceptions in the Annapurna Conservation Area, Nepal. Biol Conserv 68:63–68

Palmeira FBL, Barrella W (2007) Conflitos causados pela predação de rebanhos domésticos por grandes felinos em comunidades quilombolas na Mata Atlântica. Biota Neotrop 7:21–30

Palmeira FBL, Crawshaw PG Jr, Haddad CM, Ferraz KMPMB, Verdade LM (2008) Cattle depredation by puma (Puma concolor) and jaguar (Panthera onca) in central-western Brazil. Biol Conserv 141:118–125

Patterson BD, Kasiki SM, Selempo E, Kays RW (2004) Livestock predation by lions (Panthera leo) and others carnivores on ranches neighboring Tsavo National Parks, Kenya. Biol Conserv 119:507–516

Paviolo A, Di Blanco YE, De Angelo CD, Di Bitetti MS (2009) Protection affects the abundance and activity patterns of pumas in the Atlantic forest. J Mamm 90:926–934

Peterson MN, Birckhead JL, Leong K, Peterson MJ, Peterson TR (2010) Rearticulating the myth of human–wildlife conflict. Conserv Lett 3:74–82

Polisar J, Maxit I, Scognamillo D, Farrell L, Sunquist ME, Eisenberg JF (2003) Jaguars, pumas, their prey base, and cattle ranching: ecological interpretations of a management problem. Biol Conserv 109:297–310

R Core Team (2013) R: a language and environment for statistical computing. R Foundation for Statistical Computing, Vienna, Austria. http://www.R-project.org/

Ribeiro MC, Metzger JP, Martensen AC, Ponzoni FJ, Hirota MM (2009) The Brazilian Atlantic forest: how much is left, and how is the remaining forest distributed? Implications for conservation. Biol Conserv 142:1141–1153

Rosas-Rosas OC, Bender LC, Valdez R (2008) Jaguar and puma predation on cattle calves in Northeastern Sonora, Mexico. Rangel Ecol Manag 61:554–560

Rosas-Rosas OC, Bender LC, Valdez R (2010) Habitat correlates of jaguar kill-sites of cattle in northeastern Sonora, Mexico. Human Wildl Interact 4:103–111

Seibert P, Negreiros OC, Bueno RA, Emmerich W, Moura BV Netto, Marcondes MAP, César SF, Guillamoun JR, Montagna RG, Barreto RAA, Nogueira JCB, Garrido MAO, Mello LE Filho, Emmerich M, Mattos JR, Oliveira MC, Godoi A (1975) Plano de Manejo do Parque Estadual de Campos do Jordão. Boletim Técnico 19. Secretaria de Estado dos Negócios da Agricultura, Coordenadoria da Pesquisa de Recursos Naturais, Instituto Florestal, São Paulo

Shaw HG, Beier P, Culver M, Grigione M (2007) Puma field guide. The Cougar Network. http://www.cougarnet.org

Soto-Shoender JR, Giuliano WM (2011) Predation on livestock by large carnivores in the tropical lowlands of Guatemala. Oryx 45:561–568

Soto-Shoender JR, Main MB (2013) Differences in stakeholder perceptions of the jaguar Panthera onca and puma Puma concolor in the tropical lowlands of Guatemala. Oryx 47:109–112

Teichman KJ, Cristescu B, Nielsen SE (2013) Does sex matter? temporal and spatial patterns of cougar–human conflict in British Columbia. PLoS One 8:e74663

Treves A, Wallace RB, Naughton-Treves L, Morales A (2006) Co-managing human–wildlife conflicts: a review. Human Dimens Wildl 11:383–396

Vaske JJ, Needham MD, Newman P, Manfredo MJ, Petchenik J (2006) Potential for conflict index: hunters' responses to chronic wasting disease. Wildl Soc Bull 34:44–50

Vaske JJ, Beaman J, Barreto H, Shelby LB (2010) An extension and further validation of the potential for conflict index. Leis Sci 32:240–254

Verdade LM, Campos CB (2004) How much is a puma worth? Economic compensation as an alternative for the conflict between wildlife conservation and livestock production in Brazil. Biota Neotrop 4:1–4

Wilson SM, Madel MJ, Mattson DJ, Graham JM, Merrill T (2006) Landscape conditions predisposing grizzly bears to conflicts on private agricultural lands in the western USA. Biol Conserv 130:47–59

Zar JH (2010) Biostatistical analysis, 5th edn. Pearson Prentice Hall, New Jersey

Zarco-González MM, Monroy-Vilchis O, Rodríguez-Soto C, Urios V (2012) Spatial factors and management associated with livestock predations by Puma concolor in Central Mexico. Human Ecol. doi:10.1007/s10745-012-9505-4

Zimmermann A, Walpole MJ, Leader-Williams N (2005) Cattle ranchers' attitudes to conflicts with jaguars in the Pantanal of Brazil. Oryx 39:406–412
Acknowledgments
Thanks to the Horto Florestal (Campos do Jordão State Park), especially Marco Antonio P. Marcondes and Waldir Joel de Andrade, and the Instituto Florestal (Process SMA N 42.769/2006) for institutional support and permission to conduct this survey. Thanks to all the livestock breeders who kindly agreed to participate in the interviews, especially Seu Jorge, Pedro Henrique de Oliveira, Fabinho, and Nelson M. Marcelino for their field assistance in data collection. We thank the Environmental/Forest Police and Fire Department at Campos do Jordão for information provided, as well as Pedro Paulo Filho, Arthur Bicudo, Antonio Scafuto Neto, Orlando Paggiaro, Mr. Roberto (Romalar), Fotótica Shimazu, Fernando, Tião and Cali for donation of photos and other materials. We thank our parents, Ana Maria T. Trinca, Walter Trinca, and Benvinda B. Lopes for the infrastructure provided and complete financial support of fieldwork activities. Thanks to Ronaldo G. Morato for a reference provided and Renata A. Miotto for helping us to find the target journal. We are very grateful for helpful comments and suggestions from reviewers, Heather Aslin and José R. Soto-Shoender, and the editors-in-chief.
About this article
Cite this article
Palmeira, F.B.L., Trinca, C.T. & Haddad, C.M. Livestock Predation by Puma (Puma concolor) in the Highlands of a Southeastern Brazilian Atlantic Forest. Environmental Management 56, 903–915 (2015). https://doi.org/10.1007/s00267-015-0562-5
Received:

Accepted:

Published:

Issue Date:
Keywords
Attitudes

Conservation

Generalized linear model

Human–wildlife interaction

Potential for conflict index