Abstract
Provision of adequate numbers of quality fish fry is often a key constraint on aquaculture development. The management of climate-related risks in hatchery and nursery management operations has not received much attention, but is likely to be a key element of successful adaptation to climate change in the aquaculture sector. This study explored the sensitivities and vulnerability of freshwater fish fry production in 15 government hatcheries across Northern Thailand to climate variability and evaluated the robustness of the proposed adaptation measures. This study found that hatcheries have to consider several factors when planning production, including: taking into account farmer demand; production capacity of the hatchery; availability of water resources; local climate and other area factors; and, individual species requirements. Nile tilapia is the most commonly cultured species of freshwater fish. Most fry production is done in the wet season, as cold spells and drought conditions disrupt hatchery production and reduce fish farm demand in the dry season. In the wet season, some hatcheries are impacted by floods. Using a set of scenarios to capture major uncertainties and variability in climate, this study suggests a couple of strategies that should help make hatchery operations more climate change resilient, in particular: improving hatchery operations and management to deal better with risks under current climate variability; improving monitoring and information systems so that emerging climate-related risks are known sooner and understood better; and, research and development on alternative species, breeding programs, improving water management and other features of hatchery operations.
This is a preview of subscription content, log in to check access.
Access options
Buy single article
Instant access to the full article PDF.
US$ 39.95
Price includes VAT for USA
Subscribe to journal
Immediate online access to all issues from 2019. Subscription will auto renew annually.
US$ 99
This is the net price. Taxes to be calculated in checkout.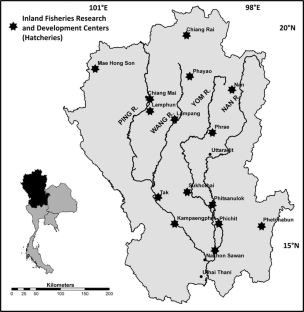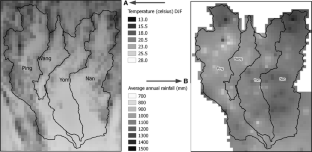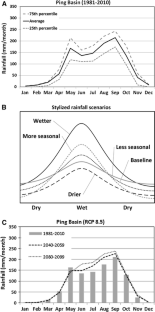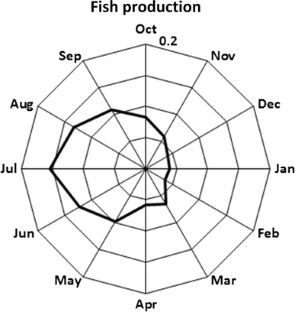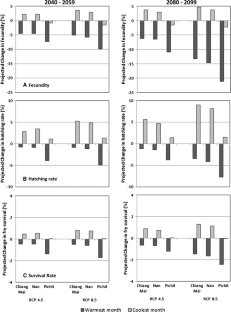 References
Akankali JA, Seiyaboh EI, Abowei JFN (2011) Fish hatchery management in Nigeria. Adv J Food Sci Technol 3(2):144–154

Baez V, Aigo J, Cussac V (2011) Climate change and fish culture in Patagonia: present situation and perspectives. Aquac Res 42:787–796

Belton B (2012) Culture, social relations and private sector development in the Thai and Vietnamese fish hatchery sectors. Asia Pac Viewp 53:133–146

Belton B, Little D (2008) The development of aquaculture in central Thailand: domestic demand versus export-led production. J Agrar Change 8:123–143

Champathong A, Komori D, Kiguchi M, Sukhapunnaphan T, Oki T, Nakaegawa T (2013) Future projection of mean river discharge climatology for the Chao Phraya River basin. Hydrol Res Lett 7:36–41

Das MK, Sharma AP, Sahu SK, Srivastava PK, Rej A (2013) Impacts and vulnerability of inland fisheries to climate change in the Ganga River system in India. Aquat Ecosyst Health Manag 16:415–424

De Silva S, Soto D (2009) Climate change and aquaculture: potential impacts, adaptation and mitigation. In: Cochrane K, De Young C, Soto G, Bahri T (eds) Climate change implications for fisheries and aquaculture: Overview of current scientific knowledge. FAO Fisheries and Aquaculture Technical Paper 530. Food and Agriculture Organization of the United Nations, Rome, pp 151–212

DOF (2011) Knowledge of Nile Tilapia. The project to raise the standard of Tilapia farms for export [in Thai]. Inland Fisheries Research and Development Bureau, Department of Fisheries, p 61

DOF (2012) Master plan for aquaculture in Thailand 2012–2016 [in Thai]. Planning Division, Department of Fisheries, Ministry of Agriculture and Cooperatives

DOF (2013) The strategic plan for working capital for aquatic animal production 2014–2016 [in Thai]. Planning Division, Department of Fisheries, Ministry of Agriculture and Cooperatives

Hanson KC, Ostrand K (2011) Potential effects of global climate change on National Fish Hatchery operations in the Pacific Northwest, USA. Aquac Environ Interact 1:175–186

Hanson KC, Peterson DP (2014) Modeling the potential impacts of climate change on pacific salmon culture programs: an example at Winthrop National Fish Hatchery. Environ Manag 54:433–448

Karvonen A, Rintamaki P, Jokela J, Valtonen ET (2010) Increasing water temperature and disease risks in aquatic systems: climate change increases the risk of some, but not all, diseases. Int J Parasitol 10:1483–1488

Kotsuke S, Tanaka K, Watanabe S (2014) Projected hydrological changes and their consistency under future climate in the Chao Phraya River Basin using multi-model and multi-scenario of CMIP5 dataset. Hydrol Res Lett 8:27–32

Lacombe G, Hoanh CT, Smakhtin V (2012) Multi-year variability or unidirectional trends? Mapping long-term precipitation and temperature changes in continental Southeast Asia using PRECIS regional climate model. Clim Change 113:285–299

Lebel P, Whangchai N, Chitmanat C, Promya J, Chaibu P, Sriyasak P, Lebel L (2013) River-based cage aquaculture of Tilapia in northern Thailand: sustainability of rearing and business practices. Nat Resour 4:410–421

Lebel P, Whangchai N, Chitmanat C, Promya J, Lebel L (2014) Access to fish cage aquaculture in the Ping river, northern Thailand. J Appl Aquac 26:32–48

Lebel P, Whangchai N, Chitmanat C, Promya J, Lebel L (2015a) Climate risk management in river-based Tilapia cage culture in northern Thailand. Int J Clim Change Strateg Manag (in press)

Lebel P, Whangchai N, Chitmanat C, Promya J, Lebel L (2015b). Risk of impacts from extreme weather and climate in river-based Tilapia cage culture in northern Thailand. Int J Glob Warm (in press)

Mills DJ, Adhuri DS, Phillips MJ, Ravikumar B, Padiyar AP (2011) Shocks, recovery trajectories and resilience among aquaculture-dependent households in post-tsunami Aceh, Indonesia. Local Environ 16:425–444

Nasr-Allah A, Dickson M, Al-Kenawy D, Ahmed M, El-Naggar G (2014) Technical characteristics and economic performance of commercial tilapia hatcheries applying different management systems in Egypt. Aquaculture 426:222–230

NESDB (2014) Quarterly gross domestic product reports. Office of the National Economic and Social Development Board. http://eng.nesdb.go.th/Default.aspx?tabid=95. Accessed 27 Nov 2014

Pickering T, Ponia B, Hair C, Southgate P, Poloczanska E, Patrona L, Teitelbaum A, Mohan C, Phillips M, Bell J, De Silva S (2011) Vulnerability of aquaculture in the tropical Pacific to climate change. In: Bell J, Johnson J, Hobday AJ (eds) Vulnerability of tropical pacific fisheries and aquaculture to climate change. Secretariat of the Pacific Community, Noumea, pp 647–731

Pimolrat P, Whangchai N, Chitmanat C, Promya J, Lebel L (2013) Survey of climate-related risks to Tilapia pond farms in northern Thailand. Int J Geosci 4:54–59

Sharma D, Babel M (2013) Application of downscaled precipitation for hydrological climate-change impact assessment in the upper Ping River basin of Thailand. Clim Dyn 41:2589–2602

Sriyasak P, Chitmanat C, Whangchai N, Lebel L (2013) Effects of temperature upon water turnover in fish ponds in northern Thailand. Int J Geosci 4:18–23

Sriyasak P, Whangchai N, Chitmanat C, Promya J, Lebel L (2014) Impacts of climate and season on water quality in aquaculture ponds. Khon Kaen Univ Res J 19:743–751

Tawaratmaneegul P, Jiramopas P, Nookaen S, Watcharakornyotin W (1994) Principle of fish breeding and culture [in Thai]. National Inland Freshwater Fisheries Institute, Department of Fisheries, Ministry for Agriculture and Cooperatives

Tawaratmaneegul P, Nookaun S, Lawanyawut K, Wacharagonyotin W, Pongmanee N (1996) Principles of aquaculture [in Thai]. Publication No. 30. Institute of Fresh Water Aquaculture, Department of Fisheries, Ministry for Agriculture and Cooperatives

Troell M, Naylor RL, Metian M, Beveridge M, Tyedmers PH, Folke C, Arrow KJ, Barrett S, Crépin AS, Ehrlich PR, Gren Å, Kautsky N, Levin SA, Nyborg K, Österblom H, Polasky S, Scheffer M, Walker BH, Xepapadeas T, de Zeeuw A (2014) Does aquaculture add resilience to the global food system? Proc Natl Acad Sci 111(37):13257–13263

Vass K, Das M, Srivastava P, Dey S (2009) Assessing the impact of climate change on inland fisheries in River Ganga and its plains in India. Aquat Ecosyst Health Manag 12(2):138–151

Watanabe S, Hirabayashi Y, Kotsuki S, Hanasaki N, Tanaka K, Mateo CM, Kiguchi M, Ikoma E, Kanae S, Oki T (2014) Application of performance metrics for climate models to project future river discharge in Chao Phraya River Basin. Hydrol Res Lett 8:33–38

Wise RM, Fazey I, Stafford Smith M, Park SE, Eakin HC, Archer Van Garderen ERM, Campbell B (2014) Reconceptualising adaptation to climate change as part of pathways of change and response. Glob Environ Change 28:325–336
Acknowledgments
The work was carried out with an aid of a grant from the International Development Research Centre, Ottawa, Canada, as a contribution to the AQUADAPT project. Thanks to the many students, officials, and farmers who helped with the surveys and expert meetings.
About this article
Cite this article
Uppanunchai, A., Apirumanekul, C. & Lebel, L. Planning for Production of Freshwater Fish Fry in a Variable Climate in Northern Thailand. Environmental Management 56, 859–873 (2015). https://doi.org/10.1007/s00267-015-0547-4
Received:

Accepted:

Published:

Issue Date:
Keywords
Tilapia

Flood

Drought

Aquaculture

Hatchery

Climate change

Scenarios