Abstract
Understanding the perception of environmental resources by the users is an important element in planning its sustainable use and management. Pastoralist communities manage their vast grazing territories and exploit resource variability through strategic mobility. However, the knowledge on which pastoralists' resource management is based and their perception of the grazing areas has received limited attention. To improve this understanding and to document this knowledge in a way that can be communicated with 'outsiders', we adopted a participatory mapping approach using satellite imagery to explore how Borana pastoralists of southern Ethiopia differentiated and characterized their grazing areas. The Borana herders conceptualized their grazing areas as set of distinctive grazing units each having specific names and characteristics. The precise location and the borders of each grazing unit were identified on the satellite image. In naming of the grazing units, the main differentiating criteria were landforms, vegetation types, prevalence of wildlife species, and manmade features. Based on the dominant soil type, the grazing units were aggregated into seasonal grazing areas that were described using factors such as soil drainage properties, extent of woody cover, main grass species, and prevalence of ecto-parasites. Pastoralists ranking of the seasonal grazing areas according to their suitability for cattle grazing matched with vegetation assessment results on the abundance of desirable fodder varieties. Approaching grazing area differentiation from the pastoralists' perspectives improves the understanding of rangeland characteristics that pastoralists considered important in their grazing management and visualization of their mental representation in digital maps eases communication of this knowledge.
Access options
Buy single article
Instant access to the full article PDF.
USD 39.95
Price excludes VAT (USA)
Tax calculation will be finalised during checkout.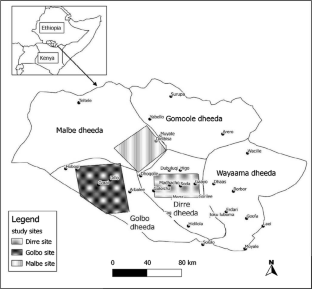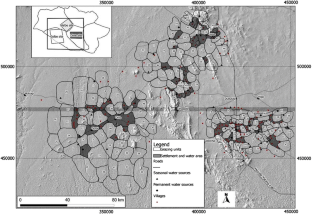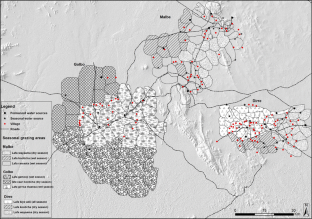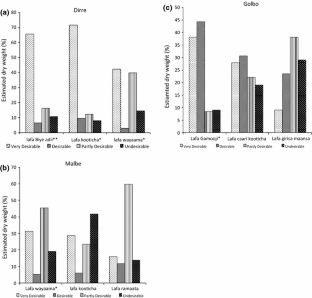 References
AfricanUnion (2010) Policy framework for pastoralism in Africa: securing, protecting and improving the lives, livelihoods and rights of pastoralist communities. Department of Rural Economy and Agriculture, African Union, South Africa

Angassa A, Oba G (2007) Relating long-term rainfall variability to cattle population dynamics in communal rangelands and a government ranch in southern Ethiopia. Agric Syst 94:715–725

Aswani S, Lauer M (2006) Incorporating fishermens local knowledge and behavior into geographical information systems (GIS) for designing marine protected areas in Oceania. Hum Organ 65:81–102

Bateson G (1983) Steps to an ecology of mind. Collected essays in anthropology, psychiatry, evolution and epistemology. Jason Aronson Inc., Northvale

Bathelt H, Glückler J (2005) Resources in economic geography: from substantive concepts towards a relational perspective. Environ Plan A 37:1545–1563

Berkes F, Folke C (1998) Linking social and ecological systems. Management practices and social mechanism for building resilience. Cambridge University Press, Cambridge

Bollig M, Schulte A (1999) Environmental change and pastoral perceptions: degradation and indigenous knowledge in two African pastoral communities. Hum Ecol 27:493–514

Breman H, de Wit CT (1983) Range productivity and exploitation in the Sahel. Science 221(4618):1341–1347

Butt B (2011) Coping with uncertainty and variability: the influence of protected areas on pastoral herding strategies in East Africa. Hum Ecol 39:289–307

Coppock DL (1994) The Borana plateau of southern Ethiopia: synthesis of pastoral research, development, and change, 1980-91, vol 5. ILRI (aka ILCA and ILRAD), Addis ababa

Cossins NJ, Upton M (1988) The impact of climatic variation on the Borana pastoral system. Agric Syst 27:117–135

Dalle G, Maass BL, Isselstein J (2006) Encroachment of woody plants and its impact on pastoral livestock production in the Borana lowlands, southern Oromia, Ethiopia. Afr J Ecol 44:237–246

Denniston D (1994) Defending the land with maps. World Watch 7:27–31

Ellis JE, Swift MD (1988) Stability of African pastoralism ecosystems; alternative paradigms and implication for development. J Range Manag 14:450–459

Fernandez-Gimenez ME (2000) The role of Mongolian nomadic pastoralists' ecological knowledge in rangeland management. Ecol Appl 10:1318–1326

Folke C (2006) Resilience: the emergence of a perspective for social-ecological systems analyses. Glob Environ Change 16:253–267

Gell A (1985) How to read a map: remarks on the practical logic of navigation. Man 20:271–286

Gillen R, Smith EL (1986) Evaluation of the dry-weight-rank method for determining species composition in tall grass prairie. J Range Manag 39:285

Helland J (1980) Social organization and water control among the Borana of southern Ethiopia, vol 16. ILRI (aka ILCA and ILRAD), Addis ababa

Herlihy PH, Knapp G (2003) Maps of, by, and for the Peoples of Latin America. Hum Organ 62:303–314

Homann S (2004) Indigenous knowledge of Borana pastoralists in natural resource management: A case study from southern Ethiopia, vol 16. Cuvillier Verlag, Goettingen

IIED (2013) Maps that build bridges. International Institute for Environment and Development (IIED), London

Imani F, Tabaeian M (2012) Recreating mental image with the aid of cognitive maps and its role in environmental perception. Procedia Soc Behav Sci 32:53–62

Ingold T (2000) The perception of the environment: essays in livelihood, dwelling and skill. Routledge, London

Istomin KV, Dwyer MJ (2009) Finding the way: a critical discussion of anthropological theories of human spatial orientation with reference to reindeer herders of northeastern Europe and western Siberia. Curr Anthropol 50:29–49

Janssen MA, Anderies JM, Ostrom E (2007) Robustness of social-ecological systems to spatial and temporal variability. Soc Nat Res 20:307–322

Jones RM, Hargreaves JNG (1979) Improvements to the dry-weight-rank method for measuring botanical composition. Grass Forage Sci 34:181–189

Kamara AB, Swallow B, Kirk M (2004) Policies, interventions and institutional change in pastoral resource management in Borana, southern Ethiopia. Dev Policy Rev 22:381–403

Kaufmann BA (2007) Cybernetics analysis of socio-biological systems-the case of livestock management in resource poor environments. Kommunikation and Beratung. Sozialwissenschafttliche Schriften zur Landbutzug und ländlichen Entwicklung, vol. 81. Margraf publishers, Weiksheim

Kitchin RM (1994) Cognitive maps: what are they and why study them? J Environ Psychol 14:1–19

Krätli S, Schareika N (2010) Living off uncertainity: the intelligent animal production of dryland pastoralists. Eur J Dev Res 22:605–622

Kratli S, Huelsebusch C, Brooks S, Kaufmann B (2013) Pastoralism: a critical asset for food security under global climate change. Anim Front 3:42–50

Krohmer J (2010) Landscape perception, classification and use among Sahelian Fulani. In: Johnson LM, Hunn ES (eds) New York. Berghahn Books, Landscape ethnoecology. Concepts of physical and biotic space, pp 48–82

Lusigi WJ (1984) Integrated resource assessment and management plan for the western Marsabit district, northern Kenya. Integrated Project on Arid Lands (IPAL) Technical Report No. A-6

Lynch K (1960) The image of the city. The MIT Press, Cambridge

Mannetje L, Haydock KP (1963) The dry-weight rank method for botanical analysis of pasture. Grass Forage Sci 18:268–275

McKenna J, Quinn RJ, Donnelly DJ, Cooper JA (2008) Accurate mental maps as an aspect of local ecological knowledge (LEK): a case study from Lough Neagh, Northern Ireland. Ecol Soc 13:13

McLain R, Poe M, Biedenweg K, Cerveny L, Besser D, Blahna D (2013) Making sense of human ecology mapping: an overview of approaches to integrating socio-spatial data into environmental planning. Hum Ecol 41:651–665

Megersa B, Markemann A, Angassa A, Ogutu JO, Hans-Peter P, Zarate AV (2014) Livestock diversification: an adaptive strategy to climate and rangeland ecosystem changes in southern Ethiopia. Hum Ecol 42:509–520

Meuret M (2014a) Menu model: the herder as restaurant chef. In: Meuret M, Provenza F (eds) The art and science of shepherding: tapping the wisdom of French herders. ACRES USA, Astin, pp 183–211

Meuret M (2014b) How to stimulate animals' appetites: shepherd and goat herder discussion. In: Meuret M, Provenza F (eds) The art and science of shepherding: tapping the wisdom of French herders. Austin, ACRES USA, pp 161–182

Molnar Z (2012) Classification of pasture habitats by Hungarian herders in a steppe landscape (Hungary). J Ethnobiol Ethnomed 8:28

Niamir (1990) Community forestry: herder's decision making in natural resource management in arid and semi-arid Africa. FAO, Rome

Niamir-Fuller M (1999) Managing mobility in African rangelands. http://www.ilri.org/InfoServ/Webpub/fulldocs/PropertyRights/Chapter7.htm. Accessed 24 Oct 2014

Oba G (1998) Assessment of indigenous range management knowledge of the booran pastoralists of southern Ethiopia. Borana Lowland Pastoral Development Programme (BLPDP/GTZ), Negelle

Oba G (2012) Harnessing pastoralists indigenous knowledge for rangeland management: three African case studies. Pastoralism 2:1–25

Oba G, Kaitira LM (2006) Herder knowledge of landscape assessments in arid rangelands in northern Tanzania. J Arid Environ 66:168–186

Oba G, Kotile DG (2001) Assessments of landscape level degradation in southern Ethiopia: pastoralists versus ecologists. Land Degrad Dev 12:461–475

Oba G, Post E, Syvertsen PO, Stenseth NC (2000) Bush cover and range condition assessments in relation to landscape and grazing in southern Ethiopia. Landsc Ecol 15:535–546

Ostrom E (2009) A general framework for analyzing sustainability of social-ecological systems. Science 325:419–422

Ratliff RD, Frost WE (1990) Estimating botanical composition by the dry-weight-rank method in California' s annual grasslands, vol 410. US Department of Agriculture, Forest Service, Pacific Southwest Research Station, Berkeley, p 5

Roba HG, Oba G (2008) Integration of herder knowledge and ecological methods for land degradation assessment around sedentary settlements in a sub-humid zone in northern Kenya. Int J Sustain Dev World Ecol 15:251–264

Roba HG, Oba G (2009) Community participatory landscape classification and biodiversity assessment and monitoring of grazing lands in northern Kenya. J Environ Manag 90:673–682

Rowley T (2013) Participatory digital map making in arid areas of Kenya and Tanzania. In: Ashley H, Kenton N, Milligan N (eds) Participatory learning and action (66) tools for supporting natural resource management and livelihoods. IIED, London, pp 51–66

Schareika N (2001) Environmental knowledge and pastoral migration among the Wodaabe of South-Eastern Niger. Nomadic Peoples 5:65–88

Schenk FB (2013) Mental maps: the cognitive mapping of the continent as an object of research of European History. European History Online (EGO) published by the Leibniz Institute of European History (IEG), Mainz http://www.ieg-ego.eu/schenkf-2013-enURN:urn:nbn:de:0159-2013070216 Accessed 13 Jan 2015

Schlecht E, Hiernaux P, Kadaoure I, Hulsebusch C, Mahler F (2006) A spatio-temporal analysis of forage availability and grazing and excretion behaviour of herded and free grazing cattle, sheep and goats in Western Niger. Agric Ecosyst Environ 113:226–242

Schwartz HJ, Shaabani S, Walther D (1991) Range management handbook of Kenya volume II, 1. Republic of Kenya. Ministry of Livestock Development, Nairobi

Soini K (2001) Exploring human dimensions of multifunctional landscapes through mapping and map-making. Landsc Urban Plan 57:225–239

Tolman EC (1948) Cognitive maps in rat and men. The psychological review 55:198–208

Tripathi N, Bhattarya S (2004) Integrating indigenous knowledge and GIS for participatory natural resource management: state of the practice. EJISDC 17:1–13

Tuan YF (1975) Images and mental maps. Ann Assoc Am Geogr 65:205–213

Turner M, Hiernaux P, Schlecht E (2005) The distribution of grazing pressure in relation to vegetation resources in semi-arid west Africa: the role of herding. Ecosystems 8:668–681

Verlinden A, Dayot B (2005) A comparison between indigenous environmental knowledge and a conventional vegetation analysis in north central Namibia. J Arid Environ 62:143–175

Wilke H (1994) Systemtheorie II: Interventionstheorie. Gustav Fischer Verlag, Stuttgart
Acknowledgments
The authors are grateful to the German Federal Ministry (BMZ) for funding this research work within the collaborative project "Livelihood diversifying potential of livestock based carbon sequestration options in pastoral and agro-pastoral systems in Africa" led by ILRI Nairobi. Our gratitude also goes to the Borana community members who volunteered their time and information that made this work insightful and enjoyable. Astrid Szogs is thanked for language editing of the paper. We also thank Boku Tache, Christian Hülsebusch, and Mohammed Said for general support to the project. We also thank the two anonymous reviewers for the constructive and insightful comments.
Conflict of interest
There are no perceived or actual conflicts of interest by the authors.
Electronic supplementary material
Below is the link to the electronic supplementary material.
About this article
Cite this article
Wario, H.T., Roba, H.G. & Kaufmann, B. Shaping the Herders' "Mental Maps": Participatory Mapping with Pastoralists' to Understand Their Grazing Area Differentiation and Characterization. Environmental Management 56, 721–737 (2015). https://doi.org/10.1007/s00267-015-0532-y
Received:

Accepted:

Published:

Issue Date:

DOI: https://doi.org/10.1007/s00267-015-0532-y
Keywords