Abstract
This study examines the effects of internal motivations and external pressures on the integration of environmental management (EM) practices within manufacturing operations in China. The moderating role of perceptions toward the regulatory process is also considered along with comparisons between wholly Chinese-owned and foreign-owned enterprises. From a sample of 131 manufacturing companies in the Guangzhou area, it was found that the salience of fees and fines has a strong positive influence on perceptions toward the regulator (the local Environmental Protection Bureau, EPB). This also has a positive effect on perceptions toward regulations themselves for foreign-owned enterprises. Business-case motivations for EM positively shape enterprise perceptions toward regulations, whereas risk-reduction motivations have a negative effect on perceptions toward regulations in foreign-owned enterprises. Enterprise perceptions toward the regulatory process have direct effects on the integration of EM practices in wholly Chinese-owned enterprises, but in opposite directions. While positive perceptions toward regulations have positive influence, positive perceptions toward regulators (i.e., the EPB) negatively affect it. Overall, these results indicated that promoting the adoption of EM practices depends on convincing business leaders that EM practices contribute to profit making. The regulatory process can potentially promote these practices, but measures need to be taken to ensure that the regulator is not co-opted by the regulated, especially in wholly Chinese-owned enterprises.
Access options
Buy single article
Instant access to the full article PDF.
USD 39.95
Price includes VAT (USA)
Tax calculation will be finalised during checkout.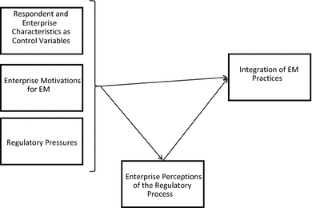 References
Beyer S (2006) Environmental law and policy in the People's Republic of China. Chin J Int Law 5:185–211

Boiral O, Henri JF, Talbot D (2012) Modeling the impacts of corporate commitment on climate change. Bus Strategy Environ 21:495–516

Burby R, Paterson RG (1993) Improving compliance with state environmental regulations. J Policy Anal Manag 12(4):753–772

Chan CHJ, Welford R (2005) Assessing corporate environmental risk in China: an evaluation of reporting activities of Hong Kong listed companies. Corp Soc Responsib Environ Manag 12(2):88–104

Corneliussen F (2005) The impact of regulations on firms: a case study of the biotech industry. Law Policy 27(3):429–449

Gray WB, Shadbegian RJ (2004) 'Optimal' pollution abatement—whose benefits matter, and how much? J Environ Econ Manag 47:510–534

Gunningham NA, Kagan RA (2005) Regulation and business behavior. Law Policy 27:213–218

Gunningham NA, Thornton D, Kagan KA (2005) Motivating management: corporate compliance in environmental protection. Law Policy 27:289–316

Helland E (1998) The enforcement of pollution control laws: inspections, violations, and self-reporting. Rev Econ Stat 80:141–153

Hunt B (2003) The timid corporation: why business is terrified of taking risks. John Wiley, Hoboken

Kuperan K, Sutinen JG (1998) Blue water crime: deterrence, legitimacy, and compliance in fisheries. Law Soc Rev 32:309–338

Lai KH, Wong CW (2012) Green logistics management and performance: some empirical evidence from Chinese manufacturing exporters. Omega 40(3):267–282

Li JJ, Poppo L, Zhou KZ (2008) Do managerial ties in China always produce value? Competition, uncertainty, and domestic vs. foreign firms. Strateg Manag J 29:383–400

Liu X, Liu B, Shishime T, Yu Q, Bi J, Fujitsuka T (2010) An empirical study on the driving mechanism of proactive corporate environmental management in China. J Environ Manag 91(8):1707–1717

Lo CWH, Fryxell GE (2005) Governmental and societal support for environmental enforcement in China: an empirical study in Guangzhou. J Dev Stud 41:558–588

Lo CWH, Tang SY (2006) Institutional reform, economic changes and local environmental management. Environ Polit 15(2):190–210

Lo CWH, Tang SY (2014) Institutions, regulatory styles. Society and Environmental Governance in China, Routledge

Lo CWH, Fryxell GE, Tang SY (2010) Stakeholder pressures from perceived environmental impacts and the effect on corporate environmental management programmes in China. Environ Polit 19:888–909

Ma XY, Ortolano L (2000) Environmental regulation in China: institutions, enforcement, and compliance. Rowan & Littlefield Publishers, Lanham

May PJ (2005) Regulation and compliance motivation: examining different approaches. Public Adm Rev 65:31–44

Moon S, deLeon P (2007) Contexts and corporate voluntary environmental behaviors: examining the EPA's green lights voluntary program. Organ Environ 20:480–496

Morrow D, Rondinelli D (2002) Adopting corporate environmental management systems: motivations and results of ISO 14001 and EMAS certification. Eur Manag J 20:159–171

Murphy K, Tyler TR, Curtis A (2009) Nurturing regulatory compliance: is procedural justice effective when people question the legitimacy of the law? Regul Gov 3:1–26

Sharma S (2000) Managerial interpretations and organizational context as predictors of corporate choice of environmental strategy. Acad Manag J 43:681–697

Stalley P, Yang DL (2006) An emerging environmental movement in China? China Q 186:333–356

Thornton D, Gunningham NA, Kagan RA (2005) General deterrence and corporate environmental behavior. Law Policy 27:262–288

Tilt B (2007) The political ecology of pollution enforcement in China: a case from Sichuan's rural industrial sector. China Q 192:915–932

van Rooij B (2006) Regulating land and pollution in China: lawmaking, compliance, and enforcement; theory and cases. Leiden University Press, Leiden

Vogel D (2005) The market for virtue. Brookings Institution, Washington, DC

Walker K, Ni N, Huo W (2014) Is the red dragon green? An examination of the antecedents and consequences of environmental proactivity in China. J Bus Ethics 125:27–43

Wang H, Maningi N, Laplante B, Dasgupta S (2003) Incomplete enforcement of pollution regulation: bargaining power of Chinese factories. Environ Resour Econ 24(3):245–262

Winter SC, May PJ (2001) Motivation for compliance with environmental regulations. J Policy Anal Manag 20:675–698

Yee WH, Lo CWH, Tang SY (2013) Assessing ecological modernization in China: stakeholder demands and corporate environmental management practices. China Q 213:101–129

Yee WH, Tang SY, Lo CWH (2014) Regulatory compliance when the rule of law is weak: evidence from China's environmental reform. J Public Adm Res Theor. doi:10.1093/jopart/muu025

Zhan X, Lo CWH, Tang SY (2014) Contextual changes and environmental policy implementation: a longitudinal study of street-level bureaucrats in Guangzhou, China. J Public Adm Res Theor 24(4):1005–1035

Zhang B, Bi J, Yuan Z, Ge J, Liu B, Bu M (2008) Why do firms engage in environmental management? An empirical study in China. J Clean Prod 16:1036–1045

Zhu QH, Sarkis J, Lai KH (2007) Green supply chain management: pressures, practices and performance within the Chinese auto mobile industry. J Clean Prod 15:1041–1052

Zyglidopoulos SC (2002) The social and environmental responsibilities of multinationals: evidence from the Brent Spar case. J Bus Ethics 26(1/2):141–151
Acknowledgments
Research for this paper was funded in part by the project "Assessing Ecological Modernization in China: A Longitudinal and Comparative Study of Stakeholder Demands and Corporate Environmental Management Practices" of the Research Grant Council of the Hong Kong Special Administrative Region (RGC No.: PolyU 5458/12H).
About this article
Cite this article
Tang, SY., Li, P.H., Fryxell, G.E. et al. Enterprise-Level Motivations, Regulatory Pressures, and Corporate Environmental Management in Guangzhou, China. Environmental Management 56, 777–790 (2015). https://doi.org/10.1007/s00267-015-0527-8
Received:

Accepted:

Published:

Issue Date:
Keywords
China

Corporate environmental management

Regulatory pressure

Foreign-owned enterprises

Chinese-owned enterprises