Abstract
We assessed the effects of the elimination of livestock in riparian systems at Hart Mountain National Antelope Refuge in southeastern Oregon, 23 years after the removal of cattle grazing, using 64 photos taken before grazing was removed compared with later retake photos. Two methods were used for this assessment: (1) a qualitative visual method comparing seven cover types and processes and (2) a new quantitative method of inserting digital line transects into photos. Results indicated that channel widths and eroding banks decreased in 64 and 73 % of sites, respectively. We found a 90 % decrease in the amount of bare soil (P < 0.001) and a 63 % decrease in exposed channel (P < 0.001) as well as a significant increase in the cover of grasses/sedges/forbs (15 % increase, P = 0.037), rushes (389 % increase, P = 0.014), and willow (388 % increase, P < 0.001). We also assessed the accuracy of the new method of inserting digital line transects into photo pairs. An overall accuracy of 91 % (kappa 83 %) suggests that digital line transects can be a useful tool for quantifying vegetation cover from photos. Our results indicate that the removal of cattle can result in dramatic changes in riparian vegetation, even in semi-arid landscapes and without replanting or other active restoration efforts.
Access options
Buy single article
Instant access to the full article PDF.
USD 39.95
Price excludes VAT (USA)
Tax calculation will be finalised during checkout.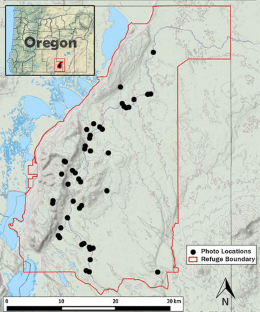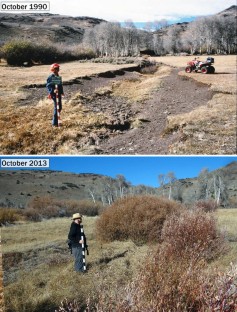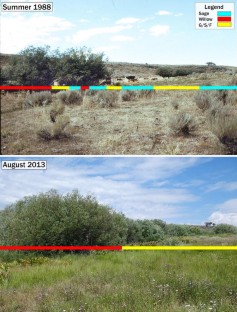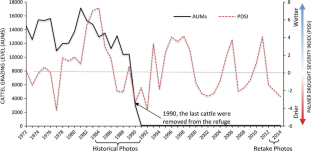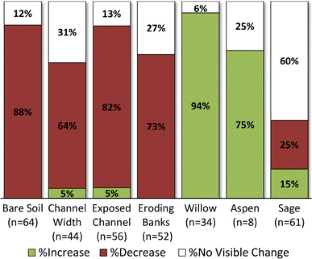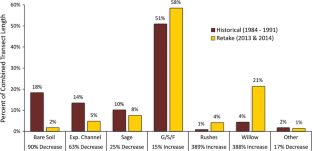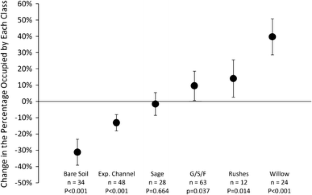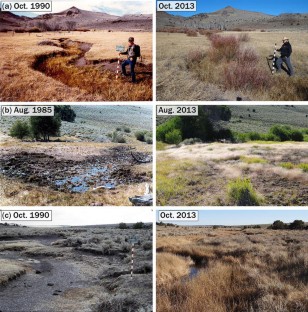 References
Alley WM (1984) The Palmer Drought Severity Index: limitations and assumptions. J Climate Appl Meteorol 23:1100–1109

Anderson EW, DL Franzen, JE Melland (1990) Rx grazing to benefit watershed-wildlife-livestock. Rangelands 12:105–111

Bartos DL, Campbell RB Jr (1998) Decline of quaking aspen in the Interior West—examples from Utah. Rangelands 20:17–24

Belsky AJ, Matzke A, Uselman S (1999) Survey of livestock influences on stream and riparian ecosystems in the western United States. J Soil Water Conserv 54:419–431

Beschta RL, Donahue DL, DellaSala DA, Rhodes JJ, Karr JR, O'Brien MH, Fleischner TL, Deacon Williams C (2013) Adapting to climate change on western public lands: addressing the ecological effects of domestic, wild, and feral ungulates. Environ Manag 51:474–491

Beschta RL, Boone Kauffman J, Dobkin DS, Ellsworth LM (2014) Long-term livestock grazing alters aspen age structure in the northwestern Great Basin. Forest Ecol Manag 329:30–36

Booth DT, Cox SE, Simonds G, Sant ED (2012) Willow cover as a stream-recovery indicator under a conservation grazing plan. Ecol Indic 18:512–519

Boyd CS, Svejcar TJ (2005) A visual obstruction technique for photo monitoring of willow clumps. Rangeland Ecol Manag 58:434–438

Case RL (1995). The ecology of riparian ecosystems of northeast Oregon: Shrub recovery at Meadow Creek and the structure and biomass of headwater upper Grande Ronde ecosystems. MS thesis, Oregon State University. pp 136

Chaney E, Elmore W, Platts WS (1993) Livestock grazing on western riparian areas. U.S. Government Printing Office, Washington

Dobkin DS, Rich AC, Pyle WH (1998) Habitat and avifaunal recovery from livestock grazing in a riparian meadow system of the northwestern Great Basin. Conserv Biol 12:209–221

Donahue DL (1999) The western range revisited: removing livestock from public lands to conserve biodiversity. University of Oklahoma Press, Norman 388p

Earnst SL, Dobkin DS, Ballard JA (2012) Changes in avian and plant communities of aspen woodlands over 12 years after livestock removal in the Northwestern Great Basin. Conserv Biol 26:862–872

Elmore W, Beschta RL (1987) Riparian areas: perceptions in management. Rangelands 9:260–265

Fitzgerald RD, Bailey AW (1984) Control of aspen regrowth by grazing with cattle. J Range Manag 37:156–158

Fleischner TL (1994) Ecological costs of livestock grazing in western North America. Conserv Biol 8:629–644

Floyd ML, Fleischner TL, Hanna D, Whitefield P (2003) Effects of historic livestock grazing on vegetation at Chaco culture national historic park, New Mexico. Conserv Biol 17:1703–1711

Green DM, Kauffman JB (1995) Succession and livestock grazing in a northeastern Oregon riparian ecosystem. J Range Manag 48:307–313

Hall FC (2002) Photo point monitoring handbook: part B-concepts and analysis. PNW-GTR-526B. USDA Forest Service, Pacific Northwest Research Station 0887-4840

Hart RH, Laycock WA (1996) Repeat photography on range and forest lands in the western United States. J Range Manag 49:60–67

Hayes GF, Holl KD (2003) Cattle grazing impacts on annual forbs and vegetation composition of mesic grasslands in California. Conserv Biol 17:1694–1702

Hough-Snee N, Roper BB, Wheaton JM, Budy P, Lokteff RL (2013) Riparian vegetation communities change rapidly following passive restoration at a northern Utah stream. Ecol Eng 58:371–377

Kauffman JB, Krueger WC (1984) Livestock impacts on riparian ecosystems and streamside management implications: a review. J Range Manag 37:430–438

Kauffman JB, Krueger WC, Vavra DM (1983) Impacts of cattle on streambanks in Northeastern Oregon. J Range Manag 36:683–685

Kauffman JB, Case R, Lytjen D, Otting N, Cummings DL (1995) Ecological approaches to riparian restoration in northeast Oregon. Restor Manag Notes 13:12–15

Knapp RA, Matthews KR (1996) Livestock grazing, golden Trout, and streams in the Golden Trout Wilderness, California: impacts and management implications. N Am J Fish Manag 16:805–820

Kovalchik BL, Elmore W (1992) Effects of cattle grazing systems on willow-dominated plant associations in central Oregon. In: Clary WP, McArthur ED, Bedunah D, Wambolt CL (eds) Proceedings of the Symposium on Ecology and Management of Riparian Shrub Communities May 29-31, 1991, Sun Valley, ID. USDA Forest Service, Intermountain Research Station, pp 111–119

Krueper D, Bart J, Rich TD (2003) Response of vegetation and breeding birds to the removal of cattle on the San Pedro River, Arizona (U.S.A.). Conserv Biol 17:607–615

Lillesand TM, Kiefer RW, Chipman JW (2004) Remote sensing and image interpretation. Wiley, New York

Michel P, Mathieu R, Mark A (2010) Spatial analysis of oblique photopoint images for quantifying spatiotemporal changes in plant communities. Appl Veg Sci 13:173–182

Omernik JM (1987) Ecoregions of the conterminous United States. Ann Assoc Am Geogr 77:118–125

Painter LE, Ripple WJ (2012) Effects of bison on willow and cottonwood in northern Yellowstone National Park. Forest Ecol Manag 264:150–158

Read CF, Duncan DH, Vesk PA, Elith J (2011) Surprisingly fast recovery of biological soil crusts following livestock removal in southern Australia. J Veg Sci 22:905–916

Reid EH, Johnson CG, Hall WB (1991) Green fescue grassland: 50 years of secondary succession under sheep grazing. USDA Forest Service, Pacific Northwest Region

Ripple WJ, Beschta RL (2006) Linking wolves to willows via risk-sensitive foraging by ungulates in the northern Yellowstone ecosystem. Forest Ecol Manag 230:96–106

Ripple WJ, Beschta RL (2012) Trophic cascades in Yellowstone: the first 15 years after wolf reintroduction. Biol Conserv 145:205–213

Skovlin JM (1984) Impacts of grazing on wetlands and riparian habitat: a review of our knowledge. Pages 1001-103 in developing strategies for rangeland management. National Research Council/National Academy of Sciences, Westview Press, Boulder

Taylor DM (1986) Effects of cattle grazing on passerine birds nesting in riparian habitat. J Range Manag 39:254–258

QGIS Development Team (2014) QGIS Geographic Information System, http://qgis.osgeo.org. Accessed 1 Mar 2014

Trimble SW, Mendel AC (1995) The cow as a geomorphic agent —a critical review. Geomorphology 13:233–253

USFWS (U.S. Fish and Wildlife Service) (1994) Hart mountain national antelope refuge comprehensive management plan. U.S. Department of the Interior, USA

Vincent KR, Friedman JM, Griffin ER (2009) Erosional consequence of saltcedar control. Environ Manag 44:218–227

White SM, Rahel FJ (2008) Complementation of habitats for Bonneville cutthroat trout in watersheds influenced by beavers, livestock, and drought. Trans Am Fish Soc 137:881–894

WRCC (Western Regional Climate Center) (2014) West Wide Drought Tracker. http://www.wrcc.dri.edu/wwdt/time/ Accessed 1 Jun

Zoellick BW (2004) Density and biomass of redband trout relative to stream shading and temperature in southwestern Idaho. West North Am Nat 64:18–26
Acknowledgments
We thank those who provided helpful discussions or assistance on this project including Jeff Mackey, Keely Lopez, Schyler Reis, Ariel Muldoon, Bill Pyle, Steve Herman, and Boone Kauffman. We also thank Robert Beschta and David Dobkin for reviewing an early draft, and two anonymous reviewers. Gail Collins kindly provided refuge data and background information for this study. Partial funding was provided to WJR by the Greater Hart-Sheldon Conservation Fund and Wilburforce Foundation, and to TMW by the Bureau of Land Management, Oregon State Office, and the U.S. Forest Service, Pacific Northwest Research Station.
Electronic Supplementary Material
Below is the link to the electronic supplementary material.
Supplementary material 1 (PDF 32329 kb). Photo pairs (n = 64) showing conditions before and 23 years after removal of cattle at the Hart Mountain National Antelope Refuge
About this article
Cite this article
Batchelor, J.L., Ripple, W.J., Wilson, T.M. et al. Restoration of Riparian Areas Following the Removal of Cattle in the Northwestern Great Basin. Environmental Management 55, 930–942 (2015). https://doi.org/10.1007/s00267-014-0436-2
Received:

Accepted:

Published:

Issue Date:

DOI: https://doi.org/10.1007/s00267-014-0436-2
Keywords
Riparian

Grazing

Cattle

Repeat photography

Passive restoration

Hart Mountain