Abstract
Estuarine shorelines have been degraded since humans arrived in the coastal zone. In recent history, a major cause of habitat degradation has been the armoring of shorelines with vertical walls to protect property from erosive wave energy; however, a lack of practical alternatives that maintain or enhance ecological function has limited the options of waterfront residents and coastal zone managers. We experimentally investigated the habitat value of two configurations of submerged breakwaters constructed along an eroding shoreline in northwest Mobile Bay, AL (USA). Breakwaters comprised of bagged oyster shell or Reef Ball™ concrete domes were built by a community-based restoration effort. Post-deployment monitoring found that: bagged oyster breakwaters supported much higher densities of live ribbed mussels than Reef Ball breakwaters; both breakwater configurations supported increased species richness of juvenile and smaller fishes compared to controls; and that larger fishes did not appear to be affected by breakwater presence. Our study demonstrates that ecologically degraded shorelines can be augmented with small-scale breakwaters at reasonable cost and that these complex structures can serve as habitat for filter-feeding bivalves, mobile invertebrates, and young fishes. Understanding the degree to which these structures mitigate erosive wave energy and protect uplands will require a longer time frame than our 2-year-long study.
Access options
Buy single article
Instant access to the full article PDF.
US$ 39.95
Tax calculation will be finalised during checkout.
Subscribe to journal
Immediate online access to all issues from 2019. Subscription will auto renew annually.
US$ 79
Tax calculation will be finalised during checkout.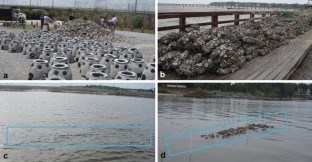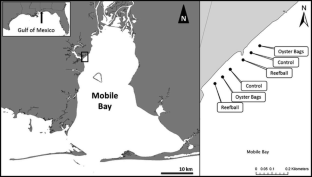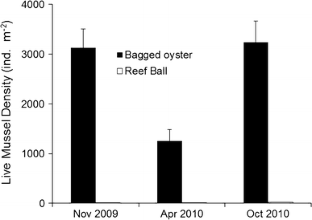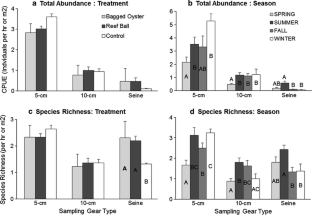 References
Allen RJ, Webb BM (2011) Determination of wave transmission coefficients for oyster shell bag breakwaters. In: Coastal Engineering Practice, 2011. ASCE, pp 684–697

Anderson MJ (2001a) A new method for non-parametric multivariate analysis of variance. Austral Ecol 26:32–46

Anderson MJ (2001b) Permutation tests for univariate or multivariate analysis of variance and regression. Can J Fish Aquat Sci 58:626–639

Bertness MD (1984) Ribbed mussels and Spartina alterniflora production in a New England salt marsh. Ecology 65:1794–1807

Beseres Pollack J, Yoskowitz D, Kim H-C, Montagna PA (2013) Role and value of nitrogen regulation provided by oysters (Crassostrea virginica) in the Mission-Aransas Estuary, Texas, USA. PLoS ONE 8:e65314. doi:10.1371/journal.pone.0065314

Bilkovic D, Roggero M (2008) Effects of coastal development on nearshore estuarine nekton communities. Mar Ecol Prog Ser 358:27–39. doi:10.3354/meps07279

Borsje BW, van Wesenbeeck BK, Dekker F, Paalvast P, Bouma TJ, van Katwijk MM, de Vries MB (2011) How ecological engineering can serve in coastal protection. Ecol Eng 37:113–122. doi:10.1016/j.ecoleng.2010.11.027

Bostrom C, Mattila J (1999) The relative importance of food and shelter for seagrass-associated invertebrates: a latitudinal comparison of habitat choice by isopod grazers. Oecologia 120:162–170

Coen LD, Luckenbach MW, Breitburg DL (1999) The role of oyster reefs as essential fish habitat: a review of current knowledge and some new perspectives. Am Fish Soc Symp 22:438–454

Dame RF (1996) Ecology of marine bivalves: an ecosystem approach. CRC Press, Boca Raton

Douglass SL, Pickel BH (1999) The tide doesn't go out anymore—the effect of bulkheads on urban shorelines. Shore and Beach 67:19–25

Galimany E, Rose JM, Dixon MS, Wikfors GH (2013) Quantifying feeding behavior of ribbed mussels (Geukensia demissa) in two urban sites (Long Island Sound, USA) with different seston characteristics. Estuar Coasts 36:1265–1273

Geraldi NR, Powers SP, Heck KL, Cebrian J (2009) Can habitat restoration be redundant? Response of mobile fishes and crustaceans to oyster reef restoration in marsh tidal creeks. Mar Ecol Prog Ser 389:171–180

Grabowski JH, Hughes AR, Kimbro DL, Dolan MA (2005) How habitat setting influences restored oyster reef communities. Ecology 86:1926–1935

Halpern BS et al (2008) A global map of human impact on marine ecosystems. Science 319:948–952

Harris LE (2003) Artificial reef structures for shoreline stabilization and habitat enhancement. In: 3rd international surfing reef symposium, Ragland, New Zealand, pp 176–178

Hsueh P-W, McClintock JB, Hopkins TS (1992) Comparative study of the diets of the blue crabs Callinectes similis and C. sapidus from a mud-bottom habitat in Mobile Bay. Alabama. J Crust Biol 12:615–619

Humphries AT, La Peyre MK, Kimball ME, Rozas LP (2011) Testing the effect of habitat structure and complexity on nekton assemblages using experimental oyster reefs. J Exp Mar Biol Ecol 409:172–179. doi:10.1016/j.jembe.2011.08.017

Jones SC, Tidwell DK, Darby SB (2009) Comprehensive shoreline mapping, Baldwin and Mobile Counties, Alabama: Phase 1. Open File Report 0921. Geological Survey of Alabama, Tuscaloosa, Alabama

Kim C-K, Park K, Powers SP, Graham WM, Bayha KM (2010) Oyster larval transport in coastal Alabama: dominance of physical transport over biological behavior in a shallow estuary. J Geophys Res 115:1–16. doi:10.1029/2010JC006115

Koch EW et al (2009) Non-linearity in ecosystem services: temporal and spatial variability in coastal protection. Front Ecol Environ 7:29–37. doi:10.1890/080126

La Peyre MK, Humphries AT, Casas SM, La Peyre JF (2014) Temporal variation in development of ecosystem services from oyster reef restoration. Ecol Eng 63:34–44. doi:10.1016/j.ecoleng.2013.12.001

Leigh P (2005) The ecological crisis, the human condition, and community-based restoration as an instrument for its cure. Ethics Sci Environ Polit 2005:3–15

Mallin MA, Williams KE, Esham EC, Lowe RP (2000) Effect of human development on bacteriological water quality in coastal watersheds. Ecol Appl 10:1047–1056

Meyer DL, Townsend EC, Thayer GW (1997) Stabilization and erosion control value of oyster cultch for intertidal marsh. Restor Ecol 5:93–99

Newell RIE (2004) Ecosystem influences of natural and cultivated populations of suspension-feeding bivalve molluscs: a review. J Shellfish Res 23:51–61

NMFS (2009) Fisheries Economics of the United States, 2009

NRC (2007) Mitigating shore erosion along sheltered coasts. National Academies Press, Washington, DC

Peterson BJ, Heck KLJ (2001) Positive interactions between suspension-feeding bivalves and seagrass—a facultative mutualism. Mar Ecol Prog Ser 213:143–155

Peterson C, Grabowski J, Powers S (2003) Estimated enhancement of fish production resulting from restoring oyster reef habitat: quantitative valuation. Mar Ecol Prog Ser 264:249–264. doi:10.3354/meps264249

Piazza BP, Banks PD, La Peyre MK (2005) The potential for created oyster shell reefs as a sustainable shoreline protection strategy in Louisiana. Restor Ecol 13:499–506

Piehler MF, Smyth AR (2011) Habitat-specific distinctions in estuarine denitrification affect both ecosystem function and services Ecosphere 2:art12. doi:10.1890/es10-00082.1

Pilkey OH, Cooper JAG (2012) "Alternative" shoreline erosion control devices: a review. In: Cooper JAG, Pilkey OH (eds) Pitfalls of shoreline stabilization: selected case studies. Coastal research library, vol 3. doi:10.1007/978-94-007-7123-2_12

Pilkey OH, Wright W (1988) Sea-walls vs. beaches. J Coast Res 4:41–64

Roland RM, Douglass SL (2005) Estimating wave tolerance of Spartina alterniflora in coastal Alabama. J Coast Res 21:453–463

Rozas LP, Odum WE (1987) Fish and macrocrustacean use of submerged plant beds in tidal freshwater marsh creeks. Mar Ecol Prog Ser 38:101–108

Scheinin M, Scyphers SB, Kauppi L, Heck KL, Mattila J (2012) The relationship between vegetation density and its protective value depends on the densities and traits of prey and predators. Oikos 121:1093–1102

Schroeder WW, Wiseman WJJ (1985) An analysis of the winds (1974–1984) and sea level elevations (1973–1983) in coastal Alabama Mississippi–Alabama Sea Grant Consortium Publication MASGP-84-024:i-102

Scyphers SB, Lerman SB (2014) Residential landscapes, environmental sustainability and climate change. In: Research in urban sociology, vol 14: sustainable cities: global concerns/urban efforts. ISBN:978-1-7844-1-058-2

Scyphers SB, Powers SP (2013) Context-dependent effects of a marine ecosystem engineer on predator–prey interactions. MEPS 491:295–301

Scyphers SB, Powers SP, Heck KL, Byron D (2011) Oyster reefs as natural breakwaters mitigate shoreline loss and facilitate fisheries. PLoS ONE 6:e22396. doi:10.1371/journal.pone.0022396

Scyphers SB, Picou JS, Powers SP (2014) Participatory conservation of coastal habitats: the importance of understanding homeowner decision making to mitigate cascading shoreline degradation. Conserv Lett Early View. doi:10.1111/conl.12114

Syvitski JPM, Vorosmarty CJ, Kettner AJ, Green P (2005) Impact of humans on the flux of terrestrial sediment to the global coastal ocean. Science 308:376–380

Vitousek PM, Mooney HA, Lubchenco J, Melillo JM (1997) Human domination of Earth's ecosystems. Science 277:494–499
Acknowledgments
The study was supported The Nature Conservancy (TNC) of Alabama, the Environmental Protection Agency's Gulf of Mexico Program, and Mobile Bay National Estuary Program. M A Lott (formerly with TNC), C Ferraro and J Jordan (Alabama Department of Natural Resources—State Lands Division) were integral for planning and implementing the community-based deployment of the breakwaters. We thank D Byron and the numerous other technicians, graduate students, interns and volunteers who helped with the breakwater construction, deployment and monitoring. We are grateful to L. Coen, S. Picou, and J. Grabowski for comments on our manuscript. The funding sources of our study had no influence on the study design or manuscript.
About this article
Cite this article
Scyphers, S.B., Powers, S.P. & Heck, K.L. Ecological Value of Submerged Breakwaters for Habitat Enhancement on a Residential Scale. Environmental Management 55, 383–391 (2015). https://doi.org/10.1007/s00267-014-0394-8
Received:

Accepted:

Published:

Issue Date:
Keywords
Community-based restoration

Ecosystem engineers

Fisheries

Living shorelines

Oyster reef

Participatory management