Abstract
We employed qualitative methods to explore how conflict over water collection and use impacts women, and the role that women play in water management and conflict resolution in Marsabit, Kenya. Conflicts between domestic and livestock water led to insufficient water for domestic use and intra-household conflict. Women's contributions to water management were valued, especially through informal initiatives, though involvement in statutory water management committees was not culturally appropriate. Promoting culturally appropriate ways to involve women in water management, rather than merely increasing the percentage of women on water committee, may reduce conflicts and increase women's access to domestic water supplies.
Access options
Buy single article
Instant access to the full article PDF.
US$ 39.95
Tax calculation will be finalised during checkout.
Subscribe to journal
Immediate online access to all issues from 2019. Subscription will auto renew annually.
US$ 79
Tax calculation will be finalised during checkout.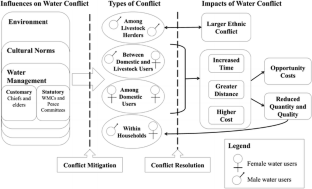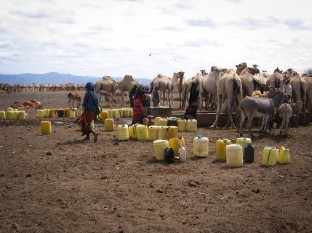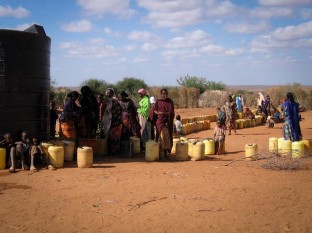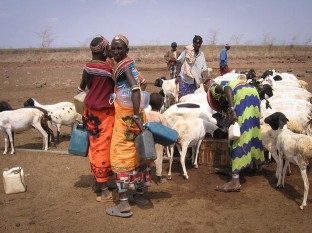 References
Adano WR (2009) Scarcity of natural resources and pastoral conflicts in northern Kenya: an inquiry. Horn Afr Bull 21(1):1–5

Adano WR, Dietz T, Witsenburg K, Zaal F (2012) Climate change, violent conflict and local institutions in Kenya's drylands. J Peace Res 49(1):65–80. doi:10.1177/0022343311427344

Agarwal B (2010) Does women's proportional strength affect their participation? Governing local forests in South Asia. World Dev 38(1):98–112

Black RE, Cousens S, Johnson HL, Lawn JE, Rudan I, Bassani DG, Jha P, Campbell H, Walker CF, Cibulskis R, Eisele T, Liu L, Mathers C (2010) Global, regional, and national causes of child mortality in 2008: a systematic analysis. Lancet 375:1969–1987

Boateng JD, Brown CK, Tenkorang EY (2013) Gender and water management practices in Ghana. J Environ Earth Sci 3(5):88–103

Bruns B (2005) Community-based principles for negotiating water rights: some conjectures on assumptions and priorities. Paper presented at the African Water Laws: Plural Legislative Frameworks for Rural Water Management in Africa, Johannesburg, South Africa

Cleaver F (1998) Incentives and informal institutions: gender and the management of water. Agric Hum Values 15:347–360

Corbin J, Strauss A (2007) Basics of qualitative research: techniques and procedures for developing grounded theory, 3rd edn. SAGE Publications, Inc, Thousand Oaks, CA

Gehrig J, Rogers MM (2009) Water and conflict incorporating peacebuilding into water development. Catholic Relief Services, United States Conference of Catholic Bishops, Baltimore

GoK (2002) The Water Act, 2002. Government of Kenya, Nairobi

Greene L, Freeman M, Rush R (2010) Baseline evaluation report, Millennium Water Program, Kenya USAID SF424

Haro G, Doyo G, McPeak J (2005) Linkages between community, environmental, and conflict management: experiences form northern Kenya. World Dev 33(2):285–299

Hennink M, Hutter I, Bailey A (2011) Qualitative Research Methods. SAGE Publications, London

Howard G, Bartram J (2003) Domestic water quantity, service level and health. World Health Organization, Geneva

Lendelvo S, Munyebvu F, Suich H (2012) Linking women's participation and benefits within the Namibian community based natural resource management program. J Sustain Dev 5(12):p27

Meinzen-Dick R, Zwarteveen M (1998) Gendered participation in water management: issues and illustrations from water users' associations in South Asia. Agric Hum Values 15:337–345

Mwangi OG (2006) Conflict in the 'badlands': the Turbi Massacre in Marsabit district. Rev Afr Polit Econ 33(107):81–91

O'Reilly K (2008) Insider/outsider politics: implementing gendered participation in water resource management. In: Resurreccion BP, Elmhirst R (eds) Gender and natural resource management: livelihoods, mobility and interventions. International Development Research Centre, Sterling, pp 195–212

Ravnborg HM (2004) Water and conflict: conflict prevention and mitigation in water resources management. Danish Institute for International Studies, Copenhagen

Ray I (2007) Women, water, and development. Annu Rev Environ Resour 32:421–449

Rivera R, Borasky D (2009) Research ethics training curriculum, 2nd edn. Family Health International, Durham, NC

Robinson LW, Sinclair JA, Spaling H (2010) Traditional pastoralist decision-making processes: lessons for reforms to water resources management in Kenya. J Environ Planning Manage 53(7):847–862

Scott-Villiers P, Ungiti HB, Kiyana D, Kullu M, Orto T, Reidy E, Sora A (2011) The long conversation: solving conflict through customary approaches to peace management in Southern Ethiopia and Northern Kenya. Future Agricultures/IDS working paper

Tapela B (2013) Conflicts over land and water in Africa. J Peasant Stud 40(1):319–321. doi:10.1080/03066150.2012.725543

van Wijk C, do Lange E, Saunders D (1996) Gender aspects in the management of water. Nat Resour Forum 20(2):91–103

Wallensteen P (2002) Understanding conflict resolution: war, peace and the global system. Sage, London

Water Resource Management Global Water Partnership (2014) http://www.gwp.org/en/The-Challenge/Water-resources-management/. Accessed June 30, 2014

Wolf A, Kramer A, Carius A, Dabelko G (2005) Managing water conflict and cooperation. In: Stark L (ed) State of the world 2005: redefining global security. The Worldwatch Institute, W.W. Norton & Co, New York, p 80–99
Acknowledgments
This research was conducted under the Millennium Water Program Kenya. Financial support was provided by the United States Agency for International Development and the Emory University Global Field Experience Fund. The authors wish to thank the women and men who participated in this study. The authors would like to acknowledge Susan Aleya, Elizabeth Diko Boru, Peter Durito, Paul Forole, Joseph Iya Galgallo, Malich Galgallo, Ruth Moga, Samuel Moga, Pinto Ortoya, and Boru Andrew Roba, for their skill and dedication in data collection as well as Food for the Hungry Kenya staff—Simeon Ogamba, Richard Roba, and Alidiba—whose expertise in water, sanitation, and hygiene issues in Marsabit communities was instrumental to the success of the research.
Conflict of interest
The authors declare that they have no conflict of interest.
Ethical Standards
This study was deemed exempt by Emory University's Institutional Review Board and was approved by the National Steering Committee on Peace building and Conflict Management in Kenya. Informed consent was obtained orally from all KII and FGD study participants.
About this article
Cite this article
Yerian, S., Hennink, M., Greene, L.E. et al. The Role of Women in Water Management and Conflict Resolution in Marsabit, Kenya. Environmental Management 54, 1320–1330 (2014). https://doi.org/10.1007/s00267-014-0356-1
Received:

Accepted:

Published:

Issue Date:
Keywords
Water conflict

Water management

Kenya

Qualitative

Women

Water governance

Gender