Abstract
Applying the threshold concept to rangeland management is an important challenge in semi-arid and arid regions. Threshold recognition and prediction is necessary to enable local pastoralists to prevent the occurrence of an undesirable state that would result from unsustainable grazing pressure, but this requires a better understanding of the pastoralists' perception of vegetation threshold changes. We estimated plant species cover in survey plots along grazing gradients in steppe and desert-steppe areas of Mongolia. We also conducted interviews with local pastoralists and asked them to evaluate whether the plots were suitable for grazing. Floristic composition changed nonlinearly along the grazing gradient in both the desert-steppe and steppe areas. Pastoralists observed the floristic composition changes along the grazing gradients, but their evaluations of grazing suitability did not always decrease along the grazing gradients, both of which included areas in a post-threshold state. These results indicated that local pastoralists and scientists may have different perceptions of vegetation states, even though both of groups used plant species and coverage as indicators in their evaluations. Therefore, in future studies of rangeland management, researchers and pastoralists should exchange their knowledge and perceptions to successfully apply the threshold concept to rangeland management.
Access options
Buy single article
Instant access to the full article PDF.
USD 39.95
Price includes VAT (USA)
Tax calculation will be finalised during checkout.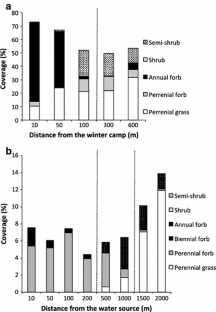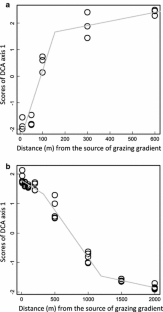 References
Bestelmeyer BT (2006) Threshold concepts and their use in rangeland management and restoration: the good, the bad, and the insidious. Restor Ecol 14:325–329

Bestelmeyer BT, Brown JR, Havstad KM, Alexander R, Chavez G, Herrick J (2003) Development and use of state-and-transition models for rangelands. J Range Manage 56:114–126

Briske DD, Fuhlendorf SD, Smeins FE (2003) Vegetation dynamics on rangelands: a critique of the current paradigms. J Appl Ecol 40:601–614

Briske DD, Fuhlendorf DS, Smeins EF (2006) A unified framework for assessment and application of ecological thresholds. Rangel Ecol Manag 59:225–236

Briske DD, Bestelmeyer TB, Fernandez-Gimenez M, Stafford-Smith M (2008) Information techonologies for rangeland monitoring: what do they need to address? In: Proceedings of joint meeting of the 21st international grassland congress and the 8th international rangeland congress, vol 1, pp 633–637

Briske DD, Sayre NF, Huntsinger L, Fernandez-Gimenez M, Budd B, Derner JD (2011) Origin, persistence, and resolution of the rotational grazing debate: integrating human dimensions into rangeland research. Rangel Ecol Manag 64:325–334

Fazey J, Ingram J, Gregson J, Lowe P, Morton S, Trevitt C (2013) Knowledge exchange: a review and research agenda for environmental management. Environ Conserv 40:19–36

Fernandez-Gimenez ME (2000) The role of Mongolian nomadic pastoralists' ecological knowledge in rangeland management. Ecol Appl 10:1318–1326

Fernandez-Gimenez ME (2002) Spatial and social boundaries and the paradox of pastoral land tenure: a case study from postsocialist Mongolia. Hum Ecol 30:49–78

Fernandez-Gimenez ME, Allen-Diaz B (1999) Testing a non-equilibrium model of rangeland vegetation dynamics in Mongolia. J Appl Ecol 36:871–885

Fernandez-Gimenez M, Allen-Diaz B (2001) Vegetation change along gradients from water sources in three grazed Mongolian ecosystems. Plant Ecol 157:101–118

Hilbig W (1995) The vegetation of Mongolia. SPB Academic Publishing, Amsterdam

Hoshino A, Yoshihara Y, Sasaki T, Okayasu T, Jamsran U, Okuro T, Takeuchi K (2009) Comparison of vegetation changes along grazing gradients with different numbers of livestock. J Arid Environ 73:687–690

Humphrey C, Sneath D (1999) The end of nomadism? Society, state and the environment in Inner Asia. Duke University Press, Durham

James JJ, Sheley RL, Erickson T, Rollins KS, Taylor MH, Dixon KW (2013) A systems approach to restoring degraded drylands. J Appl Ecol 50:730–739

Kakinuma K, Takatsuki S (2012) Applying local knowledge to rangeland management in northern Mongolia: do 'narrow plants' reflect the carrying capacity of the land? Pastoralism: Research. Policy Pract 2:23

Kakinuma K, Ozaki T, Takatsuki S, Jonjin C (2008) How pastoralists in Mongolia perceive vegetation changes caused by grazing. Nomad Peoples 12:67–73

Knapp CN, Fernandez-Gimenez ME, Briske DD, Bestelmeyer BT, Ben WuX (2011) An assessment of state-and-transition models: perceptions following two decades of development and implementation. Rangel Ecol Manag 64:598–606

Landsberg J, James CD, Maconochie J, Nicholls AO, Stol J, Tynan R (2002) Scale-related effects of grazing on native plant communities in an arid rangeland region of South Australia. J Appl Ecol 39:427–444

Legendre P, Legendre L (1998) Numerical ecology. Second English edition. Elsevier Science, Amsterdam

McAllister RRJ, Gordon IJ, Janssen MA, Abel N (2006) Pastoralists' responses to variation of rangeland resources in time and space. Ecol Appl 16:572–583

McIntyre S, Lavorel S (2001) Livestock grazing in subtropical pastures: steps in the analysis of attribute response and plant functional types. J Ecol 89:209–226

Okayasu T, Muto M, Jamsran U, Takeuchi K (2007) Spatially heterogeneous impacts on rangeland after social system change in Mongolia. Land Degrad Dev 18:555–566

Pinheiro JC, Bates DM (2000) Mixed effect models in S and S-PLUS. Springer, New York

R Development Core Team (2009) R: a language and environment for statistical computing. R Foundation for Statistical Computing, Vienna

Radford JQ, Bennett FA, Cheers JG (2005) Landscape-level thresholds of habitat cover for woodland-dependent birds. Biol Conserv 124:317–337

Reed MS, Fazey I, Stringer LC, Raymond CM, Akhtar-Schuster M, Begni G, Bigas H, Brehm S, Briggs J, Bryce R, Buckmaster S, Chanda R, Davies J, Diez E, Essahli W, Evely A, Geeson N, Hartmann I, Holden J, Hubacek K, Ioris AAR, Kruger B, Laureano P, Phillipson J, Prell C, Quinn CH, Reeves AD, Seely M, Thomas R, Ten Bosch MJV, Vergunst P, Wagner L (2013) Knowledge management for land degradation monitoring and assessment: an analysis of contemporary thinking. Land Degrad Dev 24:307–322

Reynolds JF, Stafford Smith DM, Lambin EF, Turner BL, Mortimore M, Batterbury SPJ, Downing TE, Dowlatabadi H, Fernandez RJ, Herrick JE, Huber-Sannwald E, Jiang H, Leemans R, Lynam T, Maestre FT, Ayarza M, Walker B (2007) Global desertification: Building a science for dryland development. Science 316:847–851

Sasaki T, Okayasu T, Jamsran U, Takeuchi K (2008) Threshold changes in vegetation along a grazing gradient in Mongolian rangelands. J Ecol 96:145–154

Sasaki T, Ohkuro T, Jamsran U, Takeuchi K (2012) Changes in the herbage nutritive value and yield associated with threshold responses of vegetation to grazing in Mongolian rangelands. Grass Forage Sci 67:446–455

Sasaki T, Ohkuro T, Kakinuma K, Okayasu T, Jamsran U, Takeuchi K (2013) Vegetation in a post-ecological threshold state may not recover after short-term livestock exclusion in Mongolian rangelands. Arid Land Res Manag 27:101–110

Scheffer M, Carpenter SR (2003) Catastrophic regime shifts in ecosystems: linking theory to observation. Trends Ecol Evol 18:648–656

Sternberg T (2010) Unravelling Mongolia's extreme winter disaster of 2010. Nomad Peoples 14:72–86

Suding KN, Hobbs JR (2009) Threshold models in restoration and conservation: a developing framework. Trends Ecol Evol 24:271–279

Thomas DSG, Twyman C (2004) Good or bad rangeland? Hybrid knowledge, science, and local understandings of vegetation dynamics in the Kalahari. Land Degrad Dev 15:215–231

Todd SW (2006) Gradients in vegetation cover, structure and species richness of Nama-Karoo shrublands in relation to distance from livestock watering points. J Appl Ecol 43:293–304

Toms JD, Lesperance ML (2003) Piecewise regression: a tool for identifying ecological thresholds. Ecology 84:2034–2041
Acknowledgments
We thank T. Okayasu for his helpful comments on and discussions of this manuscript. We thank the staff at Hustai National Park and the local pastoralists for all their help during the study. This work was carried out under the Global Environmental Research Fund of Japan's Ministry of the Environment (No. G-071).
About this article
Cite this article
Kakinuma, K., Sasaki, T., Jamsran, U. et al. Relationship Between Pastoralists' Evaluation of Rangeland State and Vegetation Threshold Changes in Mongolian Rangelands. Environmental Management 54, 888–896 (2014). https://doi.org/10.1007/s00267-014-0341-8
Received:

Accepted:

Published:

Issue Date:
Keywords
Grazing intensity

Local knowledge

Mobility

Rangeland management

Threshold concept

Vegetation changes