Abstract
Animal body size is driven by habitat quality, food availability, and nutrition. Adult size can relate to birth weight, to length of the ontogenetic growth period, and/or to the rate of growth. Data requirements are high for studying these growth mechanisms, but large datasets exist for some game species. In North America, large harvest datasets exist for white-tailed deer (Odocoileus virginianus), but such data are collected under a variety of conditions and are generally dismissed for ecological research beyond local population and habitat management. We contend that such data are useful for studying the ecology of white-tailed deer growth and body size when analyzed at ordinal scale. In this paper, we test the response of growth rate to food availability by fitting a logarithmic equation that estimates growth rate only to harvest data from Fort Hood, Texas, and track changes in growth rate over time. Results of this ordinal scale model are compared to previously published models that include additional parameters, such as birth weight and adult weight. It is shown that body size responds to food availability by variation in growth rate. Models that estimate multiple parameters may not work with harvest data because they are prone to error, which renders estimates from complex models too variable to detect interannual changes in growth rate that this ordinal scale model captures. This model can be applied to harvest data, from which inferences about factors that influence animal growth and body size (e.g., habitat quality and nutritional availability) can be drawn.
Access options
Buy single article
Instant access to the full article PDF.
USD 39.95
Price excludes VAT (USA)
Tax calculation will be finalised during checkout.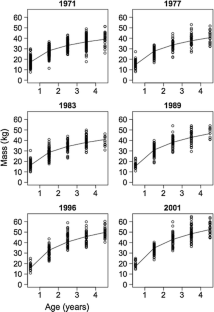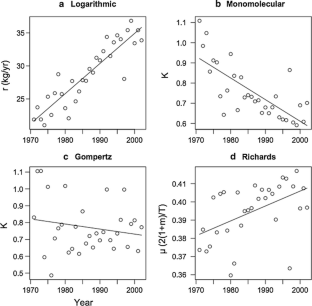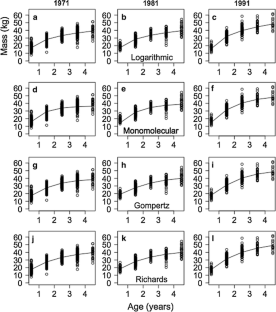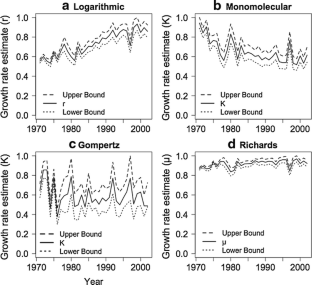 References
Barbraud C, Weimerskirch H, Robertson GG, Jouventin P (1999) Size-related life history traits: insights from a study of snow petrels (Pagodroma nivea). J Anim Ecol 68(6):1179–1192

Bartush WS, Garner WG (1979) Physical characteristics of white-tailed deer fawns in southwestern Oklahoma. Proc Southeast Assoc Fish Wildl Agencies 31:126–133

Blackburn TM, Gaston KJ, Loder N (1999) Geographic gradients in body size: a clarification of Bergmann's rule. Divers Distrib 5:165–174

Bolker B (2008) Ecol models and data in R. Princeton University Press, Princeton

Bruce RC, Castanet J, Francillon-Vieillot H (2002) Skeletochronological analysis of variation in age structure, body size, and life history in three species of desmognathine salamanders. Herpetologica 58(2):181–193

Cimprich DA, Kosteke RM (2006) Distribution of the black-capped vireo at Fort Hood Texas. Southwest Nat 51(1):99–102

Cloern JE, Nichols FH (1978) A von Bertalanffy growth model with a seasonally varying coefficient. Fish Res Board Can 35:1479–1482

Comer CE, Kilgo JC, D'Angelo GJ, Glenn TC, Miller KV (2005) Fine-scale genetic structure and social organization in female white-tailed deer. J Wildl Manag 69(1):332–344

Côté SD, Rooney TP, Tremblay JP, Dussault C, Waller DM (2004) Ecological impacts of deer overabundance. Annu Rev Ecol Evol Syst 35:113–147

France J, Dijkstra J, Dhanoa MS (1996) Growth functions and their application in animal science. Ann Zootech 45:165–174

Gaillard JM, Festa-Bianchet M, Delorme D, Jorgeson J (2000) Body mass and individual fitness in female ungulates: bigger is not always better. Proc R Soc Lond B 267:471–477

Gee KL, Holman JH, Causey MK, Rossi AN, Armstrong JB (2002) Aging white-tailed deer by tooth replacement and wear: a critical evaluation of a time-honored technique. Wildl Soc Bull 30(2):387–393

Geisel JT (1976) Reproductive strategies as adaptations to life in temporally heterogeneous environments. Annu Rev Ecol Evol Syst 7:57–79

Geist V (1987) Bergmann's rule is invalid: a reply to J. D. Paterson. Can J Zool 68:1610–1612

Geist V (1998) Deer of the world: their evolution, behavior, and ecology. Stackpole Books, Mechanicsburg

Hjelm J, Persson L, Christensen B (2000) Growth, morphological variation and ontogenetic niche shifts in perch (Perca fluviatilis) in relation to resource availability. Oecologia 122:190–199

Horsley SB (2003) White-tailed deer impact on the vegetation dynamics of a northern hardwood forest. Ecol Appl 13(1):98–118

Huston MA, Wolverton S (2009) The global distribution of net primary production: resolving the paradox. Ecol Monogr 79:343–377

Huston MA, Wolverton S (2011) Regulation of animal body size by eNPP, Bergmann's rule, and related phenomena. Ecol Monogr 81(3):349–405

Jacobson HA (1984) Relationships between deer and soil nutrients in Mississippi. Proc Annu Southeast Assoc Fish Wildl Agencies 38:1–12

Jones KE, Purvis A (1997) An optimum body size for mammals? Comparative evidence from bats. Funct Ecol 11:751–756

Keyser PD, Guynn DC, Hill HS, Know MW (2006) Relative density-physical condition models: a potential application for managing white-tailed deer populations. Wildl Soc Bull 34(4):1113–1120

Kie JG, White M, Drawe LD (1983) Condition parameters of white-tailed deer in Texas. J Wildl Manag 47(3):583–594

Leberg P, Smith M (1993) Influence of density on growth of white-tailed deer. J Mammal 74(3):723–731

Leberg PL, Brisbin LI, Smith MH, White GC (1989) Factors affecting the analysis of growth patterns of large mammals. J Mammal 70(2):275–283

Lesage L, Crete M, Hout J, Ouillet JP (2001) Evidence for a trade-off between growth and body reserves in northern white-tailed deer. Oecologia 126:30–41

Lopez S, France J, Gerrits WJ, Dhanoa MS, Humphries DJ, Dijkstra J (2000) A generalized Michaelis–Menten equation for the analysis of growth. J Anim Sci 78:1816–1828

McCullough DR (1982a) Antler characteristics of the George Reserve white-tailed deer. J Wildl Manag 46:821–826

McCullough DR (1982b) Population growth rate of the George Reserve deer herd. J Wildl Manag 46:1079–1083

McNab BK (2010) Geographic and temporal correlations of mammalian size reconsidered: a resource rule. Oecologia 164:13–23

McNab BK (2012) Extreme measures: the ecological energetics of birds and mammals. University of Chicago Press, Chicago

Monteith KL, Schmitz LE, Jenks JA, Delger JA, Bowyer RT (2009) Growth of male white-tailed deer: consequences of maternal effects. J Mammal 90:651–660

Natanson LJ, Kohler NE, Ardizzone DA, Cailliet GM, Wintner SP, Mollet HF (2006) Validated age and growth estimates for the shortfin mako, Isurus oxyrinchus, in the North Atlantic Ocean. Environ Biol Fish 77:367–383

Nelson TA, Woolf A (1985) Birth size and growth of deer fawns in southern Illinois. J Wildl Manag 49(2):374–377

Owen-Smith N (1993) Comparative mortality rates of male and female kudus—the costs of sexual size dimorphism. J Anim Ecol 62:428–440

Peak RG (2007) Forest edges negatively affect golden-cheeked warbler nest survival. The Condor 109:628–637

Peet R, Watts M (2004) Liberation ecologies: environment, development and social movements. Routledge, London

Porter T, Kebreab E, Kuhi DH, Lopez S, Strathe AB, France J (2010) Flexible alternatives to the Gompertz equation for growth with age in turkey hens. Poult Sci 89:371–378

Richards FJ (1959) A flexible growth function for empirical use. J Exp Bot 10:290–300

Robbins P (2012) Political ecology: a critical introduction, 2nd edn. Wiley-Blackwell, Hoboken

Rooney TP, Waller DM (2003) Direct and indirect effects of deer in forest ecosystems. For Ecol Manag 181:165–176

Russell L, Fowler N (1999) Rarity of Oak Saplings in Savannas and Woodlands of the Eastern Edwards Plateau, Texas. Southwest Nat 44(1):31–41

Russell FL, Xippin DB, Fowler NL (2001) Effects of white-tailed deer on plants, plant populations and communities: a review. Am Midl Nat 146(1):1–26

Sand H, Cederlund G, Danell K (1995) Geographical and latitudinal variation in growth patterns and adult body size in Swedish moose (Alces alces). Oecologia 102:433–442

Schultz SR, Johnson MK (1995) Effects of birth date and body mass at birth on adult body mass of male white-tailed deer. J Mammal 76(2):575–579

Seagle SW (2003) Can ungulates foraging in a multiple-use landscape alter forest nitrogen budgets? Oikos 103:230–234

Severinghaus CW (1949) Tooth replacement and wear as criteria of age in white-tail deer. J Wildl Manag 13:195–216

Severinghaus CW, Moen AN (1983) Prediction of weight and reproductive rates of a white-tailed deer population from records of antler beam diameter among yearling males. N Y Fish Game J 30(1):30–38

Shaw JC, Lancia RA, Conner MC, Rosenberry CS (2006) Effect of population demographics and social pressures on white-tailed deer dispersal ecology. J Wildl Manag 70(5):1293–1301

Simard AM, Côté SD, Weladji RH, Hout J (2008a) Feedback effects of chronic browsing on life-history traits of a large herbivore. J Anim Ecol 77:678–686

Simard AM, Côté SD, Weladji RH, Hout J (2008b) On being the right body size: food limited feedback on optimal body size. J Anim Ecol 77:635–687

Solberg EJ, Garel M, Heim M, Vidar G, Sæther BE (2008) Lack of compensatory body growth in a high performance moose Alces alces population. Oecologia 158:485–498

Southwood TRE (1988) Tactics, strategies and templets. Oikos 52:3–18

Stearns SC (1992) The evolution of life histories. Oxford University Press, Oxford

Strickland BK, Demarais S (2000) Age and regional differences in antlers and mass of white-tailed deer. J Wildl Manag 64:903–911

Stromayer KA, Warren RJ (1997) Are overabundant deer herds in the eastern United States creating alternate stable states in forest plant communities? Wildl Soc Bull 25(2):227–234

R Development Core Team (2009) R: a language and environment for statistical computing. R Foundation for Statistical Computing, Vienna, Austria. ISBN 3-900051-07-0. http://www.R-project.org

Tremblay J, Thibault I, Dussault C, Huot J, Côté S (2005) Long-term decline in white-tailed deer browse supply: can lichens and litterfall act as alternative food sources that preclude density-dependent feedbacks? Can J Zool 83:1087–1096

Waller DM, Alverson WS (1997) The white-tailed deer: a keystone herbivore. Wildl Soc Bull 25(2):217–226

Wilelski M, Wrege PH (2000) Niche expansion, body size, and survival in Galápagos marine iguanas. Oecologia 124:107–115

Wolverton (2008) Harvest pressure and environmental carrying capacity: an ordinal scale model of effects on ungulate prey. Am Antiq 73(2):179–199

Wolverton S, Kennedy JH, Cornelius JD (2007) A paleozoological perspective on white-tailed deer (Odocoileus virginianus texana) population density and body size in central Texas. J Environ Manag 39:545–552

Wolverton S, Huston MA, Kennedy JH, Cagle K, Cornelius JD (2009) Conformation to Bergmann's rule in white-tailed deer can be explained by food availability. Am Midl Nat 162:403–417

Wolverton S, Randklev CR, Barker A (2011) Ethnobiology as a bridge between science and ethics: an applied paleozoological perspective. In: Anderson EN, Pearsall D, Hunn E, Turner N (eds) Ethnobiology. Wiley-Blackwell, Hoboken, pp 115–132

Zedrosser A, Dahle B, Swenson J (2006) Population density and food conditions determine adult female body size in brown bears. J Mammal 87(3):510–518

Zullinger EM, Ricklefs RE, Redford KH, Mace MM (1984) Fitting sigmoidal equations to mammalian growth curves. J Mammal 64(4):607–636
Acknowledgments
Thanks to Kevin Cagle (Directorate of Public Works, Natural Resources Branch, Fort Hood, Texas) for curating and providing the harvest records, Miguel Acevedo and David Hoeinghaus for their help in learning R programming, and Amy Hoffman for her editorial comments, and in kind support from the University of North Texas, Departments of Biological Science and Geography. Three external reviewers provided detailed comments that helped us greatly improve the paper.
About this article
Cite this article
Barr, B., Wolverton, S. The Effects of Population Density on Juvenile Growth Rate in White-Tailed Deer. Environmental Management 54, 897–907 (2014). https://doi.org/10.1007/s00267-014-0322-y
Received:

Accepted:

Published:

Issue Date:

DOI: https://doi.org/10.1007/s00267-014-0322-y
Keywords
Phenotypic plasticity

Ontogenetic growth rate

Maternal effects

Energetic trade-off

Intraspecific competition

Bias-variance trade-off