Abstract
We examined the effects of the Zemko Dam removal on the Eightmile River system in Salem, Connecticut, USA. The objective of this research was to quantify spatiotemporal variation in fish community composition in response to small dam removal. We sampled fish abundance over a 6-year period (2005–2010) to quantify changes in fish assemblages prior to dam removal, during drawdown, and for three years following dam removal. Fish population dynamics were examined above the dam, below the dam, and at two reference sites by indicator species analysis, mixed models, non-metric multidimensional scaling, and analysis of similarity. We observed significant shifts in fish relative abundance over time in response to dam removal. Changes in fish species composition were variable, and they occurred within 1 year of drawdown. A complete shift from lentic to lotic fishes failed to occur within 3 years after the dam was removed. However, we did observe increases in fluvial and transition (i.e., pool head, pool tail, or run) specialist fishes both upstream and downstream from the former dam site. Our results demonstrate the importance of dam removal for restoring river connectivity for fish movement. While the long-term effects of dam removal remain uncertain, we conclude that dam removals can have positive benefits on fish assemblages by enhancing river connectivity and fluvial habitat availability.
Access options
Buy single article
Instant access to the full article PDF.
US$ 39.95
Tax calculation will be finalised during checkout.
Subscribe to journal
Immediate online access to all issues from 2019. Subscription will auto renew annually.
US$ 79
Tax calculation will be finalised during checkout.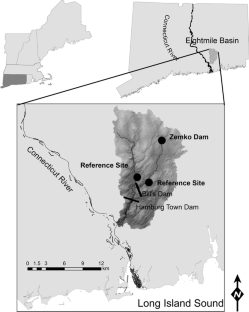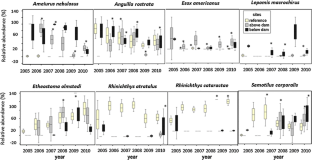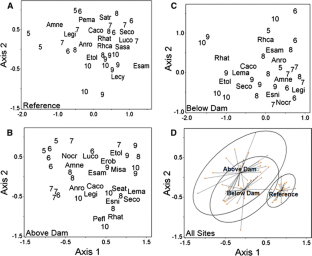 References
Agostinho AA, Gomes LC, Verissimo S, Okada EK (2004) Flood regime, dam regulation and fish in the Upper Parana River: effects on assemblage attributes, reproduction and recruitment. Rev Fish Biol Fish 14(1):11–19. doi:10.1007/s11160-004-3551-y

Akaike H (1974) A new look at the statistical model identification. IEEE Trans Autom Control 19(6):716–723

Army Corps of Engineers U (2013) National inventory of dams. Federal Emergency Management Agency, New York

Baayen RH (2007) The languageR package. http://cran.r-project.org/web/packages/languageR/index.html

Bain MB, Meixler (2000) Defining a target fish community for planning and evaluating enhancement of the Quinebaug River in Massachusetts and Connecticut. Cooperative Fish and Wildlife Research Unit, Cornell University, New York

Bednarek AT (2001) Undamming rivers: a review of the ecological impacts of dam removal. Environ Manag 27(6):803–814

Bellucci CJ, Becker M, Beauchene M (2011) Characteristics of macroinvertebrate and fish communities from 30 least disturbed small streams in Connecticut. Northeast Nat 18(4):411–444

Bliese P (2006) Multilevel modeling in R (2.2). A brief introduction to R, the multilevel package and the nlme package. Walter Reed Army Institute of Research, Washington

Bowman MB (2002) Legal perspectives on dam removal. Bioscience 52(8):739–747

Burdick SM, Hightower JE (2006) Distribution of spawning activity by anadromous fishes in an Atlantic slope drainage after removal of a low-head dam. Trans Am Fish Soc 135(5):1290–1300

Bushaw-Newton KL, Hart DD, Pizzuto JE, Thomson JR, Egan J, Ashley JT, Johnson TE, Horwitz RJ, Keeley M, Lawrence J (2002) An integrative approach towards understanding ecological responses to dam removal: the Manatawny Creek Study. J Am Water Resour Assoc 38(6):1581–1599

Catalano MJ, Bozek MA, Pellett TD (2007) Effects of dam removal on fish assemblage structure and spatial distributions in the Baraboo River, Wisconsin. N Am J Fish Manag 27(2):519–530

Clarke KR (1993) Non-parametric multivariate analyses of changes in community structure. Aust J Ecol 18(1):117–143

Coates S, Waugh A, Anwar A, Robson M (2007) Efficacy of a multi-metric fish index as an analysis tool for the transitional fish component of the water framework directive. Mar Pollut Bull 55(1):225–240

Csiki S, Rhoads BL (2010) Hydraulic and geomorphological effects of run-of-river dams. Prog Phys Geogr 34(6):755–780

De Boeck P, Bakker M, Zwitser R, Nivard M, Hofman A, Tuerlinckx F, Partchev I (2011) The estimation of item response models with the lmer function from the lme4 package in R. J Stat Softw 39(12):1–28

de Jalón DG, Sanchez P (1994) Downstream effects of a new hydropower impoundment on macrophyte, macroinvertebrate, and fish communities. Regulat Rivers Res Manag 9(4):253–261. doi:10.1002/rrr.3450090406

Doyle MW, Stanley EH, Luebke MA, Harbor JM (2000) Dam removal: physical, biological, and societal considerations. In: American society of civil engineers joint conference on water resources engineering and water resources planning and management, Minneapolis, MN

Dufrene M, Legendre P (1997) Species assemblages and indicator species: the need for a flexible asymmetrical approach. Ecol Monogr 67(3):345–366

Fagan WF (2002) Connectivity, fragmentation, and extinction risk in dendritic metapopulations. Ecology 83(12):3243–3249

Finger TR (1982) Fish community-habitat relations in a central New York stream. J Freshw Ecol 1(4):343–352

Fosburgh J, Case K, Hearne D (2006) Eigtmile wild and scenic study. National Park Service, Haddam, Connecticut

Fowler C, Harp G (1974) Ichthyofaunal diversification and distribution in Jane's Creek watershed, Randolph County, Arkansas. Proc Ark Acad Sci 28:13–18

Fullerton A, Burnett K, Steel E, Flitcroft R, Pess G, Feist B, Torgersen C, Miller D, Sanderson B (2010) Hydrological connectivity for riverine fish: measurement challenges and research opportunities. Freshw Biol 55(11):2215–2237

Gardner C, Coghlan S, Zydlewski J, Saunders R (2013) Distribution and abundance of stream fishes in relation to barriers: implications for monitoring stream recovery after barrier removal. River Res Appl 29(1):65–78

Gorman OT, Karr JR (1978) Habitat structure and stream fish communities. Ecology 59(3):507–515

Graf WL (2001) Dam age control: restoring the physical integrity of America's rivers. Ann Assoc Am Geogr 91(1):1–27

Grant G (2001) Dam removal: panacea or Pandora for rivers? Hydrol Process 15(8):1531–1532

Gregory KJ, Gurnell AM, Hill CT, Tooth S (1994) Stability of the pool riffle sequence in changing river channels. Regulat Rivers Res Manag 9(1):35–43. doi:10.1002/rrr.3450090104

Gregory S, Li H, Li J (2002) The conceptual basis for ecological responses to dam removal: resource managers face enormous challenges in assessing the consequences of removing large dams from rivers and evaluating management options. Bioscience 52(8):713–723

Hammer Ø, Harper DA, Ryan PD (2001) PAST: paleontological statistics software package for education and data analysis. Palaeontol Electron 4(1):9

Hart DD, Poff NL (2002) A special section on dam removal and river restoration. Bioscience 52(8):653–655

Helms BS, Werneke DC, Gangloff MM, Hartfield EE, Feminella JW (2011) The influence of low-head dams on fish assemblages in streams across Alabama. J N Am Benthol Soc 30(4):1095–1106

Henry BE, Grossman GD (2008) Microhabitat use by blackbanded (Percina nigrofasciata), turquoise (Etheostoma inscriptum), and tessellated (E. olmstedi) darters during drought in a Georgia piedmont stream. Environ Biol Fishes 83(2):171–182

Hogg R, Coghlan SM Jr, Zydlewski J (2013) Anadromous sea lampreys recolonize a Maine coastal river tributary after dam removal. Trans Am Fish Soc 142(5):1381–1394

Humborg C, Ittekkot V, Cociasu A, VonBodungen B (1997) Effect of Danube River dam on Black Sea biogeochemistry and ecosystem structure. Nature 386(6623):385–388. doi:10.1038/386385a0

Johnson SE, Graber BE (2002) Enlisting the social sciences in decisions about dam removal: the application of social science concepts and principles to public decisionmaking about whether to keep or remove dams may help achieve outcomes leading to sustainable ecosystems and other goals in the public interest. Bioscience 52(8):731–738

Kanehl PD, Lyons J, Nelson JE (1997) Changes in the habitat and fish community of the Milwaukee River, Wisconsin, following removal of the Woolen Mills Dam. N Am J Fish Manag 17(2):387–400

Kanno Y, Vokoun JC (2008) Biogeography of stream fishes in Connecticut: defining faunal regions and assemblage types. Northeast Nat 15(4):557–576

Kanno Y, Vokoun J, Beauchene M (2010) Development of dual fish multi-metric indices of biological condition for streams with characteristic thermal gradients and low species richness. Ecol Ind 10(3):565–571

Kinsolving AD, Bain MB (1993) Fish assemblage recovery along a riverine disturbance gradient. Ecol Appl 3(3):531–544. doi:10.2307/1941921

Lytle DA, Poff NL (2004) Adaptation to natural flow regimes. Trends Ecol Evol 19(2):94–100. doi:10.1016/j.tree.2003.10.002

Magilligan FJ, Nislow KH (2005) Changes in hydrologic regime by dams. Geomorphology 71(1–2):61–78. doi:10.1016/j.geomorph.2004.08.017

Maloney KO, Dodd H, Butler SE, Wahl DH (2008) Changes in macroinvertebrate and fish assemblages in a medium-sized river following a breach of a low-head dam. Freshw Biol 53(5):1055–1068

McCune B, Mefford MJ (2011) PC-ORD: Multivariate analysis of ecological data. MJM Software Designs, Gleneden Beach

McCune B, Grace JB, Urban DL (2002) Analysis of ecological communities, vol 28. MJM software design, Gleneden Beach

McHenry ML, Pess GR (2008) An overview of monitoring options for assessing the response of salmonids and their aquatic ecosystems in the Elwha River following dam removal. Northwest Sci 82(1):29–47

Neil D, Mazari R (1993) Sediment yield mapping using small dam sedimentation surveys, Southern Tablelands, New South Wales. Catena 20(1):13–25

O'Hara RB, Kotze DJ (2010) Do not log-transform count data. Methods Ecol Evol 1(2):118–122

Olden JD, Naiman RJ (2010) Incorporating thermal regimes into environmental flows assessments: modifying dam operations to restore freshwater ecosystem integrity. Freshw Biol 55(1):86–107. doi:10.1111/j.1365-2427.2009.02179.x

Parasiewicz P, Legros J, Rogers J, Wirth M, Jackson S, Kitson H, Deblois R, Hogue J, Brwaley H, VanAcker T, Longworth B, Schmidt R, Werle S, Thomas W, Dodge J (2007) Assessment and restoration of instream habitat for the Pomperaug, Nonnewaug and Weekeepeemee Rivers of Connecticut. Northeast Instream Habitat Program, University of Massachusetts, Amherst

Pess GR, McHenry ML, Beechie TJ, Davies J (2008) Biological impacts of the Elwha River dams and potential salmonid responses to dam removal. Northwest Sci 82(sp1):72–90

Pinheiro JC, Bates DM (2000) Mixed-effects models in S and S-PLUS. Springer, New York

Pizzuto J (2002) Effects of dam removal on river form and process. Bioscience 52(8):683–691

Poff NL, Allan JD, Bain MB, Karr JR, Prestegaard KL, Richter BD, Sparks RE, Stromberg JC (1997) The natural flow regime. Bioscience 47(11):769–784

Quist MC, Hubert WA, Rahel FJ (2005) Fish assemblage structure following impoundment of a Great Plains river. West N Am Nat 65(1):53–63

R Development Core Team (2012) A language and environment for statistical computing. R Foundation for Statistical Computing, Vienna

Rahel FJ, Hubert WA (1991) Fish assemblages and habitat gradients in a Rocky Mountain-Great Plains stream: biotic zonation and additive patterns of community change. Trans Am Fish Soc 120(3):319–332

Raymond HL (1979) Effects of dams and impoundments on migrations of juvenile Chinook Salmon and Steelhead from the Snake river, 1966 to 1975. Trans Am Fish Soc 108(6):505–529

Rieman BE, McIntyre JD (1995) Occurrence of bull trout in naturally fragmented habitat patches of varied size. Trans Am Fish Soc 124(3):285–296

Schlosser IJ (1982) Fish community structure and function along two habitat gradients in a headwater stream. Ecol Monogr 52(4):395–414

Scott WB, Crossman EJ (1973) Freshwater fishes of Canada. Fish Res Board Can Bull 184:966

Stanford JA, Ward JV, Liss WJ, Frissell CA, Williams RN, Lichatowich JA, Coutant CC (1996) A general protocol for restoration of regulated rivers. Regul River 12:391–413

Stanley EH, Doyle MW (2003) Trading off: the ecological effects of dam removal. Front Ecol Environ 1(1):15–22

Stanley EH, Luebke MA, Doyle MW, Marshall DW (2002) Short-term changes in channel form and macroinvertebrate communities following low-head dam removal. J N Am Benthol Soc 21(1):172–187

van Snik Gray E, Stauffer JR (2001) Substrate choice by three species of darters (Teleostei: Percidae) in an artificial stream: effects of a nonnative species. J Inf 2001(1):254–261

van Snik Gray E, Stauffer JR Jr (1999) Comparative microhabitat use of ecologically similar benthic fishes. Environ Biol Fishes 56(4):443–453

Velinsky DJ, Bushaw-Newton KL, Kreeger DA, Johnson TE (2006) Effects of small dam removal on stream chemistry in southeastern Pennsylvania. J North Am Benthol Soc 25(3):569–582

Vitule JRS, Skóra F, Abilhoa V (2012) Homogenization of freshwater fish faunas after the elimination of a natural barrier by a dam in Neotropics. Divers Distrib 18(2):111–120

Vorosmarty CJ, Meybeck M, Fekete B, Sharma K, Green P, Syvitski JPM (2003) Anthropogenic sediment retention: major global impact from registered river impoundments. Glob Planet Change 39(1–2):169–190

Ward JV, Stanford JA (1995) Ecological connectivity in alluvial river ecosystems and its disruption by flow regulation. Regulat Rivers, Res Manag 11(1):105–119. doi:10.1002/rrr.3450110109

Wilson R (1999) Removing dam development to recover Columbia Basin treaty protected salmon economies. Am Indian Law Rev 24(2):357–419

Wohl E, Angermeier PL, Bledsoe B, Kondolf GM, MacDonnell L, Merritt DM, Palmer MA, Poff NL, Tarboton D (2005) River restoration. Water Resour Res 41(10):W10301
Acknowledgments
This project was completed using combined funds from Menakka and Essel Bailey, the Schumann Foundation, The Nature Conservancy, and project grants from Wesleyan University to BC and the College of the Environment. Student support and internships were provided by the Mellon Foundation, the Hughes Foundation, and Schumann Foundations. The authors thank Valerie Marinelli and Susan Lastrina for administrative and logistical support and Sarah Donelan for field assistance.
About this article
Cite this article
Poulos, H.M., Miller, K.E., Kraczkowski, M.L. et al. Fish Assemblage Response to a Small Dam Removal in the Eightmile River System, Connecticut, USA. Environmental Management 54, 1090–1101 (2014). https://doi.org/10.1007/s00267-014-0314-y
Received:

Accepted:

Published:

Issue Date:
Keywords
Dam removal

Stream recovery

Fish assemblages

River restoration

Connecticut