Abstract
Sustainability appraisals produce evidence for how well water governance regimes operate and where problems exist. This evidence is particularly relevant for regions that face water scarcity and conflicts. In this study, we present a criteria-based and participatory sustainability appraisal of water governance in a region with such characteristics—the dry tropics of NW Costa Rica. Data collection included 47 interviews and three stakeholder workshops. The appraisal was conducted through a collaborative and iterative process between researchers and stakeholders. Out of the 25 sustainability criteria used, seven posed a significant challenge for the governance regime. We found challenges faced by the governance regime primarily clustered around and were re-enforced by failing coordination related to the use, management, and protection of groundwater resources; and inadequate leadership to identify collective goals and to constructively deliberate alternative ways of governing water with diverse groups. The appraisal yielded some positive impact in the study area, yet we found its application provided only limited strategic information to support broader problem-solving efforts. Insights from this study suggest key starting points for sustainable water governance in the Central American dry tropics, including investing in increasingly influential collective organizations that are already active in water governance; and leveraging policy windows that can be used to build confidence and disperse more governing authority to regional and local governing actors that are in-tune with the challenges faced in the dry tropics. We conclude the article with reflections on how to produce research results that are actionable for sustainable water governance.
Access options
Buy single article
Instant access to the full article PDF.
US$ 39.95
Tax calculation will be finalised during checkout.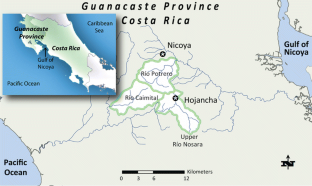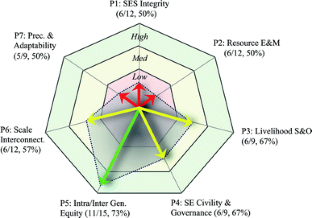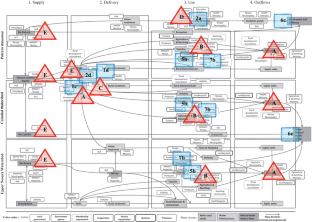 References
Agrawal A (2008) The role of local institutions in adaptation to climate change. Paper for the Social Dimensions of Climate Change, Social Development Department. World Bank, Washington DC

Alley WM, Leake SA (2004) The journey from safe yield to sustainability. Ground Water 42(1):12–16

Anderson ER, Cherrington ER, Flores AI, Perez JB, Carrillo R, Sempris E (2008) Potential impacts of climate change on biodiversity in Central America, Mexico and the Dominican Republic. CATHALAC/USAID, Panama City

Bakker K (2012) Water security: research challenges and opportunities. Science 337(6097):914–915. doi:10.1126/science.1226337

Ballestero M, Reyes V, Astorga Y (2007) Groundwater in Central America: its importance, development and use with particular reference to its role in irrigated agriculture. In: Giodorno M, Villholth KG (eds) The Agricultural Revolution: Opportunities and Threats to Development. CAB International, Wallingford, pp 100–128

Bebbington A (2005) Donor-NGO relations and representations of livelihood in nongovernmental aid chains. World Dev 33(6):937–950. doi:10.1016/j.worlddev.2004.09.017

Biermann F, Abbott K, Andresen S, Bäckstrand K, Bernstein S et al (2012) Transforming governance and institutions for global sustainability: key insights from the earth system governance project. Curr Opin Environ Sustain 4(1):51–60. doi:10.1016/j.cosust.2012.01.014

Biswas AK, Rached E, Tortajada C (eds) (2009) Integrated water resources management in latin america. Routledge, New York

Booth JA, Wade CJ, Walker TW (2010) Costa Rica. In: Booth JA, Wade CJ, Walker TW (eds) Understanding central america: global forces, rebellion, and change, 5th edn. Westview, Boulder, pp 61–79

Brooks D (2006) An operational definition of water demand management. Int J Water Resour Dev 22(4):521–528. doi:10.1080/07900620600779699

Brooks DB, Holtz S (2009) Water soft path analysis: from principles to practice. Water Int 34(2):158–169. doi:10.1080/02508060902839940

Eakin E, Lemos MC (2010) Institutions and change: the challenge of building adaptive capacity in Latin America. Glob Environ Change 20(1):1–3. doi:10.1016/j.gloenvcha.2009.08.002

Eakin H, Eriksen S, Eikeland PO, Oyen C (2011) Public sector reform and governance for adaptation: implications of New Public Management for adaptive capacity in Mexico and Norway. Environ Manag 47(3):338–351. doi:10.1007/s00267-010-9605-0

Edelman M (1999) Peasants against globalization: rural social movements in Costa Rica. Stanford University Press, Stanford

Folke C, Hahn T, Olsson P, Norberg J (2005) Adaptive governance of social-ecological systems. Annu Rev Environ Resour 30(1):441–473. doi:10.1146/annurev.energy.30.050504.144511

Galaz V, Biermann F, Folke C, Nilsson M, Olsson P (2012) Global environmental governance and planetary boundaries: an introduction. Ecol Econ 81:1–3. doi:10.1016/j.ecolecon.2012.02.023

Gibson RB (2006) Sustainability assessment: basic components of a practical approach. Impact Assess Proj Apprais 24(3):170–182. doi:10.3152/147154606781765147

Gleick PH (2003) Global freshwater resources: soft-path solutions for the 21st century. Science 302(5650):1524–1528. doi:10.1126/science.1089967

Grigg NS (2010) Governance and management for sustainable water systems. IWA, London

Holtz G, Brugnach M, Pahl-Wostl C (2008) Specifying "regime"—a framework for defining and describing regimes in transition research. Technol Forecast Soc 75:623–643. doi:10.1016/j.techfore.2007.02.010

Imperial MT (1999) Institutional analysis and ecosystem-based management: the institutional analysis and development framework. Environ Manag 24(4):449–465

INEC (2011) Costa Rica Census. Instituto Nacional de Estadística y Censos de Costa Rica. San José, Costa Rica.

ITCR (2008) Costa Rica Atlas. Instituto Tecnología Costa Rica, San José

Kemp R, Parto S, Gibson RB (2005) Governance for sustainable development: moving from theory to practice. Int J Sustain Dev 8(1/2):12–30

Kuzdas (2012) Unpacking water conflict in Guanacaste, Costa Rica: Why some conflicts escalate, why some remain intractable, and why we can be optimistic about the future. GWF Discussion Paper 1242, Global Water Forum, Canberra. http://www.globalwaterforum.org/2012/10/16/unpacking-water-conflict-in-guanacaste-costa-rica/

Kuzdas C, Yglesias M, Warner B (2013) Governing Costa Rica's water resources. solutions 4(4):31–36. http://www.thesolutionsjournal.com/node/23918

Kuzdas C, Wiek A, Warner B, Vignola R, Morataya R (2014) Integrated and participatory analysis of water governance regimes: The case of the Costa Rican dry tropics. School of Sustainability working paper, Arizona State University, Phoenix

Langsdale SM, Beall A, Carmichael J, Cohen SJ, Forster CB, Neale T (2009) Exploring the implications of climate change on water resources through participatory modeling: case study of the Okanagan Basin, British Columbia. J Water Resour Plann Manag 135(5):373–381. doi:10.1061/(ASCE)0733-9496

Larson KL, Wiek A, Keeler LW (2013) A comprehensive sustainability appraisal of water governance in Phoenix, AZ. J Environ Manag 116:58–71. doi:10.1016/j.jenvman.2012.11.016

Lockwood M (2010) Good governance for terrestrial protected areas: a framework, principles, and performance outcomes. J Environ Manag 91(3):754–766. doi:10.1016/j.jenvman.2009.10.005

Lubell M, Leach W, Sabatier PA (2008) Collaborative watershed partnerships in the epoch of sustainability. In: Mazmanian D, Kraft ME (eds) Toward sustainable communities, 2nd edn. MIT Press, Cambridge, pp 255–288

Ludwig D (2001) The era of management is over. Ecosystems 4(8):758–764. doi:10.1007/s10021-001-0044-x

Madrigal R, Alpízar F, Schlüter A (2011) Determinants of performance of community-based drinking water organizations. World Dev 39(9):1663–1675. doi:10.1016/j.worlddev.2011.02.011

MINAET (2008) Plan Nacional de Gestión Integrada de los Recursos Hídricos. Ministerio de Ambiente, Energía, y Telecomunicaciones. San José, Costa Rica

Morataya R (2004) Plan de Manejo de las Cuencas Potrero y Caimital. Comisión para el Manejo de las Cuencas Potrero y Caimital/ASO Tempisque. Nicoya, Costa Rica

Ostrom E (1990) Governing the commons: the evolution of institutions for collective action. Cambridge University Press, Cambridge

Ostrom E (1992) Crafting institutions for self-governing irrigation systems. Institute for Contemporary Studies, San Francisco

Ostrom E (2007) A diagnostic approach for going beyond panaceas. P Natl Acad Sci USA 104(39):15181–15187. doi:10.1073/pnas.0702288104

Ostrom E (2009) A general framework for analyzing sustainability of social-ecological systems. Science 325:419–422. doi:10.1126/science.1172133

Ostrom E (2011) Background on the institutional analysis and development framework. Policy Stud J 39(1):7–27. doi:10.1111/j.1541-0072.2010.00394.x

Pahl-Wostl C (2008) Requirements for adaptive water management. In: Pahl-Wostl C, Kabat P, Moltgen J (eds) Adaptive and integrated water management: coping with complexity and uncertainty. Springer, Berlin, pp 1–22

Pahl-Wostl C, Kranz N (2010) Water governance in times of change. Environ Sci Policy 13(7):567–570. doi:10.1016/j.envsci.2010.09.004

Pahl-Wostl C, Holtz G, Kastens B, Knieper C (2010) Analyzing complex water governance regimes: the management and transition framework. Environ Sci Policy 13(7):571–581. doi:10.1016/j.envsci.2010.08.006

Pahl-Wostl C, Lebel L, Knieper C, Nikitina E (2012) From applying panaceas to mastering complexity: toward adaptive water governance in river basins. Environ Sci Policy 23:24–34. doi:10.1016/j.envsci.2012.07.014

Pahl-Wostl C, Vörösmarty C, Bhaduri A, Bogardi J, Rockström J, Alcamo J (2013) Towards a sustainable water future: shaping the next decade of global water research. Curr Opin Environ Sustain 5:1–7. doi:10.1016/j.cosust.2013.10.012

Paniagua F, Stocks G (2008) Conflict in Sardinal: The case of Costa Rica's first public-private partnership for water infrastructure development. Bob Graham Center for Public Service, University of Florida

Ramírez-Cover A (2007–2008) Conflictos socioambientales y recursos hídricos en Guanacaste; una descripción desde el cambio en el estilo de desarrollo (1997–2006). Anuario de Estudios Centroamerícanos 33–34, 359–385

Reed PM, Kasprzyk J (2009) Water resources management: the myth, the wicked, and the future. J Water Resour Plann Manag 135(6):411–413. doi:10.1061/(ASCE)WR.1943-5452.0000047

Rhodes RAW (1996) The new governance: governing without Government. Polit Stud 44(4):612–667. doi:10.1111/j.1467-9248.1996.tb01747.x

Rockström J, Steffen W, Noone K, Persson A, Chapin FS et al (2009) A safe operating space for humanity. Nature 461(7263):472–475. doi:10.1038/461472a

Rogers, P. (2002). Water governance in Latin America and the Caribbean. Draft for presentation at the Inter-American Development Bank's Annual Meetings in Fortaleza, Brazil, March 7

Rogers P, Hall AW (2003) Effective water governance. Global Water Partnership Technical Committee, Stockholm

Sarewitz D, Clapp R, Crumbley C, Kriebel D, Tickner J (2012) The sustainable solutions agenda. New Solut 22(2):139–151. doi:10.2190/NS.22.2.c

Wiek A, Larson KL (2012) Water systems, people, and sustainability—a framework for analyzing and assessing water governance regimes. Water Resour Manag 26(11):3153–3171. doi:10.1007/s11269-012-0065-6

Wiek A, Zemp S, Siegrist M, Walter A (2007) Sustainable governance of emerging technologies—critical constellations in the agent network of nanotechnology. Technol Forecast Soc 29(4):388–406. doi:10.1016/j.techsoc.2007.08.010

Wiek A, Ness B, Brand FS, Schweizer-Ries P, Farioli F (2012) From complex systems analysis to transformational change: a comparative appraisal of sustainability science projects. Sustain Sci 7(1):5–24. doi:10.1007/s11625-011-0148-y

Young OR, King LA, Schroeder H (2008) Institutions and environmental change: principal findings, applications, and research frontiers. MIT Press, Cambridge
Acknowledgments
The authors are grateful to members of the PC Commission. Their partnership, insights, and enthusiasm were instrumental in this work. The authors are very appreciative for the support with regard to interviews provided by Heiner Rosales and Gabriela Morera. Mariel Yglesias provided outstanding support and helped coordinate many efforts related to this project. Comments from George Basile, Hallie Eakin, and three reviewers improved this article. Work presented here was financially supported by research grants from the Organization for Tropical Studies, Arizona State University, and the Centro Agronómico Tropical de Investigación y Enseñanza.
About this article
Cite this article
Kuzdas, C., Wiek, A., Warner, B. et al. Sustainability Appraisal of Water Governance Regimes: The Case of Guanacaste, Costa Rica. Environmental Management 54, 205–222 (2014). https://doi.org/10.1007/s00267-014-0292-0
Received:

Accepted:

Published:

Issue Date:
Keywords
Water governance

Sustainability assessment

Impact evaluation

Solution oriented

Costa Rica