Abstract
Different arrangements of decentralized forest management have been promoted as alternatives to centralized and top down approaches to halt tropical deforestation and forest degradation. Ethiopia is one of the countries piloting one of these approaches. To inform future programs and projects it is essential to learn from existing pilots and experiences. This paper analyses five of the pilot participatory forest management (PFM) programs undertaken in Ethiopia. The study is based on the Forest User Group (FUG) members' analyses of the programs using selected outcome variables: forest income, change in forest conditions, forest ownership feelings and effectiveness of FUGs as forest managing institutions. These variables were assessed at three points in time—before the introduction of PFM, during the project implementation and after the projects ended. Data were collected using group discussions, key informant interviews and transect walks through the PFM forests. The results show that in all of the five cases the state of the forest is perceived to have improved with the introduction of PFM, and in four of the cases the improvement was maintained after projects ended. Regulated access to the forests following introduction of PFM was not perceived to have affected forest income negatively. There are, however, serious concerns about the institutional effectiveness of the FUGs after projects ended, and this may affect the success of the PFM approach in the longer term.
Access options
Buy single article
Instant access to the full article PDF.
US$ 39.95
Tax calculation will be finalised during checkout.
Subscribe to journal
Immediate online access to all issues from 2019. Subscription will auto renew annually.
US$ 79
Tax calculation will be finalised during checkout.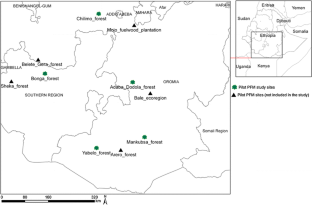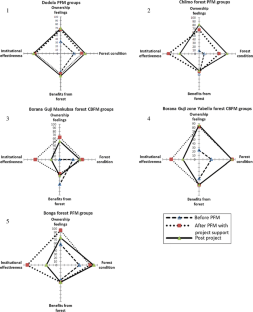 References
Agrawal A (2001) Common property institutions and sustainable governance of resources. World Dev 29:1649–1672

Agrawal A (2003) Sustainable governance of common-pool resources: context, methods, and politics. Annu Rev Anthropol 32:243–262

Agrawal A, Gibson CC (1999) Enchantment and disenchantment: the role of community in natural resource conservation. World Dev 27:629–649

Agrawal A, Ribot J (1999) Accountability in decentralization: a framework with South Asian and West African cases. J Dev Areas 33:473–502

Angelsen A, Wunder S (2003) Exploring the forest–poverty link: key concepts, issues and research implications. CIFOR Occasional Paper Number 40. Center for International Forestry Research, Bogor, Indonesia. http://www.cifor.cgiar.org/Publications/Papers

Arnold JEM (1991) Community forestry: ten years in review, community forestry note, No.7. Food and Agricultural Organizations of the United Nations (FAO), Rome

Baland JM, Platteau JP (1996) Halting degradation of natural resources: is there a role for rural community?. Clarendon Press, Oxford

Bekele M (2003) Forest property rights, the role of the state and institutional exigency: the Ethiopian experience. Ph.D. thesis. Department of Rural Development Studies, Uppsala, Sweden

Bekele T, Lemenih M, Tadesse T, Ameha A (2007) Determining Forest Carrying capacity in PFM/JFM sites: the case of Adaba-Dodola Forest. International Conference: participatory forest management (PFM), Biodiversity and livelihoods in Africa. In: Kelbessa E, De Stoop C (eds) Government of Ethiopia in collaboration with other stakeholders, Addis Ababa, Ethiopia, p 202–213. http://www.pfmp-farmsos.org/Docs/pfm%20conference_proceeding.pdf. Accessed 2 July 2012

Belcher B, Schreckenberg K (2007) Commercialisation of non-timber forest products: a reality check. Dev Policy Rev 25:355–377

Bruce JW (1999) Legal basis for the management of forest resources as common property. Food and Agricultural Organizations of the United Nations, Rome

Cavendish W (2000) Empirical regularities in the poverty–environment relationship of rural households: evidence from Zimbabwe. World Dev 28:1979–2003

Chaffy RD (1979) South-west Ethiopia Forest Inventory Project. A reconnaissance inventory of forest in South-west Ethiopia, project report 31. Land resources development centre, Tolworth Tower, Surbiton, Surrey, England KT6 7DY

Crook R, Manor J (1994) Enhancing participation and institutional performance: democratic decentralization in South Asia and West Africa Overseas Development Administration, London

Crook R, Manor J (1998) Democracy and decentralisation in South Asia and West Africa. Cambridge University Press, Cambridge

Dessie G, Christiansson C (2008) Forest decline and its causes in the south-central Rift Valley of Ethiopia: human impact over a one hundred year perspective. Ambio 37:263–271

Earth Trends (2007) Forests, grasslands, and drylands: country profiles-Ethiopia. Earth Trends/World Resources Institute. http://earthtrends.wri.org/country_profiles. Accessed 7 April 2012

Fraser EDG, Dougill AJ, Mabee WE, Reed M, McAlpine P (2006) Bottom up and top down: analysis of participatory processes for sustainability indicator identification as a pathway to community empowerment and sustainable environmental management. J Environ Manage 78:114–127

Friis I (1992) Forests and forest trees of northeast tropical Africa: their natural habitats and distribution patterns in Ethiopia, Djibouti and Somalia. Kew Bulletin Additional series, vol 15. London

Gautam AP, Shivakoti GP (2005) Conditions for successful local collective action in forestry: Some evidence from the Hills of Nepal. Soc Nat Resour 18:153–171

Gobeze T, Bekele M, Lemenih M, Kassa H (2009) Participatory forest management and its impacts on livelihoods and forest status: the case of Bonga forest in Ethiopia. Int For Rev 11:346–358

Hobley M (1996) Participatory forestry: the process of changes in India and Nepal. Rural Development Forestry Study Guide, 3. Overseas Development Forestry Study Guide, 3. Overseas Development Institute, London

Hobley M (2007) Where in the world is there pro-poor forest policy and tenure reform? Rights and Resources Initiative. http://www.rightsandresources.org/publication_details.php?publicationID=134. Accessed 13 Sept 2012

Kebebew Z (2012) Chilimo forest change analysis. www.pfmp-farmsos.org/SSLFM/SSLFM%20Resources/Chilimo%20Forest%20change%20Analysis.pdf. Accessed 15 Feb 2013

Klooster D (1999) Community-based forestry in Mexico: can it reverse processes of degradation? Land Degrad Dev 10:365–381

Kubsa A, Mariame A, Amente G, Lipp HJ, Tadesse T (2003) Wajib: an alternative forest conservation approach for Ethiopia's forest. XII World Forestry Congress, Quebec. http://www.fao.org/docrep/ARTICLE/WFC/XII/0145-C2.HTM. Accessed 5 Nov 2011

Lawrence A (2007) Beyond the second generation: towards adaptiveness in participatory forest management. CAB Rev 2:1–15

Limenih M, Temesgen Z (2011) History and experiences of PFM in Ethiopia: capturing lessons learnt and identifying gap. Federal Democratic Republic of Ethiopia, Ministry of Agriculture NRDM—Natural Resources—Participatory Forest Management Up scaling, Addis Ababa. Unpublished

Lund JF, Treue T (2008) Are we getting there? Evidence of decentralized forest management from the Tanzanian Miombo woodlands. World Dev 36:2780–2800

Lund JF, Kulbhushan B, Thorkil C (2009) Change we can believe in? Reviewing studies on the conservation impact of popular participation in forest management. Conserv Soc 7:71–82

Manor J (1999) The political economy of democratic decentralisation. The World Bank, Washington, DC

Maryudi A, Devkota RR, Schusser C, Yufanyi C, Salla M, Aurenhammer H, Rotchanaphatharawit R, Krott M (2012) Back to basics: considerations in evaluating the outcomes of community forestry. For Policy Econ 14:1–5

McDermott MH, Schreckenberg K (2009) Equity in community forestry: insights from North and South. Int For Rev 11:157–170

MoARD (2010) Proceedings of the Annual PFM Working Group Meeting with a special event of the official launching of the European Union funded PFM scaling up projects. Addis Ababa

Mohammed AJ, Inoue M (2012) Explaining disparity in outcome from community-based natural resource management (CBNRM): a case study in Chilimo Forest, Ethiopia. J Environ Plan Manage 55:1248–1267

Mohammed A, Inoue M (2013) Exploring decentralized forest management in Ethiopia using actor-power-accountability framework: case study in West Shoa zone. Environ Dev Sustain 15:807–825

Ostrom E (1990) Governing the commons: the evolution of institutions for collective action. Cambridge University Press, Cambridge

Persha L, Agrawal A, Chhatre A (2011) Social and ecological synergy: local rulemaking, forest livelihoods, and biodiversity conservation. Science 331:1606–1608

Phelps J, Webb EL, Agrawal A (2010) Does REDD+ threaten to recentralize forest governance? Science 328:312–313

Poffenberger M (2006) People in the forest: community forestry experiences from Southeast Asia. Int J Environ Sustain Dev 5:57–69

Poteete AR, Ostrom E (2003) In pursuit of comparable concepts and data about collective action. International Food Policy Research Institute, Washington, DC

Proclamation no (147/1998) Cooperative Societies Proclamation. Federal Negarit Gazeta of the Federal Democratic Republic of Ethiopia, Addis Ababa

Reusing M (1998) Monitoring of natural high forest resources in Ethiopia. Ministry Agriculture, Addis Ababa, p 61

Ribot JC (2003) Democratic decentralisation of natural resources: Institutional choice and discretionary power transfers in sub-Saharan Africa. Public Adm Dev 23:53–65

Ribot JC (2004) Waiting for democracy-the politics of choice in natural resource decentralization. WRI Report, Washington DC: World Resources Institute

Ribot JC, Agrawal A, Larson AM (2006) Recentralizing while decentralizing: how national governments reappropriate forest resources. World Dev 34:1864–1886

Schreckenberg K, Luttrell C (2009) Participatory forest management: a route to poverty reduction? Int For Rev 11:221–238

Shahbaz B, Ali T, Suleri A (2007) A critical analysis of forest policies of Pakistan: implications for sustainable livelihoods. Mitig Adapt Strat Glob Change 12:441–453

Sharp K (2007) Squaring the "Q"s? Methodological reflections on a study of destitution in Ethiopia. World Dev 35:264–280

Springate-Baginski O, Blaikie (2007) Forest, people and power. The political ecology of reform in South Asia. Earthscan Publication, London

Sunderlin WD, Angelsen A, Belcher B, Burgers P, Nasi R, Santoso L, Wunder S (2005) Livelihoods, forests, and conservation in developing countries: an overview. World Dev 33:1383–1402

Sunderlin WD, Hatcher J, Liddle M (2008) From exclusion to ownership? Challenge and opportunities in advancing forest tenure reform. Rights and Resources Initiative, Washington, DC. http://www.rightsandresources.org/documents/files/doc_736.pdf

Tadesse T (1999) A new look towards the conservation of the Adaba-Dodola forest. IFMP, Dodola Ethiopia, p 13. Unpublished

Takahashi R, Todo Y (2012) Impact of community-based forest management on forest protection: evidence from an aid-funded project in Ethiopia. Environ Manage 50:396–404

Temesgen T, Irwin B, Jordan G, J. M (2007) Forests, use them or lose them, an argument for promoting forest-based livelihoods rather than alternative non-forest-based livelihoods within PFM programmes. In: Kelbessa E, De Stoop C (eds) International conference: participatory forest management (PFM), biodiversity and livelihoods in Africa, Government of Ethiopia in collaboration with other stakeholders Addis Ababa, Ethiopia, p 7–17. http://www.pfmp-farmsos.org/Docs/pfm%220conference_proceeding.pdf. Accessed 25 May 2012

Thoms CA (2008) Community control of resources and the challenge of improving local livelihoods: a critical examination of community forestry in Nepal. Geoforum 39:1452–1465

Uberhuaga P, Larsen HO, Treue T (2011) Indigenous forest management in Bolivia: potentials for livelihood improvement. Int For Rev 13:80–95

Watson C (1994) Proportional piling in Turkana: a case study. RRA Notes 20:131–132

Wily LA, Mbaya S (2001) Land, people, and forests in Eastern and Southern Africa at the beginning of the 21st century. World Conserv. Union (IUCN), Nairobi, Kenya

Wollenberg E (1998) A conceptual framework and typology for explaining the outcomes of local forest management. J World For Resour Manage 9:1–35

Yemiru T, Roos A, Campbell BM, Bohlin F (2010) Forest incomes and poverty alleviation under participatory forest management in the Bale Highlands, Southern Ethiopia. Int For Rev 12:66–77

Yin RK (2010) Qualitative research from start to finish. Guliford Press, New York
Acknowledgments
This research was financed by the University of Copenhagen and field work for the first author was partly supported by FARM Africa and SOS Sahel Ethiopia. We wish to express our gratitude to the 572 rural households and staffs of various government and non-governmental organizations who participated in the study. The valuable suggestions made by two anonymous referees are gratefully acknowledged.
About this article
Cite this article
Ameha, A., Larsen, H.O. & Lemenih, M. Participatory Forest Management in Ethiopia: Learning from Pilot Projects. Environmental Management 53, 838–854 (2014). https://doi.org/10.1007/s00267-014-0243-9
Received:

Accepted:

Published:

Issue Date:
Keywords
Participatory forest management

Forest user groups

Forest conservation

Ownership feelings

Institutional effectiveness

Ethiopia