Abstract
With >80 million United States households engaged in lawn and gardening activities, increasing sustainability of lawn care is important. Mowing height is an easily manipulated aspect of lawn management. We tested the hypothesis that elevated mowing of tall fescue lawn grass promotes a larger, more diverse community of arthropod natural enemies which in turn provides stronger biological control services, and the corollary hypothesis that doing so also renders the turf itself less suitable for growth of insect pests. Turf-type tall fescue was mowed low (6.4 cm) or high (10.2 cm) for two growing seasons, natural enemy populations were assessed by vacuum sampling, pitfall traps, and ant baits, and predation and parasitism were evaluated with sentinel prey caterpillars, grubs, and eggs. In addition, foliage-feeding caterpillars and root-feeding scarab grubs were confined in the turf to evaluate their performance. Although some predatory groups (e.g., rove beetles and spiders) were more abundant in high-mowed grass, predation rates were uniformly high because ants, the dominant predators, were similarly abundant regardless of mowing height. Lower canopy temperatures in high-mowed grass were associated with slower growth of grass-feeding caterpillars. Higher lawn mowing reduces fuel consumption and yard waste, and promotes a deep, robust root system that reduces need for water and chemical inputs. Although in this study elevated mowing height did not measurably increase the already-high levels of predation, it did suggest additional ways through which bottom-up effects on insect pest growth might interact with natural enemies to facilitate conservation biological control.
Access options
Buy single article
Instant access to the full article PDF.
US$ 39.95
Tax calculation will be finalised during checkout.
Subscribe to journal
Immediate online access to all issues from 2019. Subscription will auto renew annually.
US$ 79
Tax calculation will be finalised during checkout.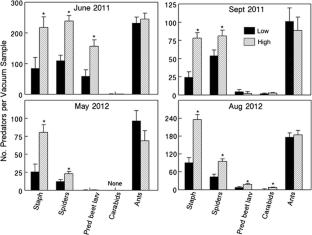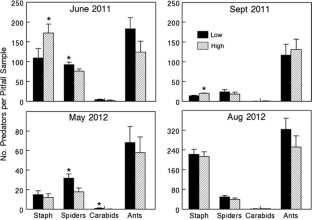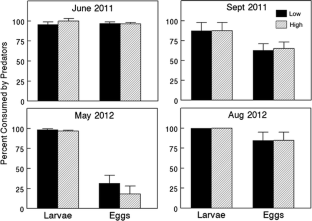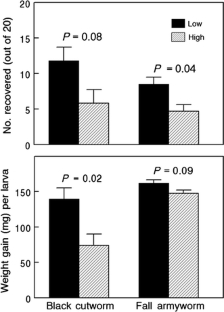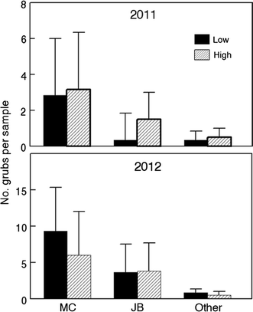 References
Analytical Software (2008) Statistix version 9. Analytical Software, Tallahassee, FL

Bandaranayake W, Qian YL, Parton WJ, Ojima DS, Follett RF (2003) Estimation of soil organic carbon changes in turfgrass systems using the CENTURY model. Agron J 95:558–563

Beard JB, Green RL (1994) The role of turfgrasses in environmental protection and their benefits to humans. J Environ Qual 23:452–460

Bernays EA, Barbehenn R (1987) Nutritional ecology of grass foliage-chewing insects. In: Slansky F, Rodriguez JG (eds) Nutritional ecology of insects mites, spiders, and related invertebrates. Wiley, New York, pp 147–175

Bixby-Brosi AJ, Potter DA (2012a) Beneficial and innocuous invertebrates in turf. In: Brandenburg RL, Freeman CP (eds) Handbook of turfgrass insect pests, 2nd edn. Entomological Society of America, Lanham, MD, pp 87–93

Bixby-Brosi AJ, Potter DA (2012b) Endophyte-mediated tritrophic interactions between a grass-feeding caterpillar and two parasitoid species with different life histories. Arthropod-Plant Interact 6:27–34

Blaine TW, Clayton S, Robbins P, Grewal PS (2012) Homeowner attitudes and practices towards residential landscape management in Ohio, USA. Environ Manag 50:257–271

Blanco CA, Portilla M, Abel CA, Winters H, Ford R, Strett D (2009) Soybean flour and wheat germ proportions in artificial diet and their effect on the growth rates of the tobacco budworm, Heliothis virescens. J Insect Sci 9:5

Blanco-Montero CA, Bennett TB, Neville P, Crawford CS, Milne BT, Ward CR (1995) Potential environmental and economic impacts of turfgrass in Albuquerque, New Mexico (USA). Landsc Ecol 10:121–128

Braman SK, Pendley AF, Corley W (2002) Influence of commercially available wildflower mixes on beneficial arthropod abundance and predation in turfgrass. Environ Entomol 31:564–572

Braman SK, Duncan RR, Hanna WW, Engleke MC (2004) Turfgrass species and cultivar influences on survival and parasitism of fall armyworm. J Econ Entomol 97:1993–1998

Busey P (2003) Cultural management of weeds in turfgrass: a review. Crop Sci 43:1899–1911

Busey P, Snyder GH (1993) Population outbreak of the southern chinch bug is regulated by fertilization. Int Turfgrass Soc Res J 7:353–357

Carpenter PJ, Meyer MH (1999) Edina goes green part 1. A model for low-input lawn care community education. HortTechnology 9:486–489

Clay K, Schardl C (2002) Evolutionary origins and ecological consequences of endophyte symbiosis with grasses. Am Nat 160:99–127

Coovert GA (2005) The ants of Ohio (Hymenoptera: Formicidae). Bull Ohio Biol Surv New Ser 15(2): vi+196

Davidson AW, Potter DA (1995) Response of plant-feeding, predatory, and soil-inhabiting invertebrates to Acremonium endophyte and nitrogen fertilization in tall fescue turf. J Econ Entomol 88:367–379

Davis DB, Dernoeden PH (1991) Summer patch and Kentucky bluegrass quality as influenced by cultural practices. Agron J 83:670–677

DeBels BT, Griffith SE, Kreuser WC, Melby ES, Soldat DJ (2012) Evaluation of mowing height and fertilizer application rate on quality and weed abundance of five home lawn grasses. Weed Technol 26:826–831

Dennis P, Young MR, Gordon IL (1998) Distribution and abundance of small insects and arachnids in relation to structural heterogeneity if grazed, indigenous grasslands. Ecol Entomol 23:253–264

Fiedler AK, Landis DA, Wratten S (2008) Maximizing ecosystem services from conservation biological control: the role of habitat management. Biol Control 45:254–271

Frank SD, Shrewsbury PM (2004) Effect of conservation strips on the abundance and distribution of natural enemies and predation of Agrotis ipsilon (Lepidoptera: Noctuidae) on golf course fairways. Environ Entomol 33:1662–1672

Gardiner MM, Landis DA, Gratton C, DiFonzo CD, O'Neal M, Chacon JM, Wayo MT, Schmidt NP, Mueller EE, Heimpel GE (2009) Landscape diversity enhances biological control of an introduced crop pest in the north-central USA. Ecol Appl 19:143–154

Gibson CWD, Hambler C, Brown WK (1992) Changes in spider (Araneae) assemblages in relation to succession and grazing management. J Appl Ecol 29:132–142

Gotelli NJ, Ellison AM, Dunn RR, Sanders NJ (2011) Counting ants (Hymenoptera: Formicidae): biodiversity sampling and statistical analysis for myrmecologists. Myrmecol News 15:13–19

Grewal PS (2012) From IPM to ecosystem management: the case of urban lawns. In: Abrol DP (ed) Integrated pest management: principles and practice. CABI Publishing, Wallingford, pp 450–488

Haydu JJ, Hodges AW, Hall CR (2005) Economic impacts of the turfgrass and lawncare industry in the United States. Fla Coop Ext Ser FE 632. Univ. Florida, Gainesville

Held DW, Potter DA (2012) Prospects for managing turfgrass pests with reduced chemical inputs. Ann Rev Entomol 57:329–354

Hudewenz A, Klein AM, Scherber C, Stanke L, Tscharntke T, Vogel A (2012) Herbivore and pollinator response to grassland management intensity along experimental changes in plant species richness. Biol Conserv 150:42–52

Hull RJ, Alm SR, Jackson N (1994) Toward sustainable lawn turf. In: Leslie AR (ed) Handbook of integrated pest management for turf and ornamentals. Lewis, Boca Raton, FL, pp 3–15

Jo Y, Smitley DR (2003) Predation of Ataenius spretulus (Coleoptera: Scarabaeidae) eggs and grubs by Carabidae and Staphylinidae on golf courses in Michigan. Environ Entomol 32:1370–1376

Karl T, Fall R, Jordan A, Lindinger W (2001) On-line analysis of reactive VOCs from urban lawn mowing. Environ Sci Technol 35:2926–2931

Keathley CP, Potter DA (2011a) Does modification of tall fescue leaf texture and forage nutritive value for improved livestock performance increase suitability for a grass-feeding caterpillar? Crop Sci 51:370–380

Keathley CP, Potter DA (2011b) Behavioral plasticity of a grass-feeding caterpillar in response to spiny- or smooth-edged leaf blades. Arthropod-Plant Interact 5:339–349

Krenitsky EC, Carroll MJ, Hill RL, Krouse JM (1998) Runoff and sediment losses from natural and man-made erosion control materials. Crop Sci 38:1042–1046

Kruess A, Tscharntke T (2002a) Contrasting responses of plant and insect diversity to variation in grazing intensity. Biol Conserv 106:293–302

Kruess A, Tscharntke T (2002b) Grazing intensity and the diversity of grasshoppers, butterflies, and trap-nesting bees and wasps. Conserv Biol 16:1570–1580

Landis DA, Wratten SD, Gurr GM (2000) Habitat management to conserve natural enemies of arthropod pests in agriculture. Ann Rev Entomol 45:175–201

Lawton JH (1983) Plant architecture and the diversity of phytophagous insects. Ann Rev Entomol 28:23–29

Leslie A, Knoop W (1989) Societal benefits of conservation oriented management of turfgrass in home lawns. Integrated pest management for turfgrass and ornamentals. U.S. Environmental Protection Agency, Washington, DC, pp 93–96

López R, Potter DA (2000) Ant predation on eggs and larvae of the black cutworm and Japanese beetle in turfgrass. Environ Entomol 29:116–125

López R, Potter DA (2003) Biodiversity of ants (Hymenoptera: Formicidae) in golf course and lawn turf habitats in Kentucky. Sociobiology 42:701–714

Magurran AE (2004) Measuring biological diversity. Blackwell, Malden, MA

Massachusetts Department of Environmental Protection (MassDEP) (2010) Municipal water use restrictions. Massachusetts Office of Energy and Environmental Affairs: Boston, MA. http://www.mass.gov/dep/water/resources/wateruse.htm. Accessed 3 May 2013

McKenzie HA, Wallace HS (1954) The Kjedahl determination of nitrogen—a critical study of digestion conditions—temperature, catalyst, and oxidizing agent. Aust J Chem 7:55–70

Melbourne BA (1999) Bias in the effect of habitat structure on pitfall traps: an experimental evaluation. Aust J Ecol 24:228–239

Milesi C, Running SW, Elvidge CD, Dietz JB, Tuttle BT, Nemani RR (2005) Mapping and modeling the biogeological cycling of turf grasses in the United States. Environ Manag 36:426–438

Morris MG, Rispin WE (1987) Abundance and diversity of the coleopterous fauna of a calcareous grassland under different cutting regimes. J Appl Ecol 24:451–466

Munshaw GC (2013) Mowing your Kentucky lawn. Univ. KY Coop. Ext. Bull. AGR-209. http://www2.ca.uky.edu/agc/pubs/AGR/AGR209/AGR209.pdf. Accessed 19 Nov 2013

Peters EB, Hiller RV, McFadden JP (2011) Seasonal contributions of vegetation types to suburban evapotranspiration. Soil Sci Soc Am J 74:366–371

Portman SL, Frank JH, McSorley R, Leppla NC (2010) Nectar-seeking and host-seeking by Larra bicolor (Hymenoptera: Crabronidae), a parasitoid of Scapteriscus mole crickets (Orthoptera: Gryllotalpidae). Environ Entomol 39:939–943

Potter DA, Gordon FC (1984) Susceptibility of Cyclocephala immaculata (Coleoptera: Scarabaeidae) eggs and immatures to heat and drought in turfgrass. Environ Entomol 13:794–799

Potter DA, Powell AJ, Spicer PG, Williams DW (1996) Cultural practices affect root-feeding white grubs (Coleoptera: Scarabaeidae) in turfgrass. J Econ Entomol 89:156–164

Qian Y, Follett RF, Kimble JM (2010) Soil organic carbon input from urban turfgrasses. Soil Sci Soc Am J 74:366–371

Redmond CT, Potter DA (2010) Incidence of turf-damaging white grubs (Coleoptera: Scarabaeidae) and associated pathogens and parasitoids on Kentucky golf courses. Environ Entomol 39:1838–1847

Redmond CT, Williams DW, Potter DA (2012) Comparison of scarab grub populations and associated pathogens and parasitoids in warm- or cool-season grasses used on transitional zone golf courses. J Econ Entomol 105:1320–1328

Rogers ME, Potter DA (2004a) Biology of Tiphia pygidialis, a parasitoid of masked chafer grubs, with notes on the seasonal occurrence of Tiphia vernalis in Kentucky. Environ Entomol 33:520–527

Rogers ME, Potter DA (2004b) Potential for sugar sprays and flowering plants to increase parasitism of white grubs (Coleoptera: Scarabaeidae) by tiphiid wasps (Hymenoptera Tiphiidae). Environ Entomol 33:619–626

Rothwell NL, Smitley DR (1999) Impact of golf course mowing practices on Ataenius spretulus (Coleoptera: Scarabaeidae) and its natural enemies. Environ Entomol 28:58–366

Salminen SO, Grewal PS, Quigley MF (2003) Does mowing height influence alkaloid production in endophytic tall fescue and perennial ryegrass? J Chem Ecol 29:1319–1328

Sandberg LA, Foster J (2007) Challenging lawn and order: environmental discourse and lawn care reform in Canada. Environ Politics 14:478–495

Schardl C, Leuchtmann A, Spiering MJ (2004) Symbioses of grasses with seedborn fungal endophytes. Ann Rev Plant Biol 55:315–340

Selhorst A, Lal R (2013) Net carbon sequestration potential and emissions in home lawn turfgrasses of the United States. Environ Manag 51:198–208

Siegrist JA, McCulley RL, Bush LP, Phillips TD (2010) Alkaloids may not be responsible for endophyte-associated reductions in tall fescue decomposition rates. Funct Ecol 24:460–468

Smitley DR, Davis TW, Rothwell NL (1998) Spatial distribution of Ataenius spretulus, Aphodius granarius (Coleoptera: Scarabaeidae), and predaceous insects across golf course fairways and roughs. Environ Entomol 27:1336–1349

Spronken-Smith RA, Oke TR, Lowry WP (2000) Advection and the surface energy balance across an irrigated urban park. Int J Climatol 20:1033–1047

State of Minnesota (2010) Minnesota Statute 18C.60: Phosphorus turf fertilizer use restrictions. https://www.revisor.mn.gov/statures/?id=18C.60&year=2011. Accessed 3 May 2013

Topping CJ, Sunderland KD (1992) Limitations to the use of pitfall traps in ecological studies exemplified by a study of spiders in a field of winter wheat. J Appl Ecol 29:485–491

Tscharntke T, Greiler H-J (1995) Insect communities, grasses, and grasslands. Ann Rev Entomol 40:535–558

Turgeon AJ (2011) Turfgrass management, 9th edn. Prentice-Hall, Englewood, NJ

US-EPA (2004) Healthy lawn health environment. Caring for your lawn in an environmentally-friendly way. United States Environmental Protection Agency. http://www.epa.gov/oppfead1/Publications/lawncare.pdf. Accessed 23 June 2013

US-EPA (2012) Healthy yards, healthy lawns, healthy environment. United States Environmental Protection Agency. http://www.epa.gov/reg3wcmd/pesticideslawn.htm. Accessed 23 June 2013

Vincelli P, Williams D, Powell AJ, Potter DA (2005) Low-maintenance lawn care, stressing plant avoidance, and organic inputs. UK Coop Ext Service, Lexington, KY

Vittum PJ, Villani MG, Tashiro H (1999) Turfgrass insects of the United States and Canada, 2nd edn. Cornell University Press, Ithaca, NY

Watts JG, Huddleston EW, Owens JC (1982) Rangeland entomology. Ann Rev Entomol 27:283–311

Williamson CR, Potter DA (1997) Oviposition of black cutworm (Lepidoptera: Noctuidae) on creeping bentgrass putting greens and removal of eggs by mowing. J Econ Entomol 90:590–594

Woltz MJ, Isaacs R, Landis DA (2012) Landscape structure and habitat management differentially influence insect natural enemies in an agricultural landscape. Agric Ecosyst Environ 152:40–49

Wratten SD, van Emden HF (1995) Habitat management for enhanced activity of natural enemies of insect pests. In: Glen DM, Greaves MP, Anderson HM (eds) Ecology and integrated farming systems. Wiley, Chichester, pp 117–145

Zenger JT, Gibb TJ (2001) Identification and impact of egg predators of Cyclocephala lurida and Popillia japonica (Coleoptera: Scarabaeidae) in turfgrass. Environ Entomol 30:425–430

Zirkle G, Lal R, Augustin B (2011) Modeling carbon sequestration in home lawns. Hortscience 46:808–814
Acknowledgments
We thank D. Williams, L. Williams, and R. King (Dept. of Plant and Soil Sciences) for assistance in establishing and maintaining the experimental site, E.R. Hoebeke for assistance in staphylinid identification, C. Redmond, S. Marksbury, S. Barney, J. Larson, and D.W. Lee for field assistance, and G. Aiken and L. Bush for facilitating the grass nutrient and endophyte evaluations. E. Dobbs was supported by the Multiyear Fellowship, the Daniel R. Reedy Quality Achievement Fellowship, and the Bobby C. Pass Fellowship from the University of Kentucky. This is paper no. 13-08-094 of the University of Kentucky Agricultural Experiment Station.
Ethical Standards
All experiments comply with the current laws of the United States.
Conflict of Interest
The authors declare they have no conflict of interest.
About this article
Cite this article
Dobbs, E.K., Potter, D.A. Conservation Biological Control and Pest Performance in Lawn Turf: Does Mowing Height Matter?. Environmental Management 53, 648–659 (2014). https://doi.org/10.1007/s00267-013-0226-2
Received:

Accepted:

Published:

Issue Date:
Keywords
Turfgrass

Sustainable lawns

Biological control

Mowing

Pest management