Abstract
Crop and livestock losses to wildlife are a concern for people neighboring many protected areas (PAs) and can generate opposition to conservation. Examining patterns of conflict and associated tolerance is important to devise policies to reduce conflict impacts on people and wildlife. We surveyed 398 households from 178 villages within 10 km of Ranthambore, Kanha, and Nagarahole parks in India. We compared different attitudes toward wildlife, and presented hypothetical response scenarios, including killing the problem animal(s). Eighty percent of households reported crop losses to wildlife and 13 % livestock losses. Higher crop loss was associated with more cropping months per year, greater crop variety, and more harvest seasons per year but did not vary with proximity to the PA, suggesting that PAs are not necessarily "sources" for crop raiders. By contrast, complaints of "depredating carnivores" were associated with people-grazing animals and collecting resources from PAs. Many households (83 %) engaged in mitigation efforts. We found that only fencing and guard animals reduce crop losses, and no efforts to lower livestock losses. Contrary to our expectations, carnivores were not viewed with more hostility than crop-raiding wildlife. Households reported greater inclination to kill herbivores destroying crops or carnivores harming people, but not carnivores preying on livestock. Our model estimated crop loss was 82 % across surveyed households (highest in Kanha), while the livestock loss experienced was 27 % (highest in Ranthambore). Our comparative study provides insights into factors associated with conflict loss and tolerance, and aids in improving ongoing conservation and compensation efforts.
This is a preview of subscription content,
to check access.
Access this article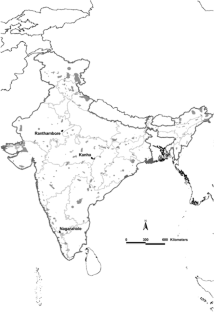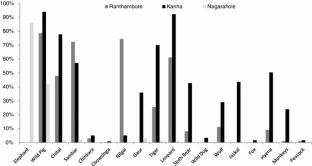 Similar content being viewed by others
References
Agarwala M, Kumar S, Treves A, Naughton-Treves L (2010) Paying for wolves in Solapur, India and Wisconsin, USA: comparing compensation rules and practice to understand goals and politics of wolf conservation. Biol Conserv 143:2945–2955

Athreya V, Odden M, Linnell JDC, Karanth KU (2010) Translocation as a tool for mitigating conflicts with leopards in human-dominated landscapes of India. Conserv Biol 25:133–141

Athreya V, Odden M, Linnell JDC, Krishnaswamy J, Karanth KU (2013) Big cats in our backyards: persistence of large carnivores in a human dominated landscape in India. PLoS One 8(3):e57872. doi:10.1371/journal.pone.0057872

Bagchi S, Mishra C, Bhatnagar YV (2004) Conflicts between traditional pastoralism and conservation of Himalayan Ibex (Capra sibirica) in the Trans-Himalayan mountains. Anim Conserv 7:121–128

Banerjee K, Jhala YV, Chauhan KS, Dave CV (2013) Living with Lions: the economics of coexistence in the Gir Forests India. Plos One 8(1):e49457

Barua M, Bhagwat SA, Jadhav S (2013) The hidden dimensions of human-wildlife conflict: health impacts, opportunity and transaction costs. Biol Conserv 157:309–316

Bulte EH, Rondeau D (2005) Research and management view point: why compensating wildlife damages may be bad for conservation. J. Wildlife Manag 69:14–19

Burnham KP, Anderson D (2002) Model Selection and Multimodal Inference. A practical information theoretic approach. Springer, New York

Chhangani AK, Robbins P, Mohnot SM (2010) Major threats to the faunal diversity of Kumbhalgarh Wildlife Sanctuary. Indian Forest 136:1410–1421

DeFries R, Karanth KK, Pareeth SJ (2010) Interactions between protected areas and their surroundings in human-dominated tropical landscapes. Biol Conserv 143:2870–2880

Dickman AJ (2010) Complexities of conflict: the importance of considering social factors for effectively resolving human-wildlife conflicts. Anim Conserv 13:458–466

Distefano, E., 2005. Human-wildlife conflict worldwide: collection of case studies, analysis of management practices and good practices. FAO Report. (www.fao.org)

Ericsson G, Heberlein TA (2003) Attitudes of hunters, locals, and the general public in Sweden now that the wolves are back. Biol Conserv 111:149–159

Fernando P, Wikramanayake E, Weerakoon D, Jayasinghe LKA, Gunawardene M, Janaka HK (2005) Perceptions and patterns of human-elephant conflict in old and new settlements in Sri Lanka. Int J Biodivers Conserv 14:2465–2481

Freckelton RP (2011) Dealing with collinearity in behavioural and ecological data: model averaging and the problems of measurement error. J Behav Ecol Soc 65:91–101

Gadd ME (2005) Conservation outside parks: attitudes of local people in Laikipia. Kenya Environ Conserv 30:50–63

Gelman A (2008) Scaling regression inputs by dividing by two standard deviations. Stat Med 27:2865–2873

Hill CM (2004) Farmers' perspectives of conflict at the wildlife–agriculture boundary: some lessons learned from African subsistence farmers. Hum Dim Wildl 9:279–286

Holmern T, Nyahongo J, Roskaft E (2007) Livestock loss caused by predators outside the Serengheti National Park. Tanzania Biol Conserv 135:518–526

Johnson A, Vongkhamheng C, Hedemark M, Saithongdam T (2006) Effects of human-carnivore conflict on tiger (Panthera tigris) and prey populations in Lao PDR. Anim Conserv 9:421–430

Kaltenborn BP, Bjerke T, Nyahongo J (2006) Living with problem animals: self-reported fear of potentially dangerous species in the Serengeti region. Tanzania Hum Dim Wildl 11:397–409

Karanth KK, DeFries R (2010) Conservation and management in human- dominated landscapes: case studies from India. Introduction Spec Issue Biol Conserv 143:2865–2869. doi:10.1016/j.biocon.2010.05.002

Karanth KK, DeFries R (2011) Nature-based tourism in Indian protected areas: new challenges for park management. Cons Letts 4:137–149

Karanth KK, Gopalaswamy AM, DeFries R, Ballal N (2012) Assessing Patterns of Human-Wildlife Conflicts and Compensation around a Central Indian Protected Area. PLoS One 7(12):e50433. doi:10.1371/journal.pone.0050433

Karanth KK, Gopalaswamy AM, Prasad P, Dasgupta S (2013) Patterns of human-wildlife conflicts and compensation: insights from Western Ghats Karnataka protected areas. Biol Cons 166:175–185

Karanth KU, Madhusudan MD (2002) Making parks work: identifying key factors to implementing parks in the tropics. In: Terborgh JW, van Schaik C, Davenport L, Rao M (eds) Mitigating human-wildlife conflicts in southern Asia. Island, Covelo, pp 250–264

Karanth KK, Nepal S (2012) Local perceptions of benefits and losses of living around protected areas in India and Nepal. Environ Manag 49:372–386

Karanth KK, Nichols JD, Karanth KU, Hines JE, Christensen NL (2010) The shrinking ark: patterns of large mammal extinctions in India. Proc Royal Soc Ldn-B 277:1971–1979

Kleiven J, Bjerke T, Kaltenborn BP (2004) Factors influencing the social acceptability of large carnivore behaviors. Int J Biodivers Conserv 13:1647–1658

Knight J (2000) Introduction. In: Knight J (ed) Natural enemies: people-wildlife conflicts in anthropological perspective. Routledge, London

Kolowski J, Holekamp K (2006) Spatial, temporal and physical characteristics of livestock depredations by large carnivores. Biol Conserv 128:529–541

Linkie M, Dinata Y, Nofrianto A, Leader-Williams N (2007) Patterns and perceptions of wildlife crop raiding in and around Kerinci Seblat National Park. Sumatra Anim Conserv 10:127–135

Madhusudan MD (2003) Living amidst large wildlife: livestock and crop depredation by large mammals in the interior villages of Bhadra Tiger Reserve, south India. Environ Manag 31:466–475

Manfredo MJ, Zinn HC, Sikorowski L, Jones J (1998) Public acceptance of mountain lion management: a case study of Denver, Colorado, and nearby foothills areas. Wildl Soc Bull 26:964–970

Mishra C, Allen P, Maccarthy T, Madhusudan MD, Bayarjargal A, Prins HHT (2003) The role of incentive programs in conserving the snow leopard. Conserv Biol 17:1512–1520

Naughton T, Grossberg R, Treves A (2003) Paying for tolerance: the impact of livestock predation and compensation payments on rural citizens attitudes towards wolves. Conserv Biol 17:1500–1511

Nyhus P, Tilson R (2004) Agroforestry, elephants and tigers: balancing conservation theory and practice in human-dominated landscapes of Southeast Asia. Agric Eco Environ 104:87–97

Ogra M, Badola R (2008) Compensating human-wildlife conflict in Protected Area Communities: ground level perspectives from Uttarkhand. India Hum Ecol 36:717–729

Rangarajan M (2001) India's wildlife history. Permanent Black, New Delhi

Sekhar N (1998) Crop and livestock depredation caused by wild animals in protected areas: the case of Sariska Tiger Reserve, Rajasthan. India. Environ Conserv 25:160–171

Sillero-Zuberi C, Sukumar R, Treves A (2007) Living with wildlife: the roots of conflict and the solutions. In: MacDonald DW, Service K (eds) Key topics in conservation biology. Oxford University, Oxford, pp 266–272

Sitati NW, Walpole MJ, Leader-Williams N (2005) Factors affecting susceptibility of farms to crop raiding by African elephants: using a predictive model to mitigate conflict. J Appl Ecol 42:1175–1182

Spiteri A, Nepal SK (2008) Evaluating local benefits from conservation in Nepal's Annapurna conservation area. Environ Manag 42:391–401

Suryavanshi KR, Bhatnagar YV, Redpath S, Mishra C (2013) People, predators and perceptions: patterns of livestock depredation by snow leopards and wolves. J Appl Ecol 50:550–560

Treves A (2006) The human dimensions of conflicts with wildlife around protected areas. In: Woodroof R, Thirgood S, Rabinowitz A (eds) People and wildlife, conflict or coexistence?. Cambridge University, Cambridge, pp 214–228

Treves A (2009) Hunting to conserve large carnivores. J Appl Ecol 46:1350–1356

Treves A, Karanth KU (2003) Human-carnivore conflict and perspectives on carnivore management worldwide. Conserv Biol 17:1491–1499

Treves A, Naughton-Treves L (2005) Evaluating lethal control in the management of human-wildlife conflict. In: Woodroof R, Thirgood S, Rabinowitz A (eds) People and wildlife, conflict or coexistence?. Cambridge University, Cambridge, pp 86–106

Velho N, Karanth KK, Laurance WF (2012) Hunting a serious and understudied threat to India, a globally significant conservation region. Biol Conserv 148:210–215

Wang SW, Macdonald DW (2006) Livestock predation by carnivores in Jigme Singye Wangchuck National Park. Bhutan Biol Conserv 129:558–565
Acknowledgments
The authors thank K. U. Karanth, P. M. Muthanna, S. K. Nepal, Centre for Wildlife Studies and Wildlife Conservation Society-India Program for support in the field. They also thank Jim Nichols and USGS Patuxent Wildlife Research Centre for hosting Karanth and Gopalaswamy in 2011. We are grateful to the forest departments of Rajasthan, Madhya Pradesh, and Karnataka, and S. Sharma, H.S. Pabla, H. S. Negi, R. Shukla, A.C. Poovaih, and U. Ramakrishnan for their support. Invaluable field assistance by A. Srivathsa and S. Gundecha enabled data collection. NSF Grant Number 1029219 supported this research. Columbia University IRB approved all the survey protocols.
Appendix
Appendix
See Table 8.
About this article
Cite this article
Karanth, K.K., Naughton-Treves, L., DeFries, R. et al. Living with Wildlife and Mitigating Conflicts Around Three Indian Protected Areas. Environmental Management 52, 1320–1332 (2013). https://doi.org/10.1007/s00267-013-0162-1
Received:

Accepted:

Published:

Issue Date:

DOI: https://doi.org/10.1007/s00267-013-0162-1
Keywords