Abstract
Asian knotweeds (Fallopia spp.) are considered one of the world's most invasive species. Restoring habitats dominated by these exotic species requires a better understanding of the importance of abiotic factors controlling the invasive knotweeds performance. We used observational data obtained on the embankment of the Isère River (France) to study the performance of Fallopia spp. under different soil, light, and disturbance conditions. On the Isère riverbanks, light intensity assessed by light quantity transmitted through canopy was the most important factor explaining the variability observed on knotweed performance expressed as above-ground biomass per square meter. Asian knotweeds were more productive under intensive light conditions. Alternatively other factors such as mowing (twice a year), soil fertility, soil texture, position on the bank or exposure to the sun had no significant effect on knotweed biomass production. We conclude that decreasing light resources, for example, by increasing competitive pressure on sites dominated by Asian knotweeds could be included in management plans to control the populations of this invasive taxon.
Access options
Buy single article
Instant access to the full article PDF.
USD 39.95
Price excludes VAT (USA)
Tax calculation will be finalised during checkout.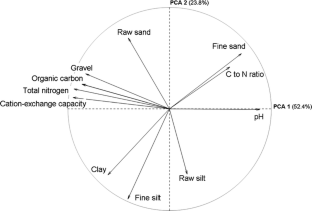 References
Adachi N, Terashima I, Takahashi M (1996) Central die-back of monoclonal stands of Reynoutria japonica in an early stage of primary succession on Mount Fuji. Ann Bot 77(5):477–486

Aguilera AG, Alpert P, Dukes JS, Harrington R (2010) Impacts of the invasive plant Fallopia japonica (Houtt.) on plant communities and ecosystem processes. Biol Invasions 12(5):1243–1252

Bailey JP, Bímová K, Mandák B (2007) The potential role of polyploidy and hybridisation in the further evolution of the highly invasive Fallopia taxa in Europe. Ecol Res 22(6):920–928

Bailey JP, Bímová K, Mandák B (2009) Asexual spread versus sexual reproduction and evolution in Japanese knotweed s.l. sets the stage for the "battle of the clones". Biol Invasions 11(5):1189–1203

Barney JN, Whitlow TH, Lembo Jr. AJ (2008) Revealing historic invasion patterns and potential invasion sites for two non-native plant species. PLoS One 3(2):e1635

Barták R, Konupková Kalousová Š, Krupová B (2010) Methods of elimination of invasive knotweed species (Reynoutria spp.). Moravian-Silesian Region in cooperation with ČSOP Salamandr and with financial support from the European Union, 2010

Beerling DJ (1991) The effect of Riparian land use on the occurrence and abundance of Japanese knotweed Reynoutria japonica on selected rivers in South Wales. Biol Conserv 55(3):329–337

Bímová K, Mandák B, Pyšek P (2003) Experimental study of vegetative regeneration in four invasive Reynoutria taxa (Polygonaceae). Plant Ecol 166(1):1–11

Bímová K, Mandák B, Kašparová I (2004) How does Reynoutria invasion fit the various theories of invasibility? J Veg Sci 15(4):495–504

Blumenthal DM, Jordan NR, Russelle MP (2003) Soil carbon addition controls weeds and facilitates prairie restoration. Ecol Appl 13(3):605–615

Bradford MA, Schumacher HB, Catovsky S, Eggers T, Newingtion JE, Tordoff GM (2007) Impacts of invasive plant species on riparian plant assemblages: interactions with elevated atmospheric carbon dioxide and nitrogen deposition. Oecologia 152(4):791–803

Bravard JP (1989) La métamorphose des rivières des Alpes françaises à la fin du moen-age et à l'époque moderne. Bull de la Société Géographique de Liège 25:145–157

Brown CS, Anderson VJ, Claassen VP, Stannard ME, Wilson LM, Atkinson SY, Bromberg JE, Grant Iii TA, Munis MD (2008) Restoration ecology and invasive plants in the semiarid west. Invasive Plant Sci Manag 1(4):399–413

Burns JH (2006) Relatedness and environment affect traits associated with invasive and noninvasive introduced Commelinaceae. Ecol Appl 16(4):1367–1376

Burton ML, Samuelson LJ, Pan S (2005) Riparian woody plant diversity and forest structure along an urban–rural gradient. Urban Ecosyst 8(1):93–106

Cavaillé P, Dommanget F, Daumergue N, Loucougaray G, Spiegelberger T, Tabacchi E, Evette A (2013) Biodiversity assessment following a naturality gradient of riverbank protection structures in French prealps rivers. Ecol Eng 53:23–30

Chiba N, Hirose T (1993) Nitrogen acquisition and use in three perennials in the early stage of primary succession. Funct Ecol 7(3):287–292

Choler P (2002) Niche differentiation and distribution of Carex curvula along a bioclimatic gradient in the southwestern Alps. J Veg Sci 13:851–858

Crowhurst G (2006) Managing Japanese knotweed on development sites. Environ Law Manag 18(6):296–302

Daehler CC (2003) Performance comparisons of co-occurring native and alien invasive plants: implications for conservation and restoration. Annu Rev Ecol Evol Syst 34:183–211

Dale MP, Causton DR (1992) The ecophysiology of Veronica chamaedrys, V. montana and V. officinalis. III. Effects of shading on the phenology of biomass allocations—a field experiment. J Ecol 80(3):505–515

Dassonville N, Vanderhoeven S, Gruber W, Meerts P (2007) Invasion by Fallopia japonica increases topsoil mineral nutrient concentrations. Ecoscience 14(2):230–240

DeFerrari CMN, Robert J (1994) A multi-scale assessment of the occurrence of exotic plants on the Olympic Peninsula, Washington. J Veg Sci 5:247–258

Drever CR (2005) Assessing light and conifer growth in a riparian restoration treatment along Spirit Creek, British Columbia. Northwest Sci 79(1):44–52

Eschtruth AK, Battles JJ (2011) The importance of quantifying propagule pressure to understand invasion: an examination of riparian forest invasibility. Ecology 92(6):1314–1322

Evans JP, Cain ML (1995) A spatially explicit test of foraging behavior in a clonal plant. Ecology 76(4):1147–1155

Evette A, Labonne S, Rey F, Liébault F, Jancke O, Girel J (2009) History of bioengineering techniques for erosion control in rivers in western Europe. Environ Manag 43(6):972–984

Evette A, Balique C, Lavaine C, Rey F, Prunier P (2012) Using ecological and biogeographical features to produce a typology of the plant species used in bioengineering for riverbank protection in Europe. River Res Appl 28(10):1830–1842

Frazer GW, Canham CD (1999) Gap light analyzer. Imaging software to extract forest canopy structure and gap light transmission indices from true-colour hemispherical (fisheye) photographs. Simon Fraser University, Institute of Ecosystem Studies, Burnaby

Fujiyoshi M, Kagawa A, Nakatsubo T, Masuzawa T (2005) Successional changes in mycorrhizal type in the pioneer plant communities of a subalpine volcanic desert on Mt. Fuji, Japan. Polar Biosci 18:60–72

Funk JL, McDaniel S (2010) Altering light availability to restore invaded forest: the predictive role of plant traits. Restor Ecol 18(6):865–872

Funk JL, Cleland EE, Suding KN, Zavaleta ES (2008) Restoration through reassembly: plant traits and invasion resistance. Trends Ecol Evol 23(12):695–703

Gerber E, Krebs C, Murrell C, Moretti M, Rocklin R, Schaffner U (2008) Exotic invasive knotweeds (Fallopia spp.) negatively affect native plant and invertebrate assemblages in European riparian habitats. Biol Conserv 141(3):646–654

Gerber E, Murrell C, Krebs C, Bilat J, Schaffner U (2010) Evaluating non-chemical management methods against invasive exotic knotweeds, Fallopia spp. CABI, Egham

Girel J (1994) Old distribution procedure of both water and matter fluxes in floodplains of western Europe: impact on present vegetation. Environ Manag 8(2):203–221

Gu B (2006) Environmental conditions and phosphorus removal in Florida lakes and wetlands inhabited by Hydrilla verticillata (Royle): implications for invasive species management. Biol Invasions 8(7):1569–1578

Herpigny B, Dassonville N, Ghysels P, Mahy G, Meerts P (2012) Variation of growth and functional traits of invasive knotweeds (Fallopia spp.) in Belgium. Plant Ecol 213(3):419–430

Hughes F, Richards K, Girel J, Moss T, Muller E, Nilsson C, Rood S (2003) The flooded forest: guidance for policy makers and river managers in Europe on the restoration of floodplain forests. European Commission

ISSG (2008) Invasive species specialist group gateway—UICN. http://www.issg.org/index.html. Accessed 5 Mar 2010

Jolliffe IT (2002) Principal component analysis. Springer series in statistics, 2nd revised edition edn, Springer, New York

Kobayashi T, Okamoto K, Kanazawa Y, Hori Y (2005) Differences in plant-size structure and biomass allocation in plants between exposed and shaded Plantago asiatica populations at a mid-elevated habitat in the cool-temperate region of Japan. Plant Species Biol 20(1):47–56

Le Berre M (2010) Suivi d'une étude expérimentale de lutte contre les renouées exotiques invasives (Fallopia spp.) sur les digues de l'Isère. Université Joseph Fourier, ADIDR, Grenoble

Lecerf A, Patfield D, Boiché A, Riipinen MP, Chauvet E, Dobson M (2007) Stream ecosystems respond to riparian invasion by Japanese knotweed (Fallopia japonica). Can J Fish Aquat Sci 64(9):1273–1283

Lee CS, Cho YC, Shin HC, Kim GS, Pi JH (2010) Control of an invasive alien species, Ambrosia trifida with restoration by introducing willows as a typical riparian vegetation. J Ecol Field Biol 33(2):157–164

Legendre P, Legendre L (1998) Numerical ecology. Developments in environmental modelling 20. Elsevier, Amsterdam

Lozon JD, MacIsaac HJ (1997) Biological invasions: are they dependent on disturbance? Environ Rev 5(2):131–144

Maerz JC, Blossey B, Nuzzo V (2005) Green frogs show reduced foraging success in habitats invaded by Japanese knotweed. Biodivers Conserv 14(12):2901–2911

Mandle L, Warren DL, Hoffmann MH, Peterson AT, Schmitt J, von Wettberg EJ (2010) Conclusions about niche expansion in introduced impatiens walleriana populations depend on method of analysis. PLoS One 5(12):e15297

Maule HG, Andrews M, Morton JD, Jones AV, Daly GT (1995) Sun/shade acclimation and nitrogen nutrition of Tradescantian fluminensis, a problem weed in New Zealand native forest remnants. N Z J Ecol 19(1):35–46

Maurel N, Fujiyoshi M, Muratet A, Porcher E, Motard E, Gargominy O, Machon N (2013) Biogeographic comparisons of herbivore attack, growth and impact of Japanese knotweed between Japan and France. J Ecol 101(1):118–127

McClain CD, Holl KD, Wood DM (2011) Successional models as guides for restoration of riparian forest understory. Restor Ecol 19(2):280–289

Meekins JF, McCarthy BC (2001) Effect of environmental variation on the invasive success of a nonindigenous forest herb. Ecol Appl 11(5):1336–1348

Naiman RJ, Decamps H, Pollock M (1993) The role of riparian corridors in maintaining regional biodiversity. Ecol Appl 3(2):209–212

Parkinson H, Mangold J (2010) Biology, ecology and management of the knotweed complex. Montana State University, Bozeman

Perry LG, Galatowitsch SM (2006) Light competition for invasive species control: a model of cover crop–weed competition and implications for Phalaris arundinacea control in sedge meadow wetlands. Euphytica 148(1–2):121–134

Perry LG, Galatowitsch SM, Rosen CJ (2004) Competitive control of invasive vegetation: a native wetland sedge suppresses Phalaris arundinacea in carbon-enriched soil. J Appl Ecol 41(1):151–162

Petitpierre B, Kueffer C, Broennimann O, Randin C, Daehler C, Guisan A (2012) Climatic niche shifts are rare among terrestrial plant invaders. Science 335(6074):1344–1348

Planty-Tabacchi AM, Tabacchi E, Naiman RJ, Deferrari C, Décamps H (1996) Invasibility of species-rich communities in riparian zones. Conserv Biol 10(2):598–607

Price EAC, Gamble R, Williams GG, Marshall C (2001) Seasonal patterns of partitioning and remobilization of C-14 in the invasive rhizomatous perennial Japanese knotweed (Fallopia japonica (Houtt.) Ronse Decraene). Evol Ecol 15(4–6):347–362

Pyšek P, Prach K (1993) Plant invasions and the role of riparian habitats: a comparison of four species alien to central Europe. J Biogeogr 20(4):413–420

Pyšek P, Prach K (1994) How important are rivers for supporting plant invasions? Ecology and management of invasive riverside plants. Wiley, Chichester

Quinn LD, Holt JS (2009) Restoration for resistance to invasion by giant reed (Arundo donax). Invasive Plant Sci Manag 2(4):279–291

R Development Core Team (2009) R: a language and environment for statistical computing. R Foundation for Statistical Computing, Vienna

Reever Morghan KJ, Rice KJ (2006) Variation in resource availability changes the impact of invasive thistles on native bunchgrasses. Ecol Appl 16(2):528–539

Richardson DM, Holmes PM, Esler KJ, Galatowitsch SM, Stromberg JC, Kirkman SP, Pyšek P, Hobbs RJ (2007) Riparian vegetation: degradation, alien plant invasions, and restoration prospects. Divers Distrib 13(1):126–139

Rouifed S, Bornette G, Mistler L, Piola F (2011) Contrasting response to clipping in the Asian knotweeds Fallopia japonica and Fallopia × bohemica. Ecoscience 18(2):110–114

Saad L, Tiébré MS, Hardy OJ, Mahy G, Vanderhoeven S (2011) Patterns of hybridization and hybrid survival in the invasive alien Fallopia complex (Polygonaceae). Plant Ecol Evol 144(1):12–18

Schnitzler A, Schlesier S (1997) Ecologie, biogéographie et possibilités de contrôle des populations invasives de Renouées asiatiques (Fallopia japonica et fallopia sachalinensis) en Europe. Le cas particulier du bassin Rhin Meuse. AERM;Centre de Recherches Ecologiques METZ; Université METZ; Laboratoire de phytoécologie METZ

Selzer LJ, Lencinas MV, Martínez-Pastur GJ, Busso CA (2013) Light and soil moisture effects on biomass and its allocation in Osmorhiza depauperata Philippi (Apiaceae). Ecol Res 28(3):469–480

Siemens TJ, Blossey B (2007) An evaluation of mechanisms preventing growth and survival of two native species in invasive Bohemian knotweed (Fallopia xbohemica, Polygonaceae). Am J Bot 94(5):776–783

Slade AJ, Hutchings MJ (1987) The effects of light intensity on foraging in the clonal herb Glechoma hederacea. J Ecol 75(3):639–650

Smith JMD, Ward JP, Child LE, Owen MR (2007) A simulation model of rhizome networks for Fallopia japonica (Japanese knotweed) in the United Kingdom. Ecol Model 200(3–4):421–432

SMVOA (2005–2009) Bilan du programme de lutte contre la Renouée du Japon. Syndicat mixte de la Vallée de l'Orge Aval, Viry-Chatillon

Stuefer JF, During HJ, De Kroon H (1994) High benefits of clonal integration in two stoloniferous species, in response to heterogeneous light environments. J Ecol 82(3):511–518

Thuiller W (2007) Biodiversity climate change and the ecologist. Nature 448:550–552

Tiébré MS, Saad L, Mahy G (2008) Landscape dynamics and habitat selection by the alien invasive Fallopia (Polygonaceae) in Belgium. Biodivers Conserv 17(10):2357–2370

Vitousek PM, D'Antonio CM, Loope LL, Rejmanek M, Westbrooks R (1997) Introduced species: a significant component of human-caused global change. N Z J Ecol 21(1):1–16

Vrchotová N, Šerá B (2008) Allelopathic properties of knotweed rhizome extracts. Plant Soil Environ 54(7):301–303

Werger MJA, Huber H (2006) Tuber size variation and organ preformation constrain growth responses of a spring geophyte. Oecologia 147(3):396–405

Weston LA, Barney JN, DiTommaso A (2005) A review of the biology and ecology of three invasive perennials in New York State: Japanese knotweed (Polygonum cuspidatum), mugwort (Artemisia vulgaris) and pale swallow-wort (Vincetoxicum rossicum). Plant Soil 277(1–2):53–69

Yue C, Chang J, Wang K, Zhu Y (2004) Response of clonal growth in Phyllostachys praecox f. prevernalis to changing light intensity. Aust J Bot 52(2):171–174
Acknowledgments
The authors wish to thank Nathan Daumergue for his valuable assistance in the field work. We are also grateful to Alain Bédécarrat, Marie-Laure Navas and two anonymous reviewers for advice and useful comments that greatly improved this manuscript. We would also like to thank the Alpine Botanical Conservatory (CBNA) and the ADIDR for their data sets on Asian knotweeds presence on the Isère territory. Funding was provided by the National Research Institute of Science and Technology for Environment and Agriculture (Irstea) and by the Paris Institute of Technology for Life, Food, and Environmental Sciences (AgroParisTech-ENGREF).
Conflict of interest
Authors declare that they have no conflict of interest.
Ethical standards
Authors declare that this experiment complies with the current laws of France.
Electronic supplementary material
Below is the link to the electronic supplementary material.
About this article
Cite this article
Dommanget, F., Spiegelberger, T., Cavaillé, P. et al. Light Availability Prevails Over Soil Fertility and Structure in the Performance of Asian Knotweeds on Riverbanks: New Management Perspectives. Environmental Management 52, 1453–1462 (2013). https://doi.org/10.1007/s00267-013-0160-3
Received:

Accepted:

Published:

Issue Date:

DOI: https://doi.org/10.1007/s00267-013-0160-3
Keywords
Ecological engineering

Disturbance

Fallopia

Light

Mowing

Soil