Abstract
Examples of sustainable land management (SLM) exist throughout the world. In many cases, SLM has largely evolved through local traditional practices and incremental experimentation rather than being adopted on the basis of scientific evidence. This means that SLM technologies are often only adopted across small areas. The DESIRE (DESertIfication mitigation and REmediation of degraded land) project combined local traditional knowledge on SLM with empirical evaluation of SLM technologies. The purpose of this was to evaluate and select options for dissemination in 16 sites across 12 countries. It involved (i) an initial workshop to evaluate stakeholder priorities (reported elsewhere), (ii) field trials/empirical modeling, and then, (iii) further stakeholder evaluation workshops. This paper focuses on workshops in which stakeholders evaluated the performance of SLM technologies based on the scientific monitoring and modeling results from 15 study sites. It analyses workshop outcomes to evaluate how scientific results affected stakeholders' perceptions of local SLM technologies. It also assessed the potential of this participatory approach in facilitating wider acceptance and implementation of SLM. In several sites, stakeholder preferences for SLM technologies changed as a consequence of empirical measurements and modeling assessments of each technology. Two workshop examples are presented in depth to: (a) explore the scientific results that triggered stakeholders to change their views; and (b) discuss stakeholders' suggestions on how the adoption of SLM technologies could be up-scaled. The overall multi-stakeholder participatory approach taken is then evaluated. It is concluded that to facilitate broad-scale adoption of SLM technologies, de-contextualized, scientific generalisations must be given local context; scientific findings must be viewed alongside traditional beliefs and both scrutinized with equal rigor; and the knowledge of all kinds of experts must be recognised and considered in decision-making about SLM, whether it has been formally codified or not. The approach presented in this paper provided this opportunity and received positive feedback from stakeholders.
Access options
Buy single article
Instant access to the full article PDF.
USD 39.95
Price excludes VAT (USA)
Tax calculation will be finalised during checkout.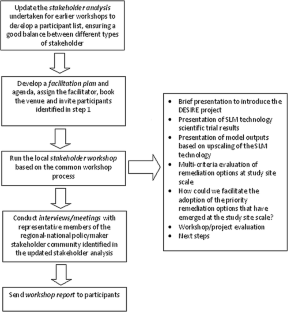 Notes
Sustainable land management (SLM) can be defined as "the use of land resources including soil, water, animals and plants, for the production of goods to meet changing human needs, while simultaneously ensuring the long-term productive potential of these resources and ensuring their environmental functions" (Liniger and Critchley 2007:10).

SLM technologies can be defined as the "agronomic, vegetative, structural and/or management measures that prevent and control land degradation and enhance productivity in the field" (Liniger and Critchley 2007:10).

Stubble fallowing and plowed stubble fallowing technologies test the efficacy of mulching and fallowing respectively. The stubble from the past season is retained in the soil, being plowed into it using a rotary plow. The technologies used in the Turkish case were implemented under strip farming patterns and included four rows of parcels perpendicular to the dominant wind direction, one parcel active that year, the other fallowed.

While not further argued here, this match gives some confidence in model results for those cases where no stakeholder opinion is recorded.
References
Banadda N (2010) Gaps, barriers and bottlenecks to sustainable land management (SLM) adoption in Uganda. Afr J Agric Res 5:3571–3580

Bayari CS, Ozyurt NN, Kilani S (2009) Radiocarbon age distribution of groundwater in the Konya Closed Basin, Central Anatolia, Turkey. Hydrogeology J 17:347–365

Berkes F, Colding J, Folke C (2000) Rediscovery of traditional ecological knowledge as adaptive management. Ecol Appl 10:1251–1262

Biot Y, Blaikie PM, Jackson C, Palmer-Jones R (1995) Rethinking research on land degradation in developing countries. World Bank Discussion Paper No. 289, World Bank. Washington DC

Breuer NE, Cabrera VE, Ingram KT, Broad K, Hildebrand PE (2008) AgClimate: a case study in participatory decision support system development. Clim Change 87:385–403

Bucagu C, Vanlauwe B, Van Wijk MT, Giller KE (2013) Assessing farmers' interest in agroforestry in two contrasting agro-ecological zones of Rwanda. Agrofor Syst 87(1):141–158. doi:10.1007/s10457-012-9531-7

Cramb RA, Garcia JNM, Gerrits RV, Saguiguit GC (1999) Smallholder adoption of soil conservation technologies: evidence from upland projects in the Philippines. Land Deg Dev 10:405–423

Daniels SE, Walker GB (1996) Collaborative learning: improving public deliberation in ecosystem-based management. Environ Impact Assess Rev 16:71–102

de Vente J (2012a) Water harvesting from concentrated runoff for irrigation purposes. In: Schwilch G, Hessel R, Verzandvoort S (eds) DESIRE for greener land. Options for sustainable land management in drylands. CDE, Alterra, ISRIC, CTA, Bern, Wageningen, pp 117–120

de Vente J (2012b) Reduced tillage of almonds and olives. In: Schwilch G, Hessel R, Verzandvoort S (eds) DESIRE for greener land. Options for sustainable land management in drylands. CDE, Alterra, ISRIC, CTA, Bern, Wageningen, pp 89–92

de Vente J (2012c) Reduced contour tillage of cereals in semi-arid environments. In: Schwilch G, Hessel R, Verzandvoort S (eds) DESIRE for greener land. Options for sustainable land management in drylands. CDE, Alterra, ISRIC, CTA, Bern, Wageningen, pp 85–88

de Vente J (2012d) Ecological production of almonds and olives using green manure. In: Schwilch G, Hessel R, Verzandvoort S (eds) DESIRE for greener land. Options for sustainable land management in drylands. CDE, Alterra, ISRIC, CTA, Bern, Wageningen, pp 101–104

de Vente J, López J, Solé A (2008) Towards solutions against soil loss and water shortage. Report of the second workshop in the Guadalentín drainage basin (Spain), Totana, 26–27th June 2008. DESIRE Report (www.desire-his.eu) 43 pp

de Vente J, Solé-Benet A, López J, Boix-Fayos C (2012) Biophysical and socioeconomic impacts of soil and water conservation measures. An evaluation of sustainable land management in SE Spain. Geophys Rese Abstr 14:EGU2012-12497

Fleskens L, Irvine B, Kirkby MJ, Nainggolan D, Reed MS, Termansen M (2009) A model that integrates the main bio-physical and socio-economic processes interacting within an agro-ecosystem. DESIRE Report 63 D5.1.1 August 2009

Fleskens L, Irvine B, Kirkby MJ, Nainggolan D (2012) Model outputs for each hotspot site to identify the likely environmental, environmental and social effects of proposed remediation strategies. DESIRE Report D5.3.1 June 2012

Fleskens L, Kirkby MJ, Irvine BJ (2013a) The PESERA-DESMICE modelling framework for grid-based assessment of the physical impact and economic viability of land degradation mitigation technologies. Environ Manage (submitted)

Fleskens L, Nainggolan D, Stringer LC (2013b) An exploration of scenarios to support sustainable land management using the PESERA-DESMICE integrated environmental socio-economic models. Environ Manag (under review)

Funtowicz SO, Ravetz JR (1993) Science for the post-normal age. Futures 25(7):739–755

Gebremedhin B (2004) Economic incentives for soil conservation in the east African countries. In: Conserving soil and water for society: sharing solutions, 13th International Soil Conservation Organization Conference, Brisbane

Hall JA, Fleishman E (2010) Demonstration as a means to translate conservation science into practice. Conserv Biol 24:120–127

Hessel R, Reed MS, Geeson N, Ritsema C, van Lynden G, Karavitis CA, Schwilch G, Jetten V, Burger P, van der Werff ten Bosch MJ, Verzandvoort S, van den Elsen E, Witsenburg K (2013) From framework to action: the DESIRE approach to combat desertification. Environ Manag (submitted)

Jetten V, Farshad A, Shrestha D, Hessel R, Schwilch G (2009) Establishment of a common methodology to streamline monitoring and measurement across the areas and facilitate integration and comparison. DESIRE Report 14. http://www.desire-his.eu/en/implementing-field-trials/methodologies/184-field-measuring-and-monitoring-methods

Kirkby MJ, Irvine BJ, Jones RJA, Govers G, the PESERA team (2008) The PESERA coarse scale erosion model for Europe: I—model rationale and implementation. Eur J Soil Sc 59:1293–1306

Klintenberg P, Seely MK, Christiansson C (2007) Local and national perceptions of environmental change in central northern Namibia: do they correspond? J Arid Environ 69:506–525

König HJ, Sghaier M, Schuler J, Abdeladhim M, Helming K, Tonneau JP, Ounalli N, Imbernon J, Morris J, Wiggering H (2012) Participatory impact assessment of soil and water conservation scenarios in Oum Zessar watershed, Tunisia. Environm Manag 50:153–165

Lacy J (2011) Cropcheck: farmer benchmarking participatory model to improve productivity. Agric Syst 104:562–571

Liniger HP, Critchley W (eds) (2007) Where the land is greener—case studies and analysis of soil and water conservation initiatives worldwide. CTA/FAO/UNEP/CDE, Berne 364

Lynam T, de Jong W, Sheil D, Kusumanto T, Evans K (2007) A review of tools for incorporating community knowledge, preferences, and values into decision making in natural resources management. Ecol Soc 12:5. http://www.ecologyandsociety.org/vol12/iss1/art5/

Perkins JS, Reed MS, Akanyang L, Atlhopheng JR, Chanda R, Magole L, Mphinyane W, Mulale K, Sebego RJ, Fleskens L, Irvine BJ, Kirkby MJ (2011) Making land management more sustainable: experience implementing a new methodological framework in Botswana. Land Deg Dev. doi:10.1002/ldr.1142

Prager K, Helming K, Hagedorn K (2011) The challenge of developing effective soil conservation policies. Land Deg Dev 22:1–4

Prell C, Hubacek K, Reed MS, Burt TP, Holden J, Jin N, Quinn C, Sendzimir J, Termansen M (2007) If you have a hammer everything looks like a nail: "traditional" versus participatory model building. Interdiscipl Sci Rev 32:1–20

Raymond CM, Fazey I, Reed MS, Stringer LC, Robinson GM, Evely AC (2010) Integrating local and scientific knowledge for environmental management: from products to processes. J Environ Manag 91:1766–1777

Redpath SM, Young J, Evely A, Adams WM, Sutherland WJ, Whitehouse A, Amar A, Lambert RA, Linnell JDC, Watt A, Gutiérrez RJ (2013) Understanding and managing conservation conflicts. Trends Ecol Evol 28(2):100–109

Reed MS (2008) Stakeholder participation for environmental management: a literature review. Biol Cons 141:2417–2431

Reed MS, Graves A, Dandy N, Posthumus H, Hubacek K, Morris J, Prell C, Quinn CH, Stringer LC (2009) Who's in and why? A typology of stakeholder analysis methods for natural resource management. J Environ Manag 90:1933–1949

Reed MS, Buenemann M, Atlhopheng J, Akhtar-Schuster M, Bachmann F, Bastin G, Bigas H, Chanda R, Dougill AJ, Essahli W, Evely AC, Fleskens L, Geeson N, Glass JH, Hessel R, Holden J, Ioris A, Kruger B, Liniger HP, Mphinyane W, Nainggolan D, Perkins J, Raymond CM, Ritsema CJ, Schwilch G, Sebego R, Seely M, Stringer LC, Thomas R, Twomlow S, Verzandvoort S (2011) Cross-scale monitoring and assessment of land degradation and sustainable land management: a methodological framework for knowledge management. Land Deg Dev 22:261–271

Reed M, Fleskens L, Stringer L (2012) Summary of findings from the final stakeholders workshops at which evidence from field trials and models was reviewed. This information is used to prioritise remediation strategies for regional dissemination. DESIRE Report 95 D5.4.1 April 2012

Schwilch G, Bachmann F, Liniger HP (2009) Appraising and selecting conservation measures to mitigate desertification and land degradation based on stakeholder participation and global best practices. Land Deg Dev 20:308–326

Schwilch G, Bachmann F, Valente S, Coelho C, Moreira J, Laouina A, Chaker M, Aderghal M, Santos P, Reed MS (2012) A structured multi-stakeholder learning process for sustainable land management. J Environ Manag 107:52–63

Schwilch G, Liniger HP, Hurni H (2013) Sustainable land management (SLM) practices in drylands: how do they address desertification threats? Environ Manag. doi:10.1007/s00267-013-0071-3

Scott AJ (2011) Focussing in on focus groups: their efficacy and relevance as participative tools for land use policy. Land Use Policy 28:684–694

Segan DB, Bottrill MC, Baxter PWJ, Possingham HP (2011) Using conservation evidence to guide management. Cons Biol 25:200–202

Stringer LC, Dougill AJ (2013) Channelling scientific knowledge on land issues into policy: enabling best-practices from research on land degradation and sustainable land management in dryland Africa. J Environ Manag 114:328–335

Stringer LC, Reed MS (2007) Land degradation assessment in southern Africa: integrating local and scientific knowledge bases. Land Deg Dev 18:99–116

Stringer LC, Dougill AJ, Fraser E, Hubacek K, Prell C, Reed MS (2006) Unpacking "participation" in the adaptive management of social–ecological systems: a critical review. Ecol Soc 11:39. http://www.ecologyandsociety.org/vol11/iss2/art39/

Stringer LC, Reed MS, Dougill AJ, Seely MK, Rokitzki M (2007) Implementing the UNCCD: participatory challenges. Nat Res Forum 31:198–211

Stringer LC, Twyman C, Gibbs LM (2008) Learning from the South: common challenges and solutions for small-scale farming. Geogr J 174:235–250

Sutherland WJ, Pullin AS, Dolman PM, Knight TM (2004) The need for evidence-based conservation. Trends Ecol Evol 19:305–308

Thomas RJ, Akhtar-Schuster M, Stringer LC, Marques MJ, Escadafal R, Abraham E, Enne G (2012) Fertile ground? Options for a science-policy platform for land. Environ Sci Policy 16:122–135

Van Lynden G, Mantel S, Hessel R (2011) An overview of desertification problems in the study countries (maps & report). DESIRE Report 73. http://www.desire-his.eu/en/study-site-contexts/wp12-assessment-and-mapping-thematicmenu-166/523-spatial-extent-of-degradation-and-conservation-in-desire-study-sites

van Lynden G, Mantel S, Verzandvoort S, Ritsema C, Hessel R, Schwilch G, Liniger HP (2013) Mapping the impact of SLM: the WOCAT–DESIRE experience. Environ Manag (submitted)

Zimmerer KS (1993) Soil erosion and labor shortages in the Andes with special reference to Bolivia, 1953–1991: implications for "conservation-with-development". World Dev 21:1659–1675
Acknowledgments
We thank all the DESIRE study site teams and process facilitators, as well as the workshop participants and authors of workshop reports, for sharing their experiences. Special thanks to Albert Solé-Benet and Carolina Boix-Fayos of the Spanish study site team who were responsible for organizing, performing, and interpreting the outputs from the workshops and field trials. The research described in this paper was conducted in the framework of the EC-DG RTD-6th Framework Research Programme (sub-priority 1.1.6.3)—Research on Desertification—Project DESIRE (037046): Desertification Mitigation and Remediation of land—a global approach for local solutions. LCS, MSR, and JDV are also funded by a British Academy Research Development Award (the Involved project). JDV received funding from a "Juan de la Cierva" research Grant (JCI-2011-08941) from the Spanish Ministry of Science and Innovation.
About this article
Cite this article
Stringer, L.C., Fleskens, L., Reed, M.S. et al. Participatory Evaluation of Monitoring and Modeling of Sustainable Land Management Technologies in Areas Prone to Land Degradation. Environmental Management 54, 1022–1042 (2014). https://doi.org/10.1007/s00267-013-0126-5
Received:

Accepted:

Published:

Issue Date:

DOI: https://doi.org/10.1007/s00267-013-0126-5
Keywords
Desertification

Soil and water conservation

Stakeholder participation

Technology adoption

Sustainable land management