Abstract
Recent concerns over a crisis of identity and legitimacy in community-based natural resource management (CBNRM) have emerged following several decades of documented failure. A substantial literature has developed on the reasons for failure in CBNRM. In this paper, we complement this literature by considering these factors in relation to two successful CBNRM case studies. These cases have distinct differences, one focusing on the conservation of hirola in Kenya on community-held trust land and the other focusing on remnant vegetation conservation from grazing pressure on privately held farm land in Australia. What these cases have in common is that both CBNRM projects were initiated by local communities with strong attachments to their local environments. The projects both represent genuine community initiatives, closely aligned to the original aims of CBNRM. The intrinsically high level of "ownership" held by local residents has proven effective in surviving many challenges which have affected other CBNRM projects: from impacts on local livelihoods to complex governance arrangements involving non-government organizations and research organizations. The cases provide some signs of hope among broader signs of crisis in CBNRM practice.
Access options
Buy single article
Instant access to the full article PDF.
USD 39.95
Price includes VAT (USA)
Tax calculation will be finalised during checkout.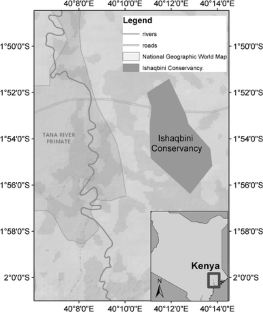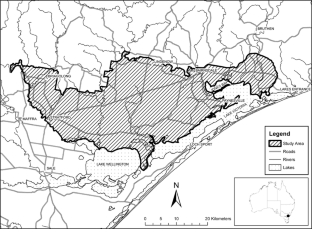 References
Abel N, Blaikie P (1986) Elephants, people, parks and development: the case of the Luangwa Valley, Zambia. Environ Manag 10:735–751

Agrawal A (2001) Common property institutions and sustainable governance of resources. World Dev 29:1649–1672

Alexander J, McGregor J (2000) Wildlife and politics: CAMPFIRE in Zimbabwe. Dev Change 31:605–627

ALT (2012) Gippsland Project home page. Australian Landscape Trust. http://www.austlandscapetrust.org.au/projects/gippsland.aspx. Accessed 1 July 2012

Andanje SA (2002) Factors limiting the abundance and distribution of hirola (Beatragus hunteri) in Kenya. Doctoral Dissertation, Newcastle University, Newcastle

Andanje SA, Ottichilo WK (1999) Population status and feeding habits of the translocated sub-population of Hunter's antelope or hirola (Beatragus hunteri, Sclater, 1889) in Tsavo East National Park, Kenya. Afr J Ecol 37:38–48

Armitage D (2005) Adaptive capacity and community-based natural resource management. Environ Manag 35:703–715

Austin RL, Eder JF (2007) Environmentalism, development, and participation on Palawan Island, Philippines. Soc Nat Resour 20:363–371

Australian Government (2010) Gippsland Red Gum Grassy Woodland and Associated Native Grassland: a nationally threatened ecological community Policy Statement 3.22. Department of the Environment, Water, Heritage and the Arts, Canberra

Balint PJ, Mashinya J (2006) The decline of a model community-based conservation project: governance, capacity, and devolution in Mahenye, Zimbabwe. Geoforum 37:805–815

Barkin D (2000) Overcoming the neoliberal paradigm: sustainable popular development. J Dev Soc 16:163–180

Blackstock K (2005) A critical look at community based tourism. Community Dev J 40:39–49

Blaikie P (2006) Is small really beautiful? Community-based natural resource management in Malawi and Botswana. World Dev 34:1942–1957

Brandon KE, Wells M (1992) Planning for people and parks: design dilemmas. World Dev 20:557–570

Brockington D (2002) Fortress conservation: the preservation of the Mkomazi Game Reserve, Tanzania. James Currey, Oxford

Butynski TM (2000) Independent evaluation of the hirola (Beatragus hunteri) conservation status and conservation action in Kenya. Kenya Wildlife Service and Hirola Management Committee, Nairobi

Campbell BM, Sithole B, Frost P (2000) CAMPFIRE experiences in Zimbabwe. Science 287(5450):41

Child B (2003) Origins and efficacy of modern community based natural resources management (CBNRM) practices in the southern African region. IUCN Publication. http://cmsdata.iucn.org/downloads/cca_bchild.pdf. Accessed 5 June 2012

Child B, Barnes G (2010) The conceptual evolution and practice of community-based natural resource management in southern Africa: past, present and future. Environ Conserv 37:283–295

Corson C (2012) From rhetoric to practice: how high-profile politics impeded community consultation in Madagascar's new protected areas. Soc Nat Resour 25:336–351

Dressler WH (2006) Co-opting conservation: migrant resource control and access to National Park management in the Philippine uplands. Dev Change 37:401–426

Dressler W, Büscher B (2008) Market triumphalism and the CBNRM 'crises' at the South African section of the Great Limpopo Transfrontier Park. Geoforum 39:452–465

Dressler M, Scher B, Schoon M, Brockington D, Hayes T, Christian AK, McCarthy J, Shrestha K (2010) From hope to crisis and back again? A critical history of the global CBNRM narrative. Environ Conserv 37:5–15

Duffy R (2006) Non-governmental organisations and governance states: the impact of transnational environmental management networks in Madagascar. Environ Politics 15:731–749

Fitzsimons JA, Wescott G (2005) History and attributes of selected Australian multi-tenure reserve networks. Aust Geogr 36:75–93

Francis P, James R (2003) Balancing rural poverty reduction and citizen participation: the contradictions of Uganda's decentralization program. World Dev 31:325–337

Gooch M (2003) A sense of place: ecological identity as a driver for catchment volunteering. Aust J Volunt 8:23–32

Goodwin H (2002) Local Community Involvement in tourism around National Parks: opportunities and constraints. Curr Issues Tour 5:338–360

Hill R, Williams KJ, Pert PL, Robinson CJ, Dale AP, Westcott DA, Grace RA, O'Malley T (2010) Adaptive community-based biodiversity conservation in Australia's tropical rainforests. Environ Conserv 37:73–82

IUCN (2000) IUCN Red List categories. IUCN, Gland

Kellert SR, Mehta JN, Ebbin SA, Lichtenfeld LL (2000) Community natural resource management: promise, rhetoric, and reality. Soc Nat Resour 13:705–715

Kingdon J (1982) East African mammals. An atlas of evolution in Africa, vol IIID. Bovids. Academic Press, New York

Kingdon J (1997) The Kingdon field guide to African mammals. Academic Press, London

Landsberg JJ, Cork SJ (1997) Herbivory: interactions between eucalypts and the vertebrates and invertebrates that feed on them. In: Williams J, Woinarski J (eds) Eucalypt Ecology: individuals to ecosystems. Cambridge University Press, Cambridge, pp 342–372

Lane MB, Corbett T (2005) The Tyranny of localism: indigenous participation in community-based environmental management. J Environ Policy Plan 7:141–159

Lane MB, McDonald G (2005) Community-based environmental planning: operational dilemmas, planning principles and possible remedies. J Environ Plan Manag 48:709–731

Li TM (2002) Engaging simplifications: community-based resource management, market processes and state agendas in upland Southeast Asia. World Dev 30:265–283

Low B, Sundaresan SR, Fischhoff IR, Rubenstein DI (2009) Partnering with local communities to identify conservation priorities for endangered Grevy's zebra. Biol Conserv 142:1548–1555

Lubilo R, Child B (2010) The rise and fall of community-based natural resource management in Zambia's Luangwa Valley: an illustration of micro- and macro-governance issues. In: Community rights, conservation and contested land: the politics of natural resource governance in Africa. Earthscan, London

Mbaiwa JE, Stronza A, Kreuter U (2011) From collaboration to conservation: insights from the Okavango Delta, Botswana. Soc Nat Resour 24:400–411

Measham TG (2007) Building capacity for environmental management: local knowledge and rehabilitation on the Gippsland Red Gum Plains. Aust Geogr 38:145–159

Measham TG, Barnett G (2008) Environmental volunteering: motivations, modes and outcomes. Aust Geogr 39:537–552

Milner-Gulland EJ, Leader-Williams N (1992) A model of incentives for the illegal exploitation of black rhinos and elephants: poaching pays in Luangwa Valley, Zambia. J Appl Ecol 29:388–401

Mulrennan ME, Mark R, Scott CH (2012) Revamping community-based conservation through participatory research. Can Geogr 56:243–259

Naidoo R, Weaver LC, De Longcamp M, Du Plessis P (2011) Namibia's community-based natural resource management programme: an unrecognized payments for ecosystem services scheme. Environ Conserv 38:445–453

Nayak P, Berkes F (2008) Politics of co-optation: community forest management versus joint forest management in Orissa, India. Environ Manag 41:707–718

NRT (2012) Ishaqbini Conservancy homepage. Northern Rangelands Trust. http://www.nrt-kenya.org/conservancies/Ishaqbini.html. Accessed 1 July 2012

Rodriguez-Izquierdo E, Gavin MC, Macedo-Bravo MO (2010) Barriers and triggers to community participation across different stages of conservation management. Environ Conserv 37:239–249

Rozwadowska A (2011) Community-based natural resource management (CBNRM) affiliated with BC's Protected Area System: costs and benefits of Conservancies to First Nations communities and PA governance. PAPR Working Paper No. 7. Protected Areas and Poverty Reduction Canada-Africa Research and Learning Alliance. http://www.papr.co.ca/index.php?p=1_25_Papers. Accessed 3 May 2012

Schuerholz G, Baldus RD (2007) Community based wildlife management in support of transfrontier conservation: the Selous-Niassa and Kawango Upper Zambezi challenges. In: Parks, peace and partnerships conference

Shackleton S, Campbell B (2001) Devolution in natural resources management: institutional arrangements and shifts—a synthesis of case studies for southern Africa Report to USAID SADC NRM Project no. 690-0251.12 (mimeo)

Shrestha KK, McManus P (2008) The politics of community participation in natural resource management: lessons from community forestry in Nepal. Aust For 71:135–146

Singleton S (2009) Native people and planning for marine protected areas: how "Stakeholder" processes fail to address conflicts in complex, real-world environments. Coast Manag 37:421–440

United States Agency for International Development (USAID) (Africa Bureau) (2009) Chapter 2: community-based natural resource management (CBNRM). In: Environmental guidelines for small scale activities in Africa. Retrieved from Environmentally Sound Design and Management Capacity Building for Partners and Programs in Africa (ENCAP). http://www.encapafrica.org/EGSSAA/cbnrm.pdf. Accessed 25 June 2013

Woodfine T, Chege G, Langenhorst T, Lumbasi J, Low B (2009) Persistence of lesser known sub-populations of Grevy's zebra Equus grevyi in the far north of Kenya: survey report. Marwell Wildlife, Winchester

Zulu LC (2008) Community forest management in southern Malawi: solution or part of the problem? Soc Nat Resour 21:687–703
Acknowledgments
The research presented in this article was supported by funding from Australian Landscape Trust and in-kind support by CSIRO Ecosystem Sciences and Kenya Wildlife Service. Thanks to Nagoya University Global Environmental Leadership Program and Heinz Schandl for organizing the visiting fellowship which brought the authors together to conduct the comparison across case studies. Thanks also to Karin Hosking for editorial assistance. Thanks also to Cathy Robinson and Iris Bohnet for helpful comments on an earlier version of the manuscript.
About this article
Cite this article
Measham, T.G., Lumbasi, J.A. Success Factors for Community-Based Natural Resource Management (CBNRM): Lessons from Kenya and Australia. Environmental Management 52, 649–659 (2013). https://doi.org/10.1007/s00267-013-0114-9
Received:

Accepted:

Published:

Issue Date:
Keywords
Community-based conservation

Capacity building

Community participation

Livelihoods