Abstract
Managing land sustainably is a huge challenge, especially under harsh climatic conditions such as those found in drylands. The socio-economic situation can also pose challenges, as dryland regions are often characterized by remoteness, marginality, low-productive farming, weak institutions, and even conflict. With threats from climate change, disputes over water, competing claims on land, and migration increasing worldwide, the demands for sustainable land management (SLM) measures will only increase in the future. Within the EU-funded DESIRE project, researchers and stakeholders jointly identified existing SLM technologies and approaches in 17 dryland study sites located in the Mediterranean and around the world. In order to evaluate and share this valuable SLM experience, local researchers documented the SLM technologies and approaches in collaboration with land users, utilizing the internationally recognized WOCAT questionnaires. This article provides an analysis of 30 technologies and 8 approaches, enabling an initial evaluation of how SLM addresses prevalent dryland threats, such as water scarcity, soil degradation, vegetation degradation and low production, climate change, resource use conflicts, and migration. Among the impacts attributed to the documented technologies, those mentioned most were diversified and enhanced production and better management of water and soil degradation, whether through water harvesting, improving soil moisture, or reducing runoff. Favorable local-scale cost–benefit relationships were mainly found when considered over the long term. Nevertheless, SLM was found to improve people's livelihoods and prevent further outmigration. More field research is needed to reinforce expert assessments of SLM impacts and provide the necessary evidence-based rationale for investing in SLM.
Access options
Buy single article
Instant access to the full article PDF.
US$ 39.95
Tax calculation will be finalised during checkout.
Subscribe to journal
Immediate online access to all issues from 2019. Subscription will auto renew annually.
US$ 79
Tax calculation will be finalised during checkout.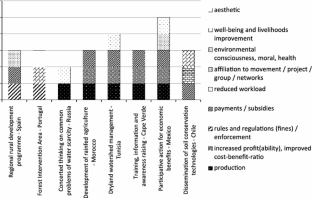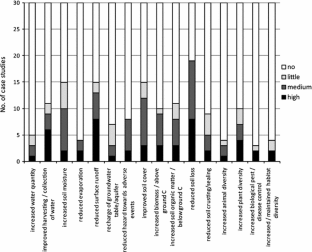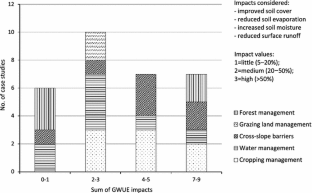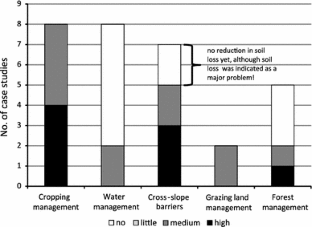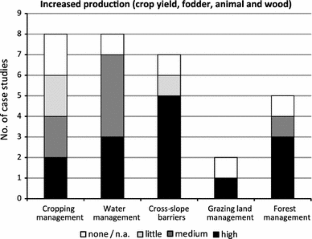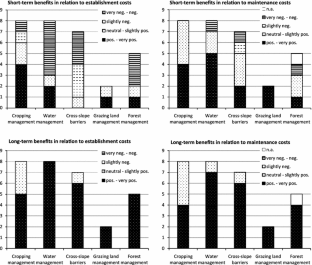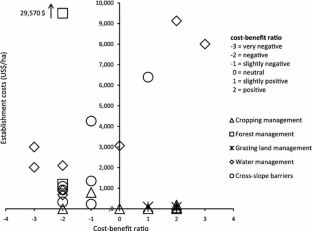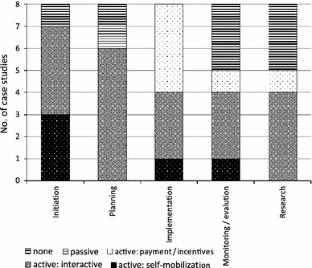 Notes
1.

2.

3.

4.

For certain technologies, costs are indicated per unit rather than per hectare, but in all cases this was comparable to a hectare (e.g., the recharge well in Tunisia benefits one hectare of irrigation land).
References
Akhtar-Schuster M, Thomas RJ, Stringer LC, Chasek P, Seely M (2011) Improving the enabling environment to combat land degradation: institutional, financial, legal and science-policy challenges and solutions. Land Degrad & Dev 22(2):299–312. doi:10.1002/ldr.1058

Bayala J, Sileshi G, Coe R, Kalinganire A, Tchoundjeu Z, Sinclair F, Garrity D (2012) Cereal yield response to conservation agriculture practices in drylands of West Africa: a quantitative synthesis. J Arid Environ 78:13–25

Biazin B, Sterk G, Temesgen M, Abdulkedir A, Stroosnijder L (2012) Rainwater harvesting and management in rainfed agricultural systems in sub-Saharan Africa—a review. Phys and Chem of the Earth 47–48:139–151. doi:10.1016/j.pce.2011.08.015

Bossio D, Geheb K, Critchley W (2010) Managing water by managing land: addressing land degradation to improve water productivity and rural livelihoods. Agric Water Manag 97:536–542

Cowie AL, Penman TD, Gorissen L, Winslow MD, Lehmann J, Tyrrell TD, Twomlow S, Wilkes A, Lal R, Jones JW, Paulsch A, Kellner K, Akhtar-Schuster M (2011) Towards sustainable land management in the drylands: scientific connections in monitoring and assessing dryland degradation, climate change and biodiversity. Land Degrad & Dev 22(2):248–260

Critchley W, Cooke R, Jallow T, Lafleur S, Laman M, Njoroge J, Nyagah V, and E. Saint-Firmin (eds) (1999) Promoting Farmer Innovation. Harnessing Local Environmental Knowledge in East Africa. Report series 2. Regional Land Management Unit (RELMA) Workshop. Nairobi, Kenya. Regional Land Management Unit, RELMA/Sida, ICRAF House, Girigi

de Graaff J, Amsalu A, Bodnár F, Kessler A, Posthumus H, Tenge A (2008) Factors influencing adoption and continued use of long-term soil and water conservation measures in five developing countries. Appl Geogr 28:271–280

EEA (2008) Impacts of Europe's changing climate—2008 indicator-based assessment. EEA Report No 4/2008

Farooq M, Flower K, Jabran K, Wahid A, Siddique K (2011) Crop yield and weed management in rainfed conservation agriculture. Soil and Tillage Res 117:172–183

Giller K, Witter E, Corbeels M, Tittonell P (2009) Conservation agriculture and smallholder farming in Africa: the heretics' view. Field Crops Res 114:23–34

Hessel R, Reed M, Geeson N, Ritsema C, van Lynden G, Karavitis C, Schwilch G, Jetten V, Burger P, van de Werff ten Bosch MJB, Verzandvoort S, van den Elsen E, Witsenburg K (2013) From Framework to Action: The DESIRE approach to combat desertification (under revision)

Hurni H, Herweg K, Portner B, Liniger H (2008) Soil Erosion and Conservation in Global Agriculture. In: Braimoh AK, Vlek PLG (eds) Land use and soil res. Springer, New York, pp 41–71

IAASTD (2008) International assessment of agricultural knowledge. Science and Technology for Development, Washington

Jetten V et al (2013) Testing SWC methods in 16 countries, do best practices exist? (in preparation)

Kessler A, Stroosnijder L (2010) Debating land degradation: strategy development for Bolivian mountain valleys. Land Degrad & Dev 21:480–483

Liniger HP, Douglas M, Schwilch G (2004) Towards sustainable land management—'Common sense' and some other key missing elements (the WOCAT experience). Proceedings of ISCO Conference 2004, Brisbane

Liniger HP, Mekdaschi Studer R, Hauert C, Gurtner M (2011) Sustainable Land Management in Practice—Guidelines and Best Practices for Sub-Saharan Africa. TerrAfrica, World Overview of Conservation Approaches and Technologies (WOCAT) and Food and Agriculture Organization of the United Nations (FAO)

MA (2005) Ecosystems and human well-being: desertification synthesis. Millennium ecosystem assessment. World Resources Institute, Washington

Molden D, Oweis T, Steduto P, Bindraban P, Hanjra M, Kijne J (2010) Improving agricultural water productivity: between optimism and caution. Agric Water Manag 97:528–535

Nkonya E, Winslow M, Reed M, Mortimore M, Mirzabaev A (2011) Monitoring and assessing the influence of social, economic and policy factors on sustainable land management in drylands. Land Degrad & Dev 22:240–247

Pohl C, Rist S, Zimmermann A, Fry P, Gurung G, Schneider F, Speranza C, Kiteme B, Boillat S, Serrano E, Hadorn G, Wiesmann U (2010) Researchers' roles in knowledge co-production: experience from sustainability research in Kenya, Switzerland, Bolivia and Nepal. Science and Public Policy 37:267–281

Rockström J, Kaumbutho P, Mwalley J, Nzabi A, Temesgen M, Mawenya L, Barron J, Mutua J, Damgaard-Larsen S (2009) Conservation farming strategies in East and Southern Africa: yields and rain water productivity from on-farm action research. Soil and Tillage Res 103:23–32

Sahrawat K, Wani S, Pathak P, Rego T (2010) Managing natural resources of watersheds in the semi-arid tropics for improved soil and water quality: a review. Agric Water Manag 97:375–381

Schneider F, Ledermann T, Fry P, Rist S (2010) Soil conservation in Swiss agriculture—approaching abstract and symbolic meanings in farmers' life-worlds. Land Use Policy 27:332–339

Schwilch G, Bachmann F, Liniger HP (2009) Appraising and selecting conservation measures to mitigate desertification and land degradation based on stakeholder participation and global best practices. Land Degrad & Dev 20:308–326. doi:10.1002/Ldr.920

Schwilch G, Bestelmeyer B, Bunning S, Critchley W, Herrick J, Kellner K, Liniger HP, Nachtergaele F, Ritsema CJ, Schuster B, Tabo R, van Lynden G, Winslow M (2011) Experiences in monitoring and assessment of sustainable land management. Land Degrad & Dev 22(2):214–225. doi:10.1002/ldr.1040

Schwilch G, Bachmann F, de Graaff J (2012a) Decision support for selecting SLM technologies with stakeholders. Appl Geogr 34:86–98. doi:10.1016/j.apgeog.2011.11.002

Schwilch G, Bachmann F, Valente S, Coelho C, Moreira J, Laouina A, Chaker M, Aderghal A, Reed MS, Santos P (2012b) A structured multi-stakeholder learning process for sustainable land management. J Environ Manag 107:52–63. doi:10.1016/j.jenvman.2012.04.023

Schwilch G, Hessel R, Verzandvoort S (2012c) Desire for greener land. Options for sustainable land management in drylands. University of Bern—CDE, Alterra—Wageningen UR, ISRIC—World Soil Information, CTA—Technical Centre for Agriculture and Rural Cooperation, Wageningen

Sietz D, Lüdeke M, Walther C (2011) Categorisation of typical vulnerability patterns in global drylands. Global Environ Change 21:431–440

Srinivasan V, Lambin E, Gorelick S, Thompson B, Rozelle S (2012) The nature and causes of the global water crisis: syndromes from a meta-analysis of coupled human-water studies. Water Resour Res 48:W10516. doi:10.1029/2011WR011087

Stroosnijder L (2003) Technologies for improving green water use efficiency in semi-arid Africa. In: Beukes B, de Villeirs M, Mkize S, Sally H, van Rensburg L (eds) Proceedings Water Conservation Technologies for Sustainable Dryland Agriculture in Sub-Saharan Africa. Symposium and Workshop, Bloemfontein, pp 92–102

Stroosnijder L (2009) Modifying land management in order to improve efficiency of rainwater use in the African highlands. Soil and Tillage Res 103:247–256

Thomas R (2008) Opportunities to reduce the vulnerability of dryland farmers in Central and West Asia and North Africa to climate change. Agric, Ecosyst & Environ 126:36–45

UNCCD (2008) The 10-year strategic plan and framework to enhance the implementation of the Convention (2008–2018). ICCD/COP(8)/16/Add.1. http://www.unccd.int

van Passel S, Meul M (2012) Multilevel and multi-user sustainability assessment of farming systems. Environ Impact Assess Rev 32:170–180

Ward P, Flower K, Cordingley N, Weeks C, Micin S (2012) Soil water balance with cover crops and conservation agriculture in a Mediterranean climate. Field Crops Res 132:33–39

Wegner L, Zwart G (2011) Who will feed the world? The production challenge, Oxfam Research Report. Oxfam, London, p 66

WOCAT (2007) Where the land is greener—case studies and analysis of soil and water conservation initiatives worldwide. Liniger HP, Critchley W (eds) CTA, FAO, UNEP, CDE, Berne

WOCAT (2008a) Questionnaire on SLM Technologies (Basic). A Framework for the Evaluation of sustainable land management (revised). Liniger HP, Schwilch G, Gurtner M, Mekdaschi Studer R, Hauert C, van Lynden G, Critchley W (eds) Centre for Development and Environment, Institute of Geography, University of Berne, Berne

WOCAT (2008b) Questionnaire on SLM Approaches (Basic). A Framework for the Evaluation of sustainable land management (revised). Liniger HP, Schwilch G, Gurtner M, Mekdaschi Studer R, Hauert C, van Lynden G, Critchley W (eds) Centre for Development and Environment, Institute of Geography, University of Bern, Bern

WWAP (World Water Assessment Programme) (2012) The United Nations World Water Development Report 4: managing water under uncertainty and risk. UNESCO, Paris
Acknowledgments
This study was conducted within the framework of the EC-DG RTD, 6th Framework Research Programme (sub-priority 1.1.6.3), Research on Desertification, project DESIRE (037046): Desertification Mitigation and Remediation of Land—a global approach for local solutions. The authors extend their deep thanks to all the contributors of DESIRE case studies, namely J. Al Karkouri, J. Atlhopheng, M. Ben Zaied, L. Borselli, M. Carreiras, M. Chaker, M. Chniter, C. Coelho, J. de Vente, S. Espinoza, A. Ferreira, I. Gkiougkis, C. Kosmas, A. Laouina, N. Machouri, N. Mahdhi, A. Martínez Palacios, R. Nafaa, P. Palheiro, E.R. Patrón, C. Prat, F. Ocakoğlu, M. Ouessar, A. Oueled Belgacem, C. Ovalle, R. Sebego, M. Sghaier, J. Soares, A. Solé Benet, J. Tavares, İ. Tolay, S. Valente, Wang Fei, H. Yahyaoui, A. Zeiliguer, M. Zengin. Thanks also to C. De Maddalena and C. Hauser for their support in compiling the case studies, to A. Lannen for editing.
About this article
Cite this article
Schwilch, G., Liniger, H.P. & Hurni, H. Sustainable Land Management (SLM) Practices in Drylands: How Do They Address Desertification Threats?. Environmental Management 54, 983–1004 (2014). https://doi.org/10.1007/s00267-013-0071-3
Received:

Accepted:

Published:

Issue Date:
Keywords
Sustainable land management

Desertification

Impact assessment

Cost–benefit