Abstract
Changes in commodity prices, such as the fall in coffee prices from 2000 to 2004, affect land use decisions on farms, and the environmental services they provide. A survey of 50 farms showed a 35 % loss in the area under coffee between 2000 and 2004 below 700 m with the majority of this area (64 %) being coffee agroforest systems that included native forest species. Loss of coffee only occurred on large and medium-scale farms; there was no change in area on cooperatives. Coffee productivity declined below 1,100 m altitude for sun and Inga shade coffee, but only below 700 m altitude for agroforest coffee. Coffee productivity was 37–53 % lower under agroforests than other systems. Increases in rubber and pasture were related to low altitude large-scale farms, and bananas and timber plantations to mid-altitude farms. Average aboveground carbon stocks for coffee agroforests of 39 t C ha−1 was similar to rubber plantations, but one-third to one half that of natural forest and timber plantations, respectively. Coffee agroforests had the highest native tree diversity of the productive systems (7–12 species ha−1) but lower than natural forest (31 species ha−1). Conversion of coffee agroforest to other land uses always led to a reduction in the quality of habitat for native biodiversity, especially avian, but was concentrated among certain farm types. Sustaining coffee agroforests for biodiversity conservation would require targeted interventions such as direct payments or market incentives specifically for biodiversity.
Access options
Buy single article
Instant access to the full article PDF.
USD 39.95
Price excludes VAT (USA)
Tax calculation will be finalised during checkout.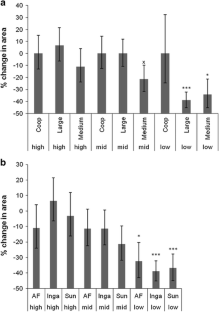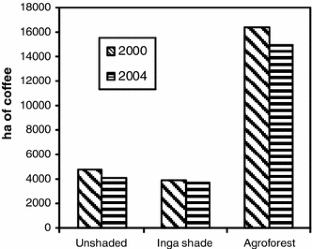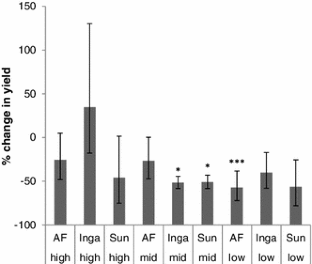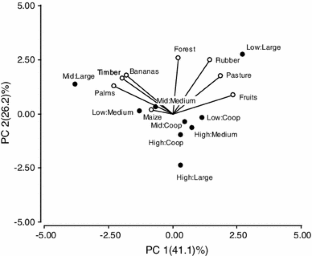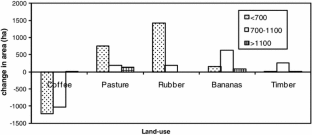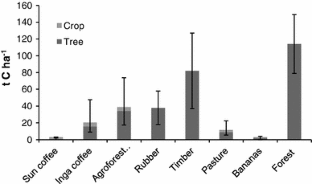 References
Bacon C (2008) Confronting the coffee crisis: can fair trade, organic and specialty coffees reduce the vulnerability of small-scale farmers in Northern Nicaragua? pp 155–178. In: Bacon CM, Mendez VE, Gliessman SR, Fox JA (eds) Confronting the coffee crisis: fair trade, sustainable livelihoods and ecosystems in Mexico and Central America. MIT, Cambridge, pp 177–205

Balderas-Torres A, Marchant R, Lovett J, Smart J, Tipper R (2009) Analysis of the carbon sequestration costs of afforestation and reforestation agroforestry practices and the use of cost curves to evaluate their potential for implementation of climate change mitigation. Ecol Econ. doi:10.1016/j.ecolecon.2009.09.007

Blackman A, Albers HJ, Avalos-Sartornio B, Crooks L (2008) Land cover in a managed forest ecosystem: Mexican shade coffee. Am J Agric Econ 90(1):216–231

Blackman A, Ávalos-Sartorio B, Chow J (2012) Land cover change in agroforestry: shade coffee in El Salvador. Land Econ 88:75–101

Brown S, Gillespie AJR, Lugo AE (1989) Biomass estimation methods for tropical forests with applications to forest inventory data. Forest Sci 35(4):881–902

Bruijnzeel LA (2004) Hydrological functions of tropical forests: not seeing the soil for the trees? Agric Ecosyst Environ 104:185–228

Cabrera MJ (2009) Propuesta de borrador de decreto para la creación de una modalidad de pago por servicios ambientales a los sistemas agroforestales con café. Fundación Café Forestal, Costa Rica

Calvo L, Blake J (1998) Bird diversity and abundance in two different shade coffee plantations in Guatemala. Bird Conserv Int 8:207–308

Castro F, Montes E, Raine M (2004) La crisis cafetalera: Efectos y estrategias para hacerle frente. Sustainable development working paper 23, The World Bank, Washington

CATIE (2002) Sistema geografica sobre area cafetalera de Costa Rica. Informe final al Instituto de Café de Costa Rica, Turrialba, Costa Rica

CEPAL (2002) Centroamérica: El impacto de la caída de los precios de café en 2001. Comisión Económica para América Latina y el Caribe, Chile

DeClerk F, Esacalante M, Philpott S, Sinclair F, Soto-Pinto L, Vaast P (2007) Synthesis of coffee and tree cover for the CORRIDOR Project. CATIE, Costa Rica

Eakin H, Bojorquez-Tapis LA, Montverde Diaz R, Castellanos E, Haggar J (2011) Adaptive capacity and social-environmental change: theoretical and operational modeling of smallholder coffee systems response in Mesoamerican Pacific Rim. Environ Manag 47:352–367

FONAFIFO (2005) Montos pagados en el PSA (Pago por Servicios Ambientales) en Costa Rica. www.fonafifo.com. Accessed 20 Sep 2010

Fournier L (1996) Fijación de carbono y diversidad biológica en el agroecosistema cafetero. Boletín PROMECAFE (IICA) 71:7–13

Galloway G, Beer J (1997) Opportunidades para fomentar la silvicultura en cafetales de America Central. CATIE, Turrialba, Costa Rica Informe técnico No 285, 166p

Gordon C, Manson R, Sundberg J, Cruz-Angon A (2007) Biodiversity, profitability, and vegetation structure in a Mexican coffee agroecosystem. Agric Ecosyst Environ 118:256–266

Greenberg R, Bichier R, Sterling J (1997) Bird populations in rustic and planted shade coffee plantations of Eastern Chiapas, Mexico. Biotropica 29:501–514

Haggar J, Jerez R, Cuadra L, Alvarado U, Soto G (2012) Environmental and economic costs and benefits from sustainable certification of coffee in Nicaragua. Food Chain 2:24–41

Idol T, Haggar J, Cox L (2011) Ecosystem services from smallholder forestry and agroforestry, pp 209–268. In: Campbell B, Lopez S (eds) Issues in agroecology: present status and future prospects. Springer, Dordrecht

IPCC (2003) Good practice guidance for land-use, land-use change and forestry. Accessed 16 Sept 2010. http://www.ipcc-nggip.iges.or.jp/public/gpglulucf/gpglulucf_contents.html

Lewin B, Giovannucci D, Varangis P (2004) coffee markets: new paradigms in global supply and demand. ARD discussion paper 3, World Bank, Washington, p 150

MAGFOR (2002) Elaboración del mapa de cultivo de café en Nicaragua. Ministerio de Agricultura, Ganadería y Forestal, Managua, Nicaragua

Márquez L (1997) Validacion de campo de los métodos del Instituto Winrock para el establecimiento de parcelas permanentes de muestreo para cuantificar carbono en sistemas agroforestales. Universidad del Valle, Guatemala, p 90

Martinez M (2005) Contribución económica del componente forestal en diferentes tipos d fincas cafetaleros en la bocacosta pacifica de Guatemala. MSc thesis, CATIE, Turrialba, Costa Rica

Martinez-Torres ME (2008) The benefits and sustainability of organic farming by peasant coffee farmers in Chiapas Mexico. In: Bacon CM, Mendez VE, Gliessman SR, Fox JA (eds) Confronting the coffee crisis: fair trade, sustainable livelihoods and ecosystems in Mexico and Central America. MIT, Cambridge, Massachusetts, pp 99–126

Medina BY, Muñoz CY, Haggar JP, Aguilar RM (2006) Metodología para la evaluación de servicios ambientales. ANACAFE, Guatemala, p 39

Mena-Mosquera VE (2008) Relación entre el carbono almacenado en la biomasa total y la composición fisionómica de la vegetación en los sistemas agroforestales con café y en bosques secundarios del Corredor Biológico Volcánica Central-Talamanca, Costa Rica. MSc thesis, CATIE, Turrialba, Costa Rica

Mendez VE, Gliessman SR, Gilbert GS (2007) Tree biodiversity in farmer cooperatives of a shade coffee landscape of western El Salvador. Agric Ecosyst Environ 119:145–159

Millennium Ecosystem Assessment (2005) Living beyond our means: natural assets and human well-being. Statement from the Board. World Resources Institute, Washington D.C

Moguel R, Toledo VM (1999) Biodiversity conservation in traditional coffee systems of Mexico. Conserv Biol 13:11–21

Perfecto I, Rice R, Greenberg R, van der Moort M (1996) Shade coffee: a disappearing refuge for biodiversity. Bioscience 46:598–608

Philpott S, Dietsch T (2003) Coffee and conservation: a global context and the value of farmer involvement. Conserv Biol 17:1844–1846

Philpott SM, Lin BB, Jha S, Brines SA (2008) A multi-scale assessment of hurricane impacts based on land-use and topographic features. Agric Ecosyst Environ 128:12–20

Rainforest Alliance (2009) Guidance on coffee carbon project development using the simplified agroforestry methodology. Rainforest Alliance, Costa Rica

R Development Core Team (2010) R: a language and environment for statistical computing. R Foundation for Statistical Computing, Vienna, Austria. ISBN 3-900051-07-0, http://www.R-project.org. Accessed 30 Sep 2010

SAN (2010) Sustainable agriculture standard. Sustainable agriculture network, San Jose, Costa Rica. Accessed 16 Sept 2010. http://www.rainforest-alliance.org/agriculture/documents/sust_ag_standard_july2010.pdf

Scolel Té (2008) Annual report 2007. San Cristóbal de las Casas, Chiapas

Segura M, Kaninen M, Suarez D (2006) Allometric models for estimating aboveground biomass of shade trees and coffee bushes grown together. Agrofor Syst 68:143–150

SMBC (n.d.) The SMBC bird-friendly criteria at a glance. Smithsonian Migratory Bird Center. Accessed 16 Sept 2010. http://nationalzoo.si.edu/scbi/migratorybirds/coffee/quick_reference_guide.pdf

Soto Pinto L, Perfecto I, Castillo-Hernandez J, Caballero-Nieto J (2000) Shade effect on coffee production at the northern Tzeltal zone of the state of Chiapas, Mexico. Agric Ecosyst Environ 80:61–69

Soto Pinto L, De Jong BHJ, Bazán E, Quechulpa S (2006) Potencial ecológico y económico de captura de carbono en cafetales. In: Pohlan J, Soto L, Barrera J (eds) El cafetal del futuro: Realidades y Visiones. Saker Verlag, Aachen, pp 373–380

Suarez D (2002) Cuantificación y valoración económica del servicio ambiental almacenamiento de carbono en sistemas agroforestales de café en la comarca Yassica Sur, Matagalpa, Nicaragua. p 116. MSc thesis, CATIE, Turrialba, Nicaragua

Tucker CM, Eakin H, Castellanos E (2010) Perceptions of risk and adaptation: coffee producers, market shocks, and extreme weather in Central America and Mexico. Global Environ Change 20:23–32

UNFCCC (2009) Approved simplified baseline and monitoring methodology for small-scale agroforestry: afforestation and reforestation project activities under the clean development mechanism. CDM Executive Board AR-AMS0004/version 02

Virginio Filho E de M, Abarca S (2008) Cafetales para servicios ecosistémicos, con énfasis en el potencial de sumideros de carbono. CATIE-COOCAFE-FUNCAFOR, Costa Rica

Winrock (1998) Carbon sequestration and sustainable coffee in Guatemala. Winrock International Institute for Agricultural Development, Washington
Acknowledgments
This study was conducted by the Guatemala National Coffee Association, with funding from the British Embassy in Guatemala and logistic support from the Palajunoj Producers Association. We thank Stephen Young for his advice on the statistical analysis of the land use change data.
Appendix
Appendix
About this article
Cite this article
Haggar, J., Medina, B., Aguilar, R.M. et al. Land Use Change on Coffee Farms in Southern Guatemala and its Environmental Consequences. Environmental Management 51, 811–823 (2013). https://doi.org/10.1007/s00267-013-0019-7
Received:

Accepted:

Published:

Issue Date:

DOI: https://doi.org/10.1007/s00267-013-0019-7
Keywords