Abstract
Adaptive governance is advanced as a potent means of addressing institutional fit of natural resource systems with prevailing modes of political–administrative management. Its advocates also argue that it enhances participatory and learning opportunities for stakeholders over time. Yet an increasing number of studies demonstrate real difficulties in implementing adaptive governance 'solutions'. This paper builds on these debates by examining the introduction of adaptive governance to water management in Chiang Mai province, north-west Thailand. The paper considers, first, the limitations of current water governance modes at the provincial scale, and the rationale for implementation of an adaptive approach. The new approach is then critically examined, with its initial performance and likely future success evaluated by (i) analysis of water stakeholders' opinions of its first year of operation; and (ii) comparison of its governance attributes against recent empirical accounts of implementation difficulty and failure of adaptive governance of natural resource management more generally. The analysis confirms the potentially significant role that the new approach can play in brokering and resolving the underlying differences in stakeholder representation and knowledge construction at the heart of the prevailing water governance modes in north-west Thailand.
Access options
Buy single article
Instant access to the full article PDF.
USD 39.95
Price excludes VAT (USA)
Tax calculation will be finalised during checkout.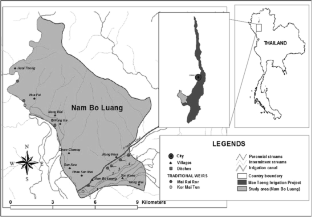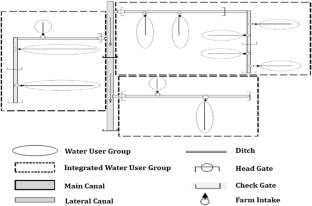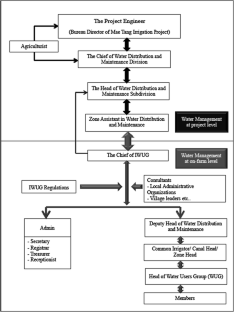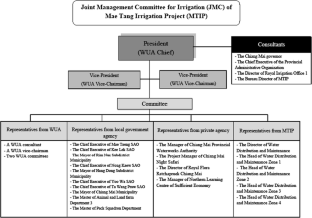 Notes
We thank a referee for this observation.

The average annual volume of water managed by MTIP is ~620 million m3 (MTIP 2012). In 2010, MTIP supplied water for domestic consumption and industry totalling 5.50 million m3 and in 2011 planned to provide 6.066 million m3 to this sector (Water Management Development Group 2007). Domestic consumption and industrial users include Chiang Mai Water Works Authority, army camps, universities campuses and the tourism industry, and topping up of canals around Chiang Mai city centre (MTIP 2012).

Our thanks to a referee for this expression.
References
Allen C, Gunderson L (2011) Pathology and failure in the design and implementation of adaptive management. J Environ Manage 92:1379–1384

Armitage D (2005) Adaptive capacity and community-based natural resource management. Environ Manage 35:703–715

Bastakoti R, Shivakoti G (2005) Community organization in water resource governance: rural-urban interface of irrigation management in Thailand. Asian Institute of Technology, Klong Luang

Baumgartner F, Jones B (1991) Agenda dynamics and policy subsystems. J Politics 53:1044–1074

Berkes F (2002) Cross-scale institutional linkages: perspectives from the bottom up. In: Ostrom E, Dietz N, Dolšak N, Stern PC, Stovich S, Webber EU (eds) The drama of the commons. National Academy Press, Washington, DC, pp 293–319

Berkes F (2004) Re-thinking community-based conservation. Conserv Biol 18:621–630

Berkes F (2009) Evolution of co-management: role of knowledge generation, bridging organizations and social learning. J Environ Manage 90:1692–1702

Bouwen R, Taillieu T (2004) Multi-party collaboration as social learning for interdependence: developing relational knowing for sustainable natural resource management. J Commun Appl Soc Psychol 14:137–153

Bruns B (2005) Community-based principles for negotiating water rights: some conjectures on assumptions and priorities. In: International workshop on African Water Laws: Plural Legislative Frameworks for Rural Water Management in Africa, Johannesburg, South Africa, 26–28 January

Budds J (2009) Contested H2O: science, policy and politics in water resources management in Chile. Geoforum 40:418–430

Budhaka B, Srikajorn M, Boonkird V (2002) Thailand country report on investment in water. Food and Agricultural Organization, Bangkok

Cash D, Adger WN, Berkes F, Garden P, Lebel L, Olsson G, Pritchard L, Young O (2006) Scale and cross-scale dynamics: governance and information in a multi-level world. Ecol Soc 11(2):8

Chatchawan T, Lohmann L (1991) The traditional muang faai irrigation system of northern Thailand. Ecologist 21:101–106

Clark JRA, Clarke R (2011) Local sustainability initiatives in English National Parks: what role for adaptive governance? Land Use Policy 28:314–324

Clark JRA, Jones A (1998) Agricultural elites, agrarian beliefs and their impact on the evolution of EU agri-environment policies: an examination of the British experience, 1981–1992. Environ Plan A 30:2227–2243

Clark JRA, Jones A (1999) From policy insider to policy outcast? COPA, European Union Policymaking, and the EU's Agri-Environment Regulation. Environ Plan C 17:637–653

Cohen PT, Pearson RE (1998) Communal irrigation, state, and capital in the Chiang Mai Valley (Northern Thailand): twentieth-century transformations. J Southeast Asian Stud 29:86–110

Cornelius W (1992) The politics and economics of reforming the ejido sector in Mexico: an overview and research agenda. LASA Forum 23:3–8

Cumming GS, Cumming DH, Redman CL (2006) Scale mismatches in social–ecological systems: causes, consequences and solutions. Ecol Soc 11:14–33

Ekstrom JA, Young O (2009) Evaluating functional fit between a set of institutions and an ecosystem. Ecol Soc 14:16–31

Folke C, Hahn T, Olsson P, Norberg J (2005) Adaptive governance of social-ecological systems. Ann Rev Environ Res 30:441–473

Howard J (2010) Managing for justice in community-based water planning: a conceptual framework. Environ Conserv 37:356–363

Huitema D, Meijerink S (eds) (2009) Water policy entrepreneurs: a research companion to water transitions around the world. Edward Elgar, Cheltenham

Huitema D, Mostert E, Egas W, Moellenkamp S, Pahl-Wostl C, Yalcin R (2009) Adaptive water governance: assessing the institutional prescriptions of adaptive (co-)management from a governance perspective and defining a research agenda. Ecol Soc 14:26

Khan H, Romm J (1978) Some issues of water resource management in Bangladesh. The Ford Foundation, Dacca

Mae Taeng Irrigation Project (2012) General overview of the MTIP. http://vh1.na2bgroup.com/th/ (in Thai)

Marshall GR (2008) Nesting, subsidiarity, and community-based environmental governance beyond the local level. Int J Commons 2:75–79

Molle F (2007) Scales and power in river basin management: the Chao Phraya River in Thailand. Geogr J 173:358–373

Moller H, Berkes F, Lyver P, Kislalioglu M (2004) Combining science and traditional ecological knowledge: monitoring populations for co-management. Ecol Soc 9:2

Olsson P, Gunderson L, Carpenter SR, Ryan P, Lebel L, Folke C, Holling C (2006) Shooting the rapids: navigating transitions to adaptive governance of social–ecological systems. Ecol Soc 11:18

Pahl-Wostl C (2009) A conceptual framework for analyzing adaptive capacity and multi-level learning processes in resource governance regimes. Global Environ Change 19:354–365

Pahl-Wostl C, Holtz G (2010) Water governance in times of change. Environ Sci Policy 13:567–570

Pahl-Wostl C, Jeffrey P, Isendahl N, Brugnach M (2011) Maturing the new water management paradigm: progressing from aspiration to practice. Water Resour Manage 25:837–856

Palayasoot P (2005) The evolution of irrigation and rice growing production in Thailand. Ministry of Agriculture and Cooperatives, Bangkok

Perramond EP (2012) The politics of scaling water governance and adjudication in New Mexico. Water Altern 5:62–82

Perrault T (2008) Custom and contradiction: rural water governance and the politics of "usos y costumbres" in Bolivia's irrigators' movement. Ann Assoc Am Geogr 98:835–854

Ratner B (2000) Watershed governance: livelihoods and resource competition in the Mountains of Mainland Southeast Asia. World Resources Institute, Washington, DC

Raymond CM, Fazey I, Reed MS, Stringer LC, Robinson GM, Evely AC (2010). Integrating local and scientific knowledge for environmental management. J Environ Manage 91(8):1766–1777

Rist S, Chidambaranathan M, Escobar C, Wiesmann U, Zimmermann A (2007) Moving from sustainable management to sustainable governance of natural resources: the role of social learning processes in rural India, Bolivia and Mali. J Rural Stud 23:23–37

Rogers P, Hall AW (2003) Effective water governance. Elanders Novum, Sweden

Romm J (1997) The pursuit of watershed stability: lessons from science, policy and practice. In: Sommarstrom S (ed) What is watershed stability. Water Resources Center report no. 92. University of California, Davis, pp 153–156

Seixas C, Berkes F (2010) Community-based enterprises: the significance of partnerships and institutional linkages. Int J Commons 4:183–212

Sneddon C (2002) Water conflicts and river basins: the contradictions of co-management and scale in northeast Thailand. Soc Nat Resour 15:725–741

Stringer LC, Dougill AJ, Fraser E, Hubacek K, Prell C, Reed MS (2006) Unpacking "participation" in the adaptive management of social–ecological systems: a critical review. Ecol Soc 11:2

Tan-kim-yong U, Bruns P, Bruns B (2005) The emergence of polycentric water governance in northern Thailand. In: Shivakoti G, Vermillion D, Lam W, Ostrom E, Pradhan U, Yoder R (eds) Asian irrigation in transition: responding to challenges. Sage Publications, London, pp 226–252

Thomas D (2008) Where central policies meet local objectives: exploring sub-basin-level participatory watershed management in northern Thailand. World Agroforestry Centre, Chiang Mai

Turral H, Svendsen M, Faures J (2010) Investing in irrigation: reviewing the past and looking to the future. Agric Water Manag 97:551–560

Walker A (2003) Agricultural transformation and the politics of hydrology in northern Thailand. Dev Change 34:941–964

Water Management Development Group (2007) The integrated water user group handbook. Royal Irrigation Department, Bangkok (in Thai)

Wilder M, Romero-Lankao P (2006) Paradoxes of decentralization: water reform and social implications in Mexico. World Dev 34:1977–1995

Williams B (2011) Adaptive management of natural resources—framework and issues. J Environ Manage 92:1346–1353

Young O (2002) Matching institutions and ecosystems: the problem of fit. Institut du Developpement Durable et des Relations Internationales (IDDRI), Paris
Acknowledgments
The authors thank the Thai Government for doctoral funding for Chutiwalanch Semmahassak's research in Chiang Mai province, north-west Thailand undertaken during 2010–2013.
About this article
Cite this article
Clark, J.R.A., Semmahasak, C. Evaluating Adaptive Governance Approaches to Sustainable Water Management in North-West Thailand. Environmental Management 51, 882–896 (2013). https://doi.org/10.1007/s00267-012-9993-4
Received:

Accepted:

Published:

Issue Date:

DOI: https://doi.org/10.1007/s00267-012-9993-4
Keywords