Abstract
Having volunteers collect data can be a cost-effective strategy to complement or replace those collected by scientists. The quality of these data is essential where field-collected data are used to monitor progress against predetermined standards because they provide decision makers with confidence that choices they make will not cause more harm than good. The integrity of volunteer-collected data is often doubted. In this study, we made estimates of seven vegetation attributes and a composite measure of six of those seven, to simulate benchmark values. These attributes are routinely recorded as part of rehabilitation projects in Australia and elsewhere in the world. The degree of agreement in data collected by volunteers was compared with those recorded by professional scientists. Combined results showed that scientists collected data that was in closer agreement with benchmarks than those of volunteers, but when data collected by individuals were analyzed, some volunteers collected data that were in similar or closer agreement, than scientists. Both groups' estimates were in closer agreement for particular attributes than others, suggesting that some attributes are more difficult to estimate than others, or that some are more subjective than others. There are a number of ways in which higher degrees of agreement could be achieved and introducing these will no doubt result in better, more effective programs, to monitor rehabilitation activities. Alternatively, less subjective measures should be sought when developing monitoring protocols. Quality assurance should be part of developing monitoring methods and explicitly budgeted for in project planning to prevent misleading declarations of rehabilitation success.
Access options
Buy single article
Instant access to the full article PDF.
US$ 39.95
Tax calculation will be finalised during checkout.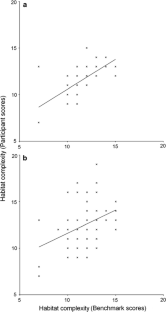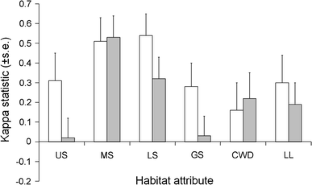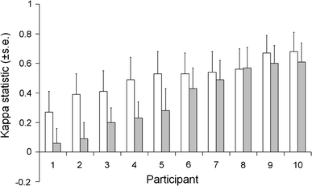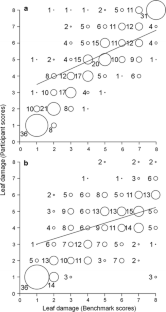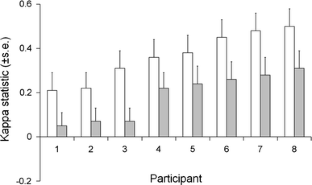 References
Agresti A (1984) Analysis of ordinal categorical data. Wiley, New York

Andrew MH, Noble IR, Lange RT (1979) A non-destructive method for estimating the weight of forage on shrubs. Australian Rangeland Journal 1:225–231

Anonymous (1997) New South Wales State of the Environment 1997. Environment Protection Authority, Sydney, NSW

Anonymous (2003) Integrated Catchment Management Plan for the Hunter Catchment 2002. NSW Department of Land and Water Conservation

Anonymous (2006) Hunter-Central Rivers Catchment Management Authority annual report 2005–2006. http://www.hcr.cma.nsw.gov.au/pubs/annualreport_0506.pdf. Accessed 17 Nov 2009

Anonymous (2007) Keeping a project journal—guidelines for planning, monitoring and evaluating a land management project. Hunter-Central Rivers Catchment Management Authority. http://www.hcr.cma.nsw.gov.au/ep_resources.php3. Accessed 17 Nov 2009

Ashcroft M, Gollan JR, Batley M (2012) Combining citizen science, bioclimatic envelope models and observed habitat preferences to determine the distribution of an inconspicuous, recently detected introduced bee (Halictus smaragdulus Vachal Hymenoptera: Halictidae) in Australia. Biological Invasions 14:515–527

Boudreau SA, Yan ND (2004) Auditing the accuracy of a volunteer-based surveillance program for an aquatic invader Bythotrephes. Environmental Monitoring and Assessment 91:17–26

Boylen CW, Howe EA, Bartkowski JS, Eichler LW (2004) Augmentation of a long-term monitoring program for Lake George, NY by citizen volunteers. Lake and Reservoir Management 20(2):121–129

Brandon A, Spyreas G, Molano-Flores B, Carroll C, Ellis J (2003) Can volunteers provide reliable data for forest vegetation surveys? Natural Areas Journal 23:254–262

Brooks SS, Lake PS (2007) River restoration in Victoria, Australia: Change is in the wind, and none too soon. Restoration Ecology 15(3):584–591

Carr AJL (2004) Why do we all need community science? Society and Natural Resources 17:841–849

Cohn JP (2008) Citizen science: can volunteers do real research? BioScience 58(3):192–197

Crall AW, Newman GJ, Jarnevich CS, Stohlgren TJ, Waller DM, Graham J (2010) Improving and integrating data on invasive species collected by citizen scientists. Biological Invasions 12(10):3419–3428

Curtis A, Robertson A, Race D (1998) Lessons from recent evaluations of natural resource management programs in Australia. Australian Journal of Environmental Management 5:109–119

Danson FM, Hetherington D, Morsdorf F, Koetz B, Allgöwer B (2007) Forest canopy gap fraction from terrestrial laser scanning. IEEE Geoscience and Remote Sensing 4:157–160

Delaney DG, Sperling CD, Adams CS, Leung B (2008) Marine invasive species: validation of citizen science and implications for national monitoring networks. Biological Invasions 10(1):117–128

Engel SR, Voshell JR (2002) Volunteer biological monitoring: can it accurately assess the ecological condition of streams? American Entomologist 48:164–177

Environmental Protection Agency, EPA (2002) Methods for evaluating wetland condition: volunteers and wetland biomonitoring. EPA, Washington, D.C

Forbes GA, Korva KT (1994) The effect of using a Horsfall–Barratt scale on precision and accuracy of visual estimation of potato late blight severity in the field. Plant Pathology 43:675–682

Fore LS, Paulsen K, O'Laughlin K (2001) Assessing the performance of volunteers in monitoring streams. Freshwater Biology 46:109–123

Gardner H (1993) Multiple intelligences: the theory in practice. Basic Books, New York

Gibbons P, Freudenberger D (2006) An overview of methods used to assess vegetation condition at the scale of the site. Ecological Management and Restoration 7(S1):S10–S17

Gilbert M, Gregoire JC (2003) Visual, semi-quantitative assessments allow accurate estimates of leafminer population densities: an example comparing image processing and visual evaluation of damage by the horse chestnut leafminer Cameraria ohridella (Lep., Gracillariidae). Journal of Applied Entomology 127:354–359

Giller PS (2005) River restoration: seeking ecological standards, Editor's introduction. Journal of Applied Ecology 42:201–207

Gollan JR, Ashcroft MB, Cassis G, Donnelly AP, Lassau SL (2009) Testing common habitat based surrogates in a semi arid rangeland. Biodiversity and Conservation 18:1147–1159

Gorrod EJ, Keith DA (2009) Observer variation in field assessments of vegetation condition: implications for biodiversity conservation. Ecological Management and Restoration 10(1):31–40

Jansen A, Robertson A, Thompson L, Wilson A (2004) Development and application of a method for the rapid appraisal of riparian condition. River management technical guideline no. 4, land and water Australia, Canberra, ACT

Kershner JL (1997) Monitoring and adaptive management. In: Williams JE, Dombeck MP, Wood CA (eds) Watershed restoration: principles and practices. American Fisheries Society Special Publication, Bethesda, pp 116–134

King WH, Woolmington ER (1960) The role of the river in the development of settlement in the lower Hunter Valley. Australian Geographer 8:3–16

Landis JR, Koch GG (1977) The measurement of observer agreement for categorical data. Biometrics 33:159–174

Lemmon PE (1956) A spherical densiometer for estimating forest overstorey density. Forest Science 2:314–332

McElhinny C, Gibbons P, Brack C, Bauhus J (2005) Forest and woodland stand structural complexity: its definition and measurement. Forest Ecology and Management 218:1–24

McLaren MA, Cadman MD (1999) Can novice volunteers provide credible data for bird surveys requiring song identification? Journal of Field Ornithology 70(4):481–490

Middleton JV (2001) The stream doctor project: community-driven stream restoration. BioScience 51:293–296

Miles I, Sullivan WC, Kuo FE (1998) Ecological restoration volunteers: the benefits of participation. Urban Ecosystems 2(1):27–41

Motulsky HJ (2003) Prism 4 statistics guide—statistical analyses for laboratory and clinical researchers. GraphPad Software Inc., San Diego

Nerbonne JF, Vondracek B (2003) Volunteer macroinvertebrate monitoring: assessing training needs through examining error and bias in untrained volunteers. Journal of the North American Benthological Society 22(1):152–163

Newman C, Buesching CD, Macdonald W (2003) Validating mammal monitoring methods and assessing the performance of volunteers in wildlife conservation–"Sed quis custodiet ipsos custodies?". Biological Conservation 113:189–197

Newman G, Crall A, Laituri M, Graham J, Stohlgren T, Moore JC, Kodrich K, Holfelder KA (2010) Teaching citizen science skills online: implications for invasive species training programs. Applied Environmental Education and Communication 9(4):276–286

Noss RF (1990) Indicators for monitoring biodiversity: a hierarchical approach. Conservation Biology 4:355–364

Oliver I, Pearce S, Greenslade PM, Britton DR (2006) Contribution of paddock trees to the conservation of terrestrial invertebrate biodiversity within grazed native pastures. Austral Ecology 31:1–12

Ruiz-Jaen MC, Mitchell Aide T (2005) Rehabilitation success: how is it being measured? Rehabilitation Ecology 13(3):569–577

Scion Corporation (2000) Scion Image for Windows. http://www.scioncorp.com/pages/scion_image_windows.htm. Accessed 17 Nov 2009

Seidel D, Fleck S, Leuschner C (2012) Analyzing forest canopies with ground-based laser scanning: A comparison with hemispherical photography. Agricultural and Forest Meteorology 154–155:1–8

Stadel AV, Nelson JG (1995) The role of citizen participation in ecosystem monitoring. In: Herman T, Bondrup-Nelson S, Martin Willison JH, Munro NWP (eds). Second International conference on science and the management of protected areas. Dalhousie University, Halifax, Nova Scotia, Canada, pp 447–453

Stokes P, Havas M, Bridges T (1990) Public participation and volunteer help in monitoring programs: An assessment. Environmental Monitoring and Assessment 15:225–229

Story R (1963) Vegetation of the Hunter Valley. Commonwealth Scientific and Industrial Research Organization, Land Research Series Rep. No. 8

Ten Kate K, Bishop J, Bayon R (2004) Biodiversity offsets: views, experience, and the business case—executive summary. IUCN, Gland, Switzerland and Cambridge, UK and Insight Investment, London, UK. http://www.forest-trends.org/publication_details.php?publicationID=661. Accessed 17 Nov 2009

Thompson AA, Mapstone BD (1997) Observer effects and training in underwater visual surveys of reef fishes. Marine Ecology Progress Series 154:53–63

Underwood AJ, Chapman MG (2002) Conservation of coastal organisms depends on scientific realism, not community 'monitoring'. In: Lunney D, Dickman C, Burgin S (eds) A clash of paradigms: community and research-based conservation. Royal Zoological Society of New South Wales, Mosman, pp 20–37

USDA (2003) Conservation reserve program. US Department of Agriculture, Farm Service Agency, Washington, DC. http://www.fsa.usda.gov/FSA/webapp?area=homeandsubject=coprandtopic=cr. Accessed 17 Nov 2009

Vos P, Meelis E, Keurs WJT (2000) A framework for the design of ecological monitoring programs as a tool for environmental and nature management. Environmental Monitoring and Assessment 61:317–344

Wells SM (1995) Reef assessment and monitoring using volunteers and non-professionals. Publication of Rosential School of Marine and Atmospheric Science, University of Miami, Miami, p 57

Whitelaw G, Vaughan H, Craig B, Atkinson D (2003) Establishing the Canadian community monitoring network. Environmental Monitoring and Assessment 88:409–418

Wilson A, Jansen A, Curtis A, Robertson A (2006) Measuring riparian condition: a comparison of assessments by landholders and scientists. Ecological Management and Restoration 7:123–129

Zar J (1999) Biostatistical analysis, 4th ed. Prentice Hall, Upper Saddle River
Acknowledgments
This project was supported by the NSW Environmental Trust (Grant 2003/RD/001) to L.W. The Coal and Allied Community Trust also provided financial support as part of the BugWise project. We thank Conservation Volunteers Australia, Green Corp volunteers and Australian Museum scientists for their time in collecting data. The Upper Hunter River Rehabilitation Initiative provided in-kind support. M Bulbert and H Smith assisted in the field. We also thank three anonymous reviewers for providing comments that led to improvements to the manuscript.
Conflict of interest
All work presented complied with current Australian law and the authors declare that they have no conflict of interest.
Electronic supplementary material
Below is the link to the electronic supplementary material.
About this article
Cite this article
Gollan, J., de Bruyn, L.L., Reid, N. et al. Can Volunteers Collect Data that are Comparable to Professional Scientists? A Study of Variables Used in Monitoring the Outcomes of Ecosystem Rehabilitation. Environmental Management 50, 969–978 (2012). https://doi.org/10.1007/s00267-012-9924-4
Received:

Accepted:

Published:

Issue Date:
Keywords
Benchmark

Citizen science

Cost-effective

Data collection

Data credibility