Abstract
Intensive agricultural development can change land use, which can further affect regional ecosystem services and functions. With the rapid growth of the population and the national demand for food, the northeast of China, which is located in the high latitudes, has experienced four agricultural developments since the 1950s. The original wetlands of this area were developed for farmland. The evaluation of ecosystem services is conducted to reveal the ecosystem status and variable trends caused by land reclamation. The aim of this study is to provide scientific basis for environmental management and for the sustainable development of agriculture in Northeast China. With GIS-RS technology, a typical farm was chosen to analyze variations in the ecosystem service value in response to land use changes during the study period. The total ecosystem service value of the farm decreased from 7523.10 million Yuan in 1979 to 4023.59 million Yuan in 2009 with an annual rate of −1.6 % due to the decreasing areas of woodland and wetland. The increased areas of cropland, water area and grassland partly offset the loss of the total value, but the loss was still greater than the compensation. Waste treatment and climate regulation were the top two service functions with high service values, contributing to approximately 50 % of the total service value. The spatial difference of the ecosystem service value also was analyzed. The wetlands located in the central and northeastern sections of the farm changed significantly. From the aspect of ecosystem service value, the wetland and water area should be conserved, as they have the highest value coefficients. The accuracy of the value coefficient, however, needs to be studied further in future research.
Access options
Buy single article
Instant access to the full article PDF.
US$ 39.95
Tax calculation will be finalised during checkout.
Subscribe to journal
Immediate online access to all issues from 2019. Subscription will auto renew annually.
US$ 79
Tax calculation will be finalised during checkout.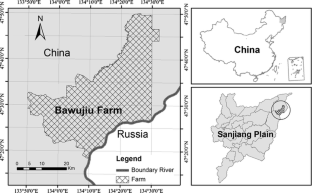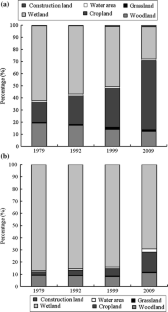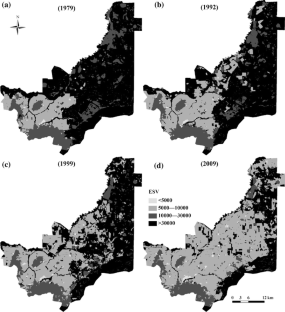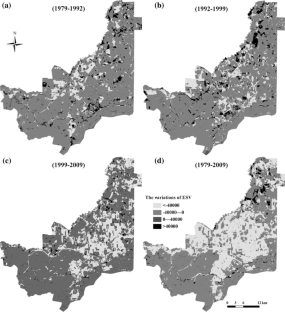 References
Acharya G (2000) Approaches to valuing the hidden hydrological services of wetland ecosystem. Ecological Economics 35:63–74

Bai XF, Chen HW (2004) The changes of ecosystem services and their values in various constructions of land use: a case study on from Yijinhuohuo County of Inner Mongolia. Chinese Journal of Eco-Agriculture 12:180–182

Bai Y, Zhuang CW, Ouyang ZY, Zheng H, Jiang B (2011) Spatial characteristics between biodiversity and ecosystem services in a human-dominated watershed. Ecological Complexity 8:177–183

Bandara R, Tisdell C (2004) The net benefit of saving the Asian elephant: a policy and contingent valuation study. Ecological Economics 48:93–107

Bolund P, Hunhammar S (1999) Ecosystem services in urban areas. Ecological Economics 29:293–301

Boumans R, Costanza R, Farley J, Wilson MA, Portela R, Rotmans J, Villa F, Grasso M (2002) Modeling the dynamics of the integrated earth system and the value of global ecosystem services using the GUMBO model. Ecological Economics 41:529–560

Chen DJ, Xu ZM (2002) Study on assessment of the ecological security in the continental watersheds in Northeast China—a case study at the middle reaches of Heihe River water shed, Zhangye Prefecture. Arid Land Geography 25:219–224

Chen ZX, Zhang XS (2000) Value of ecosystem services in China. Chinese Science Bulletin 45:870–876

Chen NW, Li C, Wang LH (2009) A GIS-based approach for mapping direct use value of ecosystem services at a county scale: management implications. Ecological Economics 68:2768–2776

Collard SJ, Zammit C (2006) Effects of land-use intensification on soil carbon and ecosystem services in Brigalow (Acacia harpophylla). Agriculture, Ecosystems and Environment 117:185–194

Costanza R, Cumberland J, Daly H, Goodland R, Norgaard R (1997a) An Introduction to ecological economics. St lucie Press, Florida

Costanza R, d'Arge R, de Groot R, Farber S, Grasso M, Hannon B, Limburg K, Naeem S, O'Neill RV, Paruelo J, Raskin RG, Sutton P, van den Belt M (1997b) The value of the world′s ecosystem services and natural capital. Nature 387:253–260

Costanza R, Fisher B, Mulder K, Liu S, Christopher T (2007) Biodiversity and ecosystem services: a multi-scale empirical study of the relationship between species richness and net primary production. Ecological Economics 61:478–491

Daily GC (1997) Nature's service: societal dependence on natural ecosystems. Island Press, Washington D C

Hajjar R, Jarvis ID, Gemmill-Herren B (2008) The utility of crop genetic diversity in maintaining ecosystem services. Agriculture, Ecosystems and Environment 123:261–270

Hein L, van Koppen K, de Groot RS, van Ierland EC (2006) Spatial scales, stakeholders and the valuation of ecosystem services. Ecological Economics 57:209–228

Huang X, Chen YN, Ma JX, Chen YP (2010) Study on change in value of ecosystem service function of Tarim River. Acta Ecologica Sinica 30:67–75

Jenkins WA, Murray BC, Kramer RA, Faulkner SP (2010) Valuing ecosystem services from wetlands restoration in the Mississippi Alluvial Valley. Ecological Economics 69:1051–1061

Kenter JO, Hyde T, Christie M, Fazey I (2011) The importance of deliberation in valuing ecosystem services in developing countries—evidence from the Solomon Islands. Global Environmental Change 21:505–521

Kreuter UP, Harris HG, Matlock MD, Lacey RE (2001) Change in ecosystem service values in the San Antonio area, Texas. Ecological Economics 39:333–346

Lambin EF, Ehrlich D (1997) Land-cover changes in sub-Saharan Africa (1982–1991): application of a change index based on remotely-sensed surface temperature and vegetation indices at a continental scale. Remote Sensing of Environment 61:181–200

Lambin EF, Baulies X, Bockstael N, et al (1999) Land-use and land-cover change implementation strategy. International Geosphere-Biosphere Program, IGBP Report No. 48/HDP Report No. 10/1999, Stockholm.

Lange GM, Jiddawi N (2009) Economic value of marine ecosystem services in Zanzibar: implications for marine conservation and sustainable development. Ocean & Coastal Management 52:521–532

Li J, Ren ZY (2008) Changes in ecosystem service values on the loess plateau in Northern Shaanxi Province, China. Agricultural Sciences in China 7:606–614

Li F, Zhang B, Zhang SQ (2004) Ecosystem service valuation of Sanjiang Plain. Journal of Arid Land Resources and Environment 18:19–23

Li RQ, Dong M, Cui JY, Zhang LL, Cui QG, He WM (2007) Quantification of the impact of land-use changes on ecosystem services: a case study in Pingbian County, China. Environmental Monitoring and Assessment 128:503–510

Li JC, Wang WL, Hu GY, Wei ZH (2010a) Changes in ecosystem service values in Zoige Plateau, China. Agriculture, Ecosystems and Environment 139:766–770

Li TH, Li WK, Qian ZH (2010b) Variations in ecosystem service value in response to land use changes in Shenzhen. Ecological Economics 69:1427–1435

Liu JY, Zhang ZX, Zhuang DF, Wang YM (2003) A study on the spatial-temporal dynamic changes of land-use and driving forces analyses of China in the 1990s. Geographical Research 22:1–12

Loomis J, Kent P, Strange L, Fausch K, Covich A (2000) Measuring the total economic value of restoring ecosystem services in an impaired river basin: results from a contingent valuation survey. Ecological Economics 33:103–117

Martínez ML, Pérez-Maqueo O, Vázquez G, Castillo-Campos G, García-Franco J, Mehltreter K, Equihua M, Landgrave R (2009) Effects of land use change on biodiversity and ecosystem services in tropical montane cloud forests of Mexico. Forest Ecology and Management 258:1856–1863

Metzger MJ, Rounsevell MDA, Acosta-Michlik L, Leemans R, Schroter D (2006) The vulnerability of ecosystem services to land use change. Agriculture, Ecosystems and Environment 114:69–85

Paula BM, Oscar MN (2012) Land-use planning based on ecosystem service assessment: a case study in the Southeast Pampas of Argentina. Agriculture, Ecosystems and Environment 154:34–43

Ran SH, Li XB, Lv CH (2006) Environmental impact of the land use change in Yuzixi Catchment in the last 20 years. Acta Scientiae Circumstantiae 26:2058–2064

Ren ZY, Zhang YF (2003) Land use change and ecological security assessment. Science Press, Beijing

Sagoff M (2011) The quantification and valuation of ecosystem services. Ecological Economics 70:497–502

Seidl AF, Moraes AS (2000) Global valuation of ecosystem services: application to the Pantanal da Nhecolandia, Brazil. Ecological Economics 33:1–6

Semmens DJ, Diffendorfer JE, López-Hoffman L, Shapiro CD (2011) Accounting for the ecosystem services of migratory species: quantifying migration support and spatial subsidies. Ecological Economics 70:2236–2242

Swallow BM, Sang JK, Nyabenge M, Bundotich DK, Duraiappah AK, Yatich TB (2009) Tradeoffs, synergies and traps among ecosystem services in the Lake Victoria basin of East Africa. Environmental Science & Policy 12:504–519

Tong CF, Feagin RA, Lu JJ, Zhang XF, Zhu XJ, Wang W, He WS (2007) Ecosystem service values and restoration in the urban Sanyang wetland of Wenzhou, China. Ecological Engineering 29:249–258

Turner BL II, Skole D, Sanderson S, et al (1995) Land-use and land-cover change science/research plan. International Geosphere-Biosphere Program, IGBP Report No. 35/HDP report No. 7/1995, Stockholm.

Turner RK, Paavola J, Cooper P, Farber S, Jessamy V, Georgiou S (2003) Valuing nature: lessons learned and future research directions. Ecological Economics 46:493–510

Wang XL, Bao YH (1999) Study on the methods of land use dynamic change research. Progress in Geography 18:81–87

World Resources Institute (2005a) Millennium Ecosystem Assessment Biodiversity Synthesis Report. Washington DC.

World Resources Institute (2005b) Millennium Ecosystem Assessment Frameworks. Washington DC.

Xie GD, Lu CX, Leng YF, Zheng D, Li SC (2003) Ecological assets valuation of the Tibetan Plateau. Journal of Natural Resources 18:189–196

Yoshida A, Chanhda H, Ye YM, Liang YR (2010) Ecosystem service values and land use change in the opium poppy cultivation region in Northern Part of Lao PDR. Acta Ecologica Sinica 30:56–61

Zhao B, Kreuter U, Li B, Ma ZJ, Chen JK, Nakagoshi N (2004) An ecosystem service value assessment of land-use change on Chongming Island, China. Land Use Policy 21:139–148

Zhou DC, Luo GP, Xu WQ, Feng YX (2010) Dynamics of ecosystem services value in Aksu River watershed in 1960–2008. Chinese Journal of Applied Ecology 21:399–408
Acknowledgments
This research benefited from financial support from the National Natural Science Foundation of China under the Grant No. 40930740, 41001317. "Twelfth Five-year Plan" for Sci & Tech Research of China (2012BAD15B05), Special Fund for Agroscientific Research in the Public Interest (201003014).
About this article
Cite this article
Hao, F., Lai, X., Ouyang, W. et al. Effects of Land Use Changes on the Ecosystem Service Values of a Reclamation Farm in Northeast China. Environmental Management 50, 888–899 (2012). https://doi.org/10.1007/s00267-012-9923-5
Received:

Accepted:

Published:

Issue Date:
Keywords
Ecosystem service value

Land use

Agricultural development

Farm

Northeast