Abstract
Many African countries have adopted community-based forest management (CBFM) to prevent deforestation. However, empirical studies have not reached a consensus on the effectiveness of CBFM. The purpose of this study is to examine the impact of the establishment of participatory forest management associations in Ethiopia. We used remote sensing data to gauge the change in forest area and employed a two-stage least squares model to correct for possible biases. The results indicate that the forest area managed by forest associations declines more in the year of establishment than forest areas with no association. This finding suggests that villagers may engage in "last-minute" logging. However, 1 year after the establishment of the forest associations, the forest area of the associations increased substantially, most likely because the associations monitor illegal logging, enabling the regeneration of open areas within the registered forest area. On average, the forest area of the forest associations increased by 1.5 % in the first 2 years, whereas forest areas not managed as part of an association declined by 3.3 %. The cumulative impact over 2 years yields a net increase in the rate of change of 4.8 %. These results demonstrate that it is important to improve the monitoring of forest areas during the initial establishment of participatory forest management associations to maximize the effects of association establishment.
Access options
Buy single article
Instant access to the full article PDF.
US$ 39.95
Tax calculation will be finalised during checkout.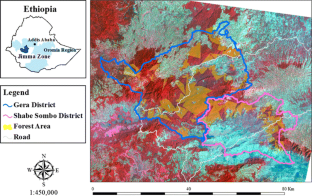 References
Achard F, Eva HD, Stibig HJ, Mayaux P, Gallego J, Richards T, Malingreau J (2002) Determination of deforestation rates of the world's humid tropical forests. Science 297:999–1002

Adams WM, Brockington D, Dyson J, Vira B (2003) Managing tragedies: understanding conflict over common pool resources. Science 302:1915–1916

Agrawal A, Yadama GN (1997) How do local institutions mediate market and population pressures on resources? Forest panchayats in Kumaon, India. Development and Change 28:435–465

Alemagi D (2010) A comparative assessment of community forest models in Cameroon and British Columbia, Canada. Land Use Policy 27:928–936

Balooni K, Ballabh V, Inoue M (2007) Declining instituted collective management practices and forest quality in Central Himalayas. Economic and Political Weekly 42:1143–1152

Benin S, Pender J (2006) Collective action in community management of grazing lands: the case of the highlands of northern Ethiopia. Environment and Development Economics 11:127–149

Chakraborty RN (2001) Stability and outcomes of common property institutions in forestry: evidence from the Terai Region of Nepal. Ecological Economics 36:341–353

Chen J, Saunders SC, Crow TR, Naiman RJ, Brosofske KD, Mroz GD, Brookshire BL, Franklin JF (1999) Microclimate in forest ecosystem and landscape ecology. Bioscience 49:288–297

Cropper M, Griffiths C (1994) The interaction of population growth and environmental quality. The American Economic Review 84:250–254

Cropper M, Griffiths C, Mani M (1999) Roads, population pressures, and deforestation in Thailand, 1976–1989. Land Economics 75:58–73

Dalle SP, de Blois S, Caballero J, Johns T (2006) Integrating analyses of local land-use regulations, cultural perceptions and land-use/land cover data for assessing the success of community-based conservation. Forest Ecology and Management 222:370–383

Davenport ML, Nicholson SE (1993) On the relation between rainfall and the normalized difference vegetation index for diverse vegetation types in East Africa. International Journal of Remote Sensing 14:2369–2389

Duflo E, Pande R (2007) Dams. Quarterly Journal of Economics 122:601–646

Edmonds EV (2002) Government-initiated community resource management and local resource extraction from Nepal's forests. Journal of Development Economics 68:89–115

Ellis EA, Porter-Bolland L (2008) Is community-based forest management more effective than protected areas? A comparison of land use/land cover change in two neighboring study areas of the Central Yucatan Peninsula, Mexico. Forest Ecology and Management 256:1971–1983

Ethiopian Forestry Action Programme (1994) The challenge for development: final report. Addis Ababa

Geist HJ, Lambin EF (2002) Proximate causes and underlying driving forces of tropical deforestation. Bioscience 52:143–150

Hayami Y, Godo Y (2005) Development economics: from the poverty to the wealth of nations. Oxford University Press, Oxford

Jensen J (1996) Introductory digital image processing. Prentice Hall, Englewood Cliffs

Kijima Y, Sakurai T, Otsuka K (2000) Iriaichi: collective versus individualized management of community forests in postwar Japan. Economic Development and Cultural Change 48:867–886

Klooster D (2000) Institutional choice, community, and struggle a case study of forest co-management in Mexico. World Development 28:1–20

Lund JF, Treue T (2008) Are we getting there? Evidence of decentralized forest management from the Tanzanian Miombo woodlands. World Development 36:2780–2800

Matta JR, Alavalapati JRR (2006) Perceptions of collective action and its success in community based natural resource management: an empirical analysis. Forest Policy and Economics 9:274–284

Negassa A (2007) The role of trust among actors in common-pool resource management: empirical evidence from participatory forest management in Ethiopia. Participatory forest management. In: International conference of biodiversity and livelihoods in Africa, Addis Ababa, Ethiopia, pp 151–161

Ostrom E (1990) Governing the commons: the evolution of institutions for collective action. Cambridge University Press, Cambridge

Ostrom E (1999) Self-governance and forest resources. Centre for International Forestry Research Occasional Paper 20, Bogor

Ostrom E, Nagendra H (2006) Insights on linking forests, trees, and people from the air, on the ground, and in the laboratory. Proceedings of the National Academy of Science of the USA 103:19224–19231

Pretty J, Ward H (2001) Social capital and the environment. World Development 29:209–227

Ribot JC, Lund JF, Treue T (2010) Democratic decentralization in Sub-Saharan Africa: its contribution to forest management, livelihoods, and enfranchisement. Environmental Conservation 37:35–44

Somanathan E, Prabhakar R, Mehta BS (2005) Does decentralization work: forest conservation in the Himalayas. BREAD Working Paper 096

Southworth J, Tucker CM (2001) Forest cover change in western Honduras: the role of socio-economic and biophysical factors, local institutions, and land tenure. Mountain Research and Development 21:276–283

Southworth J, Munroe D, Nagendra H (2004) Land cover change and landscape fragmentation—comparing the utility of continuous and discrete analyses for a western Honduras region. Agriculture Ecosystems and Environment 101:185–205

Takahashi R, Todo Y (2011) Impact of community management on forest protection: evidence from an aid-funded project in Ethiopia. http://jica-ri.jica.go.jp/publication/assets/JICA-RI_WP_No31_2011.pdf. Accessed 12 Sep 2011

Todo Y, Takahashi R (2011) Impact of farmer field schools on agricultural income and skills: evidence from an aid-funded project in rural Ethiopia. Journal of International Development. doi:10.1002/jid.1819

Tole L (2010) Reforms from the ground: a review of community-based forest management in tropical developing countries. Environmental Management 45:1312–1331

Tucker CJ, Townshend JRG, Goff TE (1985) African land-cover classification using satellite data. Science 227:369–375

Tucker CJ, Slayback DA, Pinzon JE, Los SO, Myneni RB, Taylor MG (2001) Higher northern latitude normalized difference vegetation index and growing season trends from 1982 to 1999. International Journal of Biometeorology 45:184–190

United Nations Statistical Division (2010) Environmental indicators. http://unstats.un.org/unsd/environment/forestarea.htm. Accessed 12 Sep 2011

Urgessa K (2003) Perceptions of forest cover and tree planting and ownership in Jimma zone, Ethiopia. Unasylva 54:18–22

White MA, Nemani RR (2006) Real-time monitoring and short-term forecasting of land surface phenology. Remote Sensing of Environment 104:43–49

Zhang Q, Devers D, Desch A, Justice CO, Townshend J (2005) Mapping tropical deforestation in central Africa. Environmental Monitoring and Assessment 101:69–83
Acknowledgments
This research was conducted as part of the research project on the "Impact Evaluation of Aid Projects of the Japan International Cooperation Agency" at the JICA Research Institute. The authors would like to thank Yasuyuki Sawada (the Project Leader) and Keiichi Tsunekawa (Director of the JICA Research Institute) for providing us with the opportunity to engage in this research. The authors are also grateful to Naoki Ando, Toru Inada, Takahiro Nakamura, Fumiaki Saso, Hideki Watanabe, and, particularly, Tsutomu Nishimura for their help with data collection.
About this article
Cite this article
Takahashi, R., Todo, Y. Impact of Community-Based Forest Management on Forest Protection: Evidence from an Aid-Funded Project in Ethiopia. Environmental Management 50, 396–404 (2012). https://doi.org/10.1007/s00267-012-9887-5
Received:

Accepted:

Published:

Issue Date:
Keywords
Impact evaluation

Remote sensing

Forest protection

Community-based forest management

Ethiopia