Abstract
River restoration is becoming a priority in many countries because of increasing the awareness of environmental degradation. In Europe, the EU Water Framework Directive (WFD) has significantly reinforced river restoration, encouraging the improvement of ecological status for water bodies. To fulfill the WFD requirements, the Spanish Ministry of the Environment developed in 2006 a National Strategy for River Restoration whose design and implementation are described in this paper. At the same time many restoration projects have been conducted, and sixty of them have been evaluated in terms of stated objectives and pressures and implemented restoration measures. Riparian vegetation enhancement, weir removal and fish passes were the most frequently implemented restoration measures, although the greatest pressures came from hydrologic alteration caused by flow regulation for irrigation purposes. Water deficits in quantity and quality associated with uncontrolled water demands seriously affect Mediterranean rivers and represent the main constraint to achieving good ecological status of Spanish rivers, most of them intensively regulated. Proper environmental allocation of in-stream flows would need deep restrictions in agricultural water use which seem to be of very difficult social acceptance. This situation highlights the need to integrate land-use and rural development policies with water resources and river management, and identifies additional difficulties in achieving the WFD objectives and good ecological status of rivers in Mediterranean countries.
Access options
Buy single article
Instant access to the full article PDF.
US$ 39.95
Tax calculation will be finalised during checkout.
Subscribe to journal
Immediate online access to all issues from 2019. Subscription will auto renew annually.
US$ 79
Tax calculation will be finalised during checkout.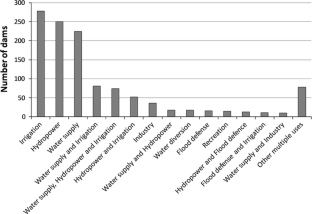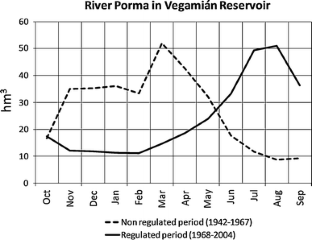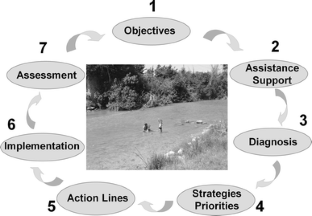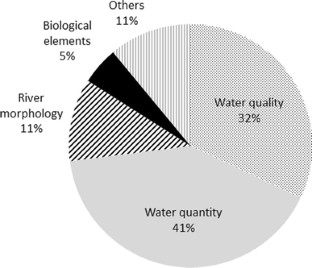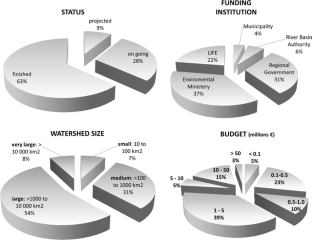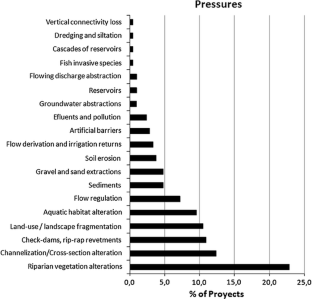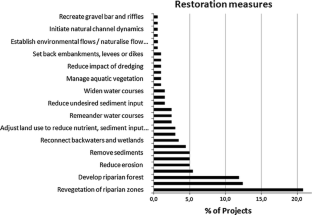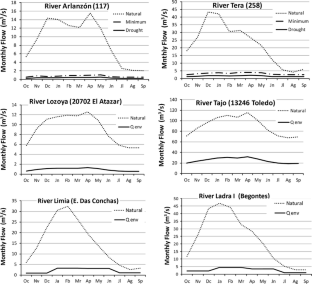 References
Alonso C, Baeza D, Gortázar J (2009) Liberando Ríos. Propuestas de WWF para el desmantelamiento de presas en España. WWF España, Madrid, p 48

Arenillas L (2008) The Manzanares river restoration (Northern Madrid, Spain): demolition of an obsolete dam and rehabilitation of a riverine ecosystem. In: Gumiero B, Rinaldi M, Fokkens B (eds) Procceedings 4th ECRR Conference on River Restoration, Venice, pp 975–980

Arthington AH, Bunn SE, Poff NL, Naiman RJ (2006) The challenge of providing environmental flow rules to sustain river ecosystems. Ecological Applications 16:1311–1318

Barreira A, Brufao P, Colman A (2009) Aspectos jurídicos en la restauración de ríos. Ministerio de Medio Ambiente y del Medio Rural y Marino, Madrid, p 231

Batalla RJ, Gómez CM, Kondolf GM (2004) Reservoir-induced hydrological changes in the Ebro river basin (NE Spain). Journal of Hydrology 290:117–136

Bonada N, Statzner Dolédec S, Statzner B (2007) Taxonomic and biological trait differences of stream macroinvertebrate communities between mediterranean and temperate regions: implications for future climatic scenarios. Global Change Biology 13:1658–1671

Boulton A, Piégay H, Sanders MD (2008) Turbulence and train wrecks: using knowledge strategies to enhance the application of integrative river science to effective river management. In: Brierley GJ, Fryirs KA (eds) River futures: an integrative scientific approach to River Repair. Society of Ecological Restoration International, Island Press, Washington DC, pp 28–39

Brufao P (2006) La demolición de presas en España: un repaso por comunidades autónomas. Quercus 241:34–41

Brufao P (2008) La reforma ambiental de concesiones y autorizaciones de agua. Bakeaz-Fundación Nueva Cultura del Agua, Bilbao, p 88

Bunn SE, Arthington AH (2002) Basic principles and ecological consequences of altered flow regimes for aquatic biodiversity. Environmental Management 30:492–507

Camargo JA, Alonso A, Puente M (2005) Eutrophication downstream from small reservoirs in Mountain Rivers of Central Spain. Water Research 39:3376–3384

Claver A, Ormad P, Rodríguez L, Ovelleiro JL (2006) Study of the presence of pesticides in surface waters in the Ebro river basin (Spain). Chemosphere 64:1437–1443

Clewell AF, Aronson J (2006) Motivations for the restoration of ecosystems. Conservation Biology 20:420–428

Corenblit D, Tabacchi E, Steiger J, Gurnell AM (2007) Reciprocal interactions and adjustments between fluvial landforms and vegetation dynamics in river corridors: a review of complementary approaches. Earth-Science Reviews 84:56–86

Downs PW, Kondolf GM (2002) Post-project appraisals in adaptive management for river channel restoration. Environmental Management 29:477–496

Dufour S, Piégay H (2009) From the myth of a lost paradise to targeted river restoration: forget natural references and focus on human benefits. River Research and Applications 25(5):568–581

Elvira B (1995) Conservation status of endemic freshwater fish in Spain. Biological Conservation 72:129–136

Elvira B, Almodóvar A (2005) Freshwater fish introductions in Spain: facts and figures at the beginning of the 21st century. Journal of Fish Biology 59:323–331

European Environmental Agency (EEA) (2007) Halting the loss of biodiversity by 2010: proposal for a first set of indicators to monitor progress in Europe. EEA Technical Report 11/2007, Luxembourg, p 38

Federal Interagency Stream Restoration Working Group (FISRWG) (1998) Stream corridor restoration. Principles, processes, and practices, 10/98. U.S. National Engineering Handbook, Part 653, Washington, DC, USDA, Natural Resources Conservation Service

Feld CK, Birk S, Bradley DC, Hering D, Kail J, Marzin A, Melcher A, Nemitz D, Pedersen ML, Pletterbauer F, Pont D, Verdonschot PFM, Friberg N (2011) From natural to degraded rivers and back again: a test of restoration ecology theory and practice. Advances in Ecological Research 44:119–209

Ferreira T, Oliveira J, Caiola et al. (2007) Ecological traits of fish assemblages from Mediterranean Europe and their responses to human disturbance. Fisheries Management and Ecology 14:473–481

García de Jalón D (2003) The Spanish experience in determining minimum flow regimes in regulated streams. Canadian Water Resources Journal 28(2):1–14

García de Jalón D, González del Tánago M, Casado C (1992) Ecology of regulated rivers in Spain: an overview. Limnetica 8:161–166

García Ruiz JM (2010) The effects of land uses on soil erosion in Spain: a review. Catena 81:1–11

Giller PS (2005) River restoration: seeking ecological standards. Journal of Applied Ecology 42:201–207

González del Tánago M, García de Jalón D (2007) Restauración de Ríos. Guía metodológica para la elaboración de proyectos. Ministerio de Medio Ambiente, Madrid, p 318

Grantham TE, Merenlender AM, Resh VE (2010) Climatic influences and anthropogenic stressors: An integrated framework for streamflow management in Mediterranean-climate California, USA. Freshwater Biology 55(Suppl.1):188–204

Grindlay AL, Zamorano M, Rodríguez MI, Molero E, Urrea MA (2011) Implementation of the European Framework Directive: integration of hydrological and regional planning at the Segura River Basin, southeast Spain. Land Use Policy 28:242–256

Hooke JM (2006) Human impacts on fluvial systems in the Mediterranean region. Geomorphology 79:311–335

Hooper DU, Chapin FS, Ewel JJ, Hector A, Inchausti P, Lavorel S, Lawton JH, Lodge DM, Loreau M, Naeem S, Schmid B, Setälä H, Symstad AJ, Vadermeer J, Wardle DA (2005) Effects of biodiversity on ecosystem functioning: a consensus of current knowledge. Ecological Monographs 75(1):3–35

Hughes FMR, Rood SB (2003) The allocation of river flows for the restoration of woody riparian and floodplain forest ecosystems: a review of approaches and their application in Europe. Environmental Management 32:12–33

Intergovernmental Panel on Climate Change (IPCC) (2007) Climatic change 2007 synthesis report. Contribution of Working Groups I, II and III to the Fourth Assessment Report, IPCC, Geneva

King EG, Hobbs RJ (2006) Identifying linkages among conceptual models of ecosystem degradation and restoration: towards and integrative framework. Restoration Ecology 14(3):369–378

Klimo E, Hager H (eds.) (2008) The Floodplain Forests in Europe: current situation and perspectives. Leiden and European Forest Institute Research Report No. 10, Koninklijke Brill, p 267

Kondolf GM, Boulton A, O' Daniel S, Poole G, Rahel F, Stanley E, Wohl E, Bang A, Carlstrom J, Cristoni C, Huber H, Koljonen S, Louhi P, Nakamura K (2006) Process-based ecological river restoration: visualising three-dimensional connectivity and dynamic vectors to recover lost linkages. Ecology & Society 11:5 (www.ecologyandsociety.org/vol11/iss2/art5/)

Land and Water Australia (2002) Planning for river restoration. River Landscapes, fact sheet 9. Australia Government, Canberra. www.rivers.gov.au

Land and Water Australia (2006) River and Riparian lands management newsletter vol 31, pp 44–46

Lara F, Garillety R, Calleja JA (2004) La vegetación de ribera de la mitad norte española Monografías M-81, CEDEX. Ministerio de Fomento-Ministerio de Medio Ambiente, Madrid, p 536

Lara F, Garilleti R, Calleja JA (2008) Síntesis ecológica y sectorización de la vegetación de ribera de la mitad Sur de España. Technical Report CEDEX- Universidad Autónoma de Madrid, p 571

Laub BG, Palmer MA (2009) Restoration ecology of rivers. In: Encyclopedia of inland waters, pp 332–341

Magdaleno F (2005) Caudales ecológicos: conceptos, métodos e interpretaciones. Monografías CEDEX, M-82, Madrid, p 194

Martínez C, Fernández-Yuste JA (2006) Índices de alteración hidrológica en ecosistemas fluviales. Monografías CEDEX, M-85, Madrid, p 178

Menció A, Mas-Pla J (2010) Influence of groundwater exploitation on the ecological status of streams in a Mediterranean system (Selva Basin, NE Spain). Ecological Indicators 10:915–926

Meybeck M (2003) Global analysis of river systems: from Earth system controls to Anthropocene syndromes. Philosophical Transactions the Royal Society of London B 358:1935–1955

Millennium Ecosystem Assessment (MEA) (2005) Ecosystems and human well-being: synthesis. Island Press, Washington, DC, p 137

Ministerio Medio de Ambiente (MMA) (2006) Inventario de presas españolas. Ministerio de Medio Ambiente, Madrid, p 494

Ministerio Medio de Ambiente y Medio Rural y Marino (MMAMRM) (2010) Restauración de ríos. Bases de la estrategia nacional de restauración de ríos, Madrid, p 102

MMAMRM (Ministerio de Medio Ambiente y Medio Rural y Marino) (2008) Instrucción de Planificación Hidrológica, Orden ARM/2656/2008 de 10 de septiembre

Mooney H, Larigauderie A, Cesario M, Elmquist T, Hoegh-Guldberg O, Lavorel S, Mace GM, Palmer MA, Scholes R, Yahara T (2009) Biodiversity, climate change, and ecosystem services. Current Opinion in Environmental Sustainability 1:46–54

Morán-Tejeda E, Ceballos A, Llorente-Pinto JM (2010) Hydrological response of Mediterranean headwaters to climate oscillations and land-cover changes: the mountains of Duero River Basin (Central Spain). Global and Planetary Change 72:39–49

Moreno JL, Navarro C, Heras J (2006) Abiotic ecotypes in south-central Spanish rivers: reference conditions and pollution. Environmental Pollution 143:388–396

Naiman RJ, Bunn SE, Nilsson C, Petts GE, Pinay G, Thompson LC (2002) Legitimizing fluvial ecosystems as users of water: an overview. Environmental Management 30(4):455–467

National Research Council (NRC) (1992) Restoration of aquatic ecosystems. National Academy Press, Washington, DC, p 552

Navarro-Llácer C, Baeza D, Heras J (2010) Assessment of regulated rivers with indices based on macroinvertebrates, fish and riparian forest in the southeast of Spain. Ecological Indicators 10:935–942

Nilsson C, Berggren K (2000) Alterations of riparian ecosystems caused by river regulation. BioScience 50:783–792

Observatorio de la Sostenibilidad en España (OSE) (2006) Cambios de ocupación del suelo en España. Ministerio de Fomento, Instituto Geográfico Nacional, Madrid, p 485

Ollero A (2010) Channel changes and floodplain management in the meandering middle Ebro River, Spain. Geomorphology 117:247–260

Ollero A, Ballarín D, Mora D (2006) Cambios en el cauce y el llano de inundación del río Ebro (Aragón) en los últimos 80 años. Geographicalia 50:87–109

Palmer MA, Bernhardt ES, Allan JD, Lake PS, Alexander G, Brooks S, Carr J, Clayton S, Dahm CN, Follstad Shah J, Galat DL, Loss SG, Goodwin P, Hart DD, Hassett B, Jenkinson R, Kondolf GM, Lave R, Meyer JL, O′Donnell TK, Pagano L, Sudduth E (2005) Standards for ecologically successful river restoration. Journal of Applied Ecology 42:208–217

Palmer MA, Menninger HL, Bernhardt E (2010) River restoration, habitat heterogeneity and biodiversity: A failure of theory or practice? Freshwater Biology 55(Suppl.1):205–222

Paredes J, Andreu J, Solera A (2010) A decision support system for water quality in the Manzanares River (Madrid, Spain). Science of the Total Environment 408:2576–2589

Pedersen ML, Andersena JM, Nielsena K, Linnemannb M (2007a) Restoration of Skjern River and its valley: project description and general ecological changes in the project area. Ecological Engineering 30:131–144

Pedersen ML, Friberg N, Skriver J, Baattrup-Pedersen A, Larsen SE (2007b) Restoration of Skjern River and its valley—short-term effects on river habitats, macrophytes and macroinvertebrates. Ecological Engineering 30:145–156

Poff NL, Zimmerman JKH (2010) Ecological responses to altered flow regimes: a literature review to inform the science and management of environmental flows. Freshwater Biology 55(1):194–205

Prat N, Munné A (2000) Water use and quality and stream flow in a Mediterranean stream. Water Research 34(15):3876–3881

Reichert P, Borsuk M, Hostmann M, Schweizer S, Spörri C, Tockner K, Truffer B (2007) Concepts of decision support for river rehabilitation. Environmental Modelling and Software 22:188–201

Resh VH, Brown AV, Covich AP, Gurtz ME, Li HW, Minshall GW, Reice SR, Sheldon AL, Wallace JB, Wissmar RC (1988) The role of disturbance in stream ecology. Journal of the North American Benthological Society 7:433–455

Rodríguez I, Herrero JM, Gutiérrez F (2008) Project for ecological improvement of river Negro and tributaries (Zamora-Spain). In: Gumiero B, Rinaldi M, Fokkens B (eds) Procceedings 4th ECRR conference on river restoration, Venice, pp 223–230

Rutherfurd I, Jerie K, Walker M, Marsh N (2000) A rehabilitation manual for Australian streams. Land and Water Resources Research and Development Corporation, vol 1 (p 192), vol 2 (p 382), Canberra

Ryder D, Brierley GJ, Hobbs R, Kyle G, Leishman M (2008) Vision generation: What do we seek to achieve in river rehabilitation? In: Brierley GJ, Fryirs KA (eds) River futures: an integrative scientific approach to river repair. Society of Ecological Restoration International/Island Press, Washington, DC, pp 16–27

Sabater S, Feio MJ, Graça MAS, Muñoz I, Romaní AM (2009) The Iberian rivers. In: Tockner K, Uehlinger U, Robinson CT (eds) Rivers of Europe. Elsevier/Academic Press, San Diego, pp 113–150

Sánchez Martínez FJ (2008) Voluntary river work programme organised by the Water Department of the Ministry of Environment and rural and marine areas. In: Gumiero B, Rinaldi M, Fokkens B (eds) 4th ECRR conference on river restoration. CIRF Publication, Venice, pp 661–668

Tena A, Batalla RJ, Vericat D, López-Tarazón JA (2011) Suspended sediment dynamics in a large regulated river over a 10-year period (the lower Ebro, NE Iberian Peninsula). Geomorphology 125:73–84

Thomson D, Pepperdine S (2003) Assessing community capacity for riparian restoration. National Riparian Lands R&D Programme/Land and Water Australia, Canberra, p 53

Tippett J, Sarle B, Pahl-Wostl C, Rees Y (2005) Social learning in public participation in river basin management-early findings from HarmoniCOP European studies. Environmental Science & Policy 8:287–299

Tockner K, Stanford JA (2002) Riverine flood plains: present state and future trends. Environmental Conservation 29(3):308–330

Tockner K, Uehlinger U, Robinson CT (eds) (2009) Rivers of Europe. Elsevier/Academic Press, San Diego, p 700

Torrecilla NJ, Galve JP, Zaera LG, Retamar JF, Alvarez ANA (2005) Nutrient sources and dynamics in a mediterranean fluvial regime (Ebro River, NE Spain) and their implications for water management. Journal of Hydrology 304:166–182

van Ast JA, Boot SP (2003) Participation in European water policy. Physics and Chemistry of the Earth 28:555–562

Woolsey S, Capelli F, Gonser T, Hoehn E, Hostmann M, Junker B, Paetzold A, Roulier C, Schweizer S, Tiegs SD, Tockner K, Weber C, Peter A (2007) A strategy to assess river restoration success. Freshwater Biology 52:752–769

World Wife Foundation-Ministerio de Medio Ambiente (WWF-MMA) (2007) Voluntariado ambiental en ríos y riberas. Guía para el diseño y ejecución de programas. Ministerio de Medio Ambiente, Madrid, p 55

Yague J, González del Tánago M, Sánchez FJ (2008) The Spanish National strategy for river restoration. In: Gumiero B, Rinaldi M, Fokkens B (eds) Proceedings 4th ECRR conference on river restoration, Venice, pp 281–290
Acknowledgments
The National Strategy was formulated under two administrative contracts between the Polytechnic University of Madrid and the Ministry of the Environment in 2006 and 2007. The review of restoration projects corresponds to FORECASTER project results (IWRM-NET CGL2008-03082-E/BTE). The authors express their recognition to Cristina Narbona, Jaime Palop, Jesús Yague, Ricardo Segura, Luis Babiano and Javier Sánchez from the Ministry of the Environment for their political and administrative support. M. Aldaguer, I. Doadrio, R. Garilleti, D. Gómez Orea, M. Gutiérrez, F. Lara, I. Lastra, M. Múgica, A. Ollero, I. Rodríguez, R. Romeo, R. Sánchez-Navarro and J. Serrano coordinated the working groups with remarkable effort and positive results.
About this article
Cite this article
González del Tánago, M., García de Jalón, D. & Román, M. River Restoration in Spain: Theoretical and Practical Approach in the Context of the European Water Framework Directive. Environmental Management 50, 123–139 (2012). https://doi.org/10.1007/s00267-012-9862-1
Received:

Accepted:

Published:

Issue Date:
Keywords
River restoration

Spain

Water framework directive

Water resources management

Forecaster

National strategy