Abstract
Forest management certification is assumed to promote sustainable forest management, but there is little field-based evidence to support this claim. To help fill this gap, we compared a Forest Stewardship Council (FSC)-certified with an adjacent uncertified, conventionally logged concession (CL) in Gabon on the basis of logging damage, above-ground biomass (AGB), and tree species diversity and composition. Before logging, we marked, mapped, and measured all trees >10 cm dbh in 20 and twelve 1-ha permanent plots in the FSC and CL areas, respectively. Soil and tree damage due to felling, skidding, and road-related activities was then assessed 2–3 months after the 508 ha FSC study area and the 200 ha CL study area were selectively logged at respective intensities of 5.7 m3/ha (0.39 trees/ha) and 11.4 m3/ha (0.76 trees/ha). For each tree felled, averages of 9.1 and 20.9 other trees were damaged in the FSC and CL plots, respectively; when expressed as the impacts per timber volume extracted, the values did not differ between the two treatments. Skid trails covered 2.9 % more of the CL surface, but skid trail length per unit timber volume extracted was not greater. Logging roads were wider in the CL than FSC site and disturbed 4.7 % more of the surface. Overall, logging caused declines in AGB of 7.1 and 13.4 % at the FSC and CL sites, respectively. Changes in tree species composition were small but greater for the CL site. Based on these findings and in light of the pseudoreplicated study design with less-than perfect counterfactual, we cautiously conclude that certification yields environmental benefits even after accounting for differences in logging intensities.
Access options
Buy single article
Instant access to the full article PDF.
USD 39.95
Price excludes VAT (USA)
Tax calculation will be finalised during checkout.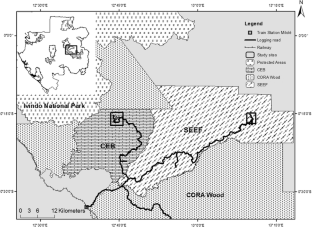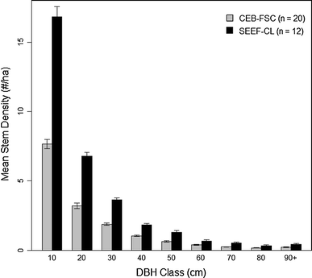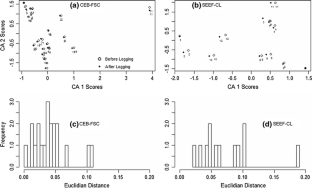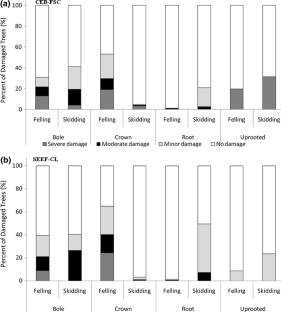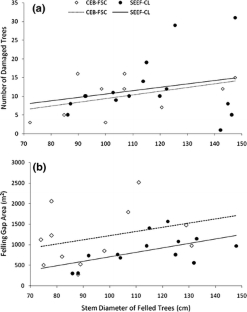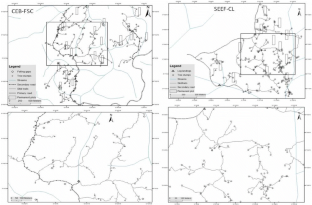 References
Andam KS, Ferraro PJ, Pfaff A, Sanchez-Azofeifa GA, Robalino JA (2008) Measuring the effectiveness of protected area networks in reducing deforestation. Proc Natl Acad Sci (USA) 105:16089–16094

Auld G, Gulbrandsen LH, McDermott CL (2008) Certification schemes and the impacts on forests and forestry. Ann Rev Environ Res 33:187–211

Bamberger M, Carden F, Rugh J (2009). Summary of session 713 think tank: alternatives to the conventional counterfactual. Meeting of the American Evaluation Association, Orlando, Florida 2009. Available at realworldevaluation.org. Accessed Aug 2012)

Blackman A, Rivera J (2010) The evidence base for environmental and socioeconomic impacts of "sustainable" certification. Discussion paper, Resources for the future RFF DP 10-17. Washington DC, USA

Blanc L, Echard M, Herault B, Bonal D, Marcon E, Chave J, Baraloto C (2009) Dynamics of aboveground carbon stocks in a selectively logged tropical forest. Ecol App 19:1397–1404

Borcard D, Gillet F, Legendre P (2011) Numerical ecology with R. Springer, New York

Brokaw NVL (1982) The definition of tree-fall gap and its effect on measures of forest dynamics. Biotropica 14:158–160

Burger D, Hess J, Lang B (2005) Forest certification: an innovative instrument in the service of sustainable development? Deutsche Gesellschaft für Technische Zusammenarbeit

CEB (Compagnie Equatoriale de Bois) (2007) Résumé publique du plan d'aménagement. Precious Woods and TERRA

Cerutti PO, Tacconi L, Nasi R, Lescuyer G (2011) Legal vs. certified timber: preliminary impacts of forest certification in Cameroon. For Pol Econ 13:184–190

Chave J, Andalo C, Brown S, Cairns MA, Chambers JQ, Eamus D, Fölster H, Fromard F, Higuchi N, Kira T, Lescure JP, Nelson BW, Ogawa H, Puig H, Riéra B, Yamakura T (2005) Tree allometry and improved estimation of carbon stocks and balance in tropical forests. Oecologia 145:87–99

Colwell RK (2006) EstimateS: statistical estimation of species richness and shared species from samples. Version 8. persistent URL purl.ocloc.org/estimates

de Wasseige C, Devers D, de Marcken P, Eba'a Atyi R, Nasi R, Mayaux Ph (2009) The forests of the congo basin—state of the forest 2008, Luxembourg: Publications Office of the European Union. doi:10.2788/32259

Doucet JL (2003) L'alliance délicate de la gestion forestière et de la biodiversité dans les forêts du centre du Gabon. Thèse de doctorat, Faculté Universitaire des Sciences Agronomiques, B-5030 Gembloux

Durrieu de Madron L, Fontez B, Dipapoundji B (2000) Dégâts d'exploitation et de débardage en fonction de l'intensité d'exploitation en forêt dense humide d'Afrique Centrale. Bois For Trop 264:57–60

Eba'a Atyi R (2004) Forest certification in Gabon. Paper presented at the symposium: Forest certification in developing and transitioning societies: social, economic, and ecological effects. Yale School of Forestry and Environmental Studies, New Haven, Connecticut, USA

Eba'a Atyi R (2006) Forest certification in Gabon. In: Cashore B, Gale F, Meidinger E, Newsom D (2006) Confronting sustainability: forest certification in developing and transitioning countries. Yale F&ES Publication Series, Report Number 8. New Haven, Connecticut, USA

Eba'a Atyi R, Simula M (2002) Forest Certification: pending challenges for tropical timber. International Tropical Timber Organization (ITTO) Technical Series No. 19. Yokohama, Japan: ITTO

FAO (2003) Regional code of practice for reduced-impact harvesting in tropical moist forests of west and central Africa. Food and Agriculture Organization of the United Nations, Rome

FAO (2005) Global forest resource assessment 2005. Progress towards sustainable forest management. FAO forest paper 174. Rome, Italy

Forest Certification System (2011) Certification public report. Forest management certification. Available from http://info.fsc.org/servlet/. Reported 17 Dec 2008; cited 16 Feb 2012

Hall JS, Harris DJ, Medjibe V, Ashton PMS (2003) The effects of selective logging on forest structure and tree species composition in a central African forest: implications for management of conservation areas. For Ecol Manag 183:249–264

Halme PT, Toivanen T, Honkanen M, Kotiaho JS, Monkkonen M, Timonen J (2010) Flawed meta-analysis of biodiversity effects of forest management. Conserv Biol 24:1154–1156

Heffner RA, Butler MJ, Reilly CK (1996) Pseudoreplication revisited. Ecology 77:255–2562

Hulbert SH (1984) Pseudoreplication and the design of ecological field experiments. Ecol Mono 54:187–211

Hurlbert SH (2004) On misinterpretations of pseudoreplication and related matters: a reply to Oksanen. Oikos 104:591–597

Jonkers WBJ (2000) Logging, damage and efficiency: a study of the feasibility of the reduced impact logging in Cameroon. Tropenbos Cameroon Report 00-3, Tropenbos-Cameroon Programme, Kribi, Cameroon

Leonard G, Richard A (1993) Le Gabon. Institut Pédogogique National, 287 p. In: Drouineau S, Nasi R, Legault F, Cazet M (1999) L'aménagement forestier au Gabon: historique, bilan, perspectives. Document No.19 Série FORAFRI. CIRAD-Forêt, Montpellier, France

Martin D, Chatelin Y, Collinet J, Guichard E, Sala G (1981) Les sols du Gabon : pédogenèse, répartition et aptitudes : cartes à 1:2 000 000—Paris (FRA): ORSTOM, Office de la recherche scientifique et technique outre mer. Notice Explicative, No 92

Mazzei L, Sist P, Ruschel A, Putz FE, Marco P, Peña W, Ferreira JER (2010) Above-ground biomass dynamics after reduced-impact logging in the Eastern Amazon. For Ecol Manag 259:367–373

Medjibe VP, Putz FE (2012) Cost comparison of reduced-impact and conventional logging in the tropics. J For Econ 18:242–256

Nasi R, Forni E (2006) Exploitation industrielle du bois, aménagement forestier et impacts environnementaux. In: Nasi R, Nguinguiri JC, Ezzine de Blas D (eds) Exploitation et gestion durable des forêts d'Afrique Centrale: la quête de la durabilité. L'Harmattan, Paris, pp 243–265

Nasi R, Billand A, Vanvliet N (2012) Managing for timber and biodiversity in the Congo Basin. For Ecol Manag 268:103–111

Oksanen L (2001) Logic of experiment in ecology: is pseudoreplication a pseudoissue? Oikos 94:27–38

Oksanen J, Blanchet FG, Kindt R, Legendre P, Minchin PR, O'Hara RB, Simpson GL, Solymos P, Stevens MHH, Wagner H (2011) Package "vegan". Community ecology package Version 2.0-0. http://cran.r-project.org, http://vegan.r-forge.r-project.org/

Paillet Y, Bergès L, Hjältén J et al (2010) Biodiversity differences between managed and unmanaged forests: meta-analysis of species richness in Europe. Conserv Biol 24:101–112

Pattanayak SK, Wunder S, Ferraro PJ (2010) Show me the money: do payments supply environmental services in developing countries? Rev Environ Econ Pol 4:254–274

Poulsen JR, Clark CJ, Mavah G, Elkan PW (2009) Bushmeat supply and consumption in a tropical logging concession in northern Congo. Conserv Biol 23:1597–1608

Putz FE, Nasi R (2009) Carbon benefits from avoiding and repairing forest degradation. In: Angelsen A, Brockhaus M, Kanninen M, Sills E, Sunderlin WD, Wertz-Kanounnikoff S (eds) Realising REDD+: National strategy and policy options. CIFOR, Bogor, Indonesia

Putz FE, Sist P, Fredericksen T, Dykstra D (2008a) Reduced-impact logging: challenges and opportunities. For Ecol Manag 256:1427–1433

Putz FE, Zuidema PA, Pinard MA, Boot RGA, Sayer JA, Sheil D, Sist P, Vanclay EJK (2008b) Tropical forest management for carbon retention. PLoS Biol 6:1368–1369

Putz FE, Zuidema PA, Synnott T, Peña-Claros M, Pinard MA, Sheil D, Vanclay JK, Sist P, Gourlet-Fleury S, Griscom B, Palmer J, Zagt R (2012) Sustaining conservation values in selectively logged tropical forests: the attained and the attainable. Conserv Lett. doi:10.1111/j.1755-263X.2012.00242.x

R Development Core Team (2010) R: a language and environment for statistical computing. Version 2.11.1. R Foundation for Statistical Computing, Vienna, Austria. http://www.R-project.org. Accessed 6 Sep 2010

Ruiz Perez M, Ezzine de Blas D, Nasi R, Sayer JA, Sassen M, Angoue C, Gami N, Ndoye O, Ngono G, Nguinguiri JC, Nzala D, Toirambe B, Yalibanda Y (2005) Logging in the Congo Basin: a multi-country characterization of timber companies. For Ecol Manag 241:231–236

Sheil D, Meijaard E (2010) Purity and prejudice: deluding ourselves about biodiversity conservation. Biotropica 42:566–568

Sheil D, Nasi R, Johnson B (2004) Ecological criteria and indicators for tropical forest landscapes: challenges in the search for progress. Ecol Soc 9(1):7. [online] URL: http://www.ecologyandsociety.org/vol9/iss1/art7

Sist P, Ferreira FN (2007) Sustainability of reduced-impact logging in the Eastern Amazon. For Ecol Manag 243:199–209

Système de Certification FSC (2011) Rapport publique de certification. Certification de gestion forestière. Available from http://info.fsc.org/servlet/servlet/. Reported 29 Dec 2011; cited 16 Feb 2012

Tikina ATV, Innes JIL (2008) A framework for assessing the effectiveness of forest certification. Can J For Res 38:1357–1365

van Kuijk M, Putz FE, Zagt RJ (2009) Effects of forest certification on biodiversity. Tropenbos International, Wageningen, the Netherlands

White LJT (1994) The effects of commercial mechanized selective logging on a transect in lowland rainforest in the Lope Reserve, Gabon. J Trop Ecol 10:313–322

White H, Phillips D (2012) Addressing attribution of cause and effect in small "N" impact evaluations: towards an integrated framework. Working Paper 15. International Initiative for Impact Evaluation 3iE. London, UK

WRI (World Resources Institute) (2009) Atlas forestier interactif du Gabon (version pilote): document de synthèse. WRI, Washington, DC

Write PA, Gregory A, Hoekstra T, Tegler B, Turner M (2002) Monitoring for forest management unit scale sustainability. Final report of the local unit criteria and indicators development (LUCID) test: executive summary. USDA Forest Service IMI (Inventory and Monitoring Institute) Report 4, Fort Collins, Colorado, USA

Zanne AE, Lopez-Gonzalez G, Coomes DA, Ilic J, Jansen S, Lewis SL, Miller RB, Swenson NG, Wiemann MC, Chave J (2009) Global wood density database. Dryad. Retrieved from: http://hdl.handle.net/10255/dryad.235. Accessed 23 June 2010
Acknowledgments
This study was supported by the Wildlife Conservation Society (WCS)-Gabon Program via the AFD-NGO partnership. Additional support came from a WWF Kathryn Fuller Doctoral Fellowship to VPM. We thank CEB and SEEF for permission to work in their concessions. Logistical support was provided by WCS-Gabon. We gratefully acknowledge MP Starkey, NF Mapouka and the hard work of field assistants JC Mouandza, Y Mihindo, JP Mondjo, R Aba'a Nseme, HR Memiaghe, A Moukala and A Moukambi. Comments on earlier versions of this manuscript by JR Poulsen and A Shenkin are also acknowledged.
About this article
Cite this article
Medjibe, V.P., Putz, F.E. & Romero, C. Certified and Uncertified Logging Concessions Compared in Gabon: Changes in Stand Structure, Tree Species, and Biomass. Environmental Management 51, 524–540 (2013). https://doi.org/10.1007/s00267-012-0006-4
Received:

Accepted:

Published:

Issue Date:

DOI: https://doi.org/10.1007/s00267-012-0006-4
Keywords
Congo basin forests

FSC certification

Conventional logging

Tree species diversity

Above-ground biomass

Logging damage