Abstract
High densities of people living around protected areas (PAs) in South Asia require management strategies to balance conservation goals and livelihood needs. Based on a survey of 777 households around five PAs in India and Nepal, this paper provides a comparative perspective of Indian and Nepali households' views of protected area benefits and costs, their attitude toward conservation in general, and attitude toward protected area staff. Results indicate mixed responses towards tourism, varying from very favorable in Nepal to less favorable in India. The majority (81%) held positive attitudes towards the existence and importance of PAs but had negative perceptions of PA staff (69%). Most residents perceived benefits from access to fuel wood, fodder and other PA resources including benefits from tourism, while crop and livestock losses from wildlife were the main costs. Households overall positive attitudes towards the PAs and conservation despite high losses from living around PAs suggests that local residents may support conservation if their livelihood needs are met. Comparisons of household attitudes and perceptions suggest that locally based strategies rather than top-down approaches are likely to be more effective. Extending PA benefits to smaller landholders, households that are highly resource-dependent or experiencing higher income losses from human-wildlife conflicts, and less educated residents are particularly important to balance costs and losses from living around protected areas.
Access options
Buy single article
Instant access to the full article PDF.
USD 39.95
Price excludes VAT (USA)
Tax calculation will be finalised during checkout.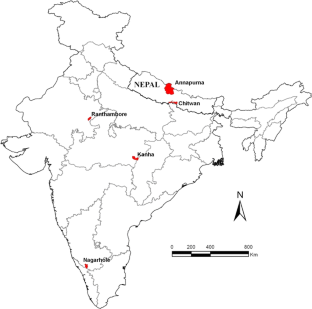 References
Adams W, Infield M (2003) Who is on the gorilla's payroll? Claims on tourist revenue from a Ugandan national park. World Development 31:177–190

Allendorf TD (2010) A framework for the park-people relationship: insights from protected areas in Nepal and Myanmar. International Journal of Sustainable Development & World Ecology 17:417–422

Archabald K, Naughton-Treves L (2001) Tourism revenue- sharing around national parks in Western Uganda: early efforts to identify and reward local communities. Environmental Conservation 28:135–149

Badola R (1998) Attitudes of local people towards conservation and alternatives to forest resources: a case study from the lower Himalayas. Biodiversity and Conservation 7:1245–1259

Bajracharya SB, Furley PA, Newton AC (2005) Effectiveness of community involvement in delivering conservation benefits to the Annapurna conservation area, Nepal. Environmental Conservation 32:1–9

Becker CD, Agreda A, Astudillo EG, Costantino M, Torres P (2005) Community based monitoring of fog capture and biodiversity at Loma Alta, Ecuador enhance social capital and institutional cooperation. Biodiversity and Conservation 14:2695–2707

Bookbinder M, Dinerstein E, Rijal A, Cauley H, Rajouria A (1998) Ecotourism's support of biodiversity conservation. Conservation Biology 12:1399–1404

Bruyere BL, Beh AW, Lelengula G (2009) Differences in perceptions of communication, tourism benefits, and management issues in a protected area of rural Kenya. Environmental Management 43:49–59

Campbell LM (1999) Ecotourism in rural developing communities. Annals of Tourism Research 26:534–553

DeFries R, Karanth KK, Pareeth S (2010) Interactions between protected areas and their surroundings in human-dominated tropical landscapes. Biological Conservation. doi:10.1016/j.biocon.2010.02.010

Gadd ME (2005) Conservation outside of parks: attitudes of local people in Laikipia, Kenya. Environmental Conservation 32:50–63

Gillingham S, Lee PC (1999) The impact of wildlife-related benefits on the conservation attitudes of local people around the Selous Game Reserve, Tanzania. Environmental Conservation 26:218–228

Gubbi S, Linkie M, Leader-Williams N (2008) Evaluating the legacy of an integrated conservation and development project around a tiger reserve in India. Environmental Conservation 35:1–9

He G, Chen X, Liu W, Bearer S, Zhou S, Cheng LY, Zhang H, Ouyang Z, Liu J (2008) Distribution of economic benefits from ecotourism: a case study of Wolong nature reserve for giant pandas in china. Environmental Management 42:1017–1025

Hutton J, Leader-Williams N (2003) Sustainable use and incentive-driven conservation: realigning human and conservation interests. Oryx 37:215–226

Jantzi T, Schelhas J, Lassoie JP (1999) Environmental values and forest patch conservation in a rural Costa Rican community. Agriculture and Human Values 16:29–39

Joppa LN, Loarie SR, Pimm SL (2008) On the protection of protected areas. Proceedings of the National Academy of Sciences 105:6673–6678

Karanth KK, DeFries R (2010) Conservation and management in human-dominated landscapes: case studies from India. Biological Conservation doi:10.1016/j.biocon.2010.05.002

Karanth KK, DeFries R (2011) Nature-based tourism in indian protected areas: new challenges for park management. Conservation Letters. doi:10.1111/j.1755-263X.2010.00154.x

Karanth KK, Curran LM, Reuning-Scherer JD (2006) Village size and forest disturbance in Bhadra wildlife sanctuary, Western Ghats, India. Biological Conservation 128:147–157

Karanth KK, Nichols JD, Hines JE, Karanth UK, Christensen L (2009) Patterns and determinants of mammal species occurrence in India. Journal of Applied Ecology 46:1189–1200

Karanth KK, Nichols JD, Karanth UK, Hines JE, Christensen NL (2010) The shrinking ark: large mammal extinctions in India. Proceedings of the Royal Society of London B 277:1971–1979. doi:10.1098/rspb.2010.0171

Khadka D, Nepal SK (2010) Local Responses to participatory conservation in Annapurna conservation area, Nepal. Environmental Management 45:351–362

King DA, Stewart WP (1996) Ecotourism and commodification: protecting people and places. Biodiversity and Conservation 5:293–305

Kiss A (2004) Is community-based ecotourism a good use of biodiversity conservation funds? Trends in Ecology and Evolutionl 19:232–237

KMTNC (1997) Annapurna Conservation Area management plan. KMTNC, Kathmandu, Nepal

Kruger O (2005) The role of ecotourism in conservation: panacea or Pandora's box? Biodiversity and Conservation 14:579–600

McLean J, Stræde S (2003) Conservation, relocation, and the paradigms of park and people management: a case study of Padampur villages and the Royal Chitwan National Park, Nepal. Society and Natural Resources 16:509–526

Mehta J, Heinen J (2001) Does community-based conservation shape favorable attitudes among locals? An empirical study from Nepal. Environmental Management 28:165–177

Mehta JN, Kellert SR (1998) Local attitudes toward community-based conservation policy and programmes in Nepal: a case study in the Makalu-Barun conservation area. Environmental Conservation 25:320–333

Mittermeier RA, Mittermeier CG (2005) Megadiversity: earth's biologically wealthiest nations. CEMEX, Mexico

Nagendra H, Karmacharya M, Karna B (2005) Evaluating forest management in Nepal: views across space and time. Ecology and Society 10:24

Naidoo R, Ricketts TH (2006) Mapping the economic costs and benefits of conservation. PloS Biology 4:2153–2164

Naughton-Treves L, Holland MB, Brandon K (2005) The role of protected areas in conserving biodiversity and sustaining local livelihoods. Ann Review of Environment and Resources 30:219–252

Nepal SK, Weber K (1993) Struggle for existence: park-people conflict in the Royal Chitwan National park. Asian Institute of Technology, Nepal. Bangkok

Nepal SK, Weber K (1995a) A buffer zone for biodiversity conservation: viability of the concept in Nepal's Royal Chitwan national park. Environmental Conservation 21:333–341

Nepal SK, Weber K (1995b) The quandary of local people-park relations in Nepal's Royal Chitwan national park. Environmental Management 19:853–866

Newmark WD, Leonard NL (1993) Conservation attitudes of local people living adjacent to five protected areas in Tanzania. Biological Conservation 63:177–183

http://www.mfsc.gov.np/upload/17_WildlifeCompensationPolicy,2065.pdf. Accessed August 16, 2011

Rangarajan M (2001) India's Wildlife History. Permanent Black, New Delhi

Rao KS, Nautiyal S, Maikhuri RK, Saxena KG (2003) Local peoples' knowledge, aptitude and perceptions of planning and management issues in Nanda Devi biosphere reserve, India. Environmental Management 31:168–181

Ross S, Wall G (1999) Evaluating ecotourism: the case of North Sulawesi, Indonesia. Tourism Management 20:673–682

Salafsky N, Cordes B, Parks J, Hochman C (1999) Evaluating linkages between business, the environment, and local communities: final analytical results from the biodiversity conservation network. Biodiversity Support Program, Washington

Salum LS (2008) Ecotourism and biodiversity conservation in Jozani–Chwaka Bay National Park, Zanzibar. African Journal of Ecology 47:166–170

Sandbrook CG (2010) Local economic impact of different forms of nature-based tourism. Conservation Letters 3:21–28

Sekhar N (2003) Local people's attitudes towards conservation and wildlife tourism around Sariska Tiger Reserve, India. Journal of Environmental Management 69:339–347

Shahabuddin G, Rangarajan M (2007) Introduction. In: Shahabuddin G, Rangarajan M (eds) Making conservation work. Permanent Black, New Delhi

Spiteri A, Nepal SK (2006) Incentive-based conservation programs in developing countries: a review of some key issues and suggestions for improvements. Environmental Management 37:1–14

Spiteri A, Nepal SK (2008a) Evaluating local benefits from conservation in Nepal's Annapurna conservation area. Environmental Management 42:391–401

Spiteri A, Nepal SK (2008b) Distributing conservation incentives in the buffer zone of Chitwan national park, Nepal. Environmental Conservation 35:76–86

Stem C, Lassoie J, Lee D, Deshler D, Schelhas J (2003) Community participation in ecotourism benefits: the link to conservation practices and perspectives. Society and Natural Resources 16:387–413

Stone M, Wall G (2004) Ecotourism and community development: case studies from Hainan, China. Environmental Management 33:12–24

Terborgh JW (1999) Requiem for Nature. Island Press, Washington

Terborgh JW, Peres C (2002) The problem of people in parks. In: Terborgh JW, Van Schaik C, Davenport L, Rao M (eds) Making parks work: strategies for preserving tropical nature. Island Press, Washington, pp 307–319

Tiger Task Force (2005) The report of tiger task force: joining the dots. Project tiger. Union Ministry of Forests, Government of India, New Delhi

UN (2009) Human development report. Overcoming barriers: human mobility and development. United Nations Development Programme. Palgrave Macmillan, New York

Walpole M, Goodwin H (2000) Local economic impacts of dragon tourism in Indonesia. Annals of Tourism Research 27:559–576

Walpole MJ, Leader-Williams N (2002) Tourism and flagship species in conservation. Biodiversity and Conservation 11:543–547

WC DNP (2004) Annual report 2003–2004. HMGN/DNPWC, Kathmandu

WDPA (2009) World database on protected areas. World conservation union (IUCN) and UNEP world monitoring center (UNEP-WCMC)

Wells M, Brandon K (1993) The principles and practice of buffer zones and local participation in biodiversity conservation. Ambio 22:157–162

West P, Carrier JG (2004) Ecotourism and authenticity getting away from it all? Current Anthropology 45:483–498

West P, Igor J, Brockington D (2006) Parks and peoples: the social impact of protected areas. Annual Review of Anthropology 35:251–277

Wrigley N (1985) Categorical data analysis for geographers and environmental scientists. Longman, New York

WWF (2006) The greater one-horned rhinoceros conservation action plan for Nepal (2006–2011). World Wildlife Fund-Nepal, Kathmandu

Zimmerer K (2007) Cultural ecology: at the interface with political ecology-the new geographies of environmental conservation and globalization. Prog Hum Geog 30:63–78

Zimmerer KS, Galt RE, Buck MV (2004) Globalization and multi-spatial trends in the coverage of protected-area conservation (1980–2000). Ambio 33:520–529
Acknowledgments
Karanth would like to thank R. DeFries, K. U. Karanth, L. Naughton-Treves, N. S. Kumar, P. M. Muthanna, A. Singh, N. D. Tiwari, G. V. Reddy, R. Shukla, E. Dcunha, K.V. Phaniraj, N. Bhatt, P. M. Kumar, S. Pareeth, S. Satyamurthy, R. Davidson, P. Karanth and A. M. Gopalaswamy, Centre for Wildlife Studies and Wildlife Conservation Society-India Program for their advice and support in the field. We thank A. Srivathsa and S. Gundecha for field assistance in India. We are grateful to the forest departments of the States of Rajasthan, Madhya Pradesh and Karnataka and the following individuals H. S. Pabla, S. Sharma, R. Shukla, Somsekhar, and A. C. Poovaih for their support. Nepal would like to thank A. Spiteri and D. Khadka for the fieldwork and data input, and Stella Nepal for the maps of the Nepalese PAs. Support from Nepal's Department of national park and Wildlife Conservation and Nepal Trust for Nature Conservation is gratefully acknowledged. Thanks to field assistants S. Choudhary, B. Choudhary, P. Basnet and A. Gauchan. Funding for research in India was provided by the National Science Foundation (Grant No. 1029219). Funding in Nepal was provided by the Social Sciences and Humanities Research Council of Canada (Grant No. 410-2003-0136).
About this article
Cite this article
Karanth, K.K., Nepal, S.K. Local Residents Perception of Benefits and Losses From Protected Areas in India and Nepal. Environmental Management 49, 372–386 (2012). https://doi.org/10.1007/s00267-011-9778-1
Received:

Accepted:

Published:

Issue Date:

DOI: https://doi.org/10.1007/s00267-011-9778-1
Keywords
Local attitudes

Conservation

India

Nepal

Park-people relationship

Perceptions

Protected areas

Tourism