Abstract
Agave salmiana is a native plant species harvested for the commercial production of mezcal (Agave spirits) in the highlands of central Mexico. The objective of this study was to identify vegetation changes in natural communities where A. salmiana has been differentially harvested for commercial purposes. Three plant community categories were identified in the state of Zacatecas based on their history of A. salmiana utilization: short (less than 10 years of use), moderate (about 25 years), and long (60 or more years). Species cover, composition, and density were evaluated in field surveys by use category. A gradient of vegetation structure of the communities parallels the duration of A. salmiana use. A. salmiana density was greatest (3,125 plants ha−1) in the short-use areas and less (892 plants ha−1) in the moderate-use areas, associated with markedly greater density of shrubs (200%) and Opuntia spp. (50%) in moderate-use areas. The main shrubs were Larrea tridentata, Mimosa biuncifera, Jatropha dioica and Buddleia scordioides while the main Opuntia species were Opuntia leucotricha and Opuntia robusta. A. salmiana density was least (652 plants ha−1) in the long-use areas where shrubs were less abundant but Opuntia spp. density was 25% higher than in moderate-use areas. We suggest that shrubs may increase with moderate use creating an intermediate successional stage that facilitates the establishment of Opuntia spp. Long-term Agave use is generating new plant communities dominated by Opuntia spp. (nopaleras) as a replacement of the original communities dominated by A. salmiana (magueyeras).
Access options
Buy single article
Instant access to the full article PDF.
US$ 39.95
Tax calculation will be finalised during checkout.
Subscribe to journal
Immediate online access to all issues from 2019. Subscription will auto renew annually.
US$ 79
Tax calculation will be finalised during checkout.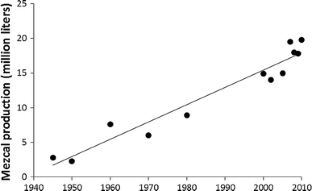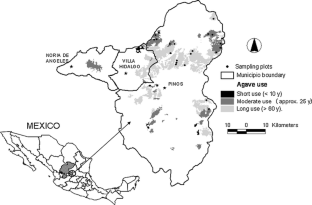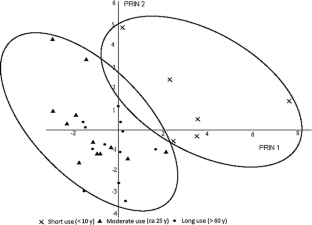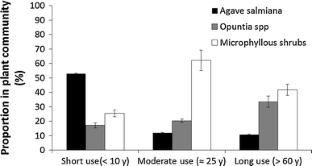 References
Aguado-Santacruz GA, García-Moya E, Creque JA, Meyer S, Flores-Flores JL (2002) Environmental factors and community dynamics at the southernmost part of the North American Graminetum. II. Temporal plant assemblages determined by rainfall patterns. Plant Ecology 158:49–63

Aguirre RJ, Salazar CH, Flores FJ (2001) El maguey mezcalero Potosino. Universidad Autónoma de San Luis Potosí, San Luis Potosí 87

Allen LJS, Allen EJ, Kunst CRG, Sosebee RE (1991) A diffusion model for dispersal of Opuntia imbricata (Cholla) on rangeland. Journal of Ecology 79:1123–1135

CETENAL (1972) Carta de uso del suelo. CETENAL, México

Colunga-GarcíaMarin P, Zizumbo-Villarreal D (2007) Tequila and other Agave spirits from west-central Mexico: current germplasm diversity, conservation and origin. Biodiversity and Conservation 16:1653–1667

COMERCAM (2010) Informe Anual Consejo Mexicano Regulador de la Calidad del Mezcal. Available at http://www.comercam.org (Accessed 22 August 2011)

Flores J, Jurado E (2003) Are nurse-protege′ interactions more common among plants from arid environments? Journal of Vegetation Science 14:911–916

Flores FJL, Yeaton RI (2000) La importancia de la competencia en las comunidades vegetales del altiplano Mexicano. Interciencia 25:365–371

Flores-Martínez A, Ezcurra E, Sanchez-Colon S (1994) Effect of Neobuxbaumia tetetzo on growth and fecundity of its nurse plant Mimosa luisana. Journal of Ecology 82:325–330

García-Herrera EJ, Méndez-Gallegos SJ, Talavera-Magaña D (2010) El genero Agave spp. en México: principales usos de importancia socioeconómica y agroecológica. Revista Salud Pública y Nutrición, Special Ed. 5:109–129

García-Moya E, Romero-Manzanares A, Nobel PS (2011) Highlights for Agave productivity. GCB Bioenergy 3:4–14

Gonzalez-Espinosa M, Quintana-Ascencio PF (1986) Seed predation and dispersal in a dominant desert plant: Opuntia, ants, birds, and mammals. In: Estrada A, Fleming TH (eds) Frugivores and seed dispersal. Dr. W. Junk Publ, Dordrecht, pp 273–284

Granados SD (1999) Los agaves en México. Universidad Autónoma Chapingo, Chapingo México 252

Grover HD, Musick HB (1990) Shrubland encroachment in southern New Mexico. USA: an analysis of desertification processes in the American southwest. Climate Change 17:305–330

Hernandez Xolocotzi E (1970) Mexican experience. In: Dregne HD (ed) Arid lands in transition, pub. no. 90 American association for the advancement of science, Washington, DC, pp 317–344

Jimenez-Valdes M, Godinez-Alvarez H, Caballero J, Lira R (2010) Population dynamics of Agave marmorata Roezl. under two contrasting management systems in central Mexico. Economic Botany 64:149–160

López RP, Valdivia S, Sanjinés N, De la Quintana D (2007) The role of nurse plants in the establishment of shrub seedlings in the semiarid subtropical Andes. Oecologia 152:779–790

MacMahon JA, Wagner FH (1985) The Mojave, Sonoran and Chihuahuan deserts of North America. In: Evanari M, Noy-Meir I, Goodall DW (eds) Hot deserts and arid shrublands. Ecosystems of the World 12A. Elsevier, Amsterdam, pp 105–202

Martinez del Rio C, Eguiarte LE (1987) Bird visitation to Agave salmiana: comparisons among hummingbirds and perching birds. Condor 89:357–363

Martínez Salvador M, Arias HR, Ortega-Rubio A (2005a) Population structure of Maguey (Agave salmiana spp. crassispina) in southeast, Zacatecas, Mexico. Arid Land Research and Management 19:101–109

Martínez Salvador M, Valdez-Cepeda R, Arias HR, Beltran-Morales LF, Murillo-Amador B, Troyo-Dieguez E, Ortega-Rubio A (2005b) Distribution and density of maguey plants in the arid Zacatecas plateau, Mexico. Journal of Arid Environments 61:525–534

Martinez-Morales R, Meyer SE (1985) A demographic study of maguey verde (Agave salmiana spp. Crassispina) under conditions of intense utilization. Desert Plants 7:61–64, 101–103

Mata-González R, Melendez-González R (2005) Growth characteristics of Mexican oregano (Lippia berlanderi Schauer) under salt stress. Southwestern Naturalist 50:1–6

Mata-González R, Figueroa-Sandoval B, Clemente F, Manzano M (2007) Vegetation changes after livestock grazing exclusion and shrub control in the southern Chihuahuan desert. Western North America Naturalist 67:63–70

McAuliffe J (1984) Sahuaro nurse tree associations in the Sonora Desert: competitive effect of sahuaros. Oecologia 64:319–321

McCune B, Grace JB (2002) Analysis of ecological communities. MjM Software Design, Gleneden Beach, Oregon, p 300

Méndez E, Guevara JC, Estevez OR (2004) Distribution of cacti in Larrea spp. shrublands in Mendoza, Argentina. Journal of Arid Environments 58:451–462

Milchunas DG, Lauenroth WK (1993) Quantitative effects of grazing on vegetation and soils over a global range of environments. Ecological Monographs 63:327–366

Morales Carrillo N, Escobar Moreno DA, Paredes Hernández E (2007) Estudio sobre el impacto que alas modificaciones a la NOM-070 traeran a la industria del mezcal. Universidad Autonoma Chapingo-CRUCEN, Zacatecas

Nobel PS (1997) Root distribution and seasonal production in the northwestern Sonoran desert for a C3 subshrub, a C4 bunchgrass, and a CAM leaf succulent. American Journal of Botany 84:949–955

Olsson BA, Staaf H (1995) Influence of harvesting intensity of logging residues on ground vegetation in coniferous forests. Journal of Applied Ecology 32:640–654

Parsons JF, Darling JA (2000) Maguey (Agave spp.) utilization in Mesoamerican civilization: a case for pre-columbian pastoralism. Boletín de la Sociedad Botánica de México 66:81–91

Pinos-Rodriguez JM, Zamudio M, González SS, Mendoza GD, Bárcena R, Ortega ME, Miranda LA (2009) Effects of maturity and ensiling of Agave salmiana on nutritional quality for lambs. Animal Feed Science and Technology 152:298–306

Reyes-Olivas A, García-Moya E, Lopez–Mata L (2002) Cacti–shrub interactions in the coastal desert of northern Sinaloa, Mexico. Journal of Arid Environments 52:431–445

Rzedowski RJ (1978) Vegetación de México. LIMUSA, México City, p 432

SAGARPA (2006) Plan Rector Sistema Nacional Maguey Mezcal. SAGARPA, San Luis Potosi

Salvatierra García A (2003) El mezcal y su importancia para el desarrollo económico del estado de Oaxaca. El sector exportador: retos y oportunidades en el mercado de la Unión Europea. Unpublished professional thesis, Universidad de las Américas, Puebla, Mexico

Tello-Balderas JJ, García-Moya E (1985) The mezcal industry in the Altiplano Potosino-Zacatecano of north-central Mexico. Desert Plants 7:81–87

Valiente-Banuet A, Ezcurra E (1991) Shade as a cause of the association between the cactus Neobuxbaumia tetetzo and the nurse plant Mimosa luisana in the Tehuacan valley, Mexico. Journal of Ecology 79:961–971

Valone TJ, Sauter P (2005) Effects of long-term cattle exclosure on vegetation and rodents at a desertified arid grassland site. Journal of Arid Environments 61:161–170

Vilela A, Bolkovic ML, Carmanchahi P, Cony M, de Lamo D, Wassner D (2009) Past, present and potential uses of native flora and wildlife of the Monte desert. Journal of Arid Environments 73:238–243

Whitford WG (2002) Ecology of desert ecosystems. Academic Press, San Diego, CA, p 343

Yeaton RI (1978) A cyclical relationship between Larrea tridentata and Opuntia leptocaulis in the northern Chihuahuan desert. Journal of Ecology 66:651–656

Yeaton RI, Romero-Manzanares A (1986) Organization of vegetation mosaics in the Acacia schaffnerii–Opuntia streptacantha association, southern Chihuahuan desert, Mexico. Journal of Ecology 74:211–217

Zizumbo-Villarreal D, Colunga-GarcíaMarin P (2008) Early coconut distillation and the origins of mezcal and tequila spirits in west-central Mexico. Genetic Resources and Crop Evolution 55:493–510
Acknowledgments
We gratefully acknowledge the Consejo Nacional de Ciencia y Tecnología (CONACYT, Mexico) for supporting the postdoctoral appointment of the senior author at Oregon State University during the time the manuscript was developed. Thanks also to Dr. Mike Borman for kindly reviewing an earlier version of this paper and to Dr. Edmundo Garcia-Moya for providing sources for mezcal production data.
About this article
Cite this article
Martínez Salvador, M., Mata-González, R., Morales Nieto, C. et al. Agave salmiana Plant Communities in Central Mexico as Affected by Commercial Use. Environmental Management 49, 55–63 (2012). https://doi.org/10.1007/s00267-011-9759-4
Received:

Accepted:

Published:

Issue Date:
Keywords
Magueyera

Mezcal

Nopalera

Opuntia

Shrub replacement