Abstract
The environmental impacts of bottled water prompted us to explore drinking water choices at Purdue University, located in West Lafayette, IN. A random sample of 2,045 Purdue University students, staff, and faculty was invited to participate in an online survey. The survey assessed current behaviors as well as perceived barriers and benefits to drinking tap water versus bottled water. 677 surveys were completed for a response rate of 33.1%. We then conducted qualitative interviews with a purposive sample of university undergraduates (n = 21) to obtain contextual insights into the survey results and the beliefs of individuals with a variety of drinking water preferences. This study revealed that women drink disproportionately more bottled water then men while undergraduate students drink more than graduate students, staff and faculty. The study also uncovered a widespread belief that recycling eliminates the environmental impacts of bottled water. Important barriers to drinking tap water at Purdue include: perceived risks from tap water and the perceived safety of bottled water, preferring the taste of bottled water, and the convenience of drinking bottled water. The qualitative interviews revealed that drinking water choices can be influenced by several factors—especially whether individuals trust tap water to be clean—but involve varying levels of complexity. The implications of these results for social marketing strategies to promote tap water are discussed.
Access options
Buy single article
Instant access to the full article PDF.
USD 39.95
Price includes VAT (USA)
Tax calculation will be finalised during checkout.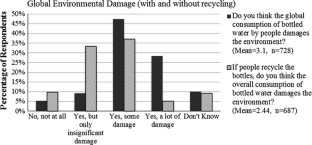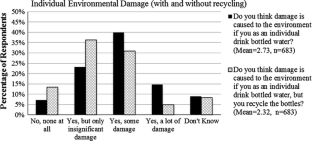 References
Anadu EC, Harding A (2000) Risk perception and bottled water use. Journal AWWA 92(11):82–92

Andreasen AR (1995) Marketing social change: changing behavior to promote health, social development, and the environment. Jossey-Bass, San Francisco

Arnold E, Larsen J (2006) Bottled water: pouring resources down the drain. http://www.earth-policy.org/index.php?/plan_b_updates/2006/update51. Accessed December 6, 2009

Bratt C (1999) The impacts of norms and assumed consequences on recycling behavior. Environment and Behavior 31(5):630–656

De Franca Doria M, Pidgeon N, Hunter P (2005) Perception of tap water risks and quality: a structural equation model approach. Water Science and Technology 52(8):143–149

Doria MF (2006) Bottled water versus tap water: understanding consumers' preferences. Journal of Water and Health 4(2):271–276

Finucane ML, Slovic P, Mertz CK, Flynn J, Satterfield TA (2000) Gender, race and perceived risk: the 'white male' effect. Health, Risk & Society 2(2):159–172

Flynn J, Slovic P, Mertz CK (1994) Gender, race and perception of environmental risks. Risk Analysis 14(6):1101–1108

Foltz F (1999) Science, pollution, and clean drinking water: choosing between tap water, bottled water and home purification. Bulletin of Science. Technology and Society 19(4):300–309

Gleick PH (2010) Bottled & sold: the story behind our obsession with bottled water. Island Press, Washington

Gleick PH, Cooley HS (2009) Energy implications of bottled water. Environmental Research Letters 4:1–6

Godwin C, Responsible Purchasing Network (2008) Think outside the bottle: the responsible purchasing guide to bottled water alternatives. http://www.responsiblepurchasing.org/purchasing_guides/bottled_water/purchasing_guide.pdf. Accessed November 30, 2010

Hurd RE, AWWA-RF (American Water Works Association Research Foundation) (1993) Consumer attitude survey on water quality issues. AWWA, Denver

International Bottled Water Association (IBWA) (2010) Bottled water market share volume holds steady in 2009 despite poor economic conditions. http://www.bottledwater.org/news/bottled-water-market-share-volume-holds-steady-2009-despite-poor-economic-conditions. Accessed November 30, 2010

Jardine CG (2006) Improving communication of drinking water risks through a better understanding of public perspectives. Special Publication-Royal Society of Chemistry 302:172–183

Jardine CG, Gibson N, Hrudey SE (1999) Detection of odour and health risk perception of drinking water. Water Science and Technology 40(6):91–98

Kotler P, Lee NR (2008) Social marketing: influencing behaviors for good. Sage Publications Inc., Thousand Oaks

Lazo JK, Kinnell J, Bussa T, Fisher A, Collamer N (1999) Expert and lay mental models of ecosystems: inferences for risk communication. Risk: Health, Safety & Environment 10(1):45–64

Mckenzie-Mohr &Associates, Inc. (2010) Fostering sustainable behavior: community-based social marketing. http://www.cbsm.com. Accessed April 27, 2011

McKenzie-Mohr D, Smith W (1999) Fostering sustainable behavior: an introduction to community-based social marketing. New Society Publishers, Gabriola Island

McSpirit S, Reid C (2011) Residents' perceptions of tap water and decisions to purchase bottled water: a survey analysis from the appalachian, big sandy coal mining region of west Virginia. Society and Natural Resources 24:511–520

Morgan MG, Fischhoff B, Bostrom A, Atman CJ (2002) Risk communication: a mental models approach. Cambridge University Press, Cambridge

Parag Y, Roberts JT (2009) A battle against the bottles: building, claiming, and regaining tap-water trustworthiness. Society and Natural Resources 22:625–636

Purdue University Human Resource Services (2010) Purdue University Data Digest 2009-10. Accessed online November 30, 2010: http://www.purdue.edu/datadigest/pages/faculty/fac_race.htm

Purdue University Water Works (2010) Consumer confidence report: annual water quality report for the period of January 1 to December 31, 2009. http://www.purdue.edu/physicalfacilities/pdf/CCR_2010.pdf. Accessed November 30, 2010

QSR International (2007) NVivo 9 research software for analysis and insight. http://www.qsrinternational.com/products_nvivo.aspx. Accessed November 30, 2010

Rogers RW, Prentice-Dunn S, Gochman D (1997) Handbook of health behavior research 1: personal and social determinants. Plenum Press, New York, pp 113–132

Royte E (2008) Bottlemania: how water went on sale and why we bought it. Bloomsbury USA, New York

Schutt RK (2009) Investigating the social world: the process and practice of research. Pine Forge Press, Thousand Oaks

United States Government Accountability Office (GAO) (2009) Bottled water: FDA safety and consumer protections are often less stringent than comparable EPA protections for tap water. http://www.gao.gov/new.items/d09861t.pdf. Accessed November 30, 2010
Acknowledgments
We would like to thank Dr. Hyunyi Cho for her assistance and advice in planning this study. This research was funded by the Department of Forestry and Natural Resources at Purdue University.
About this article
Cite this article
Saylor, A., Prokopy, L.S. & Amberg, S. What's Wrong with the Tap? Examining Perceptions of Tap Water and Bottled Water at Purdue University. Environmental Management 48, 588–601 (2011). https://doi.org/10.1007/s00267-011-9692-6
Received:

Accepted:

Published:

Issue Date:
Keywords
Bottled water

Tap water

Social marketing

Risk perceptions