Abstract
Landscape planning and restoration in mine closure areas is not only an inevitable choice to sustain mining areas but also an important path to maximize landscape resources and to improve ecological function in mine closure areas. The analysis of the present mine development shows that many mines are unavoidably facing closures in China. This paper analyzes the periodic impact of mining activities on landscapes and then proposes planning concepts and principles. According to the landscape characteristics in mine closure areas, this paper classifies available landscape resources in mine closure areas into the landscape for restoration, for limited restoration and for protection, and then summarizes directions for their uses. This paper establishes the framework of spatial control planning and design of landscape elements from "macro control, medium allocation and micro optimization" for the purpose of managing and using this kind of special landscape resources. Finally, this paper applies the theories and methods to a case study in Wu'an from two aspects: the construction of a sustainable land-use pattern on a large scale and the optimized allocation of typical mine landscape resources on a small scale.
Access options
Buy single article
Instant access to the full article PDF.
US$ 39.95
Tax calculation will be finalised during checkout.
Subscribe to journal
Immediate online access to all issues from 2019. Subscription will auto renew annually.
US$ 79
Tax calculation will be finalised during checkout.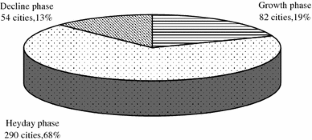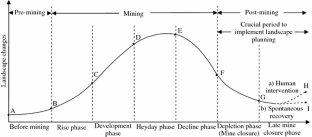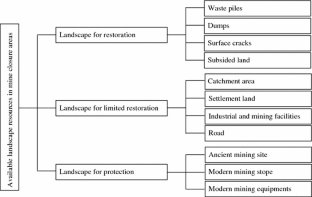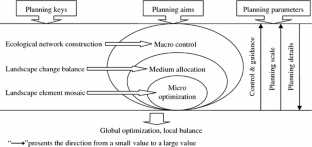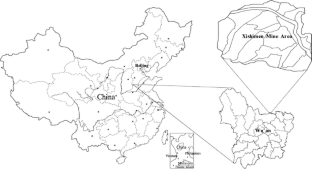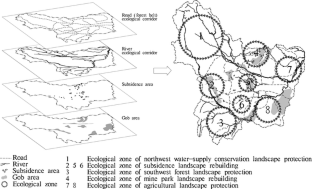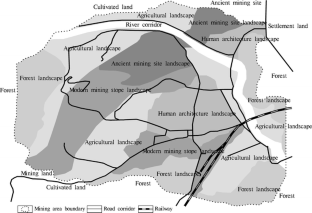 References
Bacon PJ, Cain JD, Howard DC (2002) Belief network models of land manager decisions and land use change. Journal of Environmental Management 65:1–23

Ballesteros ER, Ramírez MH (2007) Identity and community—reflections on the development of mining heritage tourism in Southern Spain. Tourism Management 28:677–687

Basu AJ, Zyl DJAV (2006) Industrial ecology framework for achieving cleaner production in the mining and minerals industry. Journal of Cleaner Production 14:299–304

Bell LC (2001) Establishment of native ecosystems after mining—Australian experience across diverse biogeographic zones. Ecological Engineering 17:179–186

Bugosh N (2004) Carlson software's natural regrade module: computerizing the fluvial geomorphic approach to land reclamation. In: the 2004 Advanced integration of geospatial technologies in mining and reclamation, Atlanta, GA

Carrick PJ, Krüger R (2007) Restoring degraded landscapes in lowland Namaqualand: lessons from the mining experience and from regional ecological dynamics. Journal of Arid Environments 70:767–781

China Sustainable Industrial Development Network (2007) 8079 Mine were closed in past two years in China. http://www.csid.com.cn/NewsInfo.asp?NewsId=54833 (in Chinese)

Conesa HM, Schulin R, Nowack B (2008) Mining landscape: a cultural tourist opportunity or an environmental problem? The study case of the Cartagena–La Unión Mining District(SE Spain). Ecological Economics 64:690–700

Cooper A, Shine T, McCann T, Tidane DA (2006) An ecological basis for sustainable land use of Eastern Mauritanian wetlands. Journal of Arid Environments 67:116–141

Costanza R, Arge RD, Groot R, Farberk S, Grasso M, Hannon B, Limburg K, Naeem S, Neill RVO, Paruelo J, Raskin RG, Suttonkk P, Belt MVD (1997) The value of the world's ecosystem services and natural capital. Nature 387:253–260

Edwards JA, Llurdés JC (1996) Mines and quarries: industrial heritage tourism. Annals of Tourism Research 23(2):341–363

Fu MC, Wu GG, Zhou W (2005) Analysis of mines closure and ecological environment restoration. China Mining Magazine 14(4):28–31 (in Chinese)

Hangen-Brodersen C, Strempel P, Grünewald U (2005) Characteristics of catchments disturbed by lignite mining—case study of Schlabendorf/Seese (Germany). Ecological Engineering 24:37–48

Hilson G (2002) An overview of land use conflicts in mining communities. Land Use Policy 19:65–73

Hilson G, Murck B (2000) Sustainable development in the mining industry: clarifying the corporate perspective. Resources Policy 26:227–238

Hüttl RF (1998) Ecology of post strip-mining landscapes in Lusatia, Germany. Environmental Science and Policy 1:129–135

Hüttl RF, Weber E (2001) Forest ecosystem development in post-mining landscapes: a case study of the Lusatian lignite district. Naturwissenschaften 88:322–329

Lao Tze Cultural Forum Network (2005) Tao Te Ching. http://cccc.wangzhan8.com/ns_detail.asp?id=22566&nowmenuid=106752&previd=0 (in Chinese)

Levin N, Lahav H, Ramon U, Heller A, Nizry G, Tsoar A, Sagi Y (2007) Landscape continuity analysis: a new approach to conservation planning in Israel. Landscape and Urban Planning 79:53–64

Linke H, Thomas S (1975) Problems and objectives of landscape architecture and landscape planning in the German Democratic Republic. Landscape Planning 2:1–11

Liu CH, Hu ZQ (2003) Mine closure planning and its significance in China. China Mining Magazine 12(12):70–73 (in Chinese)

Lu GP, Liu FX (2002) Mining city: regulate life cycle and promote sustainable development—thinking due to the phenomenon "the mining city will be on the decline along with the exhaustion of mine resources". China Geology & Mining Economics 5:17–21 (in Chinese)

Lv GX (2003) Investigation and evaluation on resource potential of crisis mines. Institute of eomechanics, Chinese Academy of Geological Sciences (in Chinese)

Miao Z, Marrs R (2000) Ecological restoration and land reclamation in open-cast mines in Shanxi Province, China. Journal of Environmental Management 59:205–215

Ministry of Land and Resources of the People's Republic of China (2008) China Bulletin of Geological Environment 2007. People's Daily 2007-05-09: p 012 (in Chinese)

Mohamed AA, Sharifi MA, Keulen HV (2000) An integrated agro-economic and agro-ecological methodology for land use planning and policy analysis. International Journal of Applied Earth Observation and Geoinformation 2(2):87–103

Nichols OG, Carbon BA, Colquhoun IJ, Croton JT, Murray NJ (1995) Rehabilitation after bauxite mining in South-Western Australia. Landscape Planning 12:75–92

Nicolau JM (2003) Trends in relief design and construction in opencast mining reclamation. Land Degradation & Development 14:215–226

Nieman TJ, Merkin ZR (1995) Wildlife management, surface mining, and regional planning. Growth and Change 26(3):405–424

Otchere FA, Veiga MM, Hinton JJ, Farias RA, Hamaguchi R (2004) Transforming open mining pits into fish farms: moving towards sustainability. Natural Resources Forum 28:216–223

Peck P, Sinding K (2009) Financial assurance and mine closure: stakeholder expectations and effects on operating decisions. Resources Policy 34(4):227–233

Peterson GD, Heemskerk M (2001) Deforestation and forest regeneration following small-scale gold mining in the Amazon: the case of Suriname. Environmental Conservation 28(2):117–126

Pretes M (2002) Touring mines and mining tourists. Annals of Tourism Research 29(2):439–456

Qian JP (2001) Impacts of backfilling mine tailings on environment and a new approach to reduce adverse impacts of Xishimen Mine. Agro-environmental Protection 20(3):180–182 (in Chinese)

Sawatsky LF, Cooper DL, McRoberts E, Ferguson H (1996) Strategies for reclamation of tailings impoundment. International journal of surface mining & reclamation 10(3):131–134

Sawatsky LF, Beckstead G, Long DJ (1998) Integrated mine water management planning for environmental protection and mine profitability. International journal of surface mining & reclamation 12(1):37–39

Schulz F, Wiegleb G (2000) Development options of natural habitats in a post-mining landscape. Land Degradation & Development 11:99–110

Sklenicka P, Charvatova E (2003) Stand continuity—a useful parameter for ecological networks in post-mining landscapes. Ecological Engineering 20:287–296

Sklenička P, Lhota T (2002) Landscape heterogeneity—a quantitative criterion for landscape reconstruction. Landscape and Urban Planning 58:147–156

Toy TJ, Chuse WR (2005) Topographic reconstruction: a geomorphic approach. Ecological Engineering 24:29–35

Toy TJ, Hadley RF (1987) Geomorphology of disturbed lands. Academic Press, New York

Veiga MM, Scoble M, McAllister ML (2001) Mining with communities. Natural Resources Forum 25(3):191–202

Warhurst A, Noronha L (2000) Corporate strategy and viable future land use: planning for closure from the outset of mining. Natural Resources Forum 24(2):l53–164

Weber D, Hintermann U, Zangger A (2004) Scale and trends in species richness: considerations for monitoring biological diversity for political purposes. Global Ecology and Biogeography 13:97–104

Werner K (1973) Reclamation of land damaged by open-cast mining—methods and results. Biological Conservation 5(4):277–280

Wiegleb G, Felinks B (2001) Primary succession in post-mining landscapes of Lower Lusatia—chance or necessity. Ecological Engineering 17:199–217

Wu'an Municipal Bureau of Land and Resources (2003) Planning of protection of geological environment in Wu'an (2003–2010). Wu'an (in Chinese)

Zhang J (2001) Multi-development and comprehensive utilization of mineral resources. Foreign Metal Mine 8:55–58 (in Chinese)

Zhang JJ, Fu MC, Zhou JH (2008) Change and ecological use mode of surface subsidence in Jinggezhuang mining area in China. Metal Mine S: 768–776

Zhang JJ, Fu MC, Tao J, Huang Y, Hassani FP, Bai ZK (2010) Response of ecological storage and conservation to land use transformation: a case study of a mining town in China. Ecological Modelling 221:1427–1439
Acknowledgments
This article is funded by China's National Scientific and Technical Supporting Programs during the 11th Five-year Plan, entitled "Key Technology of Regional Land Resource Security Control and Adjustment" (No. 2006BAB15B06) and China Scholarship Council (CSC). Authors thank Dr. Ping Wang, China University of Mining and Technology, Beijing, and Miss. Yikun Cao and Dr. Dingxuan Zhang, China University of Geosciences, Beijing, for their precious suggestions on this article. And authors gratefully acknowledge the colleagues and friends in Land Resources Bureau of Wu'an for offering the basic data and the relevant information.
About this article
Cite this article
Zhang, J., Fu, M., Hassani, F.P. et al. Land Use-Based Landscape Planning and Restoration in Mine Closure Areas. Environmental Management 47, 739–750 (2011). https://doi.org/10.1007/s00267-011-9638-z
Received:

Accepted:

Published:

Issue Date:
Keywords
Landscape planning

Landscape restoration

Mine closure

Existing landscape

China