Abstract
Kodagu district produces 2% of the world's coffee, in complex, multistoried agroforestry systems. The forests of the district harbour a large population of the Asian elephant (Elephas maximus). The combined effects of high elephant density and major landscape changes due to the expansion of coffee cultivation are the cause of human–elephant conflicts (HEC). Mitigation strategies, including electric fences and compensation schemes implemented by the Forest Department have met with limited success. Building on previous studies in the area, we assessed current spatial and temporal trends of conflict, analysed local stakeholders' perceptions and identified factors driving elephants into the estates. Our study, initiated in May 2007, shows that the intensity of HEC has increased over the last 10 years, exhibiting new seasonal patterns. Conflict maps and the lack of correlation between physical features of the coffee plantations and elephant visits suggest elephants move along corridors between the eastern and western forests of the district, opportunistically foraging when crossing the plantations. Dung analyses indicate elephants have selectively included ripe coffee berries in their diet. This is, to our knowledge, the first report of wild elephants feeding on coffee berries. If this new behaviour spreads through the population, it will compound an already severe conflict situation. The behavioural plasticity, the multiplicity of stakeholders involved, the difficulty in defining the problem and the limits of technical solutions already proposed suggest that HEC in Kodagu has the ingredients of a "wicked" problem whose resolution will require more shared understanding and problem solving work amongst the stakeholders.
We're sorry, something doesn't seem to be working properly.
Please try refreshing the page. If that doesn't work, please contact support so we can address the problem.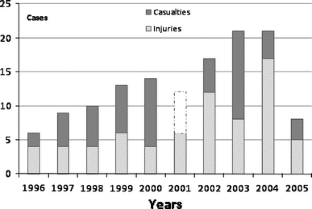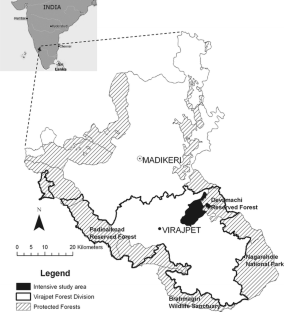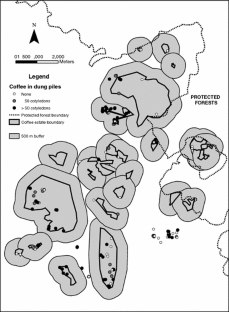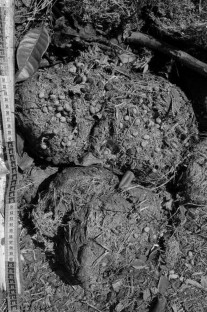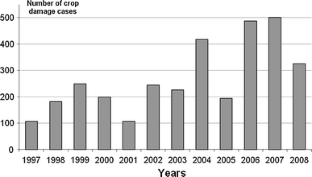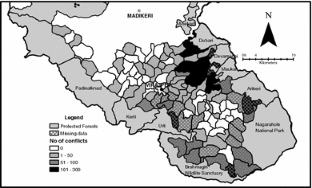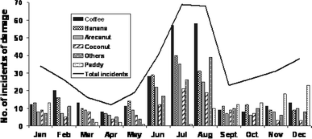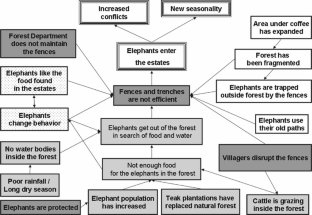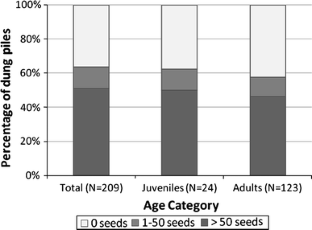 References
Barnes RFW (1996) The conflict between humans and elephants in the central African forests. Mammal Review 26:67–80

Barnes RFW, Blom A, Alers MPT, Barnes KL (1995) An estimate of the numbers of forest elephants in Gabon. Journal of Tropical Ecology 11:27–37

Bernard HR (2006) Research methods in anthropology: qualitative and quantitative approaches, 4th edn. Altamira Press, Walnut Creek, p 824

Bhoominathan D, Mohanraj N, Aziz T, Desai A (2008) Human-elephant conflict in Somwarpet Subdivision (Madikeri Forest Division), final report. WWF-India, Madikeri, India, p 52

Bonnington C, Weaver D, Fanning E (2009) The use of teak (Tectona grandis) plantations by large mammals in the Kilombero Valley, southern Tanzania. African Journal of Ecology 47:138–145

Campos-Arciez A (2006) Temporal and spatial patterns in the occurrence of human-elephant conflict incidents in southeastern Sri Lanka. Master's thesis, University of Tokyo, p 67

Census of India (2001) Basic data sheet, District Kodagu (25), Karnataka (29). http://www.censusindia.gov.in/Dist_File/datasheet-2925.pdf.Accessed 12 Feb 2009

Coffee Board of India (2008) Database on coffee. Economic and Market Intelligence Unit, Bangalore, p 108

Conklin J (2006) Wicked problems and social complexity. In: Conklin J (ed) Dialogue mapping: building shared understanding of wicked problems. John Wiley & Sons, West Sussex, pp 3–40

Conover MR (2002) Resolving human-wildlife conflicts: the science of wildlife damage management. Lewis Publishers, Washington, p 418

Ekobo A (1995) Elephants in the Lobeke Forest, Cameroon. Pachyderm 19:73–80

Elouard C, Guilmoto C (2000) Vegetation features in relation to biogeography. In: Ramakrishnan PS, Chandrashekara UM, Elouard C, Guilmoto CZ, Maikhuri RK, Rao KS, Sankar S, Saxena KG (eds) Mountain biodiversity land use dynamics and traditional ecological knowledge. UNESCO, Oxford and IBH Publishing, New Delhi, pp 25–42

European Commission (2004) Project cycle management guidelines. EuropAid Cooperation Office, Brussels, p 158

Gandhi V (2009) Only 3 vets at Forest Department's disposal. The Hindu, Karnataka Edition. 9 Jan 2009. http://www.hindu.com/2009/01/09/stories/2009010951010400.htm

Garcia C, Pascal J-P (2006) Sacred forests of Kodagu: ecological value and social role. In: Cederlöf G, Sivaramakrishnan K (eds) Ecological nationalisms: nature Livelihoods and identities in south Asia. University of Washington Press, Seattle and London, pp 199–229

Garcia C, Marie-Vivien D, Kushalappa CG, Chengappa PG, Nanaya KM (2007) Geographical indications and biodiversity in the Western Ghats, India: can labelling benefit producers and the environment in a mountain agroforestry landscape? Mountain Research and Development 27:206–210

Garcia C, Bhagwat SA, Ghazoul J, Nath CD, Nanaya KM, Kushalappa CG, Raghuramulu Y, Nasi R, Vaast P (2010) Biodiversity conservation in agricultural landscapes: challenges and opportunities of coffee agroforests in the Western Ghats, India. Conservation Biology 24:479–488

Ghazoul J, Garcia C, Kushalappa CG (2009) Landscape labelling: a concept for next-generation payment for ecosystem service schemes. Forest Ecology and Management 258:1889–1895

Hoare RE (1999) Determinants of human elephant conflict in a land-use mosaic. Journal of Applied Ecology 36:689–700

Hoare RE (2001a) A decision support system for managing human-elephant conflict situations in Africa. IUCN/SSC African Elephant Specialist Group, Nairobi, p 105

Hoare RE (2001b) Management implications of new research on problem elephants. Pachyderm 30:44–49

Hoare RE, Du Toit JT (1999) Coexistence between people and elephants in African savannas. Conservation Biology 13:633–639

Horst-Rittel WJ, Webber MM (1973) Dilemmas in a general theory of planning. Policy Science 4:155–169

Inskip C, Zimmermann A (2009) Human-felid conflict: a review of patterns and priorities worldwide. Oryx 43:18–34

Jachmann H, Bell RHV (1984) The use of elephant droppings in assessing numbers, occupance and age structure: a refinement of the method. African Journal of Ecology 22:127–141

Johnston R (2005) Analytic culture in the US intelligence community: an ethnographic study. Center for the Study of Intelligence, Washington

Kemf E, Santiapillai C (2000) Asian elephants in the wild: a WWF species status report. WWF International, Switzerland, p 32

Kulkarni J, Mehta P, Bhoominathan D, Chaudhuri S (2007) A study of man-elephant conflict in Nagarhole National Park and surrounding areas of Kodagu district in Karnataka, India, Final report. Envirosearch, Pune, p 126

Laval M (2008) People, elephants and forests: collective action to manage an environmental wicked problem in Kodagu, Western Ghats. Agroparistech, Montpellier, France, p 154. http://www.ifpindia.org/ecrire/upload/reports/laval_2008.zip. Accessed 11 Sept 2008

Ludwig D (2001) The era of management Is over. Ecosystems 4:758–764

Madhusudan MD (2003) Living amidst large wildlife: livestock and crop depredation by large mammals in the interior villages of Bhadra Tiger Reserve, South India. Environmental Management 31:466–475

Madhusudan MD, Mishra C (2003) Why big, fierce animals are threatened: conserving large mammals in densely populated landscapes. In: Rangarajan M, Saberwal V (eds) Battles over nature: the science and politics of conservation in India. Permanent Black, New Delhi, pp 31–55

Morrison TA, Chiyo PI, Moss CJ, Alberts SC (2005) Measures of dung bolus size for known-age African elephants (Loxodonta africana): implications for age estimation. Journal of Zoology, London 266:89–94

Nath CD, Sukumar R (1998) Elephant-human conflict in Kodagu, southern India: distribution patterns, people's perceptions and mitigation methods. Asian Elephant Conservation Centre, Bangalore, India, p 62. http://www.asiannature.org/pdf_resources/Kodagureport.pdf. Accessed 11 Aug 2009

Naughton-Treves L (1998) Predicting patterns of crop damage by wildlife around Kibale National Park, Uganda. Conservation Biology 12:156–168

Naughton-Treves L, Treves A, Chapman C, Wrangham R (1998) Temporal patterns of crop-raiding by primates: linking food availability in croplands and adjacent forest. Journal of Applied Ecology 35:596–606

Nelson A, Bidwell P, Sillero-Zubiri C (2003) A review of human elephant conflict management strategies. People and Wildlife Initiative Wildlife Conservation Research Unit. Oxford University, Oxford, p 25

Nyhus PJ, Tilson R, Sumianto (2000) Crop-raiding elephants and conservation implications at Way Kambas National Park, Sumatra, Indonesia. Oryx 34:262–274

O'Connell-Rodwell CE, Rodwell T, Rice M, Hart LA (2000) Living with the modern conservation paradigm: can agricultural communities co-exist with elephants? A five-year case study in East Caprivi, Namibia. Biological Conservation 93:381–391

Osborn FV, Parker GE (2003) Linking two elephant refuges with a corridor in the communal lands of Zimbabwe. African Journal of Ecology 41:68–74

Parker ISC, Graham AD (1989) Elephant decline: downward trends in African elephant distribution and numbers. Part I. International Journal of Environmental Studies 34:287–305

Pascal J-P (1982) Bioclimates of the Western Ghats at 1/250, 000. French Institute of Pondicherry, Pondicherry, p 2

Reilly J (2002) Growth in the Sumatran elephant (Elephas maximus sumatranus) and age estimation based on dung diameter. Journal of Zoology, London 258:205–213

Sitati NW, Walpole MJ, Smith RJ, Leader-Williams N (2003) Predicting spatial aspects of human-elephant conflict. Journal of Applied Ecology 40:667–677

Sitati NW, Walpole MJ, Leader-Williams N (2005) Factors affecting susceptibility of farms to crop raiding by African elephants: using a predictive model to mitigate conflict. Journal of Applied Ecology 42:1175–1182

Strauss AL, Corbin J (1998) Basics of qualitative research: grounded theory procedures and techniques, 2nd edn. Sage Publications, Newbury Park, p 336

Sukumar R (1989) The Asian elephant: ecology and management. Cambridge studies in applied ecology and resource management. Cambridge University Press, Cambridge, p 255

Sukumar R (1990) Ecology of the Asian elephant in southern India. II. Feeding habits and crop raiding patterns. Journal of Tropical Ecology 6:33–53

Sukumar R (1994) Wildlife-human conflict in India: an ecological and social perspective. In: Guha R (ed) Social ecology. Oxford University Press, New Delhi, pp 303–317

Sukumar R (2006) A brief review of the status, distribution and biology of wild Asian elephants Elephas maximus. International Zoo Yearbook 40:1–8

Tchamba MN (1996) History and present status of the human elephant conflict in the Waza-Logone Region, Cameroon, West Africa. Biological Conservation 75:35–41

Theuerkauf J, Ellenberg H (2000) Movements and defecation of forest elephants in the moist semi-deciduous Bossematié Forest Reserve, Ivory Coast. African Journal of Ecology 38:258–261

Thouless CR, Sakwa J (1995) Shocking elephants: fences and crop raiders in Laikipia District, Kenya. Biological Conservation 72:99–107

Vidya TNC, Fernando P, Melnick DJ, Sukumar R (2005) Population differentiation within and amongst Asian elephant (Elephas maximus) populations in southern India. Heredity 94:71–80

Williams AC, Johnsingh AJT, Krausman PR (2001) Elephant-human conflicts in Rajaji National Park, northwestern India. Wildlife Society Bulletin 29:1097–1104

Wilson HS, Hutchinson SA (1996) Methodologic mistakes in grounded theory. Nursing Research 45:122–124
Acknowledgments
This paper was carried out with the financial support of the French Agence Nationale de la Recherche under the Programme Agriculture et Développement Durable (ANR-06-PADD-014, POPULAR), and of the European Commission under the Program on Environment in Developing Countries project (CAFNET—Europaid/ENV/2006/114-382/TPS). We thank the Karnataka Forest Department, Tata Coffee Limited, and individual farmers for giving us necessary permissions and extending their cooperation. We thank the interviewees and field assistants for their cooperation and support during fieldwork and Pascal Douard for GIS support, Jenu Kalla for collecting and typing Forest Department records, R. Jayapalan for preparing the rainfall data and Edith Johnson for the edition of the revised manuscript.
About this article
Cite this article
Bal, P., Nath, C.D., Nanaya, K.M. et al. Elephants Also Like Coffee: Trends and Drivers of Human–Elephant Conflicts in Coffee Agroforestry Landscapes of Kodagu, Western Ghats, India. Environmental Management 47, 789–801 (2011). https://doi.org/10.1007/s00267-011-9636-1
Received:

Accepted:

Published:

Issue Date:
Keywords
Asian elephant

Crop raiding

Coffee estates

Wicked problem

Dung analysis