Abstract
In the past few decades, the demand for construction grade sand is increasing in many parts of the world due to rapid economic development and subsequent growth of building activities. This, in many of the occasions, has resulted in indiscriminate mining of sand from instream and floodplain areas leading to severe damages to the river basin environment. The case is rather alarming in the small catchment rivers like those draining the southwestern coast of India due to limited sand resources in their alluvial reaches. Moreover, lack of adequate information on the environmental impact of river sand mining is a major lacuna challenging regulatory efforts in many developing countries. Therefore, a scientific assessment is a pre-requisite in formulating management strategies in the sand mining-hit areas. In this context, a study has been made as a case to address the environmental impact of sand mining from the instream and floodplain areas of three important rivers in the southwestern coast of India namely the Chalakudy, Periyar and Muvattupuzha rivers, whose lowlands host one of the fast developing urban-cum-industrial centre, the Kochi city. The study reveals that an amount of 11.527 million ty−1 of sand (8.764 million ty−1 of instream sand and 2.763 million ty−1 of floodplain sand) is being mined from the midland and lowland reaches of these rivers for construction of buildings and other infrastructural facilities in Kochi city and its satellite townships. Environmental Impact Assessment (EIA) carried out as a part of this investigation shows that the activities associated with mining and processing of sands have not only affected the health of the river ecosystems but also degraded its overbank areas to a large extent. Considering the degree of degradation caused by sand mining from these rivers, no mining scenario may be opted in the deeper zones of the river channels. Also, a set of suggestions are made for the overall improvement of the rivers and its biophysical environment.
Access options
Buy single article
Instant access to the full article PDF.
USD 39.95
Price excludes VAT (USA)
Tax calculation will be finalised during checkout.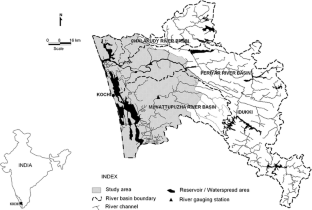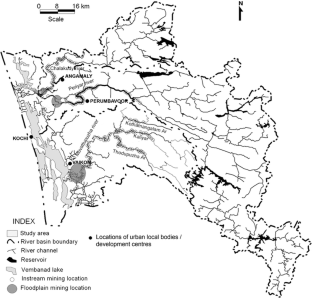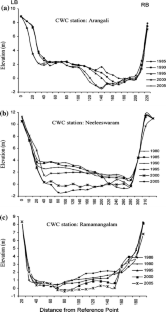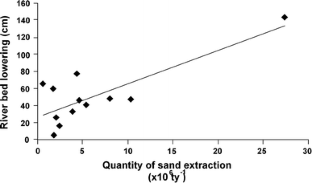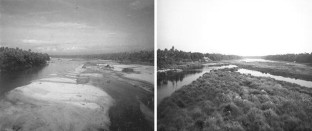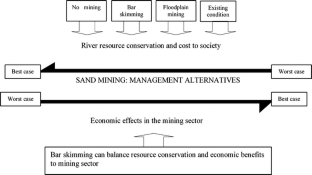 References
Arun LK (1999) Patterns and processes of fish assemblages in Periyar lake valley system of Southern Western Ghats. KFRI Research Report No. 172, Kerala Forest Research Institute, Peechi

Bull WB, Scott KM (1974) Impact of mining gravel from urban stream beds in the southwestern United States. Geology 2:171–174

CESS (1984) Resource atlas of Kerala. Centre for Earth Science Studies, Thiruvananthapuram

Collins BD, Dunne T (1987) Assessing the effects of gravel harvesting on river morphology and sediment transport: a guide for planners. Report to State of Washington, Department of Ecology, Olympia

Erskine WD (2008) Channel incision and sand compartmentalization in an Australian sandstone drainage basin subject to high flood variability. In: Proceedings of a symposium held in Christchurch, New Zealand, December 2008. Sediment dynamics in changing environments. IAHS Publication 325, pp 1–8

Erskine WD, Geary PM, Outhet DN (1985) Potential impacts of sand and gravel extraction on the Hunter River, New South Wales. Australian Geographical Studies 23:71–86

Gilpin A (1995) Environmental impact assessment (EIA): cutting edge for the 21st century. Cambridge University Press, Cambridge

GSI (1995) Geological and mineralogical map of Kerala. Geological Survey of India, Calcutta

Jia L, Luo Z (2007) Impacts of the large amount of sand mining on riverbed morphology and tidal dynamics in lower reaches and delta of the Dongjiang river. Journal of Geographical Science 17:197–211

Kitetu J, Rowan J (1997) Integrated environmental assessment applied to river sand harvesting in Kenya. In: Patric CK, Lee N (eds) Sustainable development in a developing world—integrated socio-economic appraisal and environmental assessment. Edward Elgar, Cheltenham, pp 189–199

Kondolf GM (1994) Geomorphic and environmental effects of instream gravel mining. Landuse and Urban Planning 28:225–243

Kondolf GM (1997) Hungry water: effects of dams and gravel mining on river channels. Environmental Management 21:533–551

Kondolf GM, Swanson ML (1993) Channel adjustments to reservoir construction and instream gravel mining, Stony Creek, California. Environmental Geology 21:256–269

Kondolf GM, Smeltzer M, Kimball L (2002) Freshwater gravel mining and dredging issues. Report prepared for Washington Department of Fish and Wildlife, Washington Department of Ecology and Washington Department of Transportation

Kurup BM, Radhakrishnan KV, Manojkumar TG (2004) Biodiversity status of fishes inhabiting rivers of Kerala (S. India) with special reference to endemism, threats and conservation measures. http//:www.mekonginfo.org/mrc_en/doclib.nsf/. Accessed 12 April 2010

Lu XX, Zhang SR, Xie SP, Ma PK (2007) Rapid channel incision of the lower Pearl river (China) since the 1990s as a consequence of sediment depletion. Hydrology and Earth System Sciences 11:1897–1906

Milliman JD, Meade RH (1983) World-wide delivery of river sediment to the oceans. Journal of Geology 91:1–21

Milliman JD, Syvitski JPM (1992) Geomorphic/tectonic control of sediment discharge to the ocean: the importance of small mountainous river. Journal of Geology 100:525–544

Padmalal D, Maya K, Sreebha S, Sreeja R (2008) Environmental effects of river sand mining: a case from the river catchments of Vembanad lake, Southwest coast of India. Environmental Geology 24:879–889

Poulin R, Pakalnis RC, Sinding K (1994) Aggregate resources: production and environmental constraints. Environmental Geology 23:221–227

Rau JG, Wooten DC (1980) Environmental impact analysis handbook. Mc Graw Hill Book Co., New Delhi

Rinaldi M (2003) Recent channel adjustments in alluvial rivers of Tuscany, Central Italy. Earth Surface Processes and Landforms 28:587–608

Rinaldi M, Wyzga B, Surian N (2005) Effects of sediment mining on channel morphology and environment in alluvial rivers. River Research and Application 21:805–828

Roell JM (1999) Sand and gravel mining in Missouri stream systems: aquatic resource effects and management alternatives. Missouri Department of Conservation, Conservation Research Center, Columbia

Rovira A, Batalla RJ, Sala M (2005) Response of a river sediment budget after historical gravel mining (The lower Tordera, NE Spain). River Research and Application 21:829–847

Sandecki M (1989) Aggregate mining in river systems. California Geology 42:88–94

Sreebha S (2008) Environmental impact of sand mining: a case study in the river catchments of Vembanad lake, Southwest India. Ph.D. Thesis (Unpublished), Cochin University of Science and Technology, Kochi

Weeks JM, Sims I, Lawson C, Harrison DJ (2003) River mining: assessment of the ecological effects of river mining in the Rio Minho and Yallahs rivers, Jamaica. British Geological Survey Commissioned Report, CR/03/162N
Acknowledgments
We are indebted to Director, Centre for Earth Science Studies (CESS), Thiruvananthapuram for encouragement and support. Thanks are also due to Dr. K.M. Nair, former Director, Dr. K.K. Ramachandran, former Advisor, CESS and Dr. K. Maya, Scientist, for fruitful discussions. We thank the Central Water Commission (CWC), Kochi for sediment discharge and river bed lowering data. The financial assistances from Government of Kerala and various Panchayat Raj Institutions of State are also greatly acknowledged. The article is benefited much from the constructive criticism and encouraging suggestions of the anonymous reviewers of the journal "Environmental Management".
About this article
Cite this article
Sreebha, S., Padmalal, D. Environmental Impact Assessment of Sand Mining from the Small Catchment Rivers in the Southwestern Coast of India: A Case Study. Environmental Management 47, 130–140 (2011). https://doi.org/10.1007/s00267-010-9571-6
Received:

Accepted:

Published:

Issue Date:

DOI: https://doi.org/10.1007/s00267-010-9571-6
Keywords
River sand mining

Instream mining

Floodplain mining

Small catchment rivers

Environmental impact assessment

Southwest coast of India