Abstract
An increased focus on renewable energy has led to the planning and construction of marine wind farms in Europe. Since several terrestrial studies indicate that raptors are especially susceptible to wind turbine related mortality, a Spatial Planning Tool is needed so that wind farms can be sited, in an optimal way, to minimize risk of collisions. Here we use measurements of body mass, wingspan and wing area of eight European raptor species, to calculate their Best Glide Ratio (BGR). The BGR was used to construct a linear equation, which, by the use of initial take-off altitude, could be used to calculate a Theoretical Maximum Distance (TMD) from the coast, attained by these soaring-gliding raptor species. If the nearest turbine, of future marine wind farms, is placed farther away from the coast than the estimated TMD, the collision risk between the turbine blades and these gliding raptors will be minimized. The tool was demonstrated in a case study at the Rødsand II wind farm in Denmark. Data on raptor migration altitude were gathered by radar. From the TMD attained by registered soaring-gliding raptors in the area, we concluded that the Rødsand II wind farm is not sited ideally, from an ornithological point of view, as potentially all three registered species are at risk of gliding through the area swept by the turbine rotor blades, and thereby at risk of colliding with the wind turbines.
Access options
Buy single article
Instant access to the full article PDF.
USD 39.95
Price excludes VAT (USA)
Tax calculation will be finalised during checkout.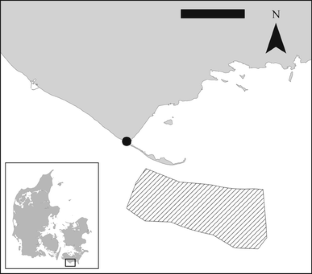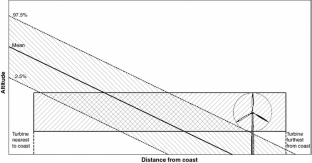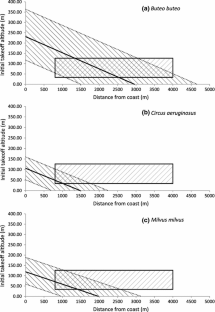 References
Alerstam T, Rosén M, Bäckman J, Ericson PGP, Hellgren O (2007) Fight speeds among bird species: allometric and phylogenetic effects. PLoS Biology 5(8):1656–1662

Barrios L, Rodríguez A (2004) Behavioural and environmental correlates of soaring-bird mortality at on-shore wind turbines. Journal of Applied Ecology 41:72–81

Bildstein KL, Bechard MJ, Farmer C, Newcomb L (2009) Narrow sea crossings present major obstacles to migrating Griffon Vultures Gyps fulvus. Ibis 151:382–391

Bruderer B, Boldt A (2001) Flight characteristics of birds: I. Radar measurement of speeds. Ibis 143:178–204

Desholm M (2006) Wind farm related mortality among avian migrants—a remote sensing study and model analysis. PhD thesis. Dept. of Wildlife Ecology and Biodiversity, NERI, and Dept. of Population Biology, University of Copenhagen. National Environmental Research Institute, Denmark. 128 pp

Desholm M (2009) Avian sensitivity to mortality: prioritising migratory bird species for assessment at proposed wind farms. Journal of Environmental Management. doi:10.1016/j.jenvman.2009.02.005

Desholm M, Kahlert J (2005) Avian collision risk at an offshore wind farm. Biology letters 1:296–298

DHI (2009) Anholt offshore wind farm. Birds. Report from DHI, Hørsholm, Denmark

Drewitt AL, Langston RHW (2006) Assessing the impacts of wind farms on birds. Ibis 148:29–42

Evans PR, Lathbury GW (1973) Raptor migration across the Straits of Gibraltar. Ibis 115:572–585

Fox AD, Desholm M, Kahlert J, Christensen KT, Petersen IK (2006) Information needs to support environmental impact assessment of the effects of European marine offshore wind farms on birds. Ibis 148:129–144

Fuller MR, Seegar WS, Schueck LS (1998) Routes of travel rates of migrating Peregrine Falcons Falco peregrines and Swainson's Hawks Buteo swainsoni in the Western Hemisphere. Journal of Avian Biology 29:433–440

Hedenstrom A (1993) Migration by soaring or flapping flight in birds: the relative importance of energy cost and speed. Biological Sciences 342(1302):353–361

Heppell SS, Caswell H, Crowder LB (2000) Life histories and elasticity patterns: perturbation analysis for species with minimal demographic data. Ecology 81(3):654–665

Hüppop O, Dierschke J, Exo KM, Fredich E, Hill R (2006) Blackwell Publishing Ltd Bird migration studies and potential collision risk with offshore wind turbines. Ibis 148:90–109

Kahlert J, Petersen IK, Desholm M (2007) Effects on birds of the Rødsand 2 offshore wind farm: Environmental Impact Assessment. NERI report. National Environmental Research Institute, University of Aarhus, Denmark

Kerlinger P (1984) Flight behaviour of Sharp-shinned Hawks during migration 2: over water. Animal Behaviour 32:1029–1034

Kerlinger P (1985) Water-crossing behavior of raptors during migration. Wilson Bulletin 97:109–113

Masden EA, Haydon DT, Fox AD, Furness RW, Bullman R, Desholm M (2009) Barriers to movement: impacts of wind farms on migrating birds. ICES Journal of marine Science 66:746–753

Meyer SK, Spaar R, Bruderer B (2000) To cross the sea or to follow the coast? Flight directions and behaviour of migrationg raptors approcing the Mediterranean Sea in Autumn. Behaviour 137:379–399

Pennycuick CJ (2008) Modelling the flying bird. Amsterdam, Boston, Heidelberg, London, New York, Oxford, Paris, San Diego, San Francisco, Singapore, Sydney, Tokyo, Academic Press. Chapter 10, pp 271–279

Saether BE, Bakke O (2000) Avian life history variation and contribution of demographic traits to the population growth rate. Ecology 81(3):642–653

Smallwood KS, Thelander C (2008) Bird Mortality in the Altamont Pass Wind Resource Area, California. Journal of wildlife management 72(1):215–223

Spaar R (1997) Flight strategies of migrating raptors; a comparative study of interspecific variation in flight characteristics. Ibis 139:523–535

Spaar R, Bruderer B (1997) Migration by flapping or soaring: flight strategies of Marsh, Montagu's and Pallid Harriers in Southern Israel. The Condor 99(2):458–469

Strandberg R, Alerstam T, Hake M, Kjellén N (2009) Short-distance migration of the Common Buzzard Buteo buteo recorded by satellite tracking. Ibis 151:200–2006
Websites
Acknowledgments
We would like to thank Johnny Kahlert, Thomas Kjær Christensen, Jørgen Olsen and Maria Mateos Rodriguez who all helped with the field work and Dong Energy for funding the data collection at Hyllekrog for another study. We would also like to thank Jane G. Baisner for graphical design.
About this article
Cite this article
Baisner, A.J., Andersen, J.L., Findsen, A. et al. Minimizing Collision Risk Between Migrating Raptors and Marine Wind Farms: Development of a Spatial Planning Tool. Environmental Management 46, 801–808 (2010). https://doi.org/10.1007/s00267-010-9541-z
Received:

Accepted:

Published:

Issue Date:

DOI: https://doi.org/10.1007/s00267-010-9541-z
Keywords
Collision zone

Gliding equation

Migration

Hotspots

Risk window

Buteo buteo