Abstract
Marine protected areas (MPAs) and zoning plans require an understanding of stakeholders if they are to be successful at achieving social and biological objectives. This study examines recreational boaters in a proposed MPA in British Columbia, Canada, using the recreation opportunity spectrum (ROS) and models of recreation conflict as a basis for investigation. Boaters (n = 543) visiting the region during the summer completed face-to-face surveys. Results show variability in boater setting preferences, supporting an ROS-based approach to MPA planning and zoning. While boaters as a whole placed the greatest importance on natural settings, sailboat operators expressed stronger preferences for natural and quiet settings relative to motorboats, and motorboat operators expressed stronger preferences for settings characterized by built facilities and extractive activities relative to sailboats. Several marine activities emerged as sources of perceived conflict for boaters, including personal watercraft, commercial whale watching vessels, and shellfish aquaculture. Our analysis indicates that while some of these may be addressed through zoning, others are better addressed through education and communication. Recommendations for both MPA management and future research are made.
This is a preview of subscription content, log in to check access.
Access options
Buy single article
Instant access to the full article PDF.
US$ 39.95
Price includes VAT for USA
Subscribe to journal
Immediate online access to all issues from 2019. Subscription will auto renew annually.
US$ 99
This is the net price. Taxes to be calculated in checkout.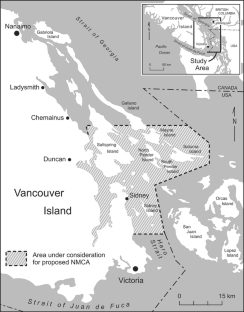 References
Adelman BJE, Haberlein TA, Bonnicksen TM (1982) Social psychological explanations for the persistence of a conflict between paddling canoeists and motorcraft users in the Boundary Waters Canoe Area. Leisure Sciences 5(1):45–61

Agardy T, Bridgewater P, Crosby MP, Day J, Dayton PK, Kenchington R, Laffoley D, McConnet P, Murray PA, Parks JE, Peau L (2003) Dangerous targets? Unresolved issues and ideological clashes around marine protected areas. Aquatic Conservation: Marine and Freshwater Systems 13:353–367

Bain DE, Smith JC, Williams R, Lusseau D (2006) Effects of vessels on behavior of southern resident killer whales (Orcinus spp.). NMFS Contract Report No. AB133F03SE0959 and AB133F04CN0040

Bishop MJ (2008) Displacement of epifauna from seagrass blades by boat wake. Journal of Experimental Marine Biology and Ecology 354:111–118

Bohnsack J (1996) Marine reserves, zoning, and the future of fishery management. Fisheries 21(9):14–16

Broad K, Sanchirico JN (2008) Local perspectives on marine reserve creation in the Bahamas. Ocean and Coastal Management 51:763–771

Cahill KL, Marion JL, Lawson SR (2008) Exploring visitor acceptability for hardening trails to sustain visitation and minimize impacts. Journal of Sustainable Tourism 16(2):232–245

Carrothers P, Vaske JJ, Donnelly MP (2001) Social values versus interpersonal conflict among hikers and mountain bikers. Leisure Sciences 23:47–61

Christie P, McCay BJ, Miller ML, Lowe C, White AT, Stoffle R, Fluharty DL, McManus LT, Chuenpagdee R, Pomeroy C, Suman DO, Blount BG, Huppert D, Eisma RV, Oracion E, Lowry K, Pollnac RB (2003) Toward developing a complete understanding: a social science research agenda for marine protected areas. Fisheries 28(12):22–26

Clark RN, Stankey GN (1979) The recreation opportunity spectrum: a framework for planning, management, and research. USDA Forest Service Res. Paper PNW-98

Cocklin C, Craw M, McAuley I (1998) Marine reserves in New Zealand: Use rights, public attitudes, and social impacts. Coastal Management 26:213–231

Dalton TM (2005) Beyond biogeography: a framework for involving the public in planning of marine protected areas. Conservation Biology 19(5):1392–1401

Dalton T, Thompson R, Jin D (2010) Mapping human dimensions in marine spatial planning and management: an example from Narragansett Bay, Rhode Island. Marine Policy 43:309–319

Dearden P (1990) Pacific coast recreational patterns and activities in Canada. In: Fabbri P (ed) Recreational use of coastal areas. Kluwer, Amsterdam, pp 111–123

Dearden P, Bennett M, Rollins R (2006) Implications for coral reef conservation of diver specialization. Environmental Conservation 33(4):353–363

Devall B, Harry J (1981) Who hates whom in the great outdoors: the impact of recreational specialization and technologies of play. Leisure Sciences 4(4):399–418

Donnelly MP, Vaske JJ, Graefe AR (1986) Degree and range of recreation specialization: toward a typology of boating related activities. Journal of Leisure Research 18(2):81–95

Driver BL, Brown PJ (1978) The opportunity spectrum concept in outdoor recreation supply inventories: a rationale. In Proceedings of the Integrated Renewable Resources Inventories Workshop. USDA Forest Service General Technical Report INT-220:24-31

Driver BL, Brown PJ, Stankey GH, Gregoire TG (1987) The ROS planning system: evolution, basic concepts, and research needed. Leisure Sciences 9:201–212

Dudley N (ed) (2008) Guidelines for applying protected area management categories. IUCN, Gland

Foote AD, Osborne RW, Hoelzel AR (2004) Whale-call response to masking boat noise. Nature 428:910

Garmin (2007). Mapsource Version 6.13.4 [computer software]

GBRMPA (2010) Great Barrier Reef Marine Park—marine park zoning. Accessed online Junary 11, 2010. http://www.gbrmpa.gov.au/corp_site/management/zoning

Government of Canada (2002) The National Marine Conservation Areas Act. Accessed online July 17, 2008. http://www.laws.justice.ca/en/C-&.3/

Graefe AE, Thapa B (2004) Conflict in natural resource recreation. In: Manfredo MJ, Vaske JJ, Bruyère BL, Field DR, Brown PJ (eds) Society and natural resources: a summary of knowledge. Modern Litho, Jefferson, pp 209–224

Gramann JH, Burdge RJ (1981) The effect of recreation goals on conflict perception: the case of water skiers and fishermen. Journal of Leisure Research 13(1):15–27

Guennette S, Alder J (2007) Lessons learned from marine protected areas and integrated ocean management initiatives in Canada. Coastal Management 35:51–78

Heywood JL, Christensen JE, Stankey GH (1991) The relationship between biophysical and social setting factors in the recreation opportunity spectrum. Leisure Sciences 13:239–246

Hunt LM, Haider W, Bottan B (2005) Accounting for varying setting preferences among moose hunters. Leisure Sciences 27:297–314

Hunt LM, Lemelin RH, Saunders KC (2009) Managing forest road access on public lands: a conceptual model of conflict. Society and Natural Resources 22:128–142

Ivy MI, Stewart WP (1992) Exploring the role of tolerance in recreational conflict. Journal of Leisure Research 24(4):348–360

Jacob GR, Shreyer R (1980) Conflict in outdoor recreation: a theoretical perspective. Journal of Leisure Research 12(2):368–380

Jones PJS (2008) Fishing industry and related perspectives on the issues raised by no-take marine protected area proposals. Marine Policy 32:749–758

Klein CJ, Chan A, Kircher L, Cundiff AJ, Gardner N, Hrovat Y, Scholz A, Kendall BE, Airamee S (2008) Striking a balance between biodiversity conservation and socioeconomic viability in the design of marine protected areas. Conservation Biology 22(3):691–700

Leatherbarrow KE (2006) Monitoring environmental impacts of boat anchoring on eelgrass (Zostera marina L.) and benthic invertebrates in the Gulf Islands National Park Reserve of Canada. Unpublished Master's Thesis. University of Victoria: Victoria, B.C

Lee HC (2003) Estimating recreational boater expenditures on trips and boating use in a wave survey. Leisure Sciences 25:381–397

Leon LM, Warnken J (2008) Copper and sewage inputs from recreational vessels at popular anchor sites in a semi-enclosed bay (Qld, Australia): estimates of potential annual loads. Marine Pollution Bulletin 57:838–845

Lester SE, Halpern BS, Grorud-Coveret K, Lubchenco J, Ruttenberg BI, Gaines SD, Airame S, Warner RR (2009) Biological effects within no-take marine reserves: a global synthesis. Marine Ecology Progress Series 384:33–49

Lloret J, Zaragoza N, Caballero D, Riera V (2008) Impacts of recreational boating on the marine environment of Cap de Creus (Mediterranean Sea). Ocean and Coastal Management 51:749–754

Lunn KE, Dearden P (2006) Fishers' needs in marine protected area zoning: a case study from Thailand. Coastal Management 34:183–198

Mangi S, Austen MC (2008) Perceptions of stakeholders towards objectives and zoning of marine protected areas in southern Europe. Journal for Nature Conservation 16:271–280

Manning RE (1999) Studies in Outdoor Recreation: Search and Research for Satisfaction, 2nd edn. Oregon State University Press, Corvallis, OR

McCallum DE (2006) Use and protection of the Gulf Islands marine environment: residents' attitudes, perceptions, and values. Unpublished Master's Thesis, University of Victoria, Victoria, BC

Mitra A, Lankford S (1999) Research methods in park, recreation, and leisure services. Sagamore Publishing, Chmpage, Illinois

Needham MD, Wood CJB, Rollins RB (2004) Understanding summer visitors and their experiences at the Whistler Mountain Ski Area, Canada. Mountain Research and Development 24(3):234–242

NOAA (2010) Florida Keys National Marine Sanctuary—the zoning action plan. Accessed online January 11, 2010. http://floridakeys.noaa.gov/regs/zoning.html

Orams M (1999) Marine tourism: developments, impacts, and management. Routledge, New York

Parks Canada (2007a) Gulf Islands National Park Reserve of Canada 2005 Survey of Visitors and Residents. Parks Canada, Ottawa

Parks Canada (2007b) Proposed Southern Strait of Georgia National Marine Conservation Area Reserve Feasibility Study: 2007 Marine Mixer Handout. Parks Canada, Ottawa

Pierskalla CD, Siniscalchi JM, Selin SW, Forsbender J (2007) Using events as a mapping concept that complement existing ROS methods. Leisure Sciences 29:71–89

Roe M, Benson JF (2001) Planning for conflict resolution: jet-ski use on the Northumberland Coast. Coastal Management 29:19–39

Roman GSJ, Dearden P, Rollins R (2007) Application of zoning and "limits of acceptable change" to manage snorkeling tourism. Environmental Management 39:819–830

Salant P, Dillman DA (1994) How to conduct your own survey. Wiley, New York

Salmanoa P, Verardi D (2001) The marine protected area of Portfino, Italy: a difficult balance. Ocean and Coastal Management 44:39–60

Salz RJ, Loomis DK (2004) Saltwater anglers' attitudes towards marine protected areas. Fisheries 29(6):10–17

Shafer S, Inglis G (2000) Influence of social, biophysical, and managerial conditions on tourism experiences in the Great Barrier Reef World Heritage Area. Environmental Management 26(1):73–87

Sorice MG, Oh C, Ditton RB (2007) Managing scuba divers to meet ecological goals for coral reef conservation. Ambio 36(4):316–322

Stankey GH, Cole DN, Lucas RC, Petersen ME, Frissel SS (1985) The limits of acceptable change (LAC) system for wilderness planning. USDA Forest Service Research Paper INT-176

Stump NE, Kriwoken LK (2006) Tasmanian marine protected areas: attitudes and perceptions of wild capture fishers. Ocean and Coastal Management 49:298–307

Suman D, Shivlani M, Milon JW (1999) Perceptions and attitudes regarding marine reserves: a comparison of stakeholder groups in the Florida Keys National Marine Sanctuary. Ocean and Coastal Management 42:1019–1040

Sutton SG (2005) Factors influencing boater satisfaction in Australia's Great Barrier Reef Marine Park. Tourism in Marine Environments 2(1):13–22

Vaske JJ, Donnelly MP, Wittman W, Laidlaw S (1995) Interpersonal versus social values conflict. Leisure Sciences 17:205–222

Vaske JJ, Needham MD, Cline RC (2007) Clarifying interpersonal and social values conflict among recreationists. Journal of Leisure Research 38(4):601–615

Wall LM, Walters LJ, Grizzle RE, Sacks PE (2005) Recreational boating activity and its impacts on the recruitment and survival of the oyster crassostrea virginica on intertidal reefs in Mosquito Lagoon, Florida. Journal of Shellfish Research 24:965–973

Wang C, Dawson CP (2005) Recreation conflict along New York's Great Lakes Coast. Coastal Management 33:297–314

Weible CM (2008) Caught in a maelstrom: implementing California marine protected areas. Coastal Management 36:350–373

Widmer WM, Underwood AJ (2004) Factors affecting traffic and anchoring patterns of recreational boaters in Sydney Harbour, Australia. Landscape and Urban Planning 66:173–183

Wolfenden J, Cram F, Kirkwood B (1995) Marine reserves in New Zealand: a survey of community reactions. Ocean and Coastal Management 25:31–51
Acknowledgments
Funding for this study was provided by Canadian Network of Excellence (NCE): Geomatics for Informed Decision Making (GEOIDE) and the Social Science and Humanities Research Council of Canada. We thank Brian Emmett and Archipelago Marine Research Ltd., for providing a research vessel and equipment; Jackie Ziegler and Andrew Leyne, who assisted in the collection of data; Ole Heggen for Fig. 1; and, the boaters who kindly agreed to participate in the study. We also thank the three anonymous reviewers for their thoughtful critique of this paper.
About this article
Cite this article
Gray, D.L., Canessa, R., Rollins, R. et al. Incorporating Recreational Users into Marine Protected Area Planning: A Study of Recreational Boating in British Columbia, Canada. Environmental Management 46, 167–180 (2010). https://doi.org/10.1007/s00267-010-9479-1
Received:

Accepted:

Published:

Issue Date:
Keywords
Marine protected areas

Recreational boating

Marine zoning

Recreation opportunity spectrum

Recreation conflict