Abstract
The management of large carnivores in multiuse landscapes is always controversial, and managers need to balance a wide range of competing interests. Hunter harvest is often used to limit population size and distribution but is proving to be both controversialand technically challenging. Eurasian lynx (Lynx lynx) are currently managed as a game species in Norway. We describe an adaptive management approach where quota setting is based on an annual census and chart the population development through the period 1996–2008, as management has become significantly more sophisticated and better informed by the increased availability of scientific data. During this period the population has been through a period of high quotas and population decline caused by fragmented management authority and overoptimistic estimates of lynx reproduction, followed by a period of recovery due to quota reductions. The modern management regime is placed in the context of shifting policy during the last 160 years, during which management goals have moved from extermination stimulated by bounties, through a short phase of protection, and now to quota-regulated harvest. Much management authority has also been delegated from central to local levels. We conclude that adaptive management has the potential to keep the population within some bounded limits, although there will inevitably be fluctuation.
Access options
Buy single article
Instant access to the full article PDF.
USD 39.95
Price includes VAT (USA)
Tax calculation will be finalised during checkout.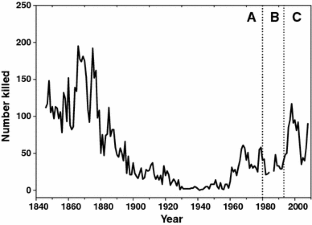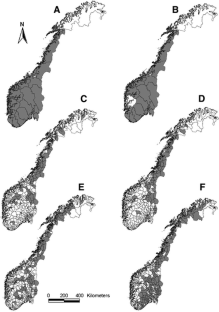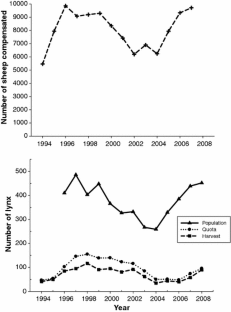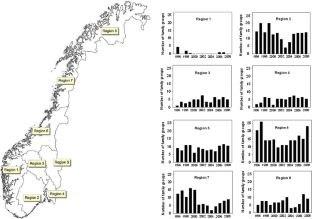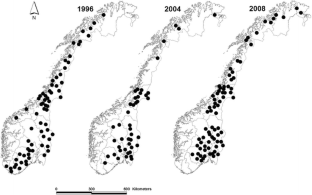 References
Andersen R, Linnell J, Odden J, Andrén H, Sæther BE, Moa PF, Herfindal I, Kvam T, Brøseth H (2003) Gaupe—bestandsdynamikk, bestandsutvikling og høstingsstrategier [Lynx—population dynamics, development, and harvest]. NINA Fagrapport 059

Andersen R, Herfindal I, Linnell JDC, Odden J, Liberg O, Sæther BE (2004) When range expansion rate is faster in marginal habitats. Oikos 107:210–214

Andersen R, Odden J, Linnell JDC, Odden M, Herfindal I, Panzacchi M, Høgseth Ø, Gangås L, Brøseth H, Solberg EJ, Hjeljord O (2005) Gaupe og rådyr i sørøst-Norge:oversikt over gjennomførte aktiviteter 1995–2004 [Lynx and roe deer in southeastern Norway: activity 1995–2004]. NINA Rapport 29:1–41

Andrén H, Linnell JDC, Liberg O, Ahlqvist P, Andersen R, Danell A, Franzén R, Kvam T, Odden J, Segerstrom P (2002) Estimating total lynx (Lynx lynx) population size from censuses of family groups. Wildlife Biology 8:299–306

Andrén H, Linnell JDC, Liberg O, Andersen R, Danell A, Karlsson J, Odden J, Moa PF, Ahlqvist P, Kvam T, Franzén R, Segerström P (2006) Survival rates and causes of mortality in Eurasian lynx (Lynx lynx) in multi-use landscapes. Biological Conservation 131:23–32

Boitani L (1995) Ecological and cultural diversities in the evolution of wolf human relationships. In: Carbyn LN, Fritts SH, Seip DR (eds) Ecology and conservation of wolves in a changing world. Canadian Circumpolar Institute, Alberta, pp 3–12

Breitenmoser U (1998) Large predators in the Alps: the fall and rise of man's competitors. Biological Conservation 83:279–289

Breitenmoser U, Breitenmoser-Würsten C, Carbyn LN, Funk SM (2001) Assessment of carnivore reintroductions. In: Gittleman JL, Funk SM, Macdonald DW, Wayne RK (eds) Carnivore conservation. Cambridge University Press, Cambridge, pp 241–281

Brøseth H, Odden J (2008) Minimum antall familiegrupper, bestandsestimat og bestandsutvikling for gaupe i Norge 2008 [Minimum number of family groups, population estimate and population development for lynx in Norway 2008]. NINA Report 384:1–19

Creel S, Creel NM (1997) Lion density and population structure in the Selous Game Reserve: evaluation of hunting quotas and offtake. African Journal of Ecology 35:83–93

Elgmork K (2000) Abundance of brown bears and wolves in central south Norway after 1733 as revealed by bounty records. Fauna Norvegica 20:1–8

Farrell EP, Führer E, Ruyan D, Andersson F, Hüttl R, Piussi P (2000) European forest ecosystems: building the future on the legacy of the past. Forest Ecology and Management 132:5–20

Guldvik I, Arnesen T (2001) Med rovdyr og politikk i utmarka: evaluering av rådgivende utvalg for rovviltforvaltning og forsøk med rovviltnemnder [With carnivores and politics in the wild lands: evaluating the advisor committee for carnivore management and the trial with local management committees]. Østlandsforskning rapport no. 02/2001. Lillehammer, Norway

Henriksen H, Andersen R, Hewison AJM, Gaillard JM, Bronndal M, Jonsson S, Linnell JDC, Odden J (2005) Reproductive biology of captive Eurasian lynx Lynx lynx. European Journal of Wildlife Research 51:151–156

Herfindal I, Linnell JDC, Odden J, Nilsen EB, Andersen R (2005a) Prey density, environmental productivity, and home range size in the Eurasian lynx (Lynx lynx). Journal of Zoology, London 265:63–71

Herfindal I, Linnell JDC, Moa PF, Odden J, Austmo LB, Andersen R (2005b) Does recreational hunting of lynx reduce depredation losses of domestic sheep. Journal of Wildlife Management 69:1034–1042

Jedrzejewska B, Jedrzejewski W, Bunevich AN, Milkowski L, Okarma H (1996) Population dynamics of wolves Canis lupus in Bialowieza Primeval Forest (Poland and Belarus) in relation to hunting by humans, 1847–1993. Mammal Review 26:103–126

Kaczensky P (1999) Large carnivore depredation on livestock in Europe. Ursus 11:59–72

Knight RR, Blanchard BM, Eberhardt LL (1995) Appraising status of the Yellowstone grizzly bear population by counting females with cubs-of-the-year. Wildlife Society Bulletin 23:245–248

Kvam T (1997) Bestandsestimat for gaupe 1995–96 og 1996–97 [Population estimate for lynx 1995–96 and 1996–97]

Landa A, Linnell JDC, Swenson JE, Røskaft E, Moskness I (2000) Conservation of Scandinavian wolverines in ecological and political landscapes. In: Griffiths HI (ed) Mustelids in a modern world: conservation aspects of small carnivore-human interactions. Backhuys, Leiden, Netherlands, pp 1–20

Liberg O, Andrén H (2004) Sweden. In: von Arx M, Breitenmoser-Würsten C, Zimmermann F, Breitenmoser U (eds) Status and conservation of the Eurasian lynx (Lynx lynx) in Europe in 2001. KORA Bericht, pp 191–198

Linnell JDC, Brøseth H (2004) Norway. In: von Arx M, Breitenmoser-Würsten C, Zimmermann F, Breitenmoser U (eds) Status and conservation of the Eurasian lynx (Lynx lynx) in Europe in 2001. KORA Bericht 19e, pp 146–153

Linnell JDC, Swenson JE, Andersen R (2001a) Predators and people: conservation of large carnivores is possible at high human densities if management policy is favourable. Animal Conservation 4:345–350

Linnell JDC, Andrén H, Odden J, Liberg O, Andersen R, Moa P, Kvam T (2001b) Home range size and choice of management strategy for lynx in Scandinavia. Environmental Management 27:869–879

Linnell JDC, Odden J, Andrén H, Liberg O, Andersen R, Moa PF, Kvam T, Segerström P, Schmidt K, Jedrzejewski W, Okarma H (2007a) Distance rules for minimum counts of Eurasian lynx Lynx lynx family groups under different ecological conditions. Wildlife Biology 13:447–455

Linnell JDC, Fiske P, Herfindal I, Odden J, Brøseth H, Andersen R (2007b) An evaluation of structured snow-track surveys to monitor Eurasian lynx Lynx lynx populations. Wildlife Biology 13:456–466

Linnell JDC, Breitenmoser U, Breitenmoser-Würsten C, Odden J, von Arx M (2009) Recovery of Eurasian lynx in Europe: What part has reintroduction played? In: Hayward M, Sommers M (eds) Reintroduction of top-order predators. Wiley-Blackwell, Oxford, UK, pp 72–91

Litvaitis J, Tash JP, Stevens CL (2006) The rise and fall of bobcat populations in New Hampshire: relevance of historical harvests to understanding current patterns of abundance and distribution. Biological Conservation 128:517–528

Milner J, Bonenfant C, Mysterud A, Gaillard J-M, Csányi S, Stenseth NC (2006) Temporal and spatial development of red deer harvesting in Europe—biological and cultural factors. Journal of Applied Ecology 43:721–734

Ministry of the Environment (1992) Om forvaltning av bjørn, jerv, ulv og gaupe (Rovviltmeldingen) [White paper on the management on bears, wolverine, wolf and lynx in Norway]. Stortingsmeldingen 27(1991–1992):54

Ministry of the Environment (1997) Om rovviltforvalting [On large carnivore management]. Stortingsmelding 35 (1996–1997)

Ministry of the Environment (2003) Rovvilt i norsk natur [Carnivores in Norwegian nature]. Stortingsmelding 15 (2003–2004)

Mykrä S, Vuorisalo T, Pohja-Mykrä M (2005) A history of organised persecution and conservation of wildlife: species categorizations in Finnish legislation from medieval times to 1923. Oryx 39:275–283

Myrberget S (1961) Gaupestammen vår [Our lynx population]. Jakt-Fiske-Friluftsliv 1961:348–350

Myrberget S (1967a) Skuddpremiesatser på ulv, jerv, gaupe og bjørn [Bounty payments for wolves, wolverines, lynx and bears]. Norsk Natur 1967:42–48

Myrberget S (1967b) Økonomisk utbytte av jakten på gaupe, jerv, ulv og bjørn [Economic gain from hunting lynx, wolverines, wolves and bears]. Jakt-Fiske-Frilutsliv 1967:546–548

Myrberget S (1970) Den norske bestand av jerv Gulo gulo (L.) og gaupe Lynx lynx (L.) [The Norwegian populations of wolverine and lynx]. Meddelelser fra Statens Viltundersøkelser 2:1–35

Nie MA (2003) Beyond wolves: the politics of wolf recovery and management. University of Minnesota Press, London

Nilsen EB, Linnell JDC, Odden J, Andersen R (2009) Climate, season, and social status modulate the functional response of an efficient stalking predator: the Eurasian lynx. Journal of Animal Ecology 78:741–751

Odden J, Solvang H, Maartmann E, Wabakken P, Linnell J, Andersen R, Haagenrud H, Lundqvist O, Solberg HO (2001) Registrering av ulv og gaupe i Hedmark 2001: Rapport fra registrering 13. januar 2001 [Lynx and wolf census in Hedmark 2001]. Fylkesmannen i Hedmark Miljøvernavdelingen Rapport 11/2001, pp 1–26

Odden J, Linnell JDC, Moa PF, Herfindal I, Kvam T, Andersen R (2002) Lynx depredation on domestic sheep in Norway. Journal of Wildlife Management 66:98–105

Odden J, Andersen R, Brøseth H, Linnell JDC (2008) Gauperegistering i utvalgte fyler 2008 [Lynx registration in selected counties 2008]. NINA Report 375:1–28

Olstad O (1945) Jaktzoologi [Game ecology]. J. W. Cappelens Forlag, Oslo

Östergren A, Segerström P (1998) Familjegrupper av lodjur—metod för antalsbedämningar [Lynx family groups as a means for population census]. Länsstyrelsen Västerbottens län Meddelande 2:1–5

Pohja-Mykrä M, Vuorisalo T, Mykrä S (2005) Hunting bounties as a key measure of histroical wildlife management and game conservation: Finnish bounty schemes 1647–1975. Oryx 39:284–291

Rideng M (1999) Jakten på makten: en studie av utformingen av norsk rovdyrpolitikk [The quest for power: the development of Norwegian large carnivore policy]. Master's thesis. Institutt for Admininistrasjon og Organisasjonsvitenskap, University of Bergen, Bergen

Ross PI, Jalkotzy MG, Gunson JR (1996) The quota system of cougar harvest management in Alberta. Wildlife Society Bulletin 24:490–494

Sandström C, Pellikka J, Ratamäki O, Sande A (2009) Management of large carnivores in Fennoscandia: new patterns of regional participation. Human Dimensions of Wildlife 14:37–50

Skogen K (2003) Adapting adaptive management to a cultural understanding of land use conflicts. Society and Natural Resources 16:435–450

Skogen K, Haaland H (2001) En ulvehistorie fra Østfold:samarbeid og konflikter mellom forvaltning, forskning og lokalbefolkning [A wolf tale from Østfold: cooperation and conflict between management, research and local people]. NINA Fagrapport 52:1–51

Søilen E (1995) Sportsmenn i veideland. Norges Jeger og Fiskerforbund, Oslo

Solberg EJ, Sæther BE, Strand O, Loison A (1999) Dynamics of a harvested moose population in a variable environment. Journal of Animal Ecology 68:186–204

Søybe E (2001) Tallenes fortellinger [The tale of statistics]. Samfunnsspeilet/Statistisk sentralbyrå, Oslo

Sunde P, Kvam T, Bolstad JP, Bronndal M (2000) Foraging of lynxes in a managed boreal-alpine environment. Ecography 23:291–298

Swenson JE, Sandegren F (1996) Sustainable brown bear harvest in Sweden estimated from hunter-provided information. Journal of Wildlife Research 1:229–232

Swenson JE, Wabakken P, Sandegren F, Bjärvall A, Franzén R, Söderberg A (1995) The near extinction and recovery of brown bears in Scandinavia in relation to the bear management policies of Norway and Sweden. Wildlife Biology 1:11–25

Treves A, Naughton-Treves L (2005) Evaluating lethal control in the management of human-wildlife conflict. In: Woodroffe R, Thirgood S, Rabinowitz A (eds) People and wildlife: Conflict or coexistence?. Cambridge University Press, Cambridge, pp 86–106

Vaag AB (1987) Landsplan for forvaltning av bjørn, jerv og ulv [Action plan for managing bears, wolverines and wolves]. Naturforvaltning Rapport 6:1–35

Valière N, Fumagalli L, Gielly L, Miquel C, Lequette B, Poulle ML, Weber JM, Arlettaz R, Taberlet P (2003) Long-distance wolf recolonization of France and Switzerland inferred from non-invasive genetic sampling of a period of 10 years. Animal Conservation 6:83–92

Wabakken P, Sand H, Liberg O, Bjärvall A (2001) The recovery, distribution, and population dynamics of wolves on the Scandinavian peninsula, 1978–1998. Canadian Journal of Zoology 79:710–725

Whitman K, Starfield AM, Quadling HS, Packer C (2004) Sustainable trophy hunting of African lions. Nature 428:175–178

Williams BK, Johnson FA, Wilkins K (1996) Uncertainty and the adaptive management of waterfowl harvests. Journal of Wildife Management 60:223–232

Yamazaki K (1996) Social variation of lions in a male-depopulated area in Zambia. Journal of Wildlife Management 60:490–497

Zimmermann A, Baker N, Linnell JDC, Inskip C, Marchini S, Odden J, Rasmussen G, Treves A (2010) Contemporary views on human-carnivore conflicts in Wild Rangelands. In: Du Toit J, Kock R, Deutsch J (eds) Can rangelands be wildlands? Wildlife and livestock in semi-arid ecosystems. Wiley-Blackwell, London
Acknowledgments
Funding for this research was primarily provided by ear-marked financing from the state budget to the Ministry of the Environment through the Norwegian Directorate for Nature Management to the National Large Predator Monitoring Program. Additional financing was provided by the Norwegian Institute for Nature Research and the Research Council of Norway.
About this article
Cite this article
Linnell, J.D.C., Broseth, H., Odden, J. et al. Sustainably Harvesting a Large Carnivore? Development of Eurasian Lynx Populations in Norway During 160 Years of Shifting Policy. Environmental Management 45, 1142–1154 (2010). https://doi.org/10.1007/s00267-010-9455-9
Received:

Accepted:

Published:

Issue Date:
Keywords
Adaptive management

Eurasian lynx

Harvest

Large carnivore

Historical policy