Abstract
The study deals with the problem of evaluating management strategies for pure stands of Norway spruce (Picea abies Karst) to balance adaptation to and mitigation of climate change, taking into account multiple objectives of a forest owner. A simulation and optimization approach was used to evaluate the management of a 1000 ha model Age-Class forest, representing the age-class distribution of an area of 66,000 ha of pure Norway spruce forests in the Black Forest region of Southwest Germany. Eight silvicultural scenarios comprising five forest conversion schemes which were interpreted as "adaptation" strategies which aims at increasing the proportion of Beech, that is expected to better cope with climate change than the existing Norway spruce, and three conventional strategies including a "Do-nothing" alternative classified as "mitigation", trying to keep rather higher levels of growing stock of spruce, were simulated using the empirical growth simulator BWINPro-S. A linear programming approach was adapted to simultaneously maximize the net present values of carbon sequestration and timber production subject to the two constraints of wood even flow and partial protection of the oldest (nature protection). The optimized plan, with the global utility of 11,687 €/ha in forty years, allocated a combination of silvicultural scenarios to the entire forest area. Overall, strategies classified as "mitigation" were favored, while strategies falling into the "adaptation"-category were limited to the youngest age-classes in the optimal solution. Carbon sequestration of the "Do-nothing" alternative was between 1.72 and 1.85 million tons higher than the other alternatives for the entire forest area while the differences between the adaptation and mitigation approaches were approximately 133,000 tons. Sensitivity analysis showed that a carbon price of 21 €/t is the threshold at which carbon sequestration is promoted, while an interest rate of above 2% would decrease the amount of carbon.
Access options
Buy single article
Instant access to the full article PDF.
US$ 39.95
Tax calculation will be finalised during checkout.
Subscribe to journal
Immediate online access to all issues from 2019. Subscription will auto renew annually.
US$ 79
Tax calculation will be finalised during checkout.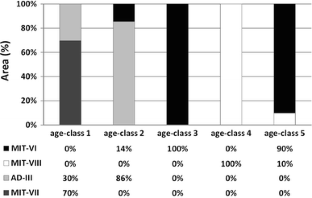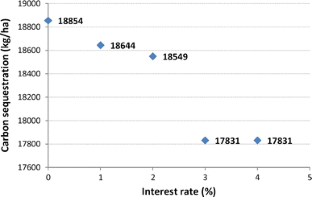 References
Andreassen K, Øyen BH (2002) Economic consequences of three silvicultural methods in uneven-aged mature coastal spruce forests of central Norway. Forestry 75:483–488

Backeus S, Winkström P, Lämas T (2005) A model for regional analysis of carbon sequestration and timber production. Forest Ecology and Management 216:28–40

Baskent EZ, Sedat K (2005) Developing alternative timber harvesting strategies with linear programming in preparing forest management plans. Turkish Journal of Agriculture and Forestry 29:1–13

Baskent EZ, Sedat K, Yolasigmaz HA (2008) Comparing multipurpose forest management with timber management, incorporating timber, carbon and oxygen values: A case study. Scandinavian Journal of Forest Research 23:105–120

BMELV (2005) Die zweite Bundeswaldinventur - BWI2 - Der Inventurbericht. Bonn, 231 pp

Bolte A, Eisenhauer D, Ehrhart HP, Groß J, Hanewinkel M, Kölling C, Profft I, Rohde M, Amereller K (2009) Klimawandel und Forstwirtschaft - Übereinstimmungen und Unterschiede bei der Einschätzung der Anpassungsnotwendigkeiten und Anpassungsstrategien der Bundesländer. Landbauforschung vTI Agriculture and Forestry Research (in German, submitted)

Brainard J, Bateman I, Lovett A (2009) The social value of carbon sequestered in Great Britain's woodlands. Ecological Economics 68:1257–1267

Bredahl Jacobsen J, Möhring B, Wippermann C (2004) Business economics of conversion and transformation—a case study of Norway spruce in Northern Germany. In: Spiecker H, Hansen J, Klimo E, Skovsgaard J, Sterba H, von Teuffel K (eds) Norway spruce conversion: options and consequences. European Forest Institute, Research Report 18. S. Brill, Leiden, Boston, Köln, pp 225–252

Briceno-Elizondo E, Jäger D, Lexer MJ, Garcia-Gonzalo J, Peltola H, Kellomäki S (2008) Multi-criteria evaluation of multi-purpose treatment programmes for Finnish boreal forests under changing climate. Ecological Indicators 8:26–45

Bugmann H, Grote R, Lasch P, Lindner M, Suckow F (1997) A new forest gap model to study the effects of environmental change on forest structure and functioning. In: Mohren GMJ, Kramer K (eds) Global change impacts on tree physiology and forest ecosystems. Forestry sciences, vol 52. KLuwer Academic Publishers, Dordrecht, pp 255–261

Buongiorno J (2001) Quantifying the implications of transformation from even to uneven-aged forest stands. Forest Ecology and Management 151:121–132

Buongiorno J, Gilless JK (2003) Decision methods for forest resource management. Academic Press, Amsterdam (Netherlands), 235 pp

Canadell JG, Raupach MR (2008) Managing forests for climate change mitigation. Science 420:1456–1457

Dale V, Joyce L, McNulty S, Neilson R, Ayres M, Flannigan M, Hanson P, Irland L, Lugo A, Peterson CJ, Simberloff D, Swanson F, Stocks B, Wotton M (2001) Climate change and forest disturbances. BioScience 51:723–734

Deutsche Bank (2007) Investing in climate change an asset management perspective. Deutsche asset management. DeAM Press, 52 pp

Diaz-Balteiro L, Rodriguez LCE (2006) Optimal rotations on eucalyptus plantations including carbon sequestration––a comparison of results in Brazil and Spain. Forest Ecology and Management 229:247–258

Dirsch R, Knoke T (2007) Zur finanziellen Analyse der Höhe des Holzvorrates: eine Anwendung der Linearen Programmierung im Rahmen der Forstbetriebsplannung. Allgemeine Forst und Jagd Zeitung 178:142–149

Frontline Inc (2007) Handbook of the solver premium plattform. Version 8.0 for Use with Excel 2000–2007, 407 pp

Gutiérrez VH, Zapata M, Sierra C, Laguado W, Santacruz A (2006) Maximizing the profitability of forestry projects under the Clean Development Mechanism using a forest management optimization model. Forest Ecology and Management 226:341–350

Hanewinkel M (2001) Economic aspects of the transformation from even-aged pure stands of Norway spruce to uneven-aged mixed stands of Norway spruce and beech. Forest Ecology and Management 151:181–193

Hanewinkel M, Pretzsch H (2000) Modelling the conversion from even-aged to uneven-aged stands of Norway spruce (Picea abies L. Karst) with a distance-dependent growth simulator. Forest Ecology and Management 134:55–70

Hanewinkel M, Breidenbach J, Neeff T, Kublin E (2008) 77 years of natural disturbances in a mountain forest area––the influence of storm, snow and insect damage analysed with a long-term time-series. Canadian Journal of Forest Research 38:2249–2261

Hanewinkel M, Hummel S, Cullmann D (2009) Modelling and economic evaluation of forest biome shifts under climate change in Southwest Germany. Forest Ecology and Management. doi:10.1016/j.foreco.2009.08.21

Hasenauer H (2006) Sustainable forest management: growth models for europe. Springer Verlag, Berlin-Heidelberg, 234 pp

Jäkel A, Roth M (2004) Conversion of single-layered Scots pine monocultures into close-to-nature mixed hard timber forests: effects on parasitoid wasps as pest antagonists. European Journal of Forest Research 123:203–212

Johann K (1982) Der A-Wert, ein objektiver Parameter zur Bestimmung der Freistellungsstärke von Zentralbäumen, Deutscher Verband der Forstlichen Versuchsanstalten, Sektion Ertragskunde, Weibersbrunn:146–158

Kint V, Lasch P, Lindner M, Muys B (2009) Multi-purpose conversion management of Scots pine towards mixed oak–birch stands-A long-term simulation approach. Forest Ecology and Management 257:199–214

Klimo E, Hager K, Kulhavy J (2000) Spruce monocultures in Central Europe–problems and prospects. EFI Proceedings No. 33:5–7

Knoke T (2009) Randbedingungen eines finanziell erfolgreichsten Dauerwaldes: Eine Übersicht anhand existierender Literatur. Schweiz Z Forstwes (Swiss Forestry Journal) (in press)

Knoke T, Plusczky N (2001) On economic consequences of transformation of a spruce (Picea abies L. Karst) dominated from regular to irregular age structure. Forest Ecology and Management 151:159–163

Knoke T, Ammer C, Stimm B, Mosandl R (2008) Admixing broadleaved to coniferous tree species: a review on yield, ecological stability and economics. European Journal of Forest Research 127:89–101

Korhonen P (1998) Multiple objectives linear programming in supporting forest management. Proceedings of 2nd Berkeley-KVL conference on natural resource management and workshop, August 6–12, Copenhagen, 14 pp

Lohmander P, Helles F (1987) Windthrow probability as a function of characteristics and shelter. Scandinavian Journal of Forest Research 2:227–238

Mayer P, Dobbertin BPM, Hallenbarter D, Renaud JP, Walthert L, Zimmermann S (2005) Forest storm damage is more frequent on acidic soils. Annals of Forest Science 62:303–311

MLR (Ministerium Ländlicher Raum Baden-Württemberg) (1999) Richtlinie landesweiter Waldentwicklungstypen der Landesforstverwaltung Baden-Württemberg, Stuttgart, 54 pp

Möhring B (2004) Betriebswirtschaftliche Analyse des Waldumbaus. Forst und Holz 59:523–530

Nagel J (1997) BWIN program for analysis and prognosis. User's manual for version 3.0, Niedersächsische Forstliche Versuchsanstalt Göttingen, 44 pp

Nautiyal JC, Pearse P (1967) Optimizing the conversion to sustained yield, a programming solution. Forest Science 13:131–139

Orois S S, Vilcko F (2002) Bewertung und Optimierung von Vornutzungen in Fichtenbeständen. Forstwissenschaftliches Centralblatt 121:250–264

Pretzsch H (2001) Modellierung des Waldwachstums. Parey, Hamburg, 341 pp

Pretzsch H, Grote R, Reineking B, Rötzer T, Seifert ST (2008) Models for forest ecosystem management: A European perspective. Annals of Botany 101(8):1065–1087

Price C, Wills R (1993) Time, discounting and the valuation of forestry's carbon fluxes. Commonwealth Forestry Review 72:265–271

Rojo JMT, Orois SS (2005) A decision support system for optimizing the conversion of rotation forest stands to continuous cover forest stands. Forest Ecology and Management 207:109–120

Roehle H (2007) Der Waldwachstumssimulator BWINPro-S: Kurzdarstellung und Anwendungsmöglichkeiten. http://www.forst.tu-dresden.de/Waldwachstum/simulator. Accessed Jan 31, 2009

Schmidt M, Hanewinkel M, Kändler G, Kublin E, Kohnle U (2009) An inventory-based approach for modeling single tree storm damage––experiences with the winter storm 1999 in south-western Germany. Canadian Journal of Forest Research (in review)

Schröder J (2005) Zur Modellierung von Wachstum und Konkurrenz in Kiefern-Buchen-Waldumbaubeständen Nordwestsachsens, PhD Thesis, Tharandt, Technical University of Dresden, 345 pp

Schröder J, Röhle H, Gerold D, Münder K (2007) Modeling individual-tree growth in stands under forest conversion in East Germany. European Journal of Forest Research 126:459–472

Schütz JP (2002) Silvicultural tools to develop irregular and diverse forest structure. Forestry 75:329–337

Schütz JP, Götz M, Schmid W, Mandallaz D (2006) Vulnerability of spruce (Picea abies L. Karst) and beech (Fagus sylvatica L.) forest stands to storms and consequences for silviculture. European Journal of Forest Research 125:291–302

Spiecker H (2000) Growth of Norway spruce under changing environmental conditions in Europe. EFI Proceedings 33:11–26

Spiecker H (2003) Silvicultural management in maintaining biodiversity and resistance of forests in Europe-temperate zone. Journal of Environmental Management 67:55–65

Spiecker H, Hansen J, Klimo E, Skovsgaard J, Sterba H, von Teuffel K (eds) (2004) Norway spruce conversion: options and consequences. European Forest Institute, Research Report 18. S. Brill, Leiden, Boston, Köln, 269 pp

UNFCCC (2002) Report of the conference of the parties on its 7th session of UNFCCC (United Nations framework convention on climate change), held at Marrakesh (29 Octobre- 10 Novembre 2001), 69 pp

Vande Walle I, Van Camp N, Perrin D, Lemeur R, Verheyen K, Van Wesemael B, Laitat E (2005) Growing stock-based assessment of the carbon in the Belgian forest biomass. Annals of Forest Science 62:853–864

von Lüpke B (2004) Risikominderung durch Mischwälder und naturnaher Waldbau: ein Spannungsfeld. Forstarchiv 75:43–50

Yoshimoto A, Marusak R (2007) Evaluations of carbon sequestration and thinning regimes within the optimization framework for forest management. European Journal of Forest Research 126:315–329

Yousefpour R, Hanewinkel M (2009) Modelling of forest conversion planning with an adaptive simulation-optimization approach and simultaneous consideration of the values of timber, carbon and biodiversity. Ecological Economics 68:1711–1722

Zell J (2008) Methoden für die Ermittlung, Modellierung und Prognose der Kohlenstoffspeicherung in Wäldern auf Grundlage permanenter Großrauminventuren, PhD Dissertation, Universität Freiburg, 152 pp
Acknowledgments
The authors would like to express their gratitude to four anonymous reviewers for useful comments on an earlier version of the manuscript. This study was a part of the first author's PhD thesis, financed by the Ministry of Science, Research and Technology of Iran, at the Institute of Forestry Economics of the University of Freiburg and the project "Forix" within the program of the German–French University (DFH).
About this article
Cite this article
Yousefpour, R., Hanewinkel, M. & Le Moguédec, G. Evaluating the Suitability of Management Strategies of Pure Norway Spruce Forests in the Black Forest Area of Southwest Germany for Adaptation to or Mitigation of Climate Change. Environmental Management 45, 387–402 (2010). https://doi.org/10.1007/s00267-009-9409-2
Received:

Accepted:

Published:

Issue Date:
Keywords
BWINPro-S

Norway spruce transformation

Climate change

Mitigation

Adaptation

Carbon sequestration