Abstract
This study addressed the hydrological processes of runoff and sedimentation, soil moisture content, and properties under the effect of different water harvesting techniques (treatments). The study was conducted at three sites, representing environmental condition gradients, located in the southern part of the West Bank. For each treatment, the study evaluated soil chemical and physical properties, soil moisture at 30 cm depth, surface runoff and sedimentation at each site. Results showed that runoff is reduced by 65–85% and sedimentation by 58–69% in stone terraces and semi-circle bunds compared to the control at the semi-humid site. In addition, stone terraces and contour ridges significantly reduced the amount of total runoff by 80% and 73%, respectively, at the arid site. Soil moisture content was significantly increased by water harvesting techniques compared to the control in all treatments at the three study sites. In addition, the difference between the control and the water harvesting structures were higher in the arid and semi-arid areas than in the semi-humid area. Soil and water conservation, via utilization of water harvesting structures, is an effective principle for reducing the negative impact of high runoff intensity and subsequently increasing soil moisture storage from rainfall. Jessour systems in the valley and stone terraces were effective in increasing soil moisture storage, prolonging the growing season for natural vegetation, and decreasing the amount of supplemental irrigation required for growing fruit trees.
Access options
Buy single article
Instant access to the full article PDF.
USD 39.95
Price excludes VAT (USA)
Tax calculation will be finalised during checkout.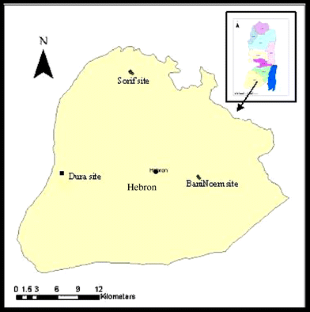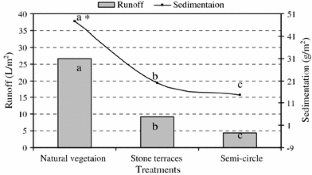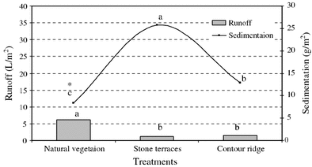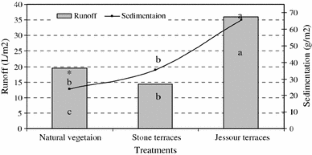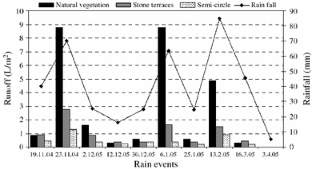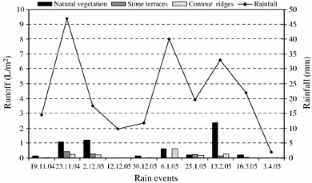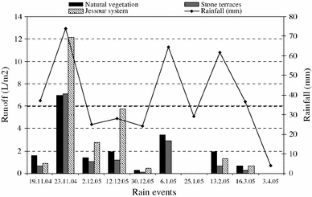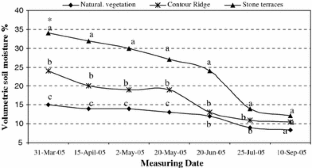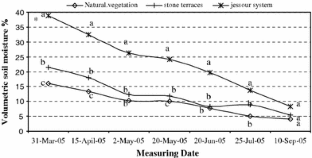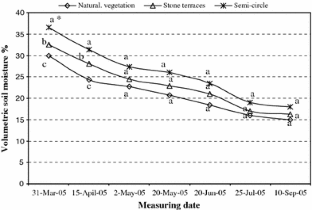 References
Abu Hammad A (2004) Soil erosion and soil moisture conservation under old terracing system in the Palestinian Central Mountains. Ph.D Thesis, Agricultural University of Norway, Norway

Abu Hammad A, Borresen T, Haugen LE (2006) Effect of rain characteristics and terracing on runoff and erosion under the Mediterranean. Soil Tillage Research 87:39–47

Abu-Zerig M, Attom M, Hamasha N (2000) Rainfall harvesting using sand diches in Jordan. Agriculture Water Managements 46:183–192

Al-Ali M (1998) Some soil physical properties and soil moisture content relationships, under different soil surface management practices, using diamond shape water harvesting techniques in Jordan. M.Sc theses, University of Jordan, Amman

Al-Jubeh O (2006) Studies of natural vegetation characteristics at different environment and range improvement practices at southern West Bank. M.Sc thesis, Hebron University

Al-Kharabsheh A (2004) Effect of rainfall and soil surface management on soil water budget and erosion in arid areas. M.Sc. thesis, University of Jordan, Amman

Al-Seekh S, Mohammad A (2008) Evaluation of two hydrological processes and soil characteristics under different climatic conditions at West Bank, Palestine. Dirasat 35(2):1026–3764

Al-Seekh S, Mohammad A, Amrou Y (2009). The effect of excluding grazing from Rangeland on soil properties and soil moisture content. Hebron University Research Journal 4(1) (in press)

Andreu V, Rubio LL, Cerni R (1995) Effect of Mediterranean shrub on water erosion control. Environmental Monitoring and Assessment 37:5–15

Awadallah W, Owaiwi M (2005) Spring and dung well of Hebron district. Palestinian Hydrology Group (PHG)

Bochet E, Rubio JL, Poesn J (1998) Relative efficiency of three representative matorral species in reducing water erosion at the microscal in a semi-arid climate (Valencia, Spain). Geomorphology 23:139–150

Bouwer H (1986) Methods of soil analysis part 1–physical and minerlogical methods. American Society of Agronomy, Inc., Madison, Wisconsin, p 844

Bradford JM, Ferris JE, Remley PA (1987) Interill soil erosion processes. 1. Effect of surface sealing on infiltration, runoff, and soil splash detachment. Soil Sciences Society of American Journal 51:1566–1571

Brunori A, Nair PK, Rockwood DL (1995) Performance of two Eucalyptus species at different slope positions and aspects in a contour-ridge planting system in the Negev Desert of Israel. Forest Ecology Management 75:41–48

Casermeeiro MA, Molina JA, Cravaca MT, Costa J, Massanet MI, Moreno PS (2004) Influence of scrubs on runoff and sediment loss in soils of Mediterranean climate. Catena 57:91–107

Critchley W, siegert K (1991) Water harvesting: A manual for the design and construction of water harvesting schemes for plant production. FAO, Rome

Droppelmann K, Berliner P (2003) Runoff agroforestry-a technique to secure the livelihood of pastoralists in the Middle East. Journal of Arid Environments 54:571–577

FAO (1980) Soil and plant testing as a basis of fertilizer recommendations. FAO, Rome, p.78

Fu B, Wang J, Chen L, Qiu Y (2003) The effect of land use on soil moisture variation in Danagou catchment of the Loess Plateau, China. Catena 54:197–213

Fu B, Liu S, Chen L, Yi-He Lu, Qiu Y (2004) Soil quality regime in relation to land cover and slope position across a highly modified slope landscape. Ecology Research 19:11–118

Geographic Information System Unit (GIS) (2006) Hebron University. Data base

Gupta GN (1995) Rain water management for tree planting in Indian Desert. Journal of Arid Environments 31:219–235

Holechek J, pieper R, Herbel C (1989) Range management principles and practices, 2nd edn. Prentice Hall, Englweood Cliffs, New Jersy

Kim H, Tan (1995) Soil sampling, preoeration and analysis. Marcel Dekker, Inc. Madison Avenue, New York, p 90

Kumwenda W (1999) The role of animal traction in soil and water conservation tillage practices among smallholder farmers in Malawi. In: Kaumbutho PG, Simalenga TE (eds). Conservation tillage with animal traction. A resource book of animal traction. Harare, Zimbabwe. (www.fao.org/ag/ags/agse/agse_s/)

Kutiel P, Lavee H (1999) Effect of slope aspect on soil and vegetation properties along an aridity transect. Israel Journal of Plant Science 47:169–178

Li X, Gong J (2002) Effect of different ridge: furrow ratios and supplemental irrigation on crop production in ridge and furrow rainfall harvesting system with mulches. Agriculture Water Managements 54:243–254

Li X, Gong J, Wei X (2000) In situ rainwater harvesting and gravel mulch combination for corn production in the dry semi-arid region of China. Journal of Arid Environments 46:371–382

Marx ES, Hart J, Stevens RG (1999) Soil test interpretation guide. Oregon State University, Oregon

Mohammad A (2008) Growth and Development of Range Plants at Southern West Bank. Hebron University Research Journal 3:1–21

Mohammad A (2005) Rangeland condition at southern West Bank. Hebron University Research Journal 2:42–54

Mugabe FT (2004) Evaluation of the benefites of infilitrtaion pits on soil Moisture in Semi-arid Zimbabwe. Journal of Agrinomy 3:188–190

Nelson DW, Sommers LE (1982) Total carbon, and organic matter. In: Page AL, Miller RH, Keeny DR (eds) Methods of soil analysis part 2- chemical and microbiological properties. American Socity of Agronomy, Inc. Madison, Wisconsin, pp. 539–580

Olsen SR, Sommers LE (1982) Methods of soil analysis. Part 2. Agron. Monogr. 9, 2nd edn. ASA and SSSA, Madison, WI, pp 403–430

Oweis T, Hachum A, Kijne J (1999) Water harvesting and supplementary irrigation for improved water use efficiency in dry areas. SWIM paper 7. International Water Management Institute, Colombo, Sri Lanka

Palestinian Water Authority (2003) Water resources in Palestine (In Arabic). Rammala, Palestine

Prinz D, Pereria L, Feddes RA, Gilleym JR, Lessaffre B (1996) Water harvesting past and future. University of Karlsruhe, Institute of Hydraulic Structures and Rural Engineering, D-76128 Karlsruhe, Germany. Proceedings of the NATO advanced research workshop. Vimeiro, Portugal, 137–168

Querejeta JI, Roldan A, Albaladejo J, Castillo V (2000) Soil physical properties and moisture content affected by site preparation in the a forestation of a semiarid rangeland. Soil Sciences Society of American Journal 64:2087–2096

Reij C, Mulder P, Begeman L (1988). Water harvesting for plant production. World Bank Technical paper 91. World Bank, Washington, 123 p

Remely PA, Bradford JM (1989) Relationship of soils curst morphology to interrill erosion parameters. Soil Sciences Society of American Journal 53:1215–1221

Retrenberg, Whittles CA (1947) The soil of Palestine. Thomas Murby Co, London, UK

Salve R, Allen-Diaz B (2001) Variation in soil moisture content in rangeland catchment. Journal of Range Management 54:44–51

Sarah P (2002) Special pattern of soil moisture as affected by shrubs, in different climatic conditions. Environmental Monitoring and Assessment 73:237–251

Schiettecatte W, Ouessar M, Gabriels D, Tanghe S, Heirman S, Abdelli F (2005) Impact of water harvesting techniques on soil and water conservation: a case study on a micro catchment in southeastern Tunisia. Journal of Arid Environment 61:267–313

Skoog D, West DM (1976).Fundamental of analytical chemistry. Saunders College Publishing, Philadelphia, p 390

Thomas GW (1982) Exchangeable cations. In: Page AL, et al. (eds) Methods of soil analysis, Part 2 (2nd edn), pp 159–166. Agronomy Monograph 9. ASA and SSSA, Madison, WI, 1159 p

Xiao-yan L, Xie Z, Yan X (2004) Runoff characteristics of artificial materials for rainwater harvesting in the semiarid regions of China. Agriculture Water Management 65:211–224

Yair A, Kossovesky A (2002) Climatic and surface properties:hydrological response of small arid and semi-arid watersheds. Geomorphology 42:43–57

Youssef K (1998) Evaluation of different water harvesting techiques at two different sites of Jordan. M.Sc thesis, University of Jordan, Amman

Zohary M (1947) A vegetation map of western Palestine. Journal of Ecology 43:1–19
Acknowledgments
We would like to thank the USDA Forest Service, the USAID Middle East Regional Cooperation (MERC), and the US State Department for their financial support. We extend our thanks to Mr. Khaled Hardan, Osama Al-Jubeh, and Mohammad Al-Adam for their help in data collection.
About this article
Cite this article
Al-Seekh, S.H., Mohammad, A.G. The Effect of Water Harvesting Techniques on Runoff, Sedimentation, and Soil Properties. Environmental Management 44, 37–45 (2009). https://doi.org/10.1007/s00267-009-9310-z
Received:

Revised:

Accepted:

Published:

Issue Date:

DOI: https://doi.org/10.1007/s00267-009-9310-z
Keywords