Abstract
Turf grasses are ubiquitous in the urban landscape of the United States and are often associated with various types of environmental impacts, especially on water resources, yet there have been limited efforts to quantify their total surface and ecosystem functioning, such as their total impact on the continental water budget and potential net ecosystem exchange (NEE). In this study, relating turf grass area to an estimate of fractional impervious surface area, it was calculated that potentially 163,800 km2 (± 35,850 km2) of land are cultivated with turf grasses in the continental United States, an area three times larger than that of any irrigated crop. Using the Biome-BGC ecosystem process model, the growth of warm-season and cool-season turf grasses was modeled at a number of sites across the 48 conterminous states under different management scenarios, simulating potential carbon and water fluxes as if the entire turf surface was to be managed like a well-maintained lawn. The results indicate that well-watered and fertilized turf grasses act as a carbon sink. The potential NEE that could derive from the total surface potentially under turf (up to 17 Tg C/yr with the simulated scenarios) would require up to 695 to 900 liters of water per person per day, depending on the modeled water irrigation practices, suggesting that outdoor water conservation practices such as xeriscaping and irrigation with recycled waste-water may need to be extended as many municipalities continue to face increasing pressures on freshwater.
Access options
Buy single article
Instant access to the full article PDF.
USD 39.95
Price includes VAT (USA)
Tax calculation will be finalised during checkout.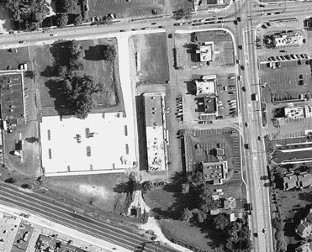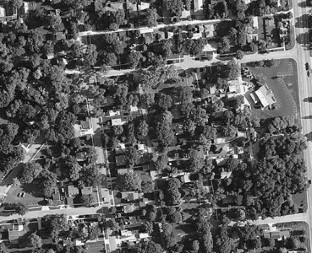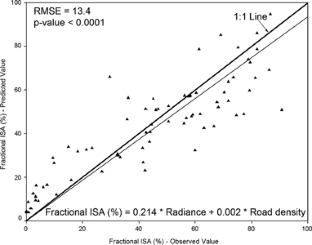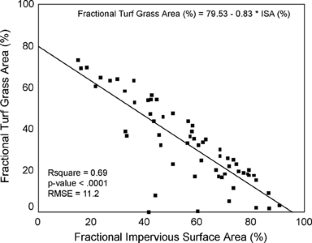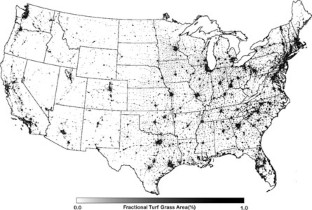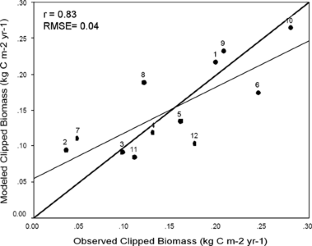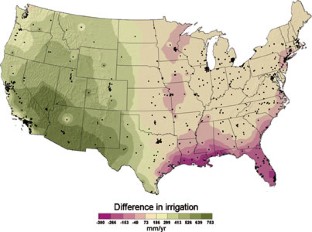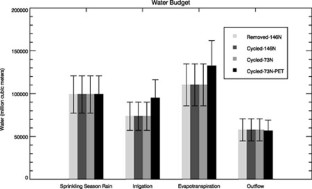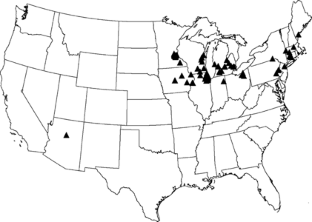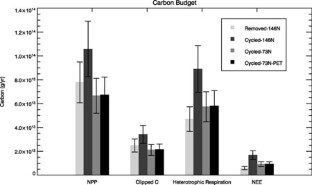 Literature Cited
W. Bandaranayake Y. L. Qian W. J. Parton D. S. Ojima R. F. Follett (2003) ArticleTitleEstimation of soil organic carbon changes in turfgrass systems using the CENTURY model Agronomy J 95 558–563

J. B. Beard (1973) Turfgrass: science and culture Prentice Hall, Englewood Cliffs New Jersey 658

F.H. Bormann D. Balmori G.T. Geballe (1993) Redesigning the American lawn: a search for environmental harmony Yale University Press New Haven and London 148

DPRA, Incorporated. 1992. Benefit analysis of insecticide us on turf: preliminary biological and economic profile report. Unpublished Interim Report, Manhattan, Kansas

C.D. Elvidge K.E. Baugh J.B. Dietz T. Bland P.C. Sutton H.W. Kroehl (1999) ArticleTitleRadiance calibration of DMSP-OLS low light imaging data of human settlements Remote Sensing of Environment 68 77–88 Occurrence Handle10.1016/S0034-4257(98)00098-4

C.D. Elvidge C. Milesi J.B. Dietz B.J. Tuttle P.C. Sutton R. Nemani J.E. Vogelmann (2004) ArticleTitleU.S. constructed area approaches the size of Ohio. Eos, Transactions American Geophysical Union 85 233

J.H. Falk (1976) ArticleTitleEnergetics of a suburban lawn ecosystem Ecology 57 141–150

Fulton W., R. Pendall, M. Nguyen, and A. Harrison. 2001. Who sprawls the most? How growth patterns differ across the U.S. The Brookings Institution Survey Series. 24 pp

Grounds Maintenance. 1996. Turf acreage. Grounds Maintenance 31:10

M.A. Harivandi W.B. Hagan C.L. Elmore (1996) ArticleTitleThe use of recycling mowers in grasscycling California Turfgrass Culture 46 4–6

J.R. Heckman H. Liu W. Hill M. DeMilia W.L. Anastasia (2000) ArticleTitleKentucky bluegrass responses to mowing practices and nitrogen fertility management Journal of Sustainable Agriculture 15 25–33 Occurrence Handle10.1300/J064v15n04_04

E.R.J. Hunt S.C. Piper R. Nemani C.D. Keeling R.D. Otto S.W. Running (1996) ArticleTitleGlobal net carbon exchange and intra-annual atmospheric CO2 concentrations predicted by an ecosystem process model and three-dimensional atmospheric transport model Global Biogeochemical Cycles 10 431–456 Occurrence Handle10.1029/96GB01691

V.S. Jenkins (1994) The lawn: a history of an American obsession Smithsonian Institution Press Washington, DC 246

J.S. Kimball M.A. White S.W. Running (1997) ArticleTitleBIOME-BGC simulations of stand hydrologic processes for BOREAS Journal of Geophysical Research 102 IssueIDD24 29043–29051 Occurrence Handle10.1029/97JD02235

K.L. Kopp K. Guillard (2002) ArticleTitleClipping management and nitrogen fertilization of turfgrass: growth, nitrogen utilization, and quality Crop Science 42 1225–1231

Mayer P. W., W. B. DeOreo, E. M. Opitz, J. C. Kiefer, W. Y. Davis, B. Dziegielewski, and J. O. Nelson. 1999. Residential end uses of water. American Water Works Association. 310 pp

Miller, D. A., and R. A. White. 1998. A conterminous United States multi-layer soil characteristics data set for regional climate and hydrology modeling. Earth Interactions 2

National Association of Realtors. 2001. Land use and land loss in the United States: the impact of land use trends on real estate development. The Research Division of the National Association of Realtors. 9 pp

D.J. Nowak M.H. Noble S.M. Sisinni J.F. Dwyer (2001) ArticleTitlePeople & trees: assessing the US urban forest resource Journal of Forestry 99 37–42

A. Petrovic (1990) ArticleTitleThe fate of nitrogenous fertilizers applied to turfgrass Journal of Environmental Quality 19 1–14

C.H.B. Priestley R.J. Taylor (1972) ArticleTitleOn the assessment of surface heat flux and evaporation using large-scale parameters Monthly Weather Review 100 81–92

Y. Qian R.F. Follett (2002) ArticleTitleAssessing soil carbon sequestration in turfgrass systems using long-term soil testing data Agronomy Journal 94 930–935

E.C. Roberts B.C. Roberts (1987) Lawn and sports turf benefits The Lawn Institute Pleasant Hill, Tennessee 3

P. Robbins T. Birkenholtz (2003) ArticleTitleTurfgrass revolution: measuring the expansion of the American lawn Land Use Policy 20 181–194 Occurrence Handle10.1016/S0264-8377(03)00006-1

P. Robbins A. Polderman T. Birkenholtz (2001) ArticleTitleLawns and toxins: an ecology of the city Cities 18 369–380 Occurrence Handle10.1016/S0264-2751(01)00029-4

P. Robbins J. Sharp (2003) ArticleTitleThe lawn-chemical economy and its discounts Antipode 35 955–979 Occurrence Handle10.1111/j.1467-8330.2003.00366.x

P. Robbins J. Sharp (2003) ArticleTitleProducing and consuming chemicals: the moral economy of the American lawn Economic Geography 79 425–451

S.W. Running (1994) ArticleTitleTesting forest-BGC ecosystem process simulations across a climatic gradient in Oregon Ecological Applications 4 238–247

S.W. Running J.C. Coughlan (1988) ArticleTitleA general model of forest ecosystem processes for regional applications. I. Hydrological balance, canopy gas exchange and primary production processes Ecological Modeling 42 125–154 Occurrence Handle10.1016/0304-3800(88)90112-3

S.W. Running S.T. Gower (1991) ArticleTitleFOREST BGC, A general model of forest ecosystem processes for regional applications. II. Dynamic carbon allocation and nitrogen budgets Tree Physiology 9 147–160

S.W. Running R.E.J. Hunt (1993) Generalization of a forest ecosystem process model for other biomes, BIOME-BGC, and an application for global-scale models J.R. Ehleringer C.B. Field (Eds) Scaling physiological processes: leaf to globe Academic Press, Inc San Diego, California 141–157

Sartain, J. B. 1998. Fertilize bermudagrass greens smartly and safely. Grounds Maintenance, September 1, 1998. Available Online at http://grounds-mag.com/mag/grounds_maintenance_fertilize_bermudagrass_greens/

B. Saugier J. Roy H.A. Mooney (2001) Estimations of global terrestrial productivity: converging toward a single number? J. Roy B. Saugier H.A. Mooney (Eds) Terrestrial global productivity Academic Press San Diego, California 543–557

W.H. Schlesinger (1997) Biogeochemistry: an analysis of global change Academic Press San Diego, California 678

W.H. Schlesinger (1999) ArticleTitleCarbon and agriculture: carbon sequestration in soils Science 284 2095

W. Schultz (1999) A man's turf: the perfect lawn Clarkson N. Potter New York 180

R.A. Spronken-Smith T.R. Oke W.P. Lowry (2000) ArticleTitleAdvection and the surface energy balance across an irrigated urban park International Journal of Climatology 20 1033–1047 Occurrence Handle10.1002/1097-0088(200007)20:9<1033::AID-JOC508>3.0.CO;2-U

P.E. Thornton S.W. Running M.A. White (1997) ArticleTitleGenerating surfaces of daily meteorological variables over large regions of complex terrain Journal of Hydrology 190 214–251 Occurrence Handle10.1016/S0022-1694(96)03128-9

P.E. Thornton B.E. Law H.L. Gholz K.L. Clark E. Falge D.S. Ellsworth A.H. Goldstein R.K. Monson D. Hollinger M. Falk J. Chen J.P. Sparks (2002) ArticleTitleModeling and measuring the effects of disturbance history and climate on carbon and water budgets in evergreen needleleaf forests Agricultural and Forest Meteorology 113 185–222 Occurrence Handle10.1016/S0168-1923(02)00108-9

Time-Life Books. 2000. Complete garden guide: A comprehensive reference for all your garden needs, 992 pp

U.S. Bureau of the Census. 1999. American Housing Survey for the United States: 1999. Available at: http://www. census.gov/hhes/www/housing/ahs/ahs99/ahs99.html (last update: February 26, 2003)

W. Dersal ParticleVan (1936) ArticleTitleThe ecology of a lawn Ecology 17 515–527

F.K. Vinlove R.F. Torla (1995) ArticleTitleComparative estimations of U.S. home lawn area Journal of Turfgrass Management 1 83–97

M. White P. Thornton S. Running R. Nemani (2000) ArticleTitleParameterization and sensitivity analysis of the BIOME-BGC terrestrial ecosystem model: net primary production controls Earth Interactions 4 1–85 Occurrence Handle10.1175/1087-3562(2000)004<0003:PASAOT>2.0.CO;2
Acknowledgments
This study was supported by the NASA Earth System Science Fellowship program to the first author and by the NASA Land Cover Land Use Change research program. We are grateful to Ronald Follett, Paul Robbins, and Michael White, whose constructive comments improved the quality of the manuscript. Many thanks also to Faith Ann Heinsch, Carol Brewer, Eric Edlund, Sarah Halvorson, David Jackson, and Stephen Siebert at the University of Montana for interesting discussions and insightful comments.
About this article
Cite this article
Milesi, C., Running, S.W., Elvidge, C.D. et al. Mapping and Modeling the Biogeochemical Cycling of Turf Grasses in the United States. Environmental Management 36, 426–438 (2005). https://doi.org/10.1007/s00267-004-0316-2
Keywords
Turf grasses

BIOME-BGC

Impervious surface area

Carbon budget

Carbon sequestration potential

Water use