Abstract
Drylands occupy 6.15 billion hectares (Bha) or 47.2% of the world's land area. Of this, 3.5 to 4.0 Bha (57%–65%) are either desertified or prone to desertification. Despite the low soil organic carbon (SOC) concentration, total SOC pool of soils of the drylands is 241 Pg (1 Pg = petagram = 1015 g = 1 billion metric ton) or 15.5% of the world's total of 1550 Pg to 1-meter depth. Desertification has caused historic C loss of 20 to 30 Pg. Assuming that two-thirds of the historic loss can be resequestered, the total potential of SOC sequestration is 12 to 20 Pg C over a 50-year period. Land use and management practices to sequester SOC include afforestation with appropriate species, soil management on cropland, pasture management on grazing land, and restoration of degraded soils and ecosystems through afforestation and conversion to other restorative land uses. Tree species suitable for afforestation in dryland ecosystems include Mesquite, Acacia, Neem and others. Recommended soil management practices include application of biosolids (e.g., manure, sludge), which enhance activity of soil macrofauna (e.g., termites), use of vegetative mulches, water harvesting, and judicious irrigation systems. Recommended practices of managing grazing lands include controlled grazing at an optimal stocking rate, fire management, and growing improved species. The estimated potential of SOC sequestration is about 1 Pg C/y for the world and 50 Tg C/y for the U.S. This potential of dryland soils is relevant to both the Kyoto Protocol under UNFCCC and the U.S. Farm Bill 2002.
Access options
Buy single article
Instant access to the full article PDF.
USD 39.95
Price excludes VAT (USA)
Tax calculation will be finalised during checkout.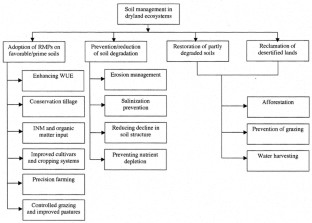 Notes
*Although not a signatory to the Kyoto Protocol, President Bush has also emphasized the importance of forest and soils in C sequestration on a voluntary basis.
References
S. M. Abubakar (1996) ArticleTitleRehabilitation of degraded lands by means of fallowing in a semi-arid area of northern Nigeria. Land Degradation & Development 7 133–144

R. Ahmad S. Ismail M. Moinuddin T. Shaheen (1994) ArticleTitleScreening of mesquite for biomass production at barren sandy areas using highly saline water for irrigation. Pakistan Journal of Botany 26 265–282

S. A. Aldrich W. O. Scott R. G. Hoeft (1986) Modern corn production. A&L Publishers Champaign, Illinois

F. E. Allison (1973) Soil organic matter and its role in crop production. Elsevier New York

G. Alstad O. R. Vetass (1994) ArticleTitleThe influence of Acacia tortilis stands on soil properties in arid northeastern Sudan. Acta Oecologica 15 449–460

M. Arabi E. Roose (1989) ArticleTitleInfluence de quatre systèmes de production en région méditerranéenne de moyenne montagne Algérienne. Bulletin Réseau Erosion 9 39–51

O. Arnalds (2000) Desertification: An appeal for a broader perspective. O. Arnalds S. Archer (Eds) Rangeland desertification. Kluver Academic Publishers Dordrecht, The Netherlands 5–15

A. O. Aweto H. K. Ayub (1993) ArticleTitleEffect of continuous cultivation with animal manuring on a sub-Sahelian sil near Maiduguri, northeastern Nigeria. Biology, Agriculture & Horticulture 9 343–352

A. Baker J. I. Sprent J. Wilson (1995) ArticleTitleEffects of sodium chloride and mycorrhizal infection on the growth and nitrogen fixation of Prosopis juliflora. Symbiosis 19 39–51

S. S. Balpande S. B. Deshpande D. K. Pal (1996) ArticleTitleFactors and processes of soil degradation in Vertisols of the Purna Valley, Maharashtra, India. Land Degradation & Development 7 313–324

A. Bationo S. P. Wani C. L. Bielders P. L. G. Vlek A. U. Mokwunye (2000) Crop residue and fertilizer management to improve soil organic carbon content, soil quality and productivity in the desert margins of West Africa. R. Lal J. M. Kimble B. A. Stewart (Eds) Global climate change and tropical ecosystems. CRC/Lewis Publishers Boca Raton, Florida 117–145

N. H. Batjes (1998) ArticleTitleMitigation of atmospheric carbon dioxide concentrations by increased carbon sequestration in the soil. Biology & Fertility of Soils. 27 230–235

P. Branchu H. Faure J. P. Ambrost E. M. V. Bakker L. Fauredenard (1993) ArticleTitleAfrica as source and sink for atmospheric carbon dioxide. Global and Planetary Change 7 41–49 Occurrence Handle10.1016/0921-8181(93)90039-Q

N. Breeman R. Van Protz (1988) ArticleTitleRates of calcium carbonate removal from soils. Canadian Journal of Soil Science 68 449–454

H. Breeman J. J. Kessler (1997) ArticleTitleThe potential benefits of agroforestry in the Sahel and other semi-arid regions. European Journal of Agronomy 7 25–33 Occurrence Handle10.1016/S1161-0301(97)00035-X

A. Brune M. Kuhl (1996) ArticleTitlepH profile of the extremely alkaline hindguts of soil feeding termites determined by micro pH electrodes. Journal of Insect Physiology 42 1121–1127 Occurrence Handle10.1016/S0022-1910(96)00036-4 Occurrence Handle1:CAS:528:DyaK2sXot1Oitw%3D%3D

K. Y. Chan (1997) ArticleTitleConsequences of changes in particulate organic carbon in Vertisols under pasture and cropping. Soil Science Society of America Journal 61 1376–1382 Occurrence Handle1:CAS:528:DyaK2sXmvV2gt7s%3D

K. Y. Chan A. M. Bowman J. J. Friend (1997) ArticleTitleRestoration of soil fertility of degraded Vertisols using a pasture including a native grass (Astrebla lappacea). Tropical Grasslands 31 145–155

C. Charreau P. Vidal (1965) ArticleTitleInfluence de l' Acacia albida sur le sol, nutrition minerale et rendements des mils Pennisetum au Senegal. L' Agronomie Tropicale 6–7 600–625

C. V. Cole (1995) Agricultural options for mitigation of greenhouse gas emissions. . . (Eds) Climate change 1995: impacts, adaptation and mitigation of climate change: scientific & technical analyses. IPCC Working Group II. Cambridge Univ. Press Cambridge, U.K. 745–771

R. T. Conant K. Paustian E. T. Elliott (2001) ArticleTitleGrassland management and conversion into grassland: effects on soil carbon. Ecological Applications 11 343–355

S. L. Connin R. A. Virginia C. P. Chamberlain (1997) ArticleTitleCarbon isotopes reveal soil organic matter dynamics following arid land shrub expansion. Oecologia 110 374–386 Occurrence Handle10.1007/s004420050172

G. F. Craig D. T. Bell C. A. Atkins (1990) ArticleTitleResponse to salt and waterlogging stress of ten taxa of Acacia selected from naturally saline areas of western Australia. Australian Journal of Botany 38 619–630

R. C. Dalal (1989) ArticleTitleLong-term effects of no-tillage, crop residue and nitrogen application on properties of a Vertisol. Soil Science Society of America Journal 53 1511–1515 Occurrence Handle1:CAS:528:DyaK3cXitVeltQ%3D%3D

R. C. Dalal (1992) ArticleTitleLong-term trends in total nitrogen of a Vertisol subjected to zero tillage, nitrogen application and stubble retention. Australian Journal of Soil Research 30 223–231 Occurrence Handle1:CAS:528:DyaK38XitlCmu7w%3D

R. C. Dalal J. O. Carter J. M. Kimble (2000) Soil organic matter dynamics and carbon sequestration in Australian tropical soils. R. Lal B. A. Stewart (Eds) Global climate change and tropical ecosystems. CRC/Lewis Publishers Boca Raton, Florida 283–314

R. C. Dalal P. A. Henderson J. M. Glasby (1991) ArticleTitleOrganic matter and microbial biomass in a Vertisol after 20 years of zero tillage. Soil Biology & Biochemistry 23 435–44

R. C. Dalal W. M. Strong E. J. Weston J. E. Cooper K. J. Lehane A. J. King C. J. Chicken (1995) ArticleTitleSustaining productivity of a Vertisol at Warra, Queensland, with fertilizers, no-till or legumes. I. Organic matter status. Australian Journal of Experimental Agriculture 37 903–913

C. Dancette J. F. Poulain (1969) ArticleTitleInfluence of Acacia albida on pedoclimatic factors and crop yields. African Soils 14 143–18

H. E. Dregne (1976) Soils of arid regions. Elsevier Amsterdam

Dregne, H. (1983) "Desertification of arid lands." In: Advances in desert and arid lands, Harwood Academic, New York, 242 pp

H. E. Dregne N.- T. Chou (1992) Global desertification dimensions and costs. H. E. Dregne (Eds) Degradation and restoration of arid lands. Texas Tech. Univ. Lubbock, Texas 249–281

R. M. East P. Felker (1993) ArticleTitleForage production and quality of 4 perennial grasses grown under and outside canopies of mature. Prosopis glandulosa. Agroforesty System 22 91–110

H. V. Eck R. H. Ford C. D. Fanning (1967) Productivity of horizons of seven benchmark soils of the Southern Great Plains. USDA-ARS, Cons. Res. Rep. #11 Washington, D.C.

M. H. El-Lakany E. J. Luard (1982) ArticleTitleComparative salt tolerance of selected Casurina species. Australian Forestry Research 13 11–20

H. Eswaran P. F. Reich J. M. Kimble F. H. Beinroth E. Padamnabhan P. Moncharoen J. M. Kimble (2000) Global carbon stocks. R. Lal H. Eswaran B. A. Stewart (Eds) Global climate change and pedogenic carbonates. Lewis Publishers Boca Raton, Florida 15–250

P. Felker (1998) ArticleTitleThe value of mesquite for the rural southwest: fine lumber and soil improvement. Journal of Forestry 96 16–21

P. Felker (2000) ArticleTitleAn investment based approach to Prosopis agroforestry in arid lands. Annals of Arid Zone 38 383–395

P. Felker P. R. Clark A. E. Laag P. F. Pratt (1981) ArticleTitleSalinity tolerance of the tree legumes mesquite (Prosopis glandulosa), algarrobo (P. cilensis), Kiawe (P. pallida) and tamarugo (P. tamarugoi) grown in sand culture on nitrogen free media. Plant and Soil 61 311–317

Q. Feng K. N. Endo G. D. Cheng (2002) ArticleTitleSoil carbon in desertified land in relation to site characteristics. Geoderma 106 21–43 Occurrence Handle10.1016/S0016-7061(01)00099-4 Occurrence Handle1:CAS:528:DC%2BD38XhtVant7o%3D

R. F. Follett E. A. Paul S. W. Levitt A. D. Halvorson D. Lyon G. A. Peterson (1997) ArticleTitleCarbon isotope ratios of Great Plain soils in wheat-fallow systems. Soil Science Society of America Journal 61 1068–1077 Occurrence Handle1:CAS:528:DyaK2sXlt1Shsbw%3D

R. F. Follett J. M. Kimble R. Lal (2001) The potential of U.S. grazing lands to sequester carbon and mitigate the greenhouse effect. CRC/Lewis Publishers Boca Raton, Florida

R. F. Follett J. Z. Castellanos E. D. Buenger (2003 (in press)) ArticleTitleCarbon dynamics and sequestration in an irrigated Vertisol in Central Mexico. Soil & Tillage Research . .

M. A. Fullen W. Fearnehough D. J. Mitchell I. C. Trueman (1995) ArticleTitleDesert reclamation using Yellow River irrigation water in Ningxia, China. Soil Use & Management 11 77–83

J. A. Galantini R. A. Rosell (1997) ArticleTitleOrganic fractions, N, P and S changes in Argentina semi- arid Haplustoll under different crop sequences. Soil & Tillage Research 42 221–228

V. K. Garg (1998) ArticleTitleInteraction of tree crops with a sodic soil environment: potential for rehabilitation of degraded environments. Land Degradation & Development 9 81–93

D. Geesing P. Felker R. L. Bingham (2000) ArticleTitleInfluence of mesquite (Prosopis glandulosa) on soil nitrogen and carbon development: implications for global carbon sequestration. Journal of Arid Environments 46 1–24 Occurrence Handle10.1006/jare.2000.0661

R. M. Gifford N. P. Cheney J. C. Noble J. S. Russell A. B. Wellington C. Zammit (1992) ArticleTitleAustralian land use, primary production of vegetation and carbon pools in relation to atmospheric CO2 levels. Bureau of Rural Resources Proceedings 14 151–187

L. H. Gile R. B. Grossman (1979) The desert project soil monograph. USDA-SCS Washington, D.C.

E. Glenn V. Squires M. Olson R. Frye (1993) ArticleTitlePotential for carbon sequestration in the drylands. Water, Air and Soil Pollution 70 341–355

K. Guillaume L. Abbadie A. Mariotti H. Narco (1999) ArticleTitleSoil organic matter dynamics in tiger bush (Niamey, Niger). Preliminary results. Acta Oecologia 20 185–195 Occurrence Handle10.1016/S1146-609X(99)80031-9

J. P. Gupta J. Venkateswarlu (1994) ArticleTitleSoil management and rainwater conservation and use. V. Aridisolsin Soil management for sustainable agriculture in dryland areas. Bulletin on Indian Society of Soil Science 16 Pages 66–77

R. K. Gupta (1995) Multipurpose trees. R. K. Gupts (Eds) Multipurpose trees for agroforestry and wasteland utilization. Center for Research on Environmental Applications, Training and Education Dehra Dun, India 331–335

A. D. Halvorson R. F. Follett M. E. Bartolo F. C. Schweissing (2002) ArticleTitleNitrogen fertilizer use efficiency of furrow-irrigated onion and corn. Agronomy Journal 94 442–449

J. L. Havlin D. E. Kissel L. D. Maddux M. M. Classen J. H. Long (1990) ArticleTitleCrop rotation and tillage effects on soil organic carbon and nitrogen. Soil Science Society of America Journal 54 448–452

J. E. Herrick M. A. Weltz J. D. Reeder G. E. Schuman J. R. Simanton (1999) Rangeland soil erosion and soil quality: role of soil resilience, resilience and disturbance regime. R. Lal (Eds) Soil quality and soil erosion. CRC Press Boca Raton, Florida 209–233

P. Hiernaux C. L. Bielders C. Valentin A. Bationo S. Rivera-Fernandez (1999) ArticleTitleEffects of livestock grazing on physical and chemical properties of sandy soils in Sahelian rangelands. Journal of Arid Environments 41 231–245 Occurrence Handle10.1006/jare.1998.0475

D. Hillel (1998) Environmental Soil Physics. Academic Press San Diego 640–642

D. Hillel C. Rosenzweig (2002) ArticleTitleDesertification in relation to climate variability and change. Advances in Agronomy 77 1–38 Occurrence Handle10.1016/S0065-2113(02)77012-0

F. L. Himes (1998) Nitrogen, sulfur and phosphorus and the sequestering of carbon. R. Lal J. M. Kimble R. F. Follett B. A. Stewart (Eds) Soil processes and the carbon cycle. CRC/Lewis Publishers Boca Raton, Florida 315–319

C. W. Hinman J. W. Hinman (1992) The plight and promise of arid land agriculture. Columbia University Press New York

I. C. R. Holford (1990) ArticleTitleEffects of 8-year rotations of grain sorghum with lucern, annual legume, wheat and long fallow on nitrogen and organic carbon on two contrasting soils. Australian Journal of Soil Research 28 277–291 Occurrence Handle1:CAS:528:DyaK3cXmtFSks7s%3D

T. Ibori I. C. Burke W. K. Lauenroth D. P. Coffin (1995) ArticleTitleEffects of cultivation and abandonment on soil organic matter in northeastern Colorado. Soil Science Society of America Journal 59 1112–1119

InstitutionalAuthorNameIFDC (2002) Global and regional data on fertilizer production and consumption 1961–62 to 2000- 2001. IFDC, Muscle Shoals AL

InstitutionalAuthorNameIPCC (2001) Climate Change 2001: The scientific basis. Executive summary. Cambridge Univ. Press Cambridge, U.K.

D. S. Jenkinson (1981) The fate of plant and animal residues in soil. D. J. Greenland M. H. B. Hayes (Eds) The chemistry of soil processes. J. Wiley & Sons New York 385–446

D. S. Jenkinson (1988) Soil organic matter and its dynamics. A. Wild (Eds) Russell's soil conditions and plant growth. Longman Scientific & Technical, Essex CM20 2JE UK 564–607

D. S. Jenkinson H. C. Harris J. Ryan A. M. McNeil C. J. Pilbeam K. Coleman (1999) ArticleTitleOrganic matter turnover in calcareous soil from Syria under a two-course cereal rotation. Soil Biology & Biochemistry 31 643–649

E. G. Jobbagy R. B. Jackson (2000) ArticleTitleThe vertical distribution of soil organic carbon and its relation to climate and vegetation. Ecological Applications 10 423–436

O. R. Jones B. A. Stewart P. W. Unger E. T. Elliott (1997) Management of dry-farmed Southern Great Plains soils for sustained productivity. E. A. Paul K. Paustian C. V. Cole (Eds) Soil organic matter in temperate agroecosystems. CRC Publishers Boca Raton, Florida 387–401

K. N. Kihani D. A. More (1984) ArticleTitleLong-term effect of tillage operation and farmyard manure application on soil properties and crop yield in a Vertisol. Journal of Indian Society of Soil Science 32 392–393

J. M. Kimble R. Birdsey L. Heath R. Lal (2002) The potential of U.S. forest soils to sequester carbon and mitigate the greenhouse effect. CRC Press Boca Raton, Florida

I. Lahav Y. Steinberger (2001) ArticleTitleThe contribution of stone cover to biological activity in the Negev Desert, Israel. Land Degradation & Development 12 35–43

R. Lal (1995) ArticleTitleThe role of residue management in sustainable agricultural systems. Journal of Sustainable Agriculture 5 71–78

R. Lal (2001) ArticleTitlePotential of desertification control to sequester carbon and mitigate the greenhouse effect. Climate Change 51 35–72 Occurrence Handle10.1023/A:1017529816140

R. Lal J. M. Kimble (2001b) Soil erosion and carbon dynamics on grazing lands. R. F. Follett R. Lal (Eds) The potential of U.S. grazing lands to sequester carbon and mitigate the greenhouse effect. CRC/Lewis Publishers Boca Raton, Florida 231–247

R. Lal (2002) ArticleTitleCarbon sequestration in dryland ecosystems of West Asia and North Africa. Land Degradation & Development 13 45–59

R. Lal J. M. Kimble (2000) Pedogenic carbonates and the global carbon cycle. R. Lal J. M. Kimble H. Eswaran B. A. Stewart (Eds) Global climate change and pedogenic carbonates. CRC/Lewis Publishers Boca Raton, Florida 1–14

R. Lal J. M. Kimble R. Follett C. V. Cole (1998) The potential of U.S. cropland to sequester carbon and mitigate the greenhouse effect. Ann Arbor Press Chelsea, MI

R. Lal H. M. Hassan J. Dumanski (1999) Desertification control to sequester C and mitigate the greenhouse effect. N. J. Rosenberg R. C. Izaurralde E. L. Malone (Eds) Carbon sequestration in soils: science, monitoring and beyond. Battelle Press Columbus, Ohio 83–151

R. Lal J. M. Kimble H. Eswaran B. A. Stewart (2000) Global climate change and pedogenic carbonates. CRC/Lewis Publishers Boca Raton, Florida

Le Hoúerou, H. N. 1975. Science, power and desertification. Meeting on desertization. Dept. Geogr. Univ. Cambridge, 22–28 Sept, 1975, 26pp.

S. A. Lei (1998) ArticleTitleSoil properties of the Kelso sand dunes in the Mojave Desert. Southwestern Naturalist 43 47–52

M. Mainguet (1991) Desertification: Natural background and human mismanagement. Springer Verlag Berlin

K. K. Mathan K. Sankaran K. Kanakabushan K. K. Krishnamoorthy (1978) ArticleTitleEffect of continuous rotational cropping on the organic carbon and total nitrogen contents in a black soil. Journal of Indian Society of Soil Science 26 283–285 Occurrence Handle1:CAS:528:DyaE1cXmtFCitr0%3D

N. J. Middleton D. S. G. Thomas (1992) World atlas of desertification. Edward Arnold/UNEP Seven Oaks

Miglierina, A. M., Landriscini, M. R. Galantini, J. A. Iglesias, J. O. Glave, A. and Gallardo Lancho. J. F. 1993. Fifteen years of crop rotation and fertilization in the semi-arid pampas region. I. Effect on the chemical properties of the soil. Pages 751–758 in El estudio del suelo y de su degradacion en relacion con la desertification. Actas del 12 Congreso Latinamericano de la Ciencia del Suelo, Sevilla (Espana), 19–26 Sept. 1993.

Miglierina, A. M., Galantini, J. A. Iglesias, J. O. Rosell, R. A. and Glave. A. 1996. Crop rotation and fertilization in production systems of the semi-arid region of Buenos Aires. Pages 9–14 in Revista de la Facultad de Agronomica, Universidad de Buenos Aires 15.

H. C. Monger R. A. Gallegos (2000) Biotic and abiotic processes and rates of pedogenic carbonate accumulation in the southwestern United States. Relationship to atmospheric CO2 sequestration. R. Lal J. M. Kimble H. Eswaran B. A. Stewart (Eds) Global climate change and pedogenic carbonates. CRC/Lewis Publishers Boca Raton, Florida 273–290

J. M. Murillo F. Moreno F. Pelegrin J. E. Fernandez (1998) ArticleTitleResponse of sunflower to traditional and conservation tillage in southern Spain. Soil & Tillage Research 49 223–241

M. H. Nash W. G. Whitford (1995) ArticleTitleSub-terranean termites-regulators of soil organic matter in the Chihuahuan Desert. Biology & Fertility of Soils 19 15–18

B. H. Ng (1987) ArticleTitleThe effects of salinity on growth, nodulation, and nitrogen fixation of Casurina equisetifolia. Plant and Soil 103 123–125 Occurrence Handle1:CAS:528:DyaL1cXlt12qtg%3D%3D

D. Noin J. I. Clarke (1997) Population and environment in arid regions of the world. J. Clarke D. Noin (Eds) Population and environment in arid regions. MAB/UNESCO, Vol. 19. The Pantheon Publishing Group New York 1–18

L. C. Nordt L. P. Wilding L. R. Drees (2000) Pedogenic carbonate transformations in leaching soil systems: Implications for the global C cycle. R. Lal J. M. Kimble H. Eswaran B. A. Stewart (Eds) Global climate change and pedogenic carbonates. CRC/Lewis Publishers Boca Raton, Florida 43–64

D. S. Ojima M. S. Smith M. Beardsley (1995) Factors affecting carbon storage in semi-arid and arid ecosystems. V. R. Squires E. P. Glenn A. T. Ayoub (Eds) Combating global climate change by combating land degradation. UNEP Nairobi, Kenya 93–115

L. R. Oldeman G. W. J. Van Lynden (1998) Revisiting the GLASOD methodology. R. Lal W. H. Blum C. Valentine B. A. Stewart (Eds) Methods for assessment of soil degradation. CRC Press Boca Raton, Florida 423–440

J. Pascual T. Hernandez C. Garcia A. Garcia (1998) ArticleTitleChanges in the organic matter mineralization rates of an arid soil after amendment with organic wastes. Arid Soil Research & Rehabilitation 12 63–72

S. G. Patil M. Hebbara S. B. Devarnavadagi (1996) ArticleTitleScreening of multipurpose trees for saline Vertisols and their bioameliorative effects. Annals of Arid Zone 35 57–60

J. N. Pedreno I. Gomez R. Moral J. Mataix (1996) ArticleTitleImproving the agricultural value of a semi-arid soil by addition of sewage sludge and almond residue. Agricultural Ecosystems & Environment 58 115–119

J. S. Perkins D. S. G. Thomas (1993) ArticleTitleSpreading deserts or spatially confined environments? Land degradation and cattle ranching in the Kalahari Desert of Botswana. Land Degradation & Rehabilitation 4 179–194

C. Pieri (1991) Fertility of soils: a future for farming in the West African savannah. Springer Verlag Berlin

S. Postel (1999) Pillar of sand: can the irrigation miracle last? W.W. Norton & Co. New York

K. N. Potter O. R. Jones H. A. Torbert P. W. Unger (1997) ArticleTitleCrop rotation and tillage effects on organic carbon sequestration in the semi-arid southern Great Plains. Soil Science 162 140–147 Occurrence Handle10.1097/00010694-199702000-00007 Occurrence Handle1:CAS:528:DyaK2sXhs12ltb0%3D

J. F. Reynolds D. M. S. Smith (2002) Do humans cause deserts?. J. F. Reynolds D. M. Stafford Smith (Eds) Global desertification: do humans cause deserts? Dahlem Univ. Press Berlin 1–21

D. Rhodes P. Felker (1988) ArticleTitleMass screening Prosopis seedlings for growth at seawater salinity. Forest Ecology & Management 24 169–176

C. W. Rice C. E. Owensby (2001) The effects of fire and grazing on soil carbon in range lands. R. F. Follett J. M. Kimble R. Lal (Eds) The potential of U.S. grazing lands to sequester carbon and mitigate the greenhouse effect. CRC/Lewis Publishers Boca Raton, Florida 323–341

E. J. Roose (1996) Land husbandry: components and strategy. FAO Soils Bull. 70 FAO, Rome

C. M. Rostagno R. B. Sosebal (2001) ArticleTitleSurface application of biosolids in the Chihuahuan Desert: Effects on soil physical properties. Arid Land Resource Management 15 233–244 Occurrence Handle10.1080/15324980152119793 Occurrence Handle1:CAS:528:DC%2BD3MXlslaqt78%3D

G. Ruecker P. Sachad N. M. Alcubilla C. Ferrer (1998) ArticleTitleNatural regeneration of degraded soils and sites: changes on abandoned agricultural terraces in Mediterranean Spain. Land Degradation & Development 9 179–188

J. S. Russell (1981) Models of long-term soil organic nitrogen change. M. J. Frissel J. A. Van Veen (Eds) Simulation of nitrogen behavior of soil-plant systems. Center for Agricultural Publishing and Documentation Wageningen, Holland 222–232

J. Ryan (1998) Changes in organic carbon in long-term rotation and tillage trials in northern Syria. R. Lal J. M. Kimble R. F. Follett B. A. Stewart (Eds) Management of carbon sequestration in soils. CRC/Lewis Publishers Boca Raton, Florida 285–296

J. Ryan S. Masri S. Garabet H. Harris (1997) Changes in organic matter and nitrogen with a cereal legume rotation trial. J. Ryan (Eds) Accomplishment and future challenges in dryland soil fertility research in the Mediterranean area. ICARDA Aleppo 79–87

M. G. Sanderson (1996) ArticleTitleBiomass of termites and their emissions of CH4 and CO2, a global database. Global Biogeography 10 543–547 Occurrence Handle10.1029/96GB01893 Occurrence Handle1:CAS:528:DyaK28Xntlyqsr0%3D

D. S. Schimel J. I. House K. A. Hubbard P. and others Bousquest (2001) ArticleTitleRecent patterns and mechanisms of carbon exchange by terrestrial ecosystems. Nature 414 169–172 Occurrence Handle10.1038/35102500 Occurrence Handle1:CAS:528:DC%2BD3MXosFaisLo%3D Occurrence Handle11700548

W. H. Schlesinger (1990) ArticleTitleEvidence from chronosequence studies for a low carbon-storage potential of soils. Nature 348 232–234 Occurrence Handle10.1038/348232a0 Occurrence Handle1:CAS:528:DyaK3MXms1aqtA%3D%3D

W. H. Schlesinger (1997) Biogeochemistry: an analysis of global change. Academic Press New York

G. E. Schuman H. H. Janzen J. E. Herrick (2002) ArticleTitleSoil carbon dynamics and potential carbon sequestration by rangelands. Environmental Pollution 116 391–396 Occurrence Handle10.1016/S0269-7491(01)00215-9 Occurrence Handle1:CAS:528:DC%2BD3MXovVersbs%3D Occurrence Handle11822717

W. O. Scott S. A. Aldrich (1983) Modern soybean production. S&A Publication, Inc. Champaign, Illinois

R. R. Shahin M. A. El-Meleigi A. A. Al-Rokiba A. M. Eisa (1998) ArticleTitleEffect of wheat stubble management pattern on organic carbon content and fertility of sandy soils under pivot irrigation system. Bulletin of the Faculty of Agriculture, Univ. of Cairo. Cairo 42 283–296

G. Singh N. T. Singh I. P. Abrol (1994) ArticleTitleAgroforestry techniques for the rehabilitation of degraded salt-affected lands in India. Land Degradation & Rehabilitation 5 223–242

Y. Singh D. C. Chaudhary S. P. Singh A. K. Bhardwaj D. Singh (1996) ArticleTitleSustainability of rice-wheat sequential cropping through introduction of legume crops and green manure crops in the system. Indian Journal of Agronomy 41 510–514

J. O. Skjemstad V. R. Catchpoole R. P. LeFeuvre (1994) ArticleTitleCarbon dynamics in Vertisols under several crops as assessed by natural abundance 13C. Australian Journal of Soil Research 32 311–321

Squires, V. R., Glenn, E. P. Ayoub and A. T. (eds). 1995Combating global climate change by combating land degradation: executive summary. UNEP, Nairobi, Kenya.

F. J. Stevenson (1982) Humus chemistry: genesis, composition, reactions. J. Wiley & Sons New York

B. A. Stewart C. A. Robinson (2000) Land use impact on carbon dynamics in soils of the arid and semi-arid tropics. R. Lal J. M. Kimble B. A. Stewart (Eds) Global climate change and tropical ecosystems. CRC/Lewis Publishers Boca Raton, Florida 251–257

D. Stiles (1988) ArticleTitleArid land plants for economic development and desertification control. Desertification Control Bulletin. UNEP, Nairobi, Kenya 17 18–21

N. J. Swisher (1997) ArticleTitleIncremental cost of C storage in forestry, bioenergy and land use. Critical Reviews in Environmental Science & Technology 27 S335–S347

H. Tiessen E. Cuevas P. Chacon (1994) ArticleTitleThe role of soil organic matter in sustaining soil fertility. Nature 371 783–785 Occurrence Handle10.1038/371783a0 Occurrence Handle1:CAS:528:DyaK2cXmvF2qtrw%3D

InstitutionalAuthorNameUNEP (1991) Status of desertification and implementation of the plan of action to combat desertification. UNEP Nairobi, Kenya

InstitutionalAuthorNameUNEP (1992) World atlas of desertification. Edward Arnold Seven Oaks, UK

P. W. Unger (1991) ArticleTitlerganic matter, nutrient and pH distribution in no- and conventional tillage semi-arid soils. Agronomy Journal 83 186–190 Occurrence Handle1:CAS:528:DyaK3MXitVKjtLs%3D

United Nations Framework Convention on Climate Change. 1997. Kyoto Protocol to the UNFCC. Secretariat of the UNFCC. Haus Carstanjen, Bonn, Germany, 23pp.

P. M. Vitousek (1997) ArticleTitleuman alteration of the global carbon cycle: causes and consequences. Issues in Ecology 1 4–6

A. Warren (1996) Desertification. . . (Eds) The physical geography of africa. Oxford Univ. Press New York XX–XX

M. J. Whitehouse J. W. Littler (1984) ArticleTitleEffect of pasture on subsequent wheat crops on a black earth soil of the Darling Downs. II. Organic carbon, nitrogen and pH changes. Queensland Journal of Agriculture & Animal Science 41 13–20

W. G. Whitford (1996) ArticleTitleThe importance of the biodiversity of soil biota in arid ecosystems. Biodiversity & Conservation 5 185–195

R. W. Willey M. S. Reddy M. Natarajan (1983) Conventional cropping for Alfisols and some implications for agroforestry systems. P. Pathak S. A. El-Swaify S. Singh (Eds) Alfisols in semi-arid tropics. ICRISAT Hyderabad, India .

InstitutionalAuthorNameWRI (2000) World resources: people and ecosystems. The fraying web of life. Elsevier Science Oxford, U.K.

E. Zaady R. Yonatan M. Shachak A. Perevolotsky (2001) ArticleTitleEffects of grazing on abiotic and biotic parameters in a semi-arid ecosystem: a case study from the northern Negev Desert, Israel. Arid Land Resource Management 15 245–261 Occurrence Handle10.1080/15324980152119801
About this article
Cite this article
Lal, R. Carbon Sequestration in Dryland Ecosystems . Environmental Management 33, 528–544 (2004). https://doi.org/10.1007/s00267-003-9110-9
Published:

Issue Date:

DOI: https://doi.org/10.1007/s00267-003-9110-9
Keywords