Abstract
Background
As advanced maternal age and bariatric procedures have become more common, the number of women seeking pregnancy after having abdominoplasty has increased. This has traditionally been a relative contraindication and counselled against, though there are little data in the literature regarding the potential effects to mother and baby.
Methods
A systematic review of Medline and Embase databases was performed to identify cases of pregnancy occurring after abdominoplasty. Data were extracted and analysed for presentation.
Results
17 studies encompassing 237 patients met inclusion. Mean age was 33.08 years. Mean parity prior to first pregnancy after abdominoplasty 2.13. Previous bariatric surgery was reported in 31.75%. Body contouring procedure was abdominoplasty (94.51%), body lift (3.80%) and other (1.69%). Rectus plication was performed in 89.74%, where reported. Mean time between abdominoplasty and pregnancy was 3.75 years. Method of delivery was Caesarean section in 43.63%, and vaginal delivery in 56.37%. Mean gestational age at delivery was 38.90 weeks. Preterm delivery (<37 weeks) was reported in 9.85%, and low birthweight (<2500 g) was reported in 7.22%. Diagnoses or complications were documented in 14 studies (136 patients). These were grouped as foetal/neonatal (n = 21), maternal (n = 104) or abdominal wall/aesthetic (n = 96); and are detailed within. There were no neonatal or maternal mortalities in any study. A lower-than-expected spinal anaesthetic block was stated in 3 cases. Mean follow-up was 8.5 months.
Conclusion
Pregnancy should not be contraindicated after abdominoplasty. The data presented allow clinicians to have an evidence-based discussion and provide information for shared decision-making.
Level of Evidence III
This journal requires that authors assign a level of evidence to each article. For a full description of these Evidence-Based Medicine ratings, please refer to the Table of Contents or the online Instructions to Authors www.springer.com/00266
Access options
Buy single article
Instant access to the full article PDF.
USD 39.95
Price excludes VAT (USA)
Tax calculation will be finalised during checkout.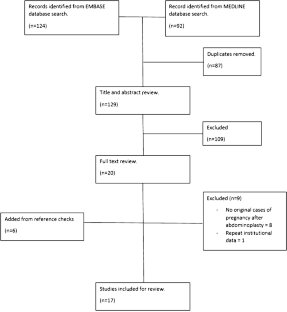 References
Matarasso A (2010) Traditional abdominoplasty. Clin Plast Surg 37(3):415–437

Sheen JJ, Wright JD, Goffman D, Kern-Goldberger AR, Booker W, Siddiq Z et al (2018) Maternal age and risk for adverse outcomes. Am J Obstet Gynecol. 219(4):390e1-390e15

Gimenes JC, Nicoletti CF, de Souza Pinhel MA, de Oliveira BAP, Salgado Junior W, Marchini JS et al (2017) Pregnancy after roux en Y gastric bypass: nutritional and biochemical aspects. Obes Surg 27(7):1815–1821

Collaboration NCDRF (2016) Trends in adult body-mass index in 200 countries from 1975 to 2014: a pooled analysis of 1698 population-based measurement studies with 19.2 million participants. Lancet. 387(10026):1377–1396

Carreau AM, Nadeau M, Marceau S, Marceau P, Weisnagel SJ (2017) Pregnancy after bariatric surgery: balancing risks and benefits. Can J Diabetes 41(4):432–438

Pajula S, Gissler M, Kaijomaa M, Jyranki J, Tukiainen E, Koljonen V (2021) Pregnancy and delivery after lower body contouring surgery is safe for the mother and child. J Plast Reconstr Aesthet Surg 74(1):143–151

Borman H (2002) Pregnancy in the early period after abdominoplasty. Plast Reconstr Surg 109(1):396–397

Faessen JL, Meesters-Caberg MAJ, Stoot J (2020) Pregnancy after abdominoplasty with mesh placement: a case report. JPRAS Open. 26:8–11

Riordan C, Budny P, Regan P (2003) Pregnancy as an autologous tissue expander for closure of an abdominal-wall defect. Br J Plast Surg 56(1):64–66

Mai R, Stavrou D, Ritz M (2014) Abdominoplasty revision with autologous tissue expansion. Aesthetic Plast Surg 38(2):483

Nahas FX (2002) Pregnancy after abdominoplasty. Aesthetic Plast Surg 26(4):284–286

Menz P (1996) Pregnancy after abdominoplasty. Plast Reconstr Surg 98(2):377–378

Wallach SG (2002) Pregnancy after abdominoplasty. Plast Reconstr Surg. 110(7):1805

Sawyer D, Frey K (2000) Cervical prolapse during pregnancy. J Am Board Fam Pract 13(3):216–218

Joshi P, Thomas DI (2002) The influence of abdominoplasty surgery on assessment of level of subarachnoid block. Anaesthesia 57(5):515–517

Chandru S, Srinivasan J, Roberts AD (2007) Acute uterine cervical prolapse in pregnancy. J Obstet Gynaecol 27(4):423–424

Assas A, Bryson EO, Frost EA (2011) Deceptive level after intrathecal block for cesarean section in a patient with prior abdominoplasty–a case report. Middle East J Anaesthesiol 21(2):305–308

Nizard J, Dommergues M, Clement K (2012) Pregnancy in a woman with a leptin-receptor mutation. N Engl J Med 366(11):1064–1065

Darfelt IW, Aasvang EK (2014) Insufficient regional anaesthesia in patients with abdominoplasty. Acta Anaesthesiol Scand 58(8):1044

Pimentel VM, Powell K, Karkowsky CE (2016) Is the cesarean delivery rate higher after abdominoplasty? Obstetrical outcomes in the setting of abdominoplasty [7C]. Obstet Gynecol 127:28S

Adabi K, Stern CS, Weichman KE, Garfein ES, Pothula A, Draper L et al (2017) Population health implications of medical tourism. Plast Reconstr Surg 140(1):66–74

Villegas-Alzate FJ, Villegas-Mesa JD (2020) Pregnancy after transverse plication lipoabdominoplasty, undermining halted at umbilicus, liposuction without restrictions, umbilicoplasty with a skin graft, and low transverse scar localization (TULUA) literature review and case report. Rev Colomb Obstet Ginecol 71(4):374–383

AverbuchSagie R, Wiser I, Heller L, Klein D, Hadad E (2022) Pregnancy Reverses Abdominoplasty Aesthetic Outcome: Myth or Misconception? A Cross Sect Study. Aesthet Surg J. 42(1):NP20–NP26

Moshrefi S, Kanchwala S, Momeni A (2018) Should planned/desired pregnancy be considered an absolute contraindication to breast reconstruction with free abdominal Flaps? A retrospective case series and systematic review. J Plast Reconstr Aesthet Surg 71(9):1295–1300

Papadopulos NA, Meier AC, Henrich G, Herschbach P, Kovacs L, Machens HG et al (2019) Aesthetic abdominoplasty has a positive impact on quality of life prospectively. J Plast Reconstr Aesthet Surg 72(5):813–820

Swanson E (2012) Prospective outcome study of 360 patients treated with liposuction, lipoabdominoplasty, and abdominoplasty. Plast Reconstr Surg 129(4):965–978

Mushin OP, Kraenzlin FS, Fazili A, Ghazi A, Bossert RP (2017) The impact of body contouring procedures on urologic outcomes in massive weight loss patients. Plast Reconstr Surg 139(5):1086e-e1092

Taylor DA, Merten SL, Sandercoe GD, Gahankari D, Ingram SB, Moncrieff NJ et al (2018) Abdominoplasty improves low back pain and urinary incontinence. Plast Reconstr Surg 141(3):637–645

Dehghan F, Haerian BS, Muniandy S, Yusof A, Dragoo JL, Salleh N (2014) The effect of relaxin on the musculoskeletal system. Scand J Med Sci Sports 24(4):e220–e229

Osterman M, Hamilton B, Martin JA, Driscoll AK, Valenzuela CP (2021) Births: final data for 2020. Natl Vital Stat Rep 70(17):1–50

Magnus MC, Wilcox AJ, Morken NH, Weinberg CR, Haberg SE (2019) Role of maternal age and pregnancy history in risk of miscarriage: prospective register based study. BMJ 364:l869

Bragg F, Cromwell DA, Edozien LC, Gurol-Urganci I, Mahmood TA, Templeton A et al (2010) Variation in rates of caesarean section among English NHS trusts after accounting for maternal and clinical risk: cross sectional study. BMJ 341:c5065

Wilcox AJ, Weinberg CR, O'Connor JF, Baird DD, Schlatterer JP, Canfield RE et al (1988) Incidence of early loss of pregnancy. N Engl J Med 319(4):189–194

Zinaman MJ, Clegg ED, Brown CC, O'Connor J, Selevan SG (2019) Reprint of: estimates of human fertility and pregnancy loss. Fertil Steril. 112(4):229–235

Kanmaz AG, Inan AH, Beyan E, Budak A (2019) The effects of threatened abortions on pregnancy outcomes. Ginekol Pol 90(4):195–200

Bearak J, Popinchalk A, Ganatra B, Moller AB, Tuncalp O, Beavin C et al (2020) Unintended pregnancy and abortion by income, region, and the legal status of abortion: estimates from a comprehensive model for 1990–2019. Lancet Glob Health 8(9):e1152–e1161

Dadi AF, Miller ER, Bisetegn TA, Mwanri L (2020) Global burden of antenatal depression and its association with adverse birth outcomes: an umbrella review. BMC Public Health 20(1):173

Molyneaux E, Poston L, Ashurst-Williams S, Howard LM (2014) Obesity and mental disorders during pregnancy and postpartum: a systematic review and meta-analysis. Obstet Gynecol 123(4):857–867

Vesga-Lopez O, Blanco C, Keyes K, Olfson M, Grant BF, Hasin DS (2008) Psychiatric disorders in pregnant and postpartum women in the United States. Arch Gen Psychiatry 65(7):805–815

Mustafa R, Ahmed S, Gupta A, Venuto RC (2012) A comprehensive review of hypertension in pregnancy. J Pregnancy 2012:105918

Crowther CA, Hiller JE, Moss JR, McPhee AJ, Jeffries WS, Robinson JS et al (2005) Effect of treatment of gestational diabetes mellitus on pregnancy outcomes. N Engl J Med 352(24):2477–2486

Ghaji N, Boulet SL, Tepper N, Hooper WC (2013) Trends in venous thromboembolism among pregnancy-related hospitalizations, United States, 1994–2009. Am J Obstet Gynecol. 209(5):433e1-433e8

Wang F, Chemakin K, Shamamian P, Punn I, Campbell T, Ricci JA (2022) Rectus plication does not increase risk of thromboembolic events following abdominal body contouring: a matched case-control analysis. Aesthet Surg J 42(12):1435–1444

Huang GJ, Bajaj AK, Gupta S, Petersen F, Miles DAG (2007) Increased intraabdominal pressure in abdominoplasty: delineation of risk factors. Plast Reconstr Surg 119(4):1319–1325

Gass ML (1990) Does abdominoplasty predispose to pelvic relaxation? Plast Reconstr Surg 86(6):1240–1241

Janes LE, Fracol ME, Dumanian GA (2019) Appreciation of postpartum changes of the rectus muscles in primary and repeated abdominoplasty. Plast Reconstr Surg 144(2):197e–204e

Mughal M, Ross D (2021) Management of the post-pregnancy abdomen: the plastic surgical perspective. Hernia 25(4):929–938

Hills NF, Graham RB, McLean L (2018) Comparison of trunk muscle function between women with and without diastasis recti abdominis at 1 year postpartum. Phys Ther 98(10):891–901

Edmondson SJ, Ross DA (2021) The postpartum abdomen: psychology, surgery and quality of life. Hernia 25(4):939–950

Park TH, Chang CH (2012) Keloid recurrence in pregnancy. Aesthetic Plast Surg 36(5):1271–1272

Iribarren-Moreno R, Cuenca-Pardo J, Ramos-Gallardo G (2019) Is Plastic surgery combined with obstetrical procedures safe? Aesthetic Plast Surg 43(5):1396–1399

ElAbd R, AlMojel M, AlSabah S, AlRashid A, AlNesf M, Alhallabi B et al (2022) Complications post abdominoplasty after surgical versus non-surgical massive weight loss: a comparative study. Obes Surg 32(12):3847–3853

Marchica P, Costa AL, Brambullo T, Marini M, Masciopinto G, Gardener C et al (2023) Retrospective analysis of predictive factors for complications in abdominoplasty in massive weight loss patients. Aesthetic Plast Surg. https://doi.org/10.1007/s00266-022-03235-5

Chen L, Hartrampf CR Jr, Bennett GK (1993) Successful pregnancies following TRAM flap surgery. Plast Reconstr Surg 91(1):69–71
Ethics declarations
Conflicts of interest
The authors declare that they have no conflicts of interest to disclose.
Ethical Approval
This article does not contain any studies with human participants or animals performed by any of the authors.
Informed Consent
For this type of study, informed consent is not required.
Additional information
Publisher's Note
Springer Nature remains neutral with regard to jurisdictional claims in published maps and institutional affiliations.
About this article
Cite this article
Karunaratne, Y.G., Romeo, P.B., Willis, M. et al. The Safety and Effects of Pregnancy after Abdominoplasty: A Systematic Review of the Literature. Aesth Plast Surg 47, 1472–1479 (2023). https://doi.org/10.1007/s00266-023-03423-x
Received:

Accepted:

Published:

Issue Date:

DOI: https://doi.org/10.1007/s00266-023-03423-x
Keywords