Abstract
Introduction
Acne scarring, formed by the deposition of collagen following inflammatory acne, not only represents a cosmetic problem but also poses a psychological health risk to patients. As microneedling has become a common treatment for acne scarring, an increasing number of studies have compared the efficacy and safety of microneedling. In this study, we conducted a meta-analysis of randomized controlled trials (RCTs) comparing microneedling with other treatments.
Method
Three databases, namely Embase, PubMED, and Cochrane library, were searched until June 20, 2021, for RCTs only. Studies using microneedling in both treatments were excluded.
Results
Twelve studies, totaling 414 participants, were included in our meta-analysis. For objective scar improvement, the pooled estimate analysis of the first group, treated with microneedling without radiofrequency, yielded a mean difference of 0.42 (95% CI—0.12–0.73%) with a significant difference at the 5% significance level. The second group, treated with fractional radiofrequency microneedling, exhibited no significance at the 5% significance level. Regarding subjective satisfaction, most results exhibited no significant difference between microneedling and other treatments. Although no case of secondary scarring or infection was reported in our study, the pooled result of postinflammatory hyperpigmentation was significant at the 5% significance level and preferred microneedling treatment.
Conclusion
Microneedling without radiofrequency achieved superior results in terms of scar improvement. No form of microneedling caused postinflammatory hyperpigmentation—an advantage in acne scar treatment. Thus, microneedling is a favorable choice for the treatment of acne scarring.
Level of Evidence III
This journal requires that authors assign a level of evidence to each article. For a full description of these Evidence-Based Medicine ratings, please refer to the Table of Contents or the online Instructions to Authors www.springer.com/00266.
This is a preview of subscription content,
to check access.
Access this article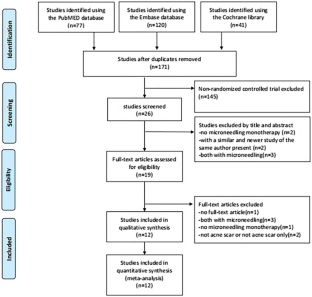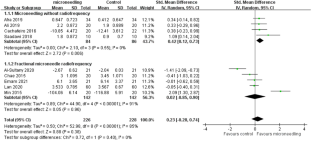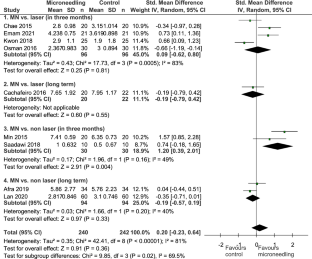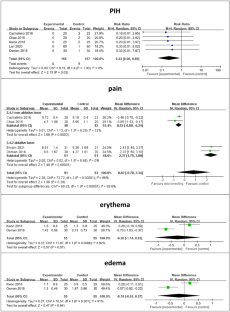 Reference
Layton AM, Henderson CA, Cunliffe WJ (1994) A clinical evaluation of acne scarring and its incidence. Clin Exp Dermatol 19(4):303–308

Layton AM (2001) Optimal management of acne to prevent scarring and psychological sequelae. Am J Clin Dermatol 2(3):135–141

Aslan Kayiran M, Karadag AS, Jafferany M (2020) Psychodermatology of acne: Dermatologist's guide to inner side of acne and management approach. Dermatol Ther 33(6):e14150.

Singh A, Yadav S (2016) Microneedling: advances and widening horizons. Indian Dermatol Online J 7(4):244–254

Mujahid N, Shareef F, Maymone MBC, Vashi NA (2020) Microneedling as a treatment for acne scarring: a systematic review. Dermatol Surg 46(1):86–92

Sitohang IBS, Sirait SAP, Suryanegara J (2021) Microneedling in the treatment of atrophic scars: a systematic review of randomised controlled trials. Int Wound J 18(5):577–585

Sterne JAC, Savović J, Page MJ, Elbers RG, Blencowe NS, Boutron I, Cates CJ, Cheng HY, Corbett MS, Eldridge SM, Emberson JR, Hernán MA, Hopewell S, Hróbjartsson A, Junqueira DR, Jüni P, Kirkham JJ, Lasserson T, Li T, McAleenan A, Reeves BC, Shepperd S, Shrier I, Stewart LA, Tilling K, White IR, Whiting PF, Higgins JPT (2019) RoB 2: a revised tool for assessing risk of bias in randomised trials. BMJ 366:l4898.

Majid I (2009) Microneedling therapy in atrophic facial scars: an objective assessment. J Cutan Aesthet Surg 2(1):26–30

Fabbrocini G, Annunziata MC, D'Arco V, De Vita V, Lodi G, Mauriello MC, Pastore F, Monfrecola G (2010) Acne scars: pathogenesis, classification and treatment. Dermatol Res Pract, p 893080.

Higgins JP, Thompson SG, Deeks JJ, Altman DG (2003) Measuring inconsistency in meta-analyses. BMJ 327(7414):557–560

Kurganskaya IG (2021) Scientometric analysis of evidence-based studies of physical methods of post-acne scar correction. Vopr Kurortol Fizioter Lech Fiz Kult 98(2):45–54

An MK, Hong EH, Suh SB, Park EJ, Kim KH (2020) Combination therapy of microneedle fractional radiofrequency and topical poly-lactic acid for acne scars: a randomized controlled split-face study. Dermatol Surg 46(6):796–802

Biesman BS, Cohen JL, DiBernardo BE, Emer JJ, Geronemus RG, Gold MH, Lehman AS, Pilcher BK, Monheit GD, Schlesinger TE, Teller CF (2019) Treatment of atrophic facial acne scars with microneedling followed by polymethylmethacrylate-collagen gel dermal filler. Dermatol Surg 45(12):1570–1579

Sharad J (2011) Combination of microneedling and glycolic acid peels for the treatment of acne scars in dark skin. J Cosmet Dermatol 10(4):317–323

El-Fakahany H, Medhat W, Abdallah F, Abdel-Raouf H, Abdelhakeem M (2016) Fractional microneedling: a novel method for enhancement of topical anesthesia before skin aesthetic procedures. Dermatol Surg 42(1):50–55

Golnaz M, Mahrokh F, Azadeh G, Siamak Farokh F, Masoomeh R, Mohammadreza G, Somayeh S, Elham B (2019) Comparison of the therapeutic effect of microneedling with carbon dioxide laser in hypertrophic burn scars: a randomized clinical trial. Iran J Dermatol 22(2):53–57

Ibrahim ZA, El-Ashmawy AA, Shora OA (2017) Therapeutic effect of microneedling and autologous platelet-rich plasma in the treatment of atrophic scars: a randomized study. J Cosmet Dermatol 16(3):388–399

Al-Sultany HA (2020) A comparative study of the efficacy of fractional co2 laser versus micro needling fractional radiofrequency in the management of atrophic acne scars among iraqi patients. Ann Tropical Med Public Health 23(18).

Ali B, ElMahdy N, Elfar NN (2019) Microneedling (Dermapen) and Jessner's solution peeling in treatment of atrophic acne scars: a comparative randomized clinical study. J Cosmet Laser Ther 21(6):357–363

Cachafeiro T, Escobar G, Maldonado G, Cestari T, Corleta O (2016) Comparison of nonablative fractional erbium laser 1,340 nm and microneedling for the treatment of atrophic acne scars: a randomized clinical trial. Dermatol Surg 42(2):232–241

Chae WS, Seong JY, Jung HN, Kong SH, Kim MH, Suh HS, Choi YS (2015) Comparative study on efficacy and safety of 1550 nm Er: Glass fractional laser and fractional radiofrequency microneedle device for facial atrophic acne scar. J Cosmet Dermatol 14(2):100–106

Elfar NN, Hasby EA (2020) Efficacy and safety of plasma gel as a new modality in treatment of atrophic acne scars. Int J Dermatol 59(5):620–626

Saadawi AN, Esawy AM, Kandeel AH, El-Sayed W (2019) Microneedling by dermapen and glycolic acid peel for the treatment of acne scars: Comparative study. J Cosmet Dermatol 18(1):107–114

Afra TP, Razmi TM, Narang T, Dogra S, Kumar A (2019) Topical Tazarotene Gel, 0.1%, as a novel treatment approach for atrophic postacne scars: a randomized active-controlled clinical trial. JAMA Facial Plast Surg 21(2):125-132.

Emam AAM, Nada HA, Atwa MA, Tawfik NZ (2021) Split-face comparative study of fractional Er:YAG laser versus microneedling radiofrequency in treatment of atrophic acne scars, using optical coherence tomography for assessment. J Cosmet Dermatol 21(1):227–236

Kwon HH, Park HY, Choi SC, Bae Y, Jung JY, Park GH (2018) Novel device-based acne treatments: comparison of a 1450-nm diode laser and microneedling radiofrequency on mild-to-moderate acne vulgaris and seborrhoea in Korean patients through a 20-week prospective, randomized, split-face study. J Eur Acad Dermatol Venereol 32(4):639–644

Lan T, Tang L, Xia A, Hamblin MR, Jian D, Yin R (2020) Comparison of fractional micro-plasma radiofrequency and fractional microneedle radiofrequency for the treatment of atrophic acne scars: a pilot randomized split-face clinical study in China. Lasers Surg Med 53(7):906–913

Min S, Park SY, Yoon JY, Suh DH (2015) Comparison of fractional microneedling radiofrequency and bipolar radiofrequency on acne and acne scar and investigation of mechanism: comparative randomized controlled clinical trial. Arch Dermatol Res 307(10):897–904

Osman MA, Shokeir HA, Fawzy MM (2017) Fractional erbium-doped yttrium aluminum garnet laser versus microneedling in treatment of atrophic acne scars: a randomized split-face clinical study. Dermatol Surg 43(Suppl 1):S47–S56

Goodman GJ, Baron JA (2006) Postacne scarring—a quantitative global scarring grading system. J Cosmet Dermatol 5(1):48–52

Dreno B, Khammari A, Orain N, Noray C, Mérial-Kieny C, Méry S, Nocera T (2007) ECCA grading scale: an original validated acne scar grading scale for clinical practice in dermatology. Dermatology 214(1):46–51

Cachafeiro TH, Escobar GF, Maldonado G, Cestari TF (2014) Translation into Brazilian Portuguese and validation of the "Quantitative Global Scarring Grading System for Post-acne Scarring." An Bras Dermatol 89(5):851–853

Chandrashekar BS, Sriram R, Mysore R, Bhaskar S, Shetty A (2014) Evaluation of microneedling fractional radiofrequency device for treatment of acne scars. J Cutan Aesthet Surg 7(2):93–97

Kim ST, Lee KH, Sim HJ, Suh KS, Jang MS (2014) Treatment of acne vulgaris with fractional radiofrequency microneedling. J Dermatol 41(7):586–591

Ramaut L, Hoeksema H, Pirayesh A, Stillaert F, Monstrey S (2018) Microneedling: Where do we stand now? A systematic review of the literature. J Plast Reconstr Aesthet Surg 71(1):1–14

Juhasz MLW, Cohen JL (2020) Microneedling for the treatment of scars: an update for clinicians. Clin Cosmet Investig Dermatol 13:997–1003

Jeong SY, Park JH, Lee YS, Kim YS, Park JY, Kim SY (2020) The current status of clinical research involving microneedles: a systematic review. Pharmaceutics 12(11).

Kravvas G, Al-Niaimi F (2017) A systematic review of treatments for acne scarring. Part 1: Non-energy-based techniques. Scars Burn Heal 3:2059513117695312.

Ruiz-Maldonado R, Orozco-Covarrubias ML (1997) Postinflammatory hypopigmentation and hyperpigmentation. Semin Cutan Med Surg 16(1):36–43

Aust MC, Reimers K, Repenning C, Stahl F, Jahn S, Guggenheim M, Schwaiger N, Gohritz A, Vogt PM (2008) Percutaneous collagen induction: minimally invasive skin rejuvenation without risk of hyperpigmentation-fact or fiction? Plast Reconstr Surg 122(5):1553–1563

Gowda A, Healey B, Ezaldein H, Merati M (2021) A systematic review examining the potential adverse effects of microneedling. J Clin Aesthet Dermatol. 14(1):45–54

Pahwa M, Pahwa P, Zaheer A (2012) "Tram track effect" after treatment of acne scars using a microneedling device. Dermatol Surg 38(7 Pt 1):1107–1108

Jacob CI, Dover JS, Kaminer MS (2001) Acne scarring: a classification system and review of treatment options. J Am Acad Dermatol 45(1):109–117

Park JY, Lee EG, Yoon MS, Lee HJ (2016) The efficacy and safety of combined microneedle fractional radiofrequency and sublative fractional radiofrequency for acne scars in Asian skin. J Cosmet Dermatol 15(2):102–107

Vejjabhinanta V, Wanitphakdeedecha R, Limtanyakul P, Manuskiatti W (2014) The efficacy in treatment of facial atrophic acne scars in Asians with a fractional radiofrequency microneedle system. J Eur Acad Dermatol Venereol 28(9):1219–1225

Zaleski-Larsen LA, Fabi SG, McGraw T, Taylor M (2016) Acne scar treatment: a multimodality approach tailored to scar type. Dermatol Surg 42(Suppl 2):S139-149

El-Domyati M, Barakat M, Awad S, Medhat W, El-Fakahany H, Farag H (2015) Microneedling therapy for atrophic acne scars: an objective evaluation. J Clin Aesthet Dermatol 8(7):36–42
Acknowledgement
This manuscript was edited by Wallace Academic Editing.
Ethics declarations
Conflict of interest
The authors declare that they have no conflicts of interest to disclose.
Statement of human and animal rights, or ethical approval
This article does not contain any studies with human participants or animals performed by any of the authors.
Informed consent
For this type of study informed consent is not required.
Additional information
Publisher's Note
Springer Nature remains neutral with regard to jurisdictional claims in published maps and institutional affiliations.
Supplementary Information
Below is the link to the electronic supplementary material.
About this article
Cite this article
Shen, YC., Chiu, WK., Kang, YN. et al. Microneedling Monotherapy for Acne Scar: Systematic Review and Meta-Analysis of Randomized Controlled Trials. Aesth Plast Surg 46, 1913–1922 (2022). https://doi.org/10.1007/s00266-022-02845-3
Received:

Accepted:

Published:

Issue Date:

DOI: https://doi.org/10.1007/s00266-022-02845-3
Keywords