Abstract
Background
The aim of this paper is to present the results of a new technique for lower face and neck rejuvenation named the MICRO-lift (Minimally Invasive, Combined Radiofrequency, Outpatient lift). This technique is based on a bipolar radiofrequency treatment applied to specific ligamentous areas.
Methods
Inclusion criteria were patients with skin laxity of the neck and jowls, with or without fat accumulation. Patients who presented platysma sag and alteration of subplatysmal structures were excluded from the study. The distribution of the energy was adapted to the ligament anatomy, differentiating three areas based on the energy concentration.
In all patients, sex, age at surgery, type of anesthesia, radiofrequency parameters and complications were registered. In all cases, standard photographs and satisfaction interviews were conducted preoperatively and postoperatively. Satisfaction evaluation was also assessed.
Results
Sixty-five patients underwent MICRO-lift technique for the lower face and neck. All patients in our series were female. There were no major complications. Minor complications included transient paralysis of the marginal mandibular (4,6%), infection of the submental incision that required incisional drainage (3,1%), and deep skin burn in the neck (1,5%). Fifty-nine patients were satisfied a year after the treatment (90,8%).
Conclusions
The MICRO-lift can produce outstanding and satisfying improvements in cervicofacial appearance. This new approach offers a predictable strategy to achieve the desired aesthetic results, making this procedure more reliable and reproducible for both novel and experienced surgeons with bipolar radiofrequency.
Level of Evidence IV
This journal requires that authors assign a level of evidence to each article. For a full description of these Evidence-Based Medicine ratings, please refer to the Table of Contents or the online Instructions to Authors www.springer.com/00266.
Access options
Buy single article
Instant access to the full article PDF.
USD 39.95
Price excludes VAT (USA)
Tax calculation will be finalised during checkout.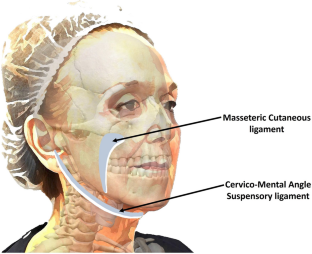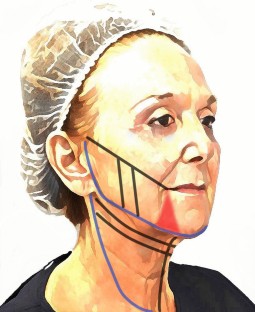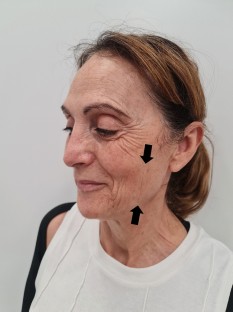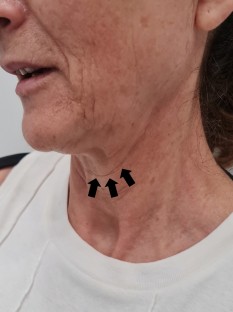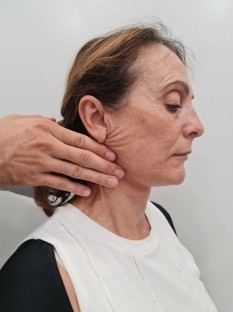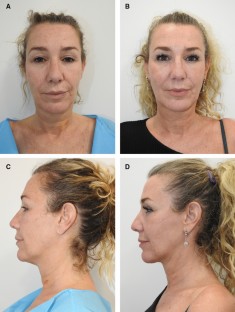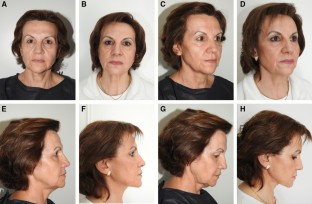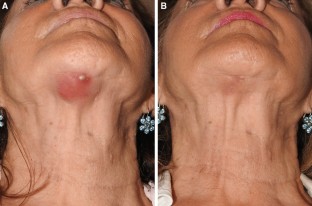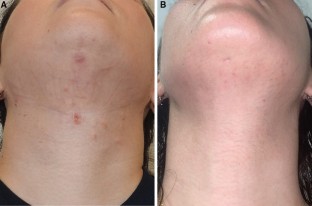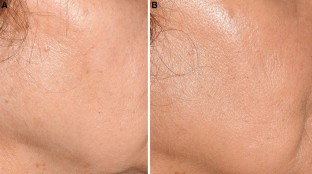 References
Devgan L, Singh P, Durairaj K (2019) Minimally invasive facial cosmetic procedures. Otolaryngol Clin North Am 52(3):443–459

Cotofana S, Fratila AA, Schenck TL, Redka-Swoboda W, Zilinsky I, Pavicic T (2016) The anatomy of the aging face: a review. Facial Plast Surg 32(3):253–60

Barros EMKP, Rodrigues CJ, Rodrigues NR, Oliveira RP, Barros TEP, Rodrigues AJ Jr (2002) Aging of the elastic and collagen fibers in the human cervical interspinous ligaments. The Spine Journal 2:57–62

Kretlow JD, Hollier LH Jr, Hatef DA (2012) The facial aging debate of deflation versus attenuation: attenuation strikes back. Plast Reconstr Surg 130(1):180e–181e

Mulholland RS (2014) Nonexcisional, minimally invasive rejuvenation of the neck. Clin Plast Surg 41:1131

Duncan DI (2014) Nonexcisional tissue tightening: creating skin surface area reduction during abdominal liposuction by adding radiofrequency heating. Aesth Surg J 33:11541166

Hurwitz D, Smith D (2012) Treatment of overweight patients by RFAL for aesthetic reshaping and skin tightening. Aesth Plast Surg 36:6271

Keramidas E, Rodopoulou S (2016) Radiofrequency-assisted liposuction for neck and lower face adipodermal remodeling and contouring. Plastic and Reconstruct Surg - Global Open. https://doi.org/10.1097/GOX.0000000000000809

Dayan E, Rovatti P, Aston S, Chia CT, Rohrich R, Theodorou S (2020) Multimodal radiofrequency application for lower face and neck laxity. Plast Reconstr Surg Glob Open 8(8):e2862

Han X, Yang M, Yin B, Cai L, Jin S, Zhang X, Li F (2020) The efficacy and safety of subcutaneous radiofrequency after liposuction: a new application for face and neck skin tightening. Aesthet Surg J 41(3):NP94–NP100

Labbé D, Rocha CSM, de Rocha FS (2017) Cervicomental angle suspensory ligament: the keystone to understand the cervicomental angle and the ageing process of the neck. Aesthet Plast Surg 41:832–836

Ruiz-Esparza J (2006) Painless, nonablative, immediate skin contraction induced by low-fluence irradiation with new infrared device: a report of 25 patients. Dermatol Surg 32:601–610

Zelickson BD, Kist D, Bernstein E, Brown DB, Ksenzenko S, Burns J, Kilmer S, Mehregan D, Pope K (2004) Histological and ultrastructural evaluation of the effects of a radiofrequency-based nonablative dermal remodeling device. Arch Dermatol 140:204–209

Drew PJ, Watkins A, McGregor AD, Kiernan MN, Clement M (2001) The effects of temperature and time on thermal bond strength in tendons. Lasers Med Sci 16:291–298

Ruiz-Esparza J, Gomez JB (2003) The medical face-lift: a noninvasive, nonsurgical approach to tissue tightening in facial skin using nonablative radiofrequency. Dermatol Surg 29:325–332

Atiyeh BS, Dibo SA (2009) Nonsurgical nonablative treatment of aging skin: radiofrequency technologies between aggressive marketing and evidence-based efficacy. Aesthetic Plast Surg 33:283–294

Alster TS, Lupton JR (2007) Nonablative cutaneous remodeling using radiofrequency devices. Clin Dermatol 25:487–491

Greene RM, Green JB (2014) Skin tightening technologies. Facial Plast Surg 30:62–67

Youn A (2007) Nonsurgical face lift. Plast Reconstr Surg 119:1951–1951

Miniaci A, Codsi MJ (2006) Thermal capsulorrhaphy for the treatment of shoulder instability. Am J Sports Med 34:1356–1363

Miniaci A, McBirnie J (2003) Thermal capsular shrinkage for treatment of multidirectional instability of the shoulder. J Bone Joint Surg Am 85:2283–2287

Thabit G III (1998) The arthroscopic monopolar radiofrequency treatment of chronic anterior cruciate ligament instability. Oper Tech Sports Med 6:157–160

Carter TR, Bailie DS, Edinger S (2002) Radiofrequency electrothermal shrinkage of the anterior cruciate ligament. Am J Sports Med 30(2):221–226

Alexiades-Armenakas M, Dover JS, Arndt KA (2008) Unipolar versus bipolar radiofrequency treatment of rhytides and laxity using a mobile painless delivery method. Lasers Surg Med 40:446–453

Morrison W, Salisbury M, Beckham P, Schaeferle M 3rd, Mladick R, Ersek RA (2001) The minimal facelift: liposuction of the neck and jowls. Aesthetic Plast Surg 25:94–99
Acknowledgement
Thanks to my mentors (Dr. Bernardo Hontanilla, Dr. Alexis Verpaele, Dr. Patrick Tonnard and Dr. Daniel Labbé) for sharing their knowledge in facial anatomy and facial plastic surgery with me.
Ethics declarations
conflict of interest
The Author is a consultant for Inmode Iberia. No payments or support were received for the publication of this study.
Human or Animal Rights
All procedures performed in studies involving human participants were in accordance with the ethical standards of the institutional and/or national research committee and with the 1964 Helsinki Declaration and its later amendments or
Ethical approval
This study has been approved following the ethical norms and standards in the Declaration of Helsinki, including ethics committee approval statement and informed consent statement.
Additional information
Publisher's Note
Springer Nature remains neutral with regard to jurisdictional claims in published maps and institutional affiliations.
About this article
Cite this article
Olivas-Menayo, J. The MICRO-Lift: A Ligaments-Based Anatomic Technique for Lower Face and Neck Rejuvenation Using Bipolar Radiofrequency.. Aesth Plast Surg 46, 1211–1220 (2022). https://doi.org/10.1007/s00266-021-02719-0
Received:

Accepted:

Published:

Issue Date:

DOI: https://doi.org/10.1007/s00266-021-02719-0
Keywords
RFAL

MICRO-lift

Face and neck rejuvenation

Minimally invasive plastic surgery