Abstract
Background
Paranasal augmentation was effective management for midface concavity. Both alloplastic graft (e.g. silicone, porous polyethylene, or expanded polytetrafluorethylene) and autologous tissue (e.g. costal cartilage) were used for paranasal augmentation. The study aims to evaluate the safety and efficacy of paranasal augmentation using diced costal cartilage for midface concavity.
Methods
A retrospective review of demographic data and complications was conducted for consecutive patients who underwent paranasal augmentation using diced costal cartilage. A questionnaire was used for investigating the patient's satisfaction (i.e. overall satisfaction, bilateral alar bases symmetry, improvement of concavity, and foreign body sensation). Patients' photographs were used to evaluate aesthetic outcomes (i.e. overall satisfaction, bilateral alar bases symmetry, and improvement of concavity) by third-party doctors.
Results
Sixty-eight patients (60 females; mean age, 27.1 ± 8.2 years) were included. During a median follow-up of 6.5 months, costal cartilage migration occurred in 13 (19.1%) patients and partial resorption occurred in 2 (2.9%) patients. Seventy-five per cent of the patients and 98.5% of the doctors reported overall satisfaction. Bilateral alar bases asymmetry by 20 (29.4%) patients, no improvement of concavity by 13 (19.1%) patients, and foreign body sensation by 13 (19.1%) patients were reported. While bilateral alar bases asymmetry was not reported, improvement of concavity was reported in 67 (98.5%) patients by third-party doctors. On both univariate and multivariate analyses, improvement of concavity was significantly associated with patients' overall satisfaction (p = 0.008 and 0.045, respectively), while bilateral alar bases symmetry and foreign body sensation were not (all p > 0.05).
Conclusions
Paranasal augmentation using diced costal cartilage seems a safe and effective method for midface concavity. Improvement of concavity may be significantly associated with patients' overall satisfaction.
Level of Evidence IV
This journal requires that authors assign a level of evidence to each article. For a full description of these Evidence-Based Medicine ratings, please refer to the Table of Contents or the online Instructions to Authors www.springer.com/00266.
Access options
Buy single article
Instant access to the full article PDF.
USD 39.95
Price excludes VAT (USA)
Tax calculation will be finalised during checkout.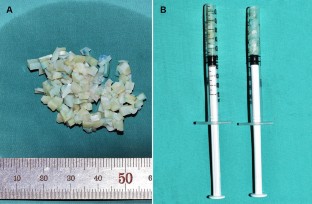 References
Yaremchuk MJ, Israeli D (1998) Paranasal implants for correction of midface concavity. Plast Reconstr Surg 102(5):1676–1684. Discussion 1685

Park JH, Kim JW, Kim SJ (2016) Midfacial soft-tissue changes after paranasal augmentation with porous polyethylene. Facial Plast Surg 32(2):232–237

Park SB, Kim YI, Hwang DS, Lee JY (2013) Midfacial soft-tissue changes after mandibular setback surgery with or without paranasal augmentation: cone-beam computed tomography (CBCT) volume superimposition. J Craniomaxillofac Surg 41(2):119–123

Yaremchuk MJ, Vibhakar D (2016) Pyriform aperture augmentation as an adjunct to rhinoplasty. Clin Plast Surg 43(1):187–193

Leupe P, Menger DJ (2016) The injectable filler in rhinoplasty: not a complication-free alternative. B-ENT 12(2):137–142

Lupo G (1997) The history of aesthetic rhinoplasty: special emphasis on the saddle nose. Aesthetic Plast Surg 21(5):309–327

Ortiz Monasterio F, Ruas EJ (1989) Cleft lip rhinoplasty: the role of bone and cartilage grafts. Clin Plast Surg 16(1):177–186

de la Pena-Salcedo JA, Soto-Miranda MA, Lopez-Salguero JF (2012) Intranasal surgical approach for malar alloplastic augmentation. Aesthet Surg J 32(1):27–38

Colonna M, Cavallini M, De Angelis A, Preis FW, Signorini M (1996) The effects of scalp expansion on the cranial bone: a clinical, histological, and instrumental study. Ann Plast Surg 36(3):255–260. Discussion 260–252

Daniel RK, Calvert JW (2004) Diced cartilage grafts in rhinoplasty surgery. Plast Reconstr Surg 113(7):2156–2171

Kreutzer C, Hoehne J, Gubisch W, Rezaeian F, Haack S (2017) Free diced cartilage: a new application of diced cartilage grafts in primary and secondary rhinoplasty. Plast Reconstr Surg 140(3):461–470

Erol OO (2017) Injection of compressed diced cartilage in the correction of secondary and primary rhinoplasty: a new technique with 12 years' experience. Plast Reconstr Surg 140(5):673e–685e

Qiao C, Yu W, Gao W, Qiu Y, Lin X (2020) A simple combination approach for costal cartilage augmentation rhinoplasty. J Craniofac Surg 31(2):340–342

Daniel RK (2008) Diced cartilage grafts in rhinoplasty surgery: current techniques and applications. Plast Reconstr Surg 122(6):1883–1891

Liang Y, Wang X (2020) Application of diced autologous rib cartilage for paranasal augmentation in cleft nose. Aesthet Plast Surg 45:1169–1175

An Y, Zhen Y, Ye W, Cui Y, Dang W, Zhao J et al (2021) Diced costal cartilage graft combined with muscle repositioning improves Cleft-Side Alar asymmetry in Asian secondary unilateral cleft rhinoplasty: a three-dimensional evaluation. J Plast Reconstr Aesthet Surg 74:2265–2271

Cerkes N, Basaran K (2016) Diced cartilage grafts wrapped in rectus abdominis fascia for nasal dorsum augmentation. Plast Reconstr Surg 137(1):43–51

Moon BJ, Lee HJ, Jang YJ (2012) Outcomes following rhinoplasty using autologous costal cartilage. Arch Facial Plast Surg 14(3):175–180

Ledo TO, Ramos HH, Buba CM, Webster G, de Lima Jr JT, de Paiva DL et al (2020) Outcome of free diced cartilage grafts in rhinoplasty: a systematic review. Facial Plast Surg 37:117–121

Lu SM, Bartlett SP (2014) On facial asymmetry and self-perception. Plast Reconstr Surg 133(6):873e–881e

Sozen T, Dizdar D, Goksel A (2021) Awareness of facial asymmetry and its impact on postoperative satisfaction of rhinoplasty patient. Aesthet Plast Surg 45(1):214–220

Lee TY, Chung HY, Dhong ES, Jeong SH, Han SK (2019) Paranasal augmentation using multi-folded expanded polytetrafluorethylene (ePTFE) in the east asian nose. Aesthet Surg J 39(12):1319–1328

AlHarethy S, Al-Angari SS, Syouri F, Islam T, Jang YJ (2017) Assessment of satisfaction based on age and gender in functional and aesthetic rhinoplasty. Eur Arch Otorhinolaryngol 274(7):2809–2812
Acknowledgements
We would like to thank the patients for providing consent for the publication of these cases.
Funding
This study was funded by the Foundation of the Chinese Academy of Medical Sciences-Plastic Surgery Hospital (3060120043).
Ethics declarations
Conflict of Interest
The authors declare that there is no conflict of interest regarding the publication of the paper.
Human or Animal Rights
All procedures performed in studies involving the human participants were in accordance with the ethical standards of the institutional and national research committee and with the 1964 Helsinki declaration and its later amendments or comparable ethical standards.
Informed Consent
For this type of study, informed consent is not required.
Additional information
Publisher's Note
Springer Nature remains neutral with regard to jurisdictional claims in published maps and institutional affiliations.
About this article
Cite this article
Dong, W., Xu, Y., Han, R. et al. Paranasal Augmentation Using Diced Costal Cartilage for Midface Concavity: A Retrospective Study of 68 Patients. Aesth Plast Surg 46, 795–802 (2022). https://doi.org/10.1007/s00266-021-02593-w
Received:

Accepted:

Published:

Issue Date:

DOI: https://doi.org/10.1007/s00266-021-02593-w
Keywords
Midface concavity

Paranasal augmentation

Diced costal cartilage

Rhinoplasty