Abstract
Background
Gynecomastia is the most common form of breast alteration in men, due to proliferation of the gland ducts and stromal components, including fat. In addition to the most obvious indications (weight loss, pharmacotherapy, and drugs suspension), the surgical treatment is needed for long-standing gynecomastia, combining liposuction, adenectomy, partial mammary adenectomy, periareolar skin resection, and round-block suture.
Materials and Methods
A retrospective study was conducted on 148 patients undergoing gynecomastia correction from May 2012 to April 2018. Follow-up ranged from 9 to 14 months. The authors propose a new ultrasound-confirmed classification system, dividing patients into six categories. The authors analyzed immediate complications, revision, recurrence, and minor aesthetic problems (retracted/depressed areas) and introduced a way to correct the irregularities with fat grafting and needles.
Results
The total complication rate was 11.5% (17/148). Most of the complications (11) were observed in patients who underwent glandular resection and 3 after liposuction only. Retrospective surveys about patients' and surgeons' satisfaction were performed, showing excellent feedbacks regarding the results accomplished.
Conclusions
The simple classification helps surgeons choose the most suitable approach, avoiding insufficient or invasive treatments and undesirable scars. Moreover, the analysis of the type of sequelae and their correction allow high patients' satisfaction.
Level of evidence IV
This journal requires that authors assign a level of evidence to each article. For a full description of these Evidence-Based Medicine ratings, please refer to the Table of Contents or the online Instructions to Authors www.springer.com/00266.
Access options
Buy single article
Instant access to the full article PDF.
US$ 39.95
Tax calculation will be finalised during checkout.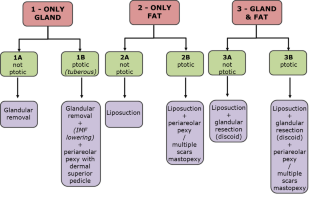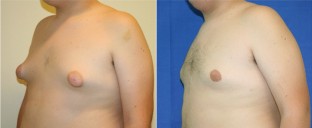 References
1.

Dufourmentel L (1928) L'incision aréolaire dans la chirurgie di sein. Bull Mem Soc Chir Paris 20:9

2.

Webster JP (1990) Mastectomy for gynecomastia through a semicircular intra-areolar incision. Ann Surg 12:557

3.

Letterman G, Schurter M (1969) The surgical correction of gynecomastia. Am Surg 35:322

4.

Lanitis S, Starren E, Read J et al (2008) Surgical management of gynaecomastia: outcomes from our experience. Breast 17:596–603

5.

Waltho D, Hatchell A, Thoma A (2017) Gynecomastia classification for surgical management: a systematic review and novel classification system. Plast Reconstr Surg 139(3):638e–648e

6.

Thorne CHM, Grabb WC, Beasley RW (eds) (2007) Grabb and Smith's plastic surgery. Wolters Kluwer Health, New York

7.

Courtiss EH (1987) Gynecomastia: analysis of 159 patients and current recommendations for treatment. Plast Reconstr Surg 79:740–753

8.

Tanner JM (1962) Growth of adolescents. Blackwell Scientific Publications, Oxford

9.

Marshall WA, Tanner JM (1970) Variations in the pattern of pubertal changes in boys. Arch Dis Child Lond 45(239):13–23

10.

Simon BE, Hoffman S, Kahn S (1973) Classification of gynecomastia. Plast Reconstr Surg 51:48–52

11.

Rohrich R, Ha R, Kenkel J et al (2003) Classifications and management of gynecomastia: defining the role of ultrasound-assisted liposuction. Plast Reconstr Surg 111:909–923

12.

Cordova A, Moschella F (2008) Algorithm for clinical evaluation and surgical treatment of gynaecomastia. J Plast Reconstr Aesthet Surg 61(1):41–49

13.

Persichetti P. Atlas of cosmetic breast surgery. Edizioni Minerva Medica, 233–242.

14.

Georgiadis E, Papandreou L, Evangelopoulou C et al (1994) Incidence of gynaecomastia in 954 young males and its relationship to somatometric parameters. Ann Hum Biol 21(6):579–587

15.

Nuttall FQ (1979) Gynecomastia as a physical finding in normal men. J Clin Endocrinol Metab 48(2):338–340

16.

Nydick M, Bustos J, Dale JH Jr, Rawson RW (1961) Gynecomastia in adolescent boys. JAMA 178:449–454

17.

Bannayan GA, Hajdu SI (1972) Gynecomastia: clinicopathologic study of 351 cases. Am J Clin Pathol 57(4):431

18.

Deepinder F, Braunstein GD (2011) Gynecomastia: incidence, causes and treatment. Expert Rev Endocrinol Metab 6:723

19.

Braunstein GD (2008) Environmental gynecomastia. Endocr Pract 14(4):409–411

20.

Swerdloff RS, Ng C (2011) Gynecomastia: etiology, diagnosis and treatment. MD text.com, Inc., South Dartmouth, p 200

21.

Baumann K (2018) Gynecomastia—conservative and surgical management. Breast Care (Basel). 13(6):419–424. https://doi.org/10.1159/000494276

22.

Klinger M, Giannasi S, Klinger F, Caviggioli F, Bandi V, Banzatti B, Forcellini D, Maione L, Catania B, Vinci V, Lisa A, Cornegliani G, Siliprandi M, Tinterri C, Klinger M et al (2016) Periareolar approach in oncoplastic breast conservative surgery. Breast J 22(4):431–436

23.

Davidson BA (1979) Concentric circle operation for massive gynecomastia to excise the redundant skin. Plast Reconstr Surg 63:350–354

24.

Huang TT, Hidalgo JE, Lewis SR (1982) A circumareolar approach in surgical management of gynecomastia. Plast Reconstr Surg 69:35–40

25.

Klinger M, Klinger F, Giannasi S, Veronesi A, Bandi V, Banzatti B, Catania B, Vinci V, Lisa A, Cornegliani G, Giaccone M, Caviggioli F, Maione L, Klinger M et al (2017) Stenotic breast malformation and its reconstructive surgical correction: a new concept from minor deformity to tuberous breast. Aesthetic Plast Surg 41(5):1068–1077

26.

Klinger M, Caviggioli F, Klinger F, Villani F, Arra E, Di Tommaso L (2011) Tuberous breast: morphological study and overview of a borderline entity. Can J Plast Surg 19(2):42–44

27.

Klinger M, Marazzi M, Vigo D, Torre M, Klinger M et al (2008) Fat injection for cases of severe burn outcomes: a new perspective of scar remodeling and reduction. Aesthetic Plast Surg. 32(3):465–469

28.

Klinger M, Caviggioli F, Klinger FM, Giannasi S, Bandi V, Banzatti B, Forcellini D, Maione L, Catania B, Vinci V, Klinger M et al (2013) Autologous fat graft in scar treatment. J Craniofac Surg 24(5):1610–1615

29.

Klinger M, Lisa A, Klinger F, Giannasi S, Veronesi A, Banzatti B, Bandi V, Catania B, Forcellini D, Maione L, Vinci V, Caviggioli F (2015) Regenerative approach to scars, ulcers and related problems with fat grafting. Clin Plast Surg 42(3):345–352

30.

Caviggioli F, Forcellini D, Vinci V, Cornegliani G, Klinger F, Klinger M (2012) Employment of needles: a different technique for fat placement. Plast Reconstr Surg 130(2):373e–374e

31.

Maione L, Vinci V, Klinger M, Klinger FM, Caviggioli F (2015) Autologous fat graft by needle: analysis of complications after 1000 patients. Ann Plast Surg 74(3):277–280

32.

Mu D, Luan J, Xin M, Guo X (2016) Full-thickness periareolar skin resection in mastopexy. J Plast Reconstr Aesthet Surg 69(5):725–727

33.

Klinger ME, Bandi V, Vinci V, Forcellini D, Maione L (2011) Innovations in the treatment of male chest deformity after weight loss: the authors' technique. Aesthetic Plast Surg 35(5):856–858

34.

Klinger M, Caviggioli F, Villani F, Forcellini D, Klinger F (2009) Gynecomastia and tuberous breast: assessment and surgical approach. Aesthetic Plast Surg 33(5):786–787

35.

Hammond DC (2009) Surgical correction of gynecomastia. Plast Reconstr Surg 124:61e–68e

36.

Klinger M, Caviggioli F, Giannasi S, Bandi V, Banzatti B, Veronesi A, Barbera F, Maione L, Catania B, Vinci V, Lisa A, Cornegliani G, Giaccone M, Siliprandi M, Klinger F (2016) The prevalence of tuberous/constricted breast deformity in population and in breast augmentation and reduction mammaplasty patients. Aesthetic Plast Surg 40(4):492–496

37.

Teimourian B, Perlman R (1983) Surgery for gynecomastia. Aesthetic Plast Surg 7(3):155–157

38.

Lewis CM (1985) Lipoplasty: treatment for gynecomastia. Aesthetic Plast Surg 9:287–292

39.

Rohrich RJ, Beran SJ, Kenkel JM et al (1998) Extending the role of liposuction in body contouring with ultrasound-assisted liposuction. Plast Reconstr Surg 101:1090–1102 (discussion 1117)

40.

Harinatha S (2020) Male gynecomastia correction by superior dynamic flap method: a consistent and versatile technique. World J Plast Surg 9(1):33–38. https://doi.org/10.29252/wjps.9.1.33

41.

Lynch RC (1946) An operation for correction of gynecomastia through an areolar incision. Plast Reconstr Surg 1954(13):412–418

42.

Pitanguy I (1966) Transareolar incision for gynecomastia. Plast Reconstr Surg 38:414–419

43.

Khouri RK, Smit JM, Cardoso E, Pallua N, Lantieri L, Mathijssen IM, Khouri RK Jr, Rigotti G (2013) Percutaneous aponeurotomy and lipofilling: a regenerative alternative to flap reconstruction? Plast Reconstr Surg 132(5):1280–1290
Funding
No financial support or benefits have been received by any author. We do not have any relationship with any commercial source related directly or indirectly to this scientific paper.
Ethics declarations
Conflict of interest
The authors declare that they have no conflict of interest.
Ethical Approval
Approval was obtained from the ethics committee of Humanitas Clinical and Research Hospital and MultiMedica Holding Spa. The procedures used in this study adhere to the tenets of the Declaration of Helsinki.
Informed Consent
Informed consent was obtained from all individual participants included in the study.
Additional information
Publisher's Note
Springer Nature remains neutral with regard to jurisdictional claims in published maps and institutional affiliations.
About this article
Cite this article
Klinger, M., Bandi, V., Giannasi, S. et al. Gynecomastia: Ultrasound-Confirmed Classification Pertainent to Surgical Correction. Aesth Plast Surg (2021). https://doi.org/10.1007/s00266-021-02187-6
Received:

Accepted:

Published:
Keywords
Breast

Gynecomastia

Tuberous breast

Surgery

Sequelae

Fat grafting