Abstract
Introduction
Derotation of the nasal tip with narrow nasolabial angle is a common nasal deformity that leads to a long nose appearance, named drooping nose. In these patients, there are various techniques described to fix droopy tip and to achieve a desirable nasal tip rotation such as caudal septal extension graft, extended columellar strut graft, tongue in groove, columellar strut graft, and tip rotation sutures. This study aimed to evaluate changes in nasal tip support after modified tongue-in-groove technique (auto-septal projection graft).
Materials and Methods
Forty-two patients who underwent a primary open approach septorhinoplasty using the modified tongue-in-groove technique between June 2017 and March 2019 were retrospectively analyzed. Postoperative and preoperative photographs were analyzed, and nasolabial angle and the nasal tip projection ratio were recorded and compared before and average of 17.3 months after the surgery.
Results
Forty-two patients (33 female and 9 male) were included the study. The mean nasolabial angle was 85.7° preoperatively and 99.3° postoperatively. The nasal tip projection ratio was 0.60 preoperatively and 0.64 postoperatively. Both the tip rotation and the tip projection increased significantly after the modified tongue in groove (p<0.05).
Conclusion
It seems that modified tongue-in-groove method (auto-septal projection graft) is an effective technique in maintaining tip projection and rotation in rhinoplasty and safe method to correct droopy nasal tip in selected cases.
Level of Evidence IV
This journal requires that authors assign a level of evidence to each article. For a full description of these Evidence-Based Medicine ratings, please refer to the Table of Contents or the online Instructions to Authors www.springer.com/00266.
Access options
Buy single article
Instant access to the full article PDF.
US$ 39.95
Tax calculation will be finalised during checkout.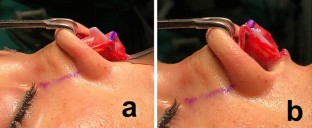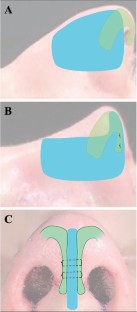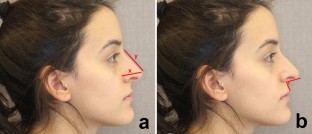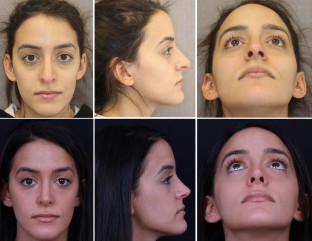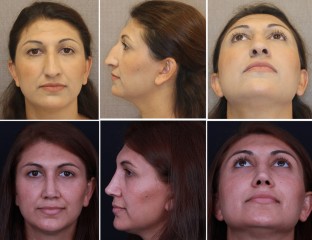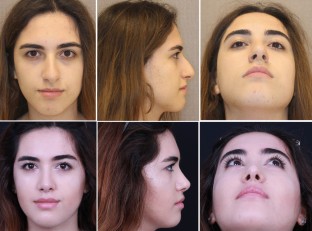 References
1.

Papanastasiou S, Logan A (2000) Management of the overprojecting nasal tip: a review. Aesthetic Plast Surg 24(5):353–356

2.

Demir UL (2018) Comparison of tongue-in-groove and columellar strut on rotation and projection in droopy nasal tip: contribution of a cap graft. J Craniofac Surg 29:558–661

3.

Tardy ME Jr (2004) Moderne rhinoplastik: prinzipien und philosophie. In: Behrbohm H, Tardy ME (eds) Funktionell-ästhetische Chirurgie der Nase. Thieme, Stuttgart, pp 36–61

4.

Foda HM (2003) Management of the droopy tip: a comparison of three alarcartilage-modifying techniques. Plast Reconstr Surg 112:1408–1421

5.

Toriumi DM (2006) New concepts in nasal tip contouring. Arch Facial Plast Surg 8(3):156–185

6.

Spataro EA, Most SP (2018) Tongue-in-groove technique for rhinoplasty:technical refinements and considerations. Facial Plast Surg 34:529–538

7.

Atighechi S, Dadgarnia M, Vaziribozorg S, Baradaranfar M, Zand V, Meybodian M, Mandegari M, Shirkhoda S (2020) Changes in elastic properties of the nasal tip using columellar strut graft versus tongue-in-groove method over one year after rhinoplasty. Eur Arch Otorhinolaryngol 277(1):147–150

8.

Delarestaghi MM, Jahandideh H, Sanaei A, Jan D (2020) "Modified tongue-in-groove": a new tip-plasty technique and comparison of its effect on correction of the nasolabial angle with the columellar strut technique. Br J Oral Maxillofac Surg. 58(5):602–607

9.

Goode RL (1984) A method of tip projection measurement. In: Powell N, Humphrey B (eds) Proportions of the aesthetic face. Thieme-Stratton Inc., New York, pp 15–39

10.

Behrbohm H, Tardy ME Jr (2004) The dual character of nasal surgery: the choice of access for septorhinoplasy. In: Behrbohm H, Tardy ME (eds) Functional and aesthetic surgery of the nose: septorhinoplasty. Thieme, Stuttgart, pp 23–35

11.

Rohrich RJ, Durand PD, Dayan E (2020) changing role of septal extension versus columellar grafts in modern rhinoplasty. Plast Reconstr Surg 145(5):927–931

12.

Kridel RW, Scott BA, Foda HM (1999) The tongue-in-groove technique in septorhinoplasty: a 10-year experience. Arch Facial Plast Surg 1:246–258

13.

Lohuis PJ, Datema FR (2015) Patient satisfaction in Caucasian and Mediterranean open rhinoplasty using the tongue-in-groove technique: prospective statistical analysis of change in subjective body image in relation to nasal appearance following aesthetic rhinoplasty. Laryngoscope 125:831–836

14.

Dobratz EJ, Tran V, Hilger PA (2010) Comparison of techniques used to support the nasal tip and their long-term effects on tip position. Arch Facial Plast Surg 12:172–179

15.

Shah A, Pfaff M, Kinsman G, Steinbacher DM (2015) Alar-columellar and lateral nostril changes following tongue-in-groove rhinoplasty. Aesthetic Plast Surg 39(2):191–198

16.

Antunes MB, Quatela VC (2018) Effects of the tongue-in-groove maneuver on nasal tip rotation. Aesth Surg J 38:1065–1073

17.

Pensler JM (2006) The septal strut for nasal projection following closed rhino-plasty. Aesthet Surg J 26(3):275–279

18.

Karaiskakis P, Bromba M, Dietz A, Sand M, Dacho A (2016) Reconstruction of nasal tip support in primary, open approach septorhinoplasty: a retrospective analysis between the tongue in groove technique and the columellar strut. Eur Arch Otorhinolaryngol 273:2555–2560

19.

Erol O, Buyuklu F, Koycu A, Bas C, Erbek SS (2019) Evaluation of nasal tip support in septorhinoplasty. Aesthetic Plast Surg. 43(4):1021–1027

20.

Doddi NM, Eccles R (2010) The role of anthropometric measurements in nasal surgery and research: a systematic review. Clin Otolaryngol 35:277–283
Funding
No financial support was received for this work.
Ethics declarations
Conflict of interest
The authors declare that they have no conflicts of interest to disclose.
Ethical Approval
All procedures performed in studies involving human participants were in accordance with the ethical standards of the institutional and/or national research committee and with the 1964 Helsinki Declaration and its later amendments or comparable ethical standards.
Informed Consent
For this type of study, formal consent is not required.
Additional information
Publisher's Note
Springer Nature remains neutral with regard to jurisdictional claims in published maps and institutional affiliations.
About this article
Cite this article
Koçak, İ., Gökler, O. A Novel Modification of Tongue in Groove Technique (Auto-Septal Projection Graft) in Rhinoplasty. Aesth Plast Surg (2021). https://doi.org/10.1007/s00266-021-02184-9
Received:

Accepted:

Published:
Keywords
Rhinoplasty

Tip rotation

Tongue in groove

Septal extension graft

Tip projection

Nasolabial angle