Abstract
Background
In this study, we investigated the effect of apocynin on fat graft survival in a rat model.
Methods
Twenty-one Wistar albino male rats were included in the study. The grafts taken from the inguinal area were applied to the nape of each rat. The rats were randomly divided into three groups. Apocynin+DMSO, DMSO and saline were administered intraperitoneally once daily for 14 days. After 90 days, the animals were sacrificed and the grafts were excised. The weights and volumes were measured and sent for histopathological evaluation. The weight, volume, survival rates of the grafts, the number of viable cells with the MTT test and pathological parameters, inflammation, vascularization, fibrosis, lipogranuloma and cyst formation, were evaluated.
Results
Statistically significant differences were found between the groups in survival rates (p<0.05). In paired comparisons between the groups, the parameters of viable cells and survival rates were statistically significantly higher in apocynin group compared to the other groups (p<0.05). The survival rates relating to the weight and viable cell count in the DMSO group were statistically significantly higher than in the control group (p<0.05). However, no statistically significant difference was found between the DMSO group and the control group in the survival rate in terms of volume (p<0.05). There was no significant difference between the groups in the comparison of pathological parameters (p>0.05).
Conclusions
Apocynin increases fat graft survival in the animal fat grafting model. Therefore, apocynin can be used as an effective medical agent to prevent the volume loss of fat grafts.
No Level Assigned
This journal requires that authors assign a level of evidence to each article. For a full description of these Evidence-Based Medicine ratings, please refer to the Table of Contents or the online Instructions to Authors www.springer.com/00266.
Access options
Buy single article
Instant access to the full article PDF.
US$ 39.95
Tax calculation will be finalised during checkout.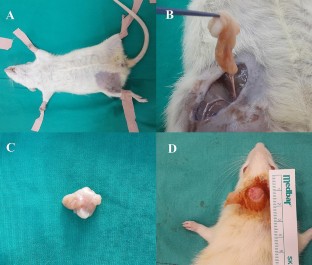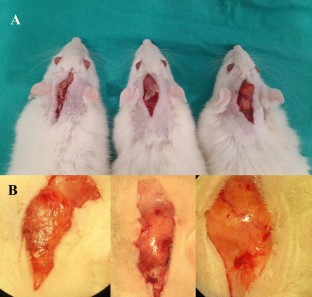 References
1.

Ozgul M, Karabagli Y, Kocman AE, Kose AA, Cetin C, Donmez DB (2018) The determination of the effect of curcumin on autologous fat graft survival in rats: experimental study. Turk J Plast Surg 26(4):144

2.

Sezgin B, Ozmen S (2018) Fat grafting to the face with adjunctive microneedling: a simple technique with high patient satisfaction. Turk J Med Sci 48(3):592–601

3.

Guisantes E, Fontdevila J, Rodriguez G (2012) Autologous fat grafting for correction unaesthetic scars. Ann Plast Surg 69:550–554

4.

Minn KW, Min KH, Chang H, Kim S, Heo EJ (2010) Effects of fat preparation methods on the viabilities of autologous fat grafts. Aesthet Plast Surg 34(5):626–631

5.

MacRae JW, Tholpady SS, Ogle RC, Morgan RF (2004) Ex vivo fat graft preservation: effects and implications of cryopreservation. Ann Plast Surg 52(3):281–282

6.

Park B, Kong JS, Kang S, Kim YW (2011) The effect of epidermal growth factor on autogenous fat graft. Aesthet Plast Surg 35(5):738–744

7.

Por YC, Yeow VK, Louri N, Lim TK, Kee I, Song IC (2009) Platelet-rich plasma has no effect on increasing free fat graft survival in the nude Mouse. J Plast Reconstr Aesthet Surg 62(8):1030–1034

8.

Fraga MF, Helene A Jr, Nakamura F, Lellis RF, Kikuchi W, Esteban D (2008) Comparative study of the integration and viability of autonomised and nonautonomised autologous fat tissue grafts e experimental model in rabbits. J Plast Reconstr Aesthet Surg 61(9):1044–1048

9.

Pu LL, Coleman SR, Cui X, Ferguson RE Jr, Vasconez HC (2010) Cryopreservation of autologous fat grafts harvested with the coleman technique. Ann Plast Surg 64(3):333–337

10.

Grewal N, Yacomotti L, Melkonyan V, Massey M, Bradley JP, Zuk PA (2009) Freezing adipose tissue grafts may damage their ability to integrate into the host. Connect Tissue Res 50(1):14–28

11.

Kojima H, Tanaka Y, Tanaka T, Miyazaki H, Shiwa M, Kamide Y, Moriyama H (1998) Cell proliferation and apoptosis in human middle ear cholesteatoma. Arch Otolaryngol Head Neck Surg 124(3):261–264

12.

Nishimura T, Hashimoto H, Nakanishi I, Furukawa H (2000) Microvasculer angiogenesis and apoptosis in the survival of free fat grafts. Laryngoscope 110(8):1333–1338

13.

Katsuyama M, Matsuno K, Yabe-Nishimura C (2012) Physiological roles of NOX/NADPH oxidase, the superoxide-generating enzyme. J. Clin. Biochem. Nutr 50:9–22

14.

Carrillo JD, Tena MT (2006) Determination of volatile oak compounds in aged wines by multiple headspace solid-phase microextraction and gas chromatography–mass spectrometry (MHS-SPME–GC–MS). Anal Bioanal Chem 385:937–943

15.

Heumüller S, Wind S, Barbosa-Sicard E, Schmidt HH, Busse R, Schröder K, Brandes RP (2008) Apocynin is not an inhibitor of vascular NADPH oxidases but an antioxidant. Hypertension 51:211–217

16.

Riganti C, Costamagna C, Bosia A, Ghigo D (2006) The NADPH oxidase inhibitor apocynin(acetovanillone) induces oxidative stress. Toxicol. Appl. Pharmacol 212:179–187

17.

Vejrazka M, Mícek R, Stípek S (2005) Apocynin inhibits NADPH oxidase in phagocytes but stimulates ROS production in non-phagocytic cells. Biochim. Biophys. Acta 1722:143–214

18.

Du ZD, Yu S, Qi Y, Qu TF, He L, Wei W, Liu K, Gong SS (2019) NADPH oxidase inhibitor apocynin decreases mitochondrial dysfunction and apoptosis in the ventral cochlear nucleus of D-galactose-induced aging model in rats. Neurochem Int 124:31–40

19.

Alley MC, Scudiere DA, Monks A, Hursey ML, Czerwinski MJ, Fine DL, Abbott BJ, Mayo JG, Shoemaker RH, Boyd MR (1988) Feasibility of drug screening with panels of human tumor cell lines using a microculture tetrazolium assay. Can Res 48:589–601

20.

Carmichael J, DeGraff WG, Gazdar AF, Minna JD, Mitchell JB (1987) Evaluation of a tetrazolium-based semiautomated colorimetric assay: assessment of chemosensitivity testing. Can Res 47:936–942

21.

International Society of Aesthetic Plastic Surgery (2019) https://www.isaps.org/blog/isaps-statistics. Accessed November 15, 2019

22.

Yuksel E, Weinfeld AB, Cleek R, Wamsley S, Jensen J, Boutros S, Waugh JM, Shenaq SM, Spira M (2000) Increased free fat-graft survival with the long-term, local delivery of insulin, insulin-like growth factor-I, and basic fibroblast growth factor by PLGA/PEG microspheres. Plast Reconstr Surg 105(5):1712–1720

23.

Ayhan M, Senen D, Adanalı G, Gorgu M, Erdogan B, Albayrak B (2001) Use of beta blockers for increasing: survival of free fat grafts. Aesthet Plast Surg 25(5):338–342

24.

Temiz G, Sirinoglu H, Yesiloglu N, Filinte D, Kacmaz C (2016) Effects of deferoxamine on fat graft survival. Facial Plast Surg 32(4):438–443

25.

Luo S, Hao L, Li X, Yu D, Diao Z, Ren L, Xu H (2013) Adipose tissue-derived stem cells treated with estradiol enhance survival of autologous fat transplants. Tohoku J Exp Med 231(2):101–110

26.

Peer LA (1955) Cell survival theory versus replacement theory. Plast Reconstr Surg 16(3):161–8

27.

Medina MA 3rd, Nguyen JT, Kirkham JC (2011) Polymer therapy: a novel treatment to improve fat graft viability. Plast Reconstr Surg 127(6):2270–2282

28.

Maumus M, Sengenès C, Decaunes P, Zakaroff-Girard A, Bourlier V, Lafontan M, Galitzky J, Bouloumié A (2008) Evidence of in situ proliferation of adult adipose tissue-derived progenitor cells: influence of fat mass microenvironment and growth. J Clin EndocrinolMetab 93:4098–4106

29.

Çakan D, Aydın S, Demir G, Başak K (2019) The effect of curcumin on healing in an animal nasal septal perforation model. Laryngoscope 129:E349–E354

30.

Coleman SR (1997) Facial recontouring with lipostructure. Clin Plast Surg 24:347

31.

Ghosh A, Kanthasamy A, Joseph J, Anantharam V, Srivastava P, Dranka BP, Kalyanaraman B, Kanthasamy A (2012) Anti-inflammatory and neuroprotective effects of an orally active apocynin derivative in pre-clinical models of Parkinson's disease. J Neuroinflammation 9:241

32.

Kinkade K, Streeter J, Miller FJ (2013) Inhibition of NADPH oxidase by apocynin attenuates progression of atherosclerosis. Int J Mol Sci 14(8):17017–17028

33.

Joshi S, Saylor BT, Wang W, Peck AB, Khan SR (2012) Apocynin-treatment reverses hyperoxaluria induced changes in NADPH oxidase system expression in rat kidneys: a transcriptional study. PLoS ONE 7(10):47738

34.

Pan L, Qian S (2018) Apocynin promotes neural function recovery and suppresses neuronal apoptosis by inhibiting Tlr4/NF-κB signaling pathway in a rat model of cerebral infarction. Int J Immunopathol Pharmacol 32:2058738418817700

35.

Varghese J, Griffin M, Mosahebi A, Butler P (2017) Systematic review of patient factors affecting adipose stem cell viability and function: implications for regenerative therapy. Stem Cell Res. Ther 8(1):45

36.

Nasir S, Aydin MA, Karahan N, Altuntaş S (2008) Fat tissue as a new vascular carrier for prefabrication in reconstructive surgery: experimental study in rats. J Plast Reconstr Aesthet Surg 61(7):799–806

37.

Eto H, Kato H, Suga H, Aoi N, Doi K, Kuno S, Yoshimura K (2012) The fate of adipocytes after nonvascularized fat grafting: evidence of early death and replacement of adipocytes. Plast Reconstr Surg 129:1081–1092

38.

Wang WZ, Fang XH, Williams SJ, Stephenson LL, Baynosa RC, Wong N, Khiabani KT, Zamboni WA (2013) Analysis for apoptosis and necrosis on adipocytes, stromal vascular fraction, and adipose derived stem cells in human lipoaspirates after liposuction. Plast Reconstr Surg 131(01):77–85

39.

Yoshimura K, Eto H, Kato H, Doi K, Aoi N (2011) Manipulation of stem cells for adipose tissue repair/reconstruction. Regen Med 6(6s):33–41
Acknowledgments
This study has no financial supporters. The authors thank Professor Abdullah Tuten for proof reading.
Ethics declarations
Conflicts of interest
The authors declare no conflict of interest regarding the publication of this article.
Ethical Approval
All applicable institutional and/or national guidelines for the care and use of animals were followed. The study was approved by Acibadem University Experimental Ethics Committee (decision date / no: 12.08.2015/50) and conducted in the Acibadem University Experimental Animal Application and Research Center.
Informed Consent
Informed consent does not apply to this type of animal study.
Additional information
Publisher's Note
Springer Nature remains neutral with regard to jurisdictional claims in published maps and institutional affiliations.
The study was conducted in Acıbadem University Experimental Animal Application and Research Center.
About this article
Cite this article
Keskin, E.R., Çakan, D. The Effect of Apocynin on Fat Graft Survival. Aesth Plast Surg (2021). https://doi.org/10.1007/s00266-021-02180-z
Received:

Accepted:

Published:
Keywords
Animals

Apocynin

Adipose tissue / transplantation*

Graft survival / drug effects*

Rats