Abstract
Background
Well discussed in a previous article published by the senior author, primary transaxillary breast augmentation drawbacks include the need to correct complications arising from reuse of the axillary incision which the literature is sparse on. We here discuss a technique in patients who underwent a secondary transaxillary breast augmentation procedure.
Objectives
This study aims to present a technique for transaxillary revision breast augmentation with conversion to a muscle-splitting plane which has the advantage of good upper and medial pole coverage and adequate lower pole expansion.
Methods
We performed a retrospective chart review of 41 women with previous silicone gel implants placed through a transaxillary incision who presented with rippling or a desire for larger implants (January 2016–July 2020). Inclusion criteria were age 18 years or older and having undergone breast augmentation surgery. Exclusion criteria were active smoking and body mass index (BMI) greater than 30 kg/m2. At one year postoperatively patients were asked a "yes or no" question regarding satisfaction with the overall result and with the scar quality.
Results
A total of 41 patients were included in this study; no patients were excluded. The patients' age ranged from 32 to 47 years, the average being 38 years old. All participants were female. Mean BMI was 21.9 kg/m2 and all patients had a pinch test <2cm. Indications for surgery included rippling (all patients) and a desire for larger implant size (n = 5). Size of new implants ranged from 325cc to 430cc; all were of a larger size than those used in the primary surgery. Operative time was on average 53 min. [4483 min.]. Mean follow-up was 13 months, ranging from 12 to 15 months. There was no additional cost related to operative time. Regarding patient satisfaction, 100% replied they were pleased with the overall results and scar quality. There were no major complications.
Conclusion
The transaxillary approach for muscle splitting breast augmentation revision surgery offers a safe and reproducible technique. Despite having a mean follow-up of only 13 months, we demonstrate a low rate of complication as well as high degree of patient satisfaction with no extra cost when compared to other techniques.
Level of Evidence IV
This journal requires that authors assign a level of evidence to each article. For a full description of these Evidence-Based Medicine ratings, please refer to the Table of Contents or the online Instructions to Authors www.springer.com/00266.
Access options
Buy single article
Instant access to the full article PDF.
US$ 39.95
Tax calculation will be finalised during checkout.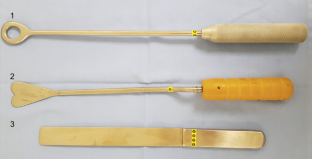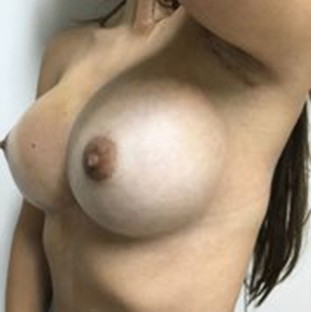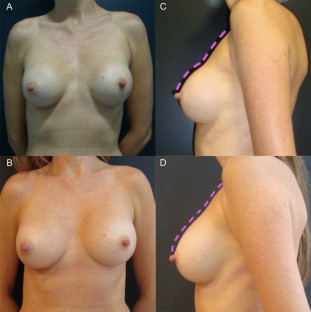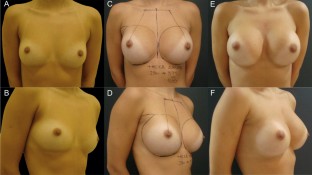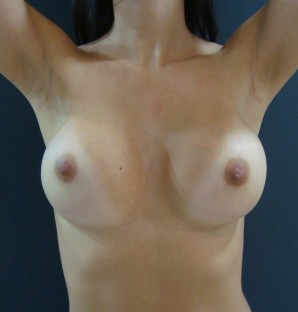 References
1.

Cosmetic Surgery National Data Bank Statistics (2017) Aesthet Surg J 37(suppl 2):1–29. https://doi.org/10.1093/asj/sjx076

2.

Namnoum JD, Largent J, Kaplan HM, Oefelein MG, Brown MH (2013) Primary breast augmentation clinical trial outcomes stratified by surgical incision, anatomical placement and implant device type. J Plast Reconstr Aesthet Surg 66:1165–1172

3.

Spear SL, Schwartz J, Dayan JH, Clemens MW (2009) Outcome assessment of breast distortion following submuscular breast augmentation. Aesth Plast Surg 33:44–48

4.

Tebbetts JB (2001) Dual-plane breast augmentation: optimizing implant–soft tissue relationships in a wide range of breast types. Plast Reconstr Surg 107:1255–1272

5.

Mallucci P, Branford OA (2015) Shapes, proportions, and variations in breast aesthetic ideals: the definition of breast beauty, analysis, and surgical practice. Clin Plast Surg 42:451–464

6.

Kolker AR, Collins MS (2015) Tuberous breast deformity: classification and treatment strategy for improving consistency in aesthetic correction. Plast Reconstr Surg 135:73–86

7.

Cheffe MR, Valentini JD, Collares MVM, Piccinini PS, Braga Silva JL (2018) Quantifying dynamic deformity after dual plane breast augmentation. Aesth Plast Surg. https://doi.org/10.1007/s00266-017-1065-y

8.

Baxter RA (2005) Subfascial breast augmentation: theme and variations. Aesthet Surg J 25:447–453

9.

Khan UD (2007) Muscle-splitting breast augmentation: a new pocket in a different plane. Aesthet Plast Surg 31:553–558

10.

Saleh DB, Callear J, Riaz M (2016) An anatomic appraisal of biplanar muscle-splitting breast augmentation. Aesthet Surg J 36:1019–1025

11.

Khan UD (2009) Dynamic breasts: a common complication following partial submuscular augmentation and its correction using the muscle-splitting biplane technique. Aesth Plast Surg 33:353–360

12.

Gryskiewicz J (2013) Dual-plane breast augmentation for minimal ptosis pseudoptosis (the "in-between" patient). Aesthet Surg J 33:43–65

13.

Hoehler H (1973) Breast augmentation: the axillary approach. Br J Plast Surg 26:373–376

14.

Lang Stumpfle R, Pereira-Lima LF, Valiati AA, Mazzini GS (2012) Transaxillary muscle-splitting breast augmentation: experience with 160 cases. Aesth Plast Surg 36:343–348

15.

Grewal NS, Fisher J (2013) Why do patients seek revisionary breast surgery? Aesthet Surg J 33:237–244

16.

Chopra K, Gowda AU, Kwon E, Eagan M, Stevens WG (2016) Techniques to repair implant malposition after breast augmentation: a review. Aesthet Surg J 36:660–671

17.

Jacobson JM, Gatti ME, Schaffner AD, Hill LM, Spear SL (2012) Effect of incision choice on outcomes in primary breast augmentation. Aesthet Surg J 32:456–462

18.

Raul Gonzalez MD (2010) Gluteal implants: the "XYZ" intramuscular method. Aesthetic Surg J 30(2):256–264

19.

Oliveira A, Maino M, Zanin E, de Carli L, Duarte D, Collares M (2020) Breast implants follow-up: results of a cross-sectional study on patients submitted to MRI breast examinations. Aesthetic Plast Surg 45(27):34

20.

Cheffe M, Valentini J, Collares M, Piccinini P, da Silva J (2018) Quantifying dynamic deformity after dual plane breast augmentation. Aesthetic Plast Surg 42(3):716–724

21.

Lang Stümpfle R, Piccinini P, Pereira-Lima L, Valiati A (2019) Muscle-splitting augmentation-mastopexy. Ann Plast Surg 82(2):137–144
Ethics declarations
Conflict of interest
The authors declare that they have no conflicts of interest.
Human and Animal Participants
The research followed the Helsinki principles for Research in Human Subjects and Subsequent Amendments.
Informed Concent
All patients gave written informed consent for surgery, participation in the study and publication of photos.
Additional information
Publisher's Note
Springer Nature remains neutral with regard to jurisdictional claims in published maps and institutional affiliations.
Supplementary information
Surgical technique for transaxillary revision of a 29-year-old woman with previous 195cc subglandular polyurethane implants, with grade 2 capsular contracture and a desire for larger breast size.
About this article
Cite this article
Stümpfle, R.L., Piccinini, P.S. & Zanin, E.M. Muscle-Splitting Transaxillary Revision Breast Augmentation—A Single Surgeon's Experience. Aesth Plast Surg (2021). https://doi.org/10.1007/s00266-021-02179-6
Received:

Accepted:

Published:
Keywords
Breast

Breast augmentation

Hypomastia

Transaxillary breast augmentation

Silicone